| | |
| --- | --- |
| THE EARLY YEARS (1909-1911) | Orilla Smith and Yale Boss in THE ACTOR'S CHILDREN, the first Thanhouser release on March 15, 1910. (Carl Louis Gregory estate, courtesy of Ralph Graham, M.D.) |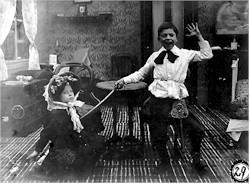 By late autumn 1909, a dozen or more people were assembled under the name of the Thanhouser Company. The first film, The Actor's Children, was released on March 15th of the next year. Like the films of other manufacturers of the time, it was one reel in length and occupied about twelve minutes worth of time when projected on the screen. The era of multiple-reel features was yet to come.
Thanhouser pictures were immediately acclaimed for their story content, photography, the artistic quality. Edwin Thanhouser's extensive experience of years of successful stage management helped create pictures which were gems of their type. The city of New Rochelle was enthusiastic about its most famous resident, and the New Rochelle Fire Department established a policy that as soon as an alarm was registered, a call would be made to the Thanhouser studio, so that a film crew could be on the scene! Similarly, the courtroom in New Rochelle was made available to the Thanhouser people, and numerous dramas were shot there in days in which the court was not in session. The main commercial district of New Rochelle furnished the backdrop for countless pictures, as did the residential areas.
---
Thanhouser Company Film Preservation, Inc.


Contact Us
Copyright © 1988-1993 Q. David Bowers, All rights reserved.