Volume III: Biographies
BADGLEY, Helen ***
(The Thanhouser Kidlet)
Actress (1911-1917)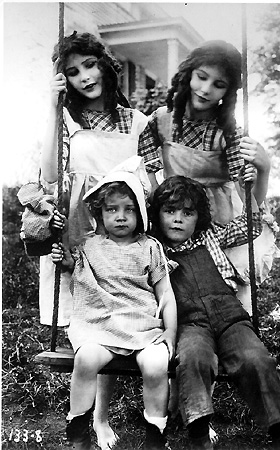 Helen Badgley (L), The Thanhouser Kidlet, on the cover of Reel Life, December 19, 1914. (M-46)
Madeline and Marion Fairbanks (Top Row), with Eldean Steuart (L) and Helen Badgley (R). Courtesy of the Wisconsin Center for Film and Theatre Research (Q-39)
Thanhouser Career Synopsis: Young Helen Badgley, popularly known as The Thanhouser Kidlet, appeared in many films and was among the best known Thanhouser players of her time.
Biographical Notes: Helen Badgley, born in Saratoga Springs, New York in 1910, made her film debut in the title role of Thanhouser's December 8, 1911 release of Brother Bob's Baby. She became known as The Thanhouser Kidlet (an appellation coined by Bert Adler in February 1912 and first used in connection with The Guilty Baby, released February 27th of that year) and played in many films.
An article in The Louisville Herald, February 13, 1916, told of little Helen's beginning in motion pictures: "'They're not as superhuman as some of the fans like to believe,' said a director of the Thanhouser company the other day in talking of the babes of the film drama. 'Everyone of them take extreme delight in getting their dresses soiled, stealing jam and making mud pies,' just like any ordinary child.
"'One day,' said the director, 'a proud mother brought Helen Badgley to the studios and asked that she be given a tryout. Helen, who had never seen a camera, disturbed me considerably by pulling my ears, trying to take off my shoes and even biting my arm to see if she could make a hole in it. 'Madam,' I said, 'You'll have to take this child out. If you care to make anything of her bring her to the studio tomorrow and leave her under my sole care until I send for you? Now Helen is the pride of the Thanhouser studios, and one of the best child players in the films."
1913 Notes: According to an article by Thomas Fulbright, in Classic Film Collector, Fall-Winter 1967, she considered one of her most memorable parts to have been a role as a doll in a film in which she played with Marie Eline, The Spoiled Darling's Doll, released April 4, 1913. In between films, she occasionally appeared on the stage, including a performance with Eva Tanguay (the "I Don't Care Girl"). In the autumn of 1913 she was on stage at Loew's Theatre in New Rochelle.
The Thanhouser Kidlet was mentioned in the "From the Inside" column by Jean Darnell, in the August 1913 issue of The Photoplay Magazine: "Baby Badgley, the 'Thanhouser Kidlet,' is said to be the greatest artist on the screen today. She plays any and all parts just as really as do Miss Snow and Miss Anderson, or any of the other grown-up Thanhouser leading women. And Baby Helen is not yet three years old. Everyone around the studio has her singing I Don't Care since she saw Eva Tanguay not long ago. Helen was so cute and cunning sitting in the box in the theatre, that she attracted the attention of the big whirlwind star, who immediately came over to the box and took her on the stage with her. Incidentally, she taught her the I Don't Care song. And now little Helen is the youngest artist on the American stage giving impersonations of Eva Tanguay. This she did not long since at the Screen Club Ball, and it was the hit of the evening."
Helen Badgley furnished the subject for Jean Darnell's "Studio Chat - From the Inside" column in the December 1913 issue of The Photoplay Magazine: "General alarm was spread over New Rochelle lately, for Baby Badgley, the far-famed Thanhouser Kidlet, was missing. Everybody in the plant was sent out to look for the baby. All of the big tanks of developing fluid were examined, fearing she had possibly toppled into one and drowned, as she is allowed to go any place she likes around the factory. But no Helen.
"Poor Mrs. Badgley was frantic. She was standing out in front of the studio, wondering where to look next, when Mr. Sullivan's company came driving up to the studio, having been out for a scene. Flo LaBadie asked Mrs. Badgley what the trouble was. On hearing that Helen was lost, Flowy began to laugh. Mrs. B. couldn't see the joke. Miss LaBadie said, 'Why we just passed the academy ball park over there a few blocks away and we saw Helen and Leland Benham sitting up high watching a ball game. We, of course, paid no attention, as we thought you were with them.' So, of course, Mrs. Badgley felt a little better. About half an hour later Leland and Helen strolled very unconcernedly into the studio lobby. Leland said: 'I told you the Athletics would win. They were the fellows with the red strip on their shirts.' Harry Benham looked at his young son and shook his head: 'Like father, like son. Copping a pretty girl, eh? That's the way I got your mother.'"
The Kidlet and the Fire: The following account was carried in the New Rochelle Evening Standard, January 21, 1913, and pertains to the studio fire of January 13th: "G.J. Badgley, 311 Huguenot Street, who until last August was an electrician at the Thanhouser plant, was among those who lost considerable personal property at the fire. He had a beautiful seal-lined coat, practically new, which he bought for $100, although its original cost was $300, having been the property of a Belmont Racetrack bookmaker who had to let some of his luxuries go with the exodus of the race horse. Besides this coat, Mr. Badgley owned a lathe and an expensive kit of tools which ran his total loss up to $600 at least. He was not in a position to stand such a loss because he did not carry any insurance on the articles and besides he had been under the doctor's care since August 27. On that day he was riding his motorcycle on the Pelham Road at a fast clip when he was thrown near Split Rock and was taken to New Rochelle Hospital, where an examination was made and it was found that one of his legs had been broken above the knee. He remained at this hospital for a month and was taken the Presbyterian Hospital, New York City, where he continued to receive treatment for two months. It was thought at one time that he might have to have his broken leg amputated near the thigh, so he was cautioned to be extremely careful. It will be the middle of February before he will be allowed to try his leg, and it will be some time in March before it will be in condition to stand any strain.
"Mr. and Mrs. Badgley have a sweet little daughter, Helen, who is just four years old, having been in pictures for two years and in that time has become a popular little actress known everywhere as The Thanhouser Kidlet. While her father sat in his wheelchair in his Huguenot apartment talking to the Evening Standard reporter and watching the smoke and steam as it rose in clouds from the ruins, Helen climbed on the couch and, putting her tiny hands on the reporter's shoulders, said, 'Isn't it too bad my pretty studio is burning? Do you think they will build again? Nobody cares for Pap's things do you think? Yes. Then why do they not bring them to him?'
"Mr. Badgley was watching Helen, whose big brown eyes were searching the reporter's for an answer to her questions and then said: 'I do not think I could have stood the suspense if I had been sitting here helpless and watching the burning building if Helen had been anywhere else than at my side. There was a possibility that she might have been at the studio, and Mrs. Badgley and myself are very thankful that she was not, for, childlike, she might have been wandering about the studio and got confused in the excitement.' Helen, however, did not seem to be interested in anything but the probability of the rebuilding of her 'pretty studio.'"
The World's Best-Known Baby: In 1914 a biographical sketch in the Photoplay Arts Portfolio of Thanhouser Movie Stars noted: "A star at five years of age! That is the record of Helen Badgley, The Thanhouser Kidlet, the 'best known baby in the world.' This dainty and intelligent little lass displays ability and enthusiasm in playing her parts, often lacking in one of more advanced years. She has had only two years' experience in filmdom, both of which were spent with the Thanhouser Company.... Miss Badgley will be a star of the first magnitude long before she reaches maturity."
An article in the May 9, 1914 issue of Reel Life noted: "One of the youngest and cleverest children on the screen is Helen Badgley, four years old, known as 'The Thanhouser Kidlet.' About two years ago, she made her debut in Mutual films. Her first picture was Brother Bob's Baby. Since then they have kept the tiny star pretty busy at the New Rochelle studio, for she was instantly in great demand by photoplay fans. One of her latest triumphs was in Turkey Trot Town, in which the four-year-old leading lady of the Thanhouser does a turkey trot with all the savoir faire of a Mrs. Vernon Castle. Her best work, however, her critics say, was in The Tin Soldier and the Dolls. Little Miss Badgley has roguish black eyes, a shock of silky hair, and a very diminutive nose. She is the pet of the whole Thanhouser Company."
A 1915 Sketch: A biographical sketch by John William Kellette appeared in The New Rochelle Pioneer, April 3, 1915: "Helen Badgley is the world's most famous child. The 'Thanhouser Kidlet' is, in the writer's opinion, the world's most lovable child, and she's more than worth the proverbial 'weight in gold.' Helen was born in Saratoga, this state, about six years ago and was in her first picture - Brother Bob's Baby, written by Lloyd F. Lonergan, when she was 18 months old. Since then she has been photographed more than any other little star in the world.
"She has discovered that the reason the publicity department of the Thanhouser Corporation was established was to get the colored Sunday newspaper funny sheets, and Leon J. Rubenstein's reason to exist, to hunt them up every week and give them to Helen. Also, she has Frank A. Grimmer, the cast director, humping himself to query postmen about Helen's mail. Much of it - and she gets a lot - is delivered at the studio, and she's a busy little person while she examines it. Directors may rave about stars not being ready on time, but Helen should worry. Nobody raves at her about getting around. Her mother - Mrs. Gerald Badgley, 10 Pratt Street - sees that Helen is on time and made up at the studio, but her troubles have only begun. Helen may rest her eyes upon her auto, which carries an ear-splitting 'bonker,' and Helen works it in and out through sets as she wills. I've seen Helen pedaling the auto while the director was working in a set. Helen wanted to go through the set: 'Mr. Fleming, will you please get out of the way?' was her command, and Mr. Fleming graciously stepped aside and smiled, while Helen steered the car around the studio while the scene shifters held their breath, as they had visions of bumped sets and chaos. And Mrs. Badgley will attest to the truth of the statement that Helen does just love to run away. Given half a chance, that's as good as a mile to Helen. She simply is a dandy kidlet with energy to burn, and she burns it up in play.
"She is being educated at home, but next year Mrs. Badgley will send her to school. Her father, Gerald, has a factory at 12 Rose Street, where he makes moving picture cameras and does projection machine repair work. But when Helen works she gets the 'stuff over' and is easy to direct. Everybody loves her. Why not?"
Her Later Career: The New Rochelle Pioneer, September 11, 1915, printed this paragraph: "Helen Badgley's doll nursery has been increased by the receipt of a pretty little Mexican doll sent the famous Kidlet by an admiring movie fan in San Jose, California. Helen's doll family now consists of 22 members, most of them gifts of friends in various parts of the globe."
In autumn 1916, the young actress' activities were curtailed, for reasons outlined in The New Rochelle Pioneer, October 14: "Helen Badgley, the studio's Kidlet, is in a cast supporting Vincent Serrano, who is to be starred in A Modern Monte Cristo. Actresses before have been retired for various reasons - to be married, to travel, etc. - but Helen has a new reason. She has lost her front teeth and had to stay out of the pictures until new ones grew in."
She was among the last players at Thanhouser in the declining months of the firm's business, and she was seen in the 1917 releases of The Candy Girl, Fires of Youth, A Modern Monte Cristo, and The Heart of Ezra Greer.
Helen Badgley was educated by private tutors, whose bills always seemed to equal what Helen received in salary from Thanhouser, and no real profit was shown, according to her parents. Her tutors came and went with frequency, as several aspired to become actresses and went on to pursue their ambition. In later life, Helen Badgley married R.J. Coar, who lived in a Maryland suburb of Washington, D.C. and who was director of U.S. Capitol Radio and Recording. They subsequently moved to Phoenix, Arizona. One of their daughters, also named Helen, was Miss Scottsdale in 1962, and later became Miss Phoenix. Helen Badgley died on October 25, 1977.
Thanhouser Filmography:
1911: Brother Bob's Baby (12-8-1911)
1912: The Guilty Baby (2-27-1912), The Baby Bride (4-16-1912), Dottie's New Doll (6-4-1912), Baby Hands (8-6-1912), Big Sister (8-11-1912), The County's Prize Baby (11-12-1912), Cross Your Heart (11-22-1912), The Forest Rose (11-29-1912), The Repeater (12-22-1912)
1913: The Tiniest of Stars (1-14-1913), When the Studio Burned (2-4-1913), While Mrs. McFadden Looked Out (2-7-1913), A Mystery of Wall Street (2-11-1913), The Ghost in Uniform (2-23-1913), Just a Shabby Doll (3-11-1913), The Spoiled Darling's Doll (4-4-1913), A Pullman Nightmare (5-25-1913), The Runaway (6-6-1913), His Sacrifice (6-13-1913), A Crepe Bonnet (7-13-1913), Little Dorrit (7-29-1913), Proposal by Proxy (8-3-1913), The Girl of the Cabaret (8-8-1913), Taming Their Grandchildren (9-9-1913), The Twins and the Other Girl (10-4-1913), The Children's Hour (11-14-1913), Baby's Joy Ride (11-18-1913), The Clothes Line Quarrel (11-21-1913), Their Great Big Beautiful Doll (11-23-1913), Lawyer, Dog and Baby (12-14-1913), Jack and the Beanstalk (12-19-1913), His Father's Wife (12-26-1913), An Amateur Animal Trainer (12-30-1913)
1914: Frou Frou (1-1-1914), Their Golden Wedding (1-2-1914), Coals of Fire (1-16-1914), When the Cat Came Back (Princess 1-16-1914), Turkey Trot Town (1-18-1914), Her Love Letters (1-20-1914), The Woman Pays (1-27-1914), The Success of Selfishness (2-6-1914), The Dancer (2-10-1914), Guilty or Not Guilty (3-8-1914), Repentance (3-31-1914), The Tin Soldier and the Dolls (4-5-1914), The Musician's Daughter (4-14-1914), The Infant Heart Snatcher (4-19-1914), Was She Right in Forgiving Him? (5-26-1914), For Her Child (6-23-1914), The Widow's Mite (6-28-1913), Deborah (7-7-1914), A Gentleman for a Day (7-17-1914), The Butterfly Bug (8-2-1914), Little Mischief (9-6-1914), A Dog's Love (10-4-1914), The Benevolence of Conductor 786 (10-9-1914), Left in the Train (10-18-1914), The Terror of Anger (11-10-1914), A Messenger of Gladness (11-22-1914), Mrs. Van Ruyter's Stratagem (11-24-1914), The Barrier of Flames (12-15-1914)
1914-1915 Serial: Zudora
1915: The Bridal Bouquet (1-3-1915), The Volunteer Fireman (1-29-1915), Helen Intervenes (1-31-1915), His Sister's Kiddies (2-21-1915), Do Unto Others (Princess 3-12-1915), Little Bobby (3-14-1915), Joe Harkins' Ward (Princess 3-19-1915), The Life Worth While (4-4-1915), The Cycle of Hatred (4-6-1915), Just Kids (Princess 4-9-1915), Big Brother Bill (4-18-1915), The Three Roses (5-16-1915), The Baby Benefactor (6-1-1915), The Six-Cent Loaf (6-8-1915), Bud Blossom (6-13-1915), The Two Cent Mystery (6-20-1915), Which Shall It Be? (6-22-1915), The Stolen Anthurium (Falstaff 6-25-1915), Tracked Through the Snow (7-11-1915), Mercy on a Crutch (7-13-1915), Milestones of Life (7-29-1915), The Game (8-1-1915), Helen's Babies (9-14-1915), The Price of Her Silence (9-30-1915), The Mystery of Eagle's Cliff (10-3-1915), The Spirit of Audubon (10-19-1915), In Baby's Garden (11-14-1915), The Baby and the Boss (11-23-1915), His Vocation (12-7-1915), His Majesty, the King (12-18-1915)
1917: A Modern Monte Cristo (2-4-1917), Pots and Pans Peggie (3-18-1917), When Love Was Blind (4-15-1917), The Candy Girl (5-20-1917), Fires of Youth (6-17-1917), The Heart of Ezra Greer (10-7-1917)
# # #
Copyright © 1995 Q. David Bowers. All Rights Reserved.