Volume III: Biographies
DARNELL, Jean **
Actress (1912-1913)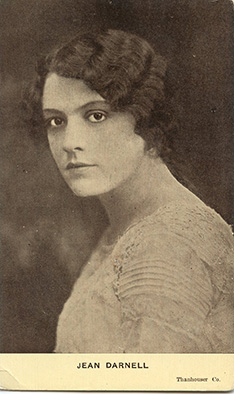 Postcard courtesy Thanhouser Company Film Preservation, Inc.
Thanhouser Career Synopsis: Jean Darnell appeared in many Thanhouser films circa 1912-1913.
Biographical Notes: Jean Jarrett Darnell was born in Sherman, Texas in 1889 (in her adult life she gave the date as 1893). Her youth was spent on a nearby ranch, where she became an accomplished horsewoman and acrobatic rider. She was a cousin of Joe Bailey, a Texas senator who received much publicity in his day. After a primary and secondary education from private tutors on her family's ranch, she attended Virginia College at Roanoke. Upon graduation she wrote the class prophecy, which several years later was still considered the best prophecy ever done for any class at that institution. After graduation she went on the stage, circa 1907-1908, where she was seen in minor parts in musical comedies. Over a period of several years the actress was in stock in New York City (with actress Cecil Spooner), Portland, Oregon, and elsewhere. She appeared in such productions as Pink Lady (1911), Miss Nobody, and Flirting Princess. She was outspoken on the women's suffrage movement, stating it was no different from the "taxation without representation" which caused the colonies to declare independence.
With Thanhouser: An attractive and very intelligent young woman, Jean Darnell subsequently played in many Thanhouser films in 1912 and 1913, including His Father's Son, Carmen, and The Woman Who Did Not Care. She lived in New Rochelle at the time, was fond of walking, and was often seen on the streets with her nephews and various of the "Seven Little Foys," from the well-known family of actors, who lived in the same city. In addition to her duties at the Thanhouser studio, she wrote a "gossip" column for The Photoplay Magazine. At one time she was also a writer for The Motion Picture Magazine and provided the column, "A Chorus Girl's Experiences," for The Chicago Record-Herald.
In the September 1913 issue of The Photoplay Magazine she stated that her best friend was actress Mary Fuller, and that she was also a friend of Florence LaBadie. The three women would often go on drives and spend their spare time together. By this time she had relocated to Uptown Manhattan, where she shared an apartment with an aunt and three young cousins. The youngsters were on the stage in Winthrop Ames' Snow White. Another relative, a nephew, Charles Frohman Everett, was a child actor with Thanhouser in 1913.
In The Photoplay Magazine, May 1914, Jean Darnell told of her most dangerous and exciting moments as a movie actress (additional excerpts from this article appear under the filmography entries for The Forest Rose, released November 29, 1912, and Carmen, May 27, 1913): "In another picture I led a wild cavalry charge straight at the camera operator. I was almost racing when my horse stumbled, and there were 100 horsemen thundering close behind. You can imagine my feelings, perhaps, but I made a desperate effort and pulled my horse to his feet. After the charge I slipped from the horse, and was carried back to my hotel a physical wreck.
"While off duty I have enjoyed some hair-raising thrills. One day Florence LaBadie and I were endeavoring to keep up a reputation for gameness. We were driving a high-powered racing car, and every time we came to a 'copless' corner we turned the thing loose. The houses and streets fairly streaked by, but it is a wonder we did not wind up in an unrecognizable tangle. Then Florence dared me to drive into the traffic-filled streets. I steered right up Broadway. I put on as much speed as I dared, and the car swerved, slid, and shot through the traffic like a snake. Not only was our escape miraculous, but also that of the other drivers. I was white with fear. Finally a policeman stopped us. I 'stalled' my engine and tied up 2,000 automobiles and blocks of traffic for 20 blocks.
"Another time, while dressed as bathing girls for a seashore picture, Florence spied a boat while we were lounging on the sand. We got into it and fell asleep. When we awoke we were right under a large sign that read: Private Bathing Beach. We had drifted across the bay with the tide and started to drift away from the beach toward the sea. It was a hard task to row back to safety against the rushing tide. My nerves could not stand the continual strain. They went to pieces and for two months I was under a doctor's care. But I would not lead another life. Every day there is a thrill. The more thrills the better I like it."
The incapacitation referred to occurred in the autumn of 1913, when the actress had severe intestinal troubles. She spent December in the German Hospital, New York City. Reel Life, December 13, 1913, told of her illness: "Jean Darnell, well known as a Thanhouser leading woman, lies ill at the German Hospital, New York City. She has been 'out of pictures' for a couple of months and last week the doctors decided that the hospital was the best place for her. On leaving the German Hospital, Miss Darnell will 'rest up' for some more weeks on the farm of Cecil Spooner, the New York 'stock' star. In addition to her fame as a Thanhouser photoplayer, Miss Darnell is of note as the contributor of a monthly 'gossip' department to a moving picture monthly." During her stay at the hospital, readers of The Moving Picture World were urged to visit and send get-well wishes. On several other occasions she was hospitalized for a similar ailment.
The Moving Picture World, February 21, 1914, printed a follow-up: "JEAN DARNELL THANKS FRIENDS: 'My Dear Photoplayer Friends and Motion Picture Fans: Through the kindness of The Moving Picture World, I am enabled to thank each and every one of you who have been so kind to me during my illness. I do appreciate it more than you can imagine. I am spending a most delightful winter amid sunshine and roses in Southern Texas and have almost entirely regained my health and just as soon as the weather in New York permits me, I shall return to my old place at the Thanhouser studio. Again I thank you all, tenfold.
"'With my very best wishes for you always, I remain, Most Sincerely Yours, Jean Darnell.'"
A note in the April 1914 issue of The Motion Picture Story Magazine stated that she had recovered from her recent illness and was due back at the studio soon. If Jean Darnell returned to Thanhouser in 1914, it was for just a short time, for by the summer of that year she was with a competing studio, Vitagraph. At one time she was a publicist for Thomas H. Ince's films. In addition to her acting, she continued writing articles for magazines.
Later Years: In 1914 Jean Darnell acted in Sisters for Vitagraph. She had a bit part in D.W. Griffith's 1916 production of Intolerance, worked at Keystone with Mabel Normand, and was at Metro with Mme. Olga Petrova. Her specialties were society and character roles.
Her recreations included driving and swimming. In 1917 and 1918 Jean Darnell lived at 215 West 88th Street, New York City. Soon thereafter, she returned to Texas, her native state, where she was a publicity agent for various Dallas theatres, including the Old Mill, Capitol, Palace, Lincoln, and several in the Interstate Theatres chain. She was also a kindergarten teacher, an instructor at Ursuline Academy for several years, and a teacher of history and geography at St. Bernard School for six years. She made several trips to Europe during her summer breaks from teaching. Jean Darnell died following a short illness, on January 19, 1961 in Dallas, Texas. Services were held at the Crane Funeral Chapel and a requiem mass was celebrated at the Holy Trinity Catholic Church. At the time she lived at 3660 Maplewood in Dallas. A daughter, Miss Rosemary Mozelle Matthews, survived her.
Note: Her first name was occasionally misspelled as "Gene" (in The Motion Picture Story Magazine, December 1912, for example).
Thanhouser Filmography:
1912: Baby Hands (8-6-1912), Conductor 786 (8-23-1912), The Voice of Conscience (9-3-1912), His Father's Son (9-6-1912), Put Yourself in His Place (10-29-1912), The Truant's Doom (11-24-1912), The Thunderbolt (11-26-1912), The Forest Rose (11-29-1912), The Race (12-20-1912)
1913: A Poor Relation (1-3-1913), His Uncle's Wives (2-2-1913), Some Fools There Were (2-14-1913), The Pretty Girl in Lower Five (2-18-1913), The Two Sisters (2-21-1913), Cymbeline (3-28-1913), The Woman Who Did Not Care (4-1-1913), The Widow's Stratagem (5-2-1913), The Other Girl (5-9-1913), Carmen (5-27-1913), The Farmer's Daughters (9-28-1913)
# # #
Copyright © 1995 Q. David Bowers. All Rights Reserved.