Volume III: Biographies
BENHAM, Harry ***
Actor (1910-1915)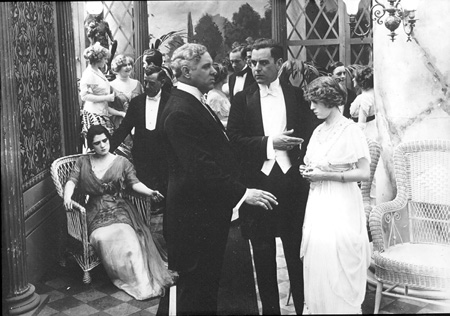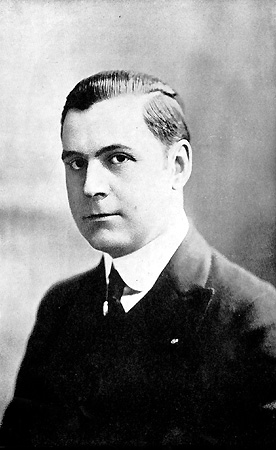 Harry Benham standing next to Mignon Anderson in an unidentified interior scene (L).
Courtesy the American Museum of the Moving Image/Lawrence Williams Collection. (M-11-X)
Harry Benham (R) from The Photoplay Magazine, July 1913. Courtesy of Robert S. Birchard (P-20)
Thanhouser Career Synopsis: Harry Benham joined Thanhouser in 1910 and became one of the studio's best-known players. He worked at the studio until the summer of 1915. His wife, Ethyle Cooke, and his children, Dorothy and Leland, were also prominent Thanhouser personalities.
Biographical Notes: Born on February 26, 1884 (another source says 1886) in Valparaiso, Indiana, Harry S. Benham was educated in Chicago, Illinois and Goshen, Indiana, where his family moved when he was a child. The Benhams then relocated to Chicago, where Harry, who had an outstanding voice, sang in a local church choir. The experience was enjoyable, and when Peggy From Paris was playing in Chicago in 1904, he became a member of the chorus, while earning a living in the wholesale paper business. He soon gained the leading role in the same production, which position he maintained during its three-year run. He subsequently played juvenile and other roles in The Sultan of Sulu, Woodland, Marrying Mary, The Gay Musician, H.M.S. Pinafore, Floradora, The Mayoress and Madame Sherry.
His entry into show business was described in an article in The New York Morning Telegraph, October 22, 1916: "Preceding his entry into the silent drama, Mr. Benham had a long stage career, particularly in musical comedy.... In one moving picture a few years ago, he portrayed nine different characters on the screen. Mr. Benham was born in Valparaiso, Indiana, 20 years ago, but his parents soon moved to Chicago. As a boy, he worked particularly hard, because he wanted enough money to train himself to become an opera singer.
"'I cherished this ambition throughout my youth,' he says, 'yet the first thing I did on growing up was to join Company H of the First Illinois National Guard. I spent three years in the guard and my ambition waned slightly, so I was entirely content to go into light opera. The very name "light opera" was music in itself to my ear. I had had nothing light for twenty years. When I was a boy I used to get up at 4 o'clock in Valparaiso to meet a train which brought the Chicago papers. These I delivered to subscribers whom I had previously solicited. School followed breakfast, and the lawn mower followed school. Then came another route for the afternoon papers from Chicago.
"'My industry was noted by an enterprising merchant just before we moved from Valparaiso, and he made me the flattering offer of one dollar for every week I blacked the shoes of the customers who came to his boot shop. I took it. In Chicago, I put in sixteen hours a day juggling heavy bunches of bananas and crates of fruit for $3.50 per week - which was some advance. I left this job for a $4 one as basket boy in a big department store. Next came the stage. That's all.'"
Harry Benham joined Thanhouser in 1910 and remained there through 1915, during which time he had lead roles in dozens of different films. He was not a matinee idol by any means, although he did have his admirers and was a frequent subject for notes in fan magazines. Rather, he was a regular, steady actor who year in and year out acted in many films, not with great histrionics or emotions, for the most part, but with a calm manner which perhaps befitted a family man - which, when he was away from the studio, was precisely the role he liked best.
A June 1913 Interview: An article in The Motion Picture Magazine, June 1913, told of an interview with the actor: "It was in the Thanhouser studio that I met Harry Benham. He had just stepped out of a society wedding scene, so he was immaculately attired, and he seemed perfectly at home in his clothes. Interviewing is not always a pleasant business - one feels so impertinent, catechizing a perfect stranger - but Mr. Benham's easy courtesy removed any trace of strain in the situation, and the few moments' chat was a pleasant one.
"Before he went to the Thanhouser Company, Mr. Benham was a star of musical comedy.... 'And you left it all for the pictures?' I asked, wondering a bit. 'How do you account for that?'
"'Here comes the reason,' he laughed, turning quickly, as a childish voice just outside the door called, 'Father!'
"'Come in, son,' Mr. Benham said, and smiled encouragingly at a miniature edition of himself who appeared in the doorway, glancing shyly at the stranger with the notebook; 'The lady's writing a story about me, and maybe she'll put you in it, too.' The lad came forward then, holding out a small hand with a ready courtesy that matched his father's. He is six years old, and his name is Leland, he informed me gravely; he plays in the pictures, and he likes it very much, thank you. Master Leland is an uncommonly attractive youngster, and the pride that shines out of his father's eyes is quite justifiable.
"'And here come the rest of them,' Mr. Benham laughed. 'Now tell me, how could a man with a family like this go chasing around the country with comic opera?' A pretty, fair-haired woman - scarcely more than a girl - came in, holding a round-faced baby, who stretched out coaxing hands toward Mr. Benham.
"'This is my daughter Dorothy,' he declared proudly. 'She's two years old, and she's a little actress, too. She just came out of a picture - you see, she's made up.'
"Miss Dorothy is a charming, dimpled mite of humanity, and seemed to be as happy in the gingham attire as in her own dainty frocks.
"'Yes, we're all actors,' said Mrs. Benham - whose stage name, by the way, is Ethyle Cooke - 'and we are a happy family. New Rochelle is a delightful place to live - near New York City, with all the joys of country life. The kiddies play in our yard and have all kinds of outdoor games. We're like a lot of kids all together.'
"'Now you see why I left the regular stage,' Mr. Benham said, as we watched them out of sight. 'I'm distinctly a family man - my home and family are all the world. In this work I can settle down and enjoy life like any other home lover.'
"Gradually the talk drifted to many subjects. Mr. Benham claims that he is 'not literary at all,' but he touches the subjects of literature, art, the sciences and all current topics with a ready familiarity. He delights in outdoor sports, as does his wife. They take long walks over the hills together, both in winter and summer; they are expert swimmers. The Benhams love their home, love their profession, love their public - and their public loves them back again, with good measure. No wonder they are a happy family!"
Benham's popularity was the subject of an item in the "From the Inside" column by Jean Darnell, in the August 1913 issue of The Photoplay Magazine: "I was talking to Harry Benham the other day, and he showed me a bunch of letters he has received from matinee girls all over the states, all wanting to visit him this summer. Mrs. Benham thinks it would be a capital idea to open up a summer resort hotel in New Rochelle to entertain in, and run in opposition to the beach resorts."
A 1914 Biographical Sketch: In 1914, the Photoplay Arts Portfolio of Thanhouser Motion Picture Stars noted: "Mr. Benham, or 'Happy,' as he is affectionately called, graduated to the movies from the legitimate stage.... He feels that he likes silent drama better than musical comedy. He has been acting in photoplays for three years and thoroughly enjoys his work, taking a great deal of interest in the producing of motion pictures. His favorite work is dramatic and light comedy leads. In all the roles in which Mr. Benham has appeared on the screen he prefers that of Henri Sartorys in Frou Frou, Correze in Moths, and the reporter in When Sorrow Fades, photoplays which have helped make the Thanhouser pictures among the best on the market.
"Mr. Benham is always happy, which caused him to be nicknamed 'Happy.' Making others happy, too, is one of his personal characteristics. Mr. Benham thoroughly enjoys going to the theatres and likes to see photoplays on the screen, especially pictures in which he has taken part, which, as he says, 'give me ideas and help me improve my work as I go along.' His advice to every motion picture actor is to see his own pictures and note the points of failure, and in that way learn where it may be possible to improve any little action. Study yourself on the screen, and in the words of the immortal 'Bobby' Burns, 'See yourself as others see you.' Mr. Benham has adopted this saying as his motto.... Mr. Benham resides at New Rochelle, N.Y., right near the Thanhouser studio."
New Rochelle directory listings indicate that in 1912 the Benhams made their home at 45 North Avenue. From 1913 through 1915 their home was at 21 Rhodes Street. In 1916 they lived at 90 Pinehurst Avenue.
A 1914 Sketch by J.W. Kellette: The New Rochelle Pioneer, September 19, 1914, carried a sketch by John William Kellette, as one of a series of profiles of studio people printed in the local paper: "Handsome Harry Benham, of 21 Rhodes Street, has won international fame as a romantic actor. If Harry ever had a villain's part on the screen folks cannot recall it. As a matter of fact, Harry's lovemaking is so perfect, his 'type' so true to romantic lore, that he is picked to play the hero in many Thanhouser dramas. Harry likes comedy fairly well, but those who see him on the screen would prefer to have him in a part wherein he whispers love's sweet nothings into shell-like ears. It is all in a day's work to the popular New Rochellean, though, and despite the fact that it is known world wide that he is married, his love letters reach enormous proportions. But after a girl proposes once Harry cuts her off his list of admirers if she attempts to ask for his heart and hand a second time.
"At his pretty apartments on Rhodes Street, with Mrs. Benham after the clicking Pathés have ceased for the day, he hies himself homeward to nestle in the bosom of his family. But with Mrs. Benham and Dorothy and Leland, his two children, the auto is often pressed into service and they spend the evening taking in the beautiful roads about New Rochelle.
"Harry Benham went into pictures because he had a foresight (a rare gift in the theatrical profession), because he figured it all out that in the legitimate it was not fun at all being tossed Pullmanistic all over the country and at the end of the season had to be introduced to his family all over again. With that idea in mind he came to New Rochelle and allied himself with the Thanhouser forces in August 1911. [This is incorrect; he was there by late autumn 1910, although it could have been that he signed a contract in August 1911, and earlier work for the studio was done on a project basis. - Ed.]
"He was born in Valparaiso, Ind., February 26, 1884, and is a perfect brunette, 6' tall, extremely good looking, a splendid swimmer, a lover of motoring, tennis and golf, and is a member of Huguenot Lodge, F. & A.M., and New Rochelle Lodge of Elks. His best remembered work was in Moths, Frou Frou, Robin Hood, Dora Thorne, Aurora Floyd, King René's Daughter, and will be remembered best, perhaps in Harry's Waterloo, while only a single, had 13 character parts, all of which he enacted. On the stage he was with Peggy from Paris, Madame Sherry, Woodland, The Sultan of Sulu, The Gay Musician, and in Marie Cahill's Marrying Mary."
"Handsome Harry": A notice in the Toledo News-Bee, January 30, 1915, stated: "Harry Benham, 'the Handsome Harry' of the movie world, recently won a Ford runabout in a popularity contest. In a facetious mood he telegraphed to send the car by parcel post, and the senders acted on the instructions. Benham is going to form a stock company to pay the charges and release the machine from the New Rochelle post office. Then all he has to do is put the 1,000,001 parts together and - Zipp! - Away she goes!"
Even before he won the aforementioned Ford, Benham was fond of tinkering with cars, and his adventures - and misadventures - with his Model T Ford furnished the subject for many humorous notes printed in The New Rochelle Pioneer and elsewhere.
After his entry into motion pictures he returned to the stage, where he essayed the leading role in The Rainbow Girl, opposite Beth Lydy, in a production which was a success on the New York stage and on the road. He also appeared in Toot-Toot, the musical comedy version of Excuse Me, and in other plays and vaudeville skits from time to time, as his motion picture schedule permitted.
After Thanhouser: Harry Benham's last day at the Thanhouser studio was Saturday, August 7, 1915, after which he and his children, Leland and Dorothy, went to Famous Players. This arrangement proved to be ephemeral, and soon the three were working for Universal in Coytesville, New Jersey. His wife, Ethyle Cooke, remained with Thanhouser, and the family continued to live in New Rochelle. Subsequently, Harry Benham appeared in many Universal pictures, including Man Inside, Joan of the Hills, Capital Prize, The Doll Doctor, Love's Masquerade, The Girl Who Didn't Tell, Peggy and the Law, When Thieves Fall Out, Mignonette, and Her Mother's Sweetheart. Benham also appeared in the 1917 Astra release (through Pathé) of The Last of the Carnabys.
In 1917 Harry Benham worked with several studios and appeared in Warfare of the Flesh (Warren Productions, states rights), The Victim (Catholic Art Association), The Frame Up (American), Mischief Maker (Fox), and The Outsider (Rolfe for Metro). In 1918 he was seen in Convict 993 (Astra for Pathé), and in 1920 he appeared in The Dangerous Paradise (Selznick) and The Prey (Vitagraph), among others. Among his memorable later film roles was the male lead in the 1918 Select production of Cecilia of the Pink Roses, opposite Marion Davies in her second film. Benham was also seen in Hush Money (Paramount, 1921), The Road to Arcady (J.W. Films, 1922), Your Best Friend (Warner Bros., 1922), and The Town That Forgot God (Fox, 1922).
A directory in 1916 noted that he was 5'11" tall (a 1914 biography gave his height as 6'), weighed 175 pounds (a 1918 directory stated he was 170 pounds), and had brown hair and brown eyes. His pastimes included swimming, skating, horseback riding, golf, and tennis. In 1918 his home address was 209 West 107th Street, New York City.
The Cleveland Plain Dealer, January 2, 1919, told of Benham's career before, during, and after the movies: "The best thing about the stage is that it furnishes us with a lot of our best motion picture players. Harry Benham, over at the Opera House this week - making believe he's a real live lord - really belongs to us. And so does his wife, who was Ethyle Cooke. Because they both became well known in pictures and worked together in them. Cleveland has a further claim on them in that they were married here. It was during Mr. Benham's engagement with the Peggy From Paris show, and it happened in a church right on Euclid Avenue.
"Now there are two Benham children, a girl and a boy, but that's getting away ahead of the story. It all began in Chicago, where a lot of nice things begin. Mr. Benham was working in a bank or something, and singing in a church choir on Sundays. Someone told him he had a 'stage voice,' whatever that is, and he went right down to see about getting a job with an opera troupe. He landed a job in the chorus at $12 a week, and his career began. Almost at once he was given 'bits' to do, and made so much of them that after a while he was made second understudy to the star, and when the first understudy was indiscreet enough to break something the very same week the star had to be sent home to recover from an illness, Harry went on and made good in the part. So the next season, they gave him the part when the show started out. To save confusion later, I suppose, when it would have been necessary to give it to him anyhow.
"Since then it has been just one success after another, with five years in pictures, a wife and two kiddies, to make life interesting. Thanhouser claimed most of the five years, and a year with Irene Castle and some time with Fox. During that time Harry's voice had a nice long rest. Cleveland remembers him even before he went into pictures because he played stock here at the old Euclid gardens and did Peggy From Paris at the Opera House and The Gay Musician at the Colonial. With the money earned in the movies Mr. Benham has bought a nice big farm in Florida, just north of Miami, where he hopes to end his days after the pictures and the stage have lost their fascination for him. The ten-year-old Benham boy left Cleveland New Year's Day for that farm in Florida, all by himself, to spend some time with his father's mother.
"The three most important questions of the film fan have been answered in the story - all except one. The first two - is he married, and what's his real name, we know. The third one - how old is he, I refuse to answer because he said when I asked him, 'Not so awfully old. Just about your age.' Voila!"
In the 1920s Harry Benham was involved in the clothing business. His wife, Ethyle Cooke Benham, passed away in 1949. In 1953 he married Doris Townsend Deppe, a widow, whom he had met in Sarasota, Florida one winter. During the later years of Harry Benham's life the couple spent their winters in Sarasota and their summers in Doris' cottage on the north shore of Devil's Lake in Wisconsin. Following four and a half months of hospitalization, Harry Benham died on July 17, 1969 in Sarasota. After her husband's death, Mrs. Benham gave his scrapbooks to film historian Clark Wilkinson, who subsequently presented them to the State Historical Society of Wisconsin.
Note: His first name was given as "Henry" in publicity for several films, including The Lady from the Sea and She. The names Harry and Henry were often interchangeable, Harry being a diminutive of Henry. In certain publicity for the 1912 Thanhouser release of The Merchant of Venice, his name appeared as "Harry Burnham." His middle initial S was rarely used.
Thanhouser Filmography:
1911: The Old Curiosity Shop (1-20-1911), The Mummy (3-7-1911), Jilted (5-4-1911), The Regimental Ball (5-12-1911), Get Rich Quick (5-26-1911), The Rescue of Mr. Henpeck (6-9-1911), The Smuggler (7-25-1911), The Early Life of David Copperfield (10-17-1911), The Satyr and the Lady (10-20-1911), Their Burglar (11-3-1911), The Missing Heir (11-7-1911), The Lady From the Sea (12-12-1911), The Tomboy (12-19-1911), Cinderella (12-22-1911), She (12-26-1911), The Expert's Report (12-29-1911)
1912: Dr. Jekyll and Mr. Hyde (1-16-1912), Her Ladyship's Page (1-23-1912), East Lynne (1-26-1912), The Poacher (3-15-1912), Nicholas Nickleby (3-19-1912), An Easy Mark (4-12-1912), The Baby Bride (4-16-1912), Dora Thorne (Mutual 5-1-1912), Her Secret (6-7-1912), In Blossom Time (6-25-1912), The Professor's Son (6-28-1912), Under Two Flags (7-7-1912), The Finger of Scorn (7-14-1912), The Portrait of Lady Anne (7-23-1912, The Merchant of Venice (7-26-1912), The Wrecked Taxi (8-16-1912), When a Count Counted (8-23-1912), Letters of a Lifetime (10-1-1912), The Warning (10-4-1912), Miss Robinson Crusoe (10-8-1912), Dotty the Dancer (10-13-1912), In a Garden (10-25-1912), The Ladder of Life (11-5-1912), A Noise Like a Fortune (11-10-1912), Miss Taku of Tokio (11-19-1912), The Forest Rose (11-29-1912), A Romance of the U.S.N. (12-6-1912), At Liberty - Good Press Agent (12-8-1912), Aurora Floyd (12-10-1912), Brains vs. Brawn (12-15-1912), The Repeater (12-22-1912), The Star of Bethlehem (12-24-1912)
1913: The Floorwalker's Triumph (1-24-1913), His Uncle's Wives (2-2-1913), A Mystery of Wall Street (2-11-1913), Half Way to Reno (2-16-1913), Sherlock Holmes Solves The Sign of the Four (2-25-1913), Just a Shabby Doll (3-11-1913), Babies Prohibited (3-16-1913), The Wax Lady (3-30-1913), The Patriot (4-8-1913), The Changeling (4-11-1913), The Girl and the Grafter (4-15-1913), An American in the Making (4-22-1913), For Another's Sin (4-25-1913), A Pullman Nightmare (5-25-1913), A Victim of Circumstances (6-1-1913), His Sacrifice (6-13-1913), The Head of the Ribbon Counter (6-15-1913), The Eye of Krishla (6-22-1913), King René's Daughter (7-1-1913), For the Man She Loved (7-8-1913), Willie the Wild Man (7-27-1913), Little Dorrit (7-29-1913), Proposal by Proxy (8-3-1913), The Girl of the Cabaret (8-8-1913), The Medium's Nemesis (8-22-1913), The Spartan Father (8-29-1913), Moths (Mutual 9-1913), His Last Bet (9-7-1913), Robin Hood, Parts 1 and 2 (Mutual 9-23-1913), Robin Hood, Parts 3 and 4 (Mutual 9-30-1913), Louie, the Life Saver (10-7-1913), Beauty in the Seashell (10-19-1913), The Mystery of the Haunted Hotel (10-21-1913), The Water Cure (11-2-1913), The Children's Hour (11-14-1913), He Couldn't Lose (11-16-1913), Baby's Joy Ride (11-18-1913), What Might Have Been (12-5-1913), A Beauty Parlor Graduate (12-9-1913), An Orphan's Romance (12-23-1913), His Father's Wife (12-26-1913)
1914: Frou Frou (1-1-1914), Their Golden Wedding (1-2-1914), The Runaway Princess (1-9-1914), Coals of Fire (1-16-1914), Her Love Letters (1-20-1914), The Elevator Man (1-25-1914), The Success of Selfishness (2-6-1914), The Golden Cross (2-24-1914), The Scientist's Doll (3-1-1914), The Miser's Reversion (3-24-1914), When Sorrow Fades (3-29-1914), Repentance (3-31-1914), His Reward (Princess 4-24-1914), A Woman's Loyalty (5-5-1914), Pamela Congreve (5-26-1914), Was She Right In Forgiving Him? (5-26-1914), Rivalry (6-9-1914), The Girl Across the Hall (6-14-1914), The Man Without Fear (6-19-1914), The Harlow Handicap (6-30-1914), Harry's Waterloo (7-19-1914), Stronger Than Death (8-11-1914), Gold (9-15-1914), The Mettle of a Man (9-20-1914), The Harvest of Regrets (9-27-1914), The Trail of the Love-Lorn (9-29-1914), The Rescue (10-11-1914), Mrs. Van Ruyter's Stratagem (11-24-1914)
1914-1915 Serial: Zudora
1915: Graft vs. Love (1-19-1915), The Heart of the Princess Marsari (5-18-1915), Daughter of Kings (5-23-1915), The Girl of the Sea (6-1-1915), A Freight Car Honeymoon (6-6-1915), The Country Girl (6-15-1915), Mme. Blanche, Beauty Doctor (Falstaff 7-9-1915), His Two Patients (7-25-1915), When the Fleet Sailed (8-3-1915), When Hungry Hamlet Fled (8-17-1915), Helen's Babies (9-14-1915), The Scoop at Bellville (10-12-1915)
1916: Pamela's Past (reissue of the 1914 film, Pamela Congreve, by Exclusive Features 12-1-1916)
# # #
Copyright © 1995 Q. David Bowers. All Rights Reserved.