Volume III: Biographies
LA BADIE, Florence ***
Actress (1911-1917)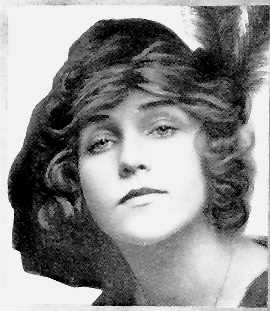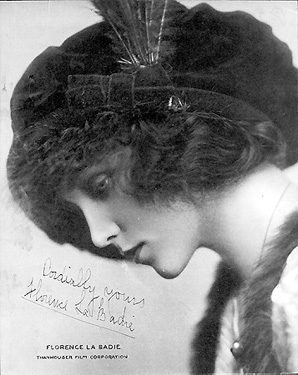 Advertisement (L) from The Cinema, February 25, 1915 for Episode 9 of the Million Dollar Mystery.
This particular portrait of Florence LaBadie was widely reproduced. (F-809)
Florence LaBadie (C) in a 1914 publicity portrait given to Ardice Blanchard, a New Rochelle movie fan. Courtesy of Donald Collins (P-220)
Florence LaBadie(R)  in a 1913-1914 publicity portrait. Courtesy of Donald Collins (P-230)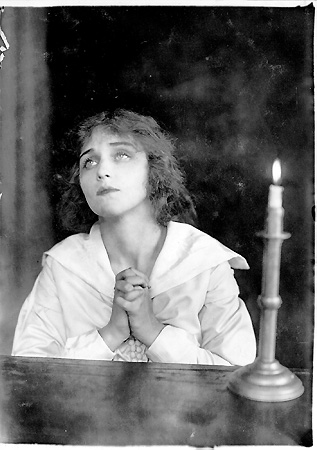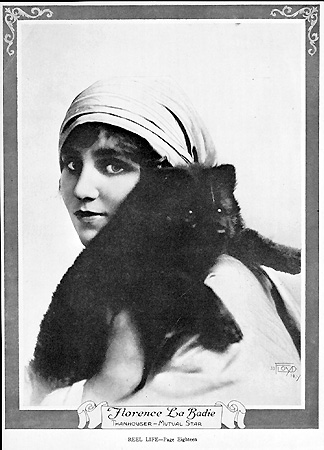 Florence LaBadie (L) in a 1914 scene. Courtesy of Donald Collins (P-240)
Florence LaBadie (C) in a publicity portrait published in Reel Life. Courtesy of Bebe Bergsten (P-250)
Florence LaBadie (R) in a scene from THE MILLION DOLLAR MYSTERY. Courtesy of Donald Collins (P-260)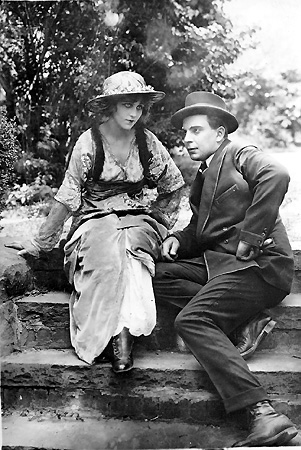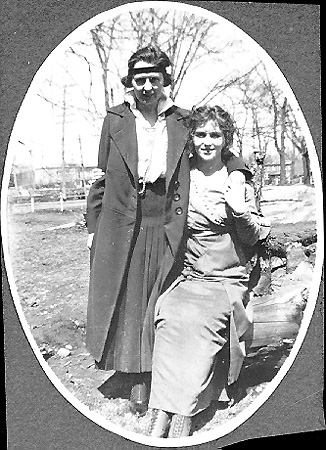 Florence LaBadie and James Cruze, circa 1914. Courtesy Donald Collins (X-190)
Florence LaBadie (R, seated) and an unidentified Thanhouser actress in a candid photograph from the scrapbook of Ardice Blanchard, circa 1914-1915.
Courtesy of Donald Collins (X-310-3)
Florence LaBadie in a studio portrait, from the scrapbook of Ardice Blanchard, circa 1914-1915. Courtesy of Donald Collins (X-340-1)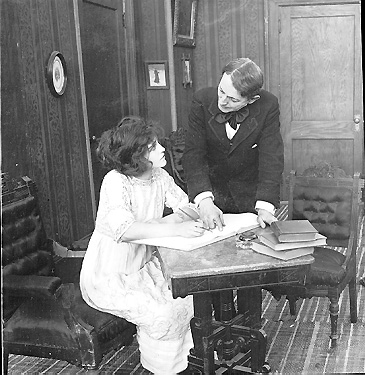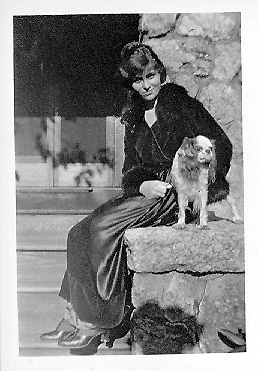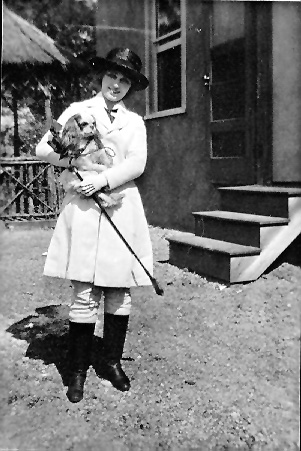 Florence LaBadie (L) in a scene, circa 1914. Courtesy of Donald Collins (X-320)
Florence LaBadie (C) in a candid photograph from the scrapbook of Ardice Blanchard, during the summer of 1914. Courtesy of Donald Collins (X-340-2)
Florence LaBadie (R) in a candid photograph from the scrapbook of Ardice Blanchard, during the summer of 1914. Courtesy of Donald Collins (X-340-3)
Thanhouser Career Synopsis: Florence LaBadie, who was with Thanhouser from 1911 until 1917, was the company's most prominent player during that span. She appeared in leading roles in dozens of Thanhouser films and had the leading female role in the 1914-1915 serial, The Million Dollar Mystery.
Biographical Notes: Florence M.L. LaBadie is believed to have been born in New York City on April 27, 1888, and to have been an only child. A deposition by Marie C. Russ, a patient at the Home for Incurables, New York City, October 8, 1917, stated that: "Florence Russ, my daughter, is an owner of lot no. 17187 in the Greenwood Cemetery, being a grandchild and heir of Mrs. Louisa Russ, the purchaser of said lot. That some years ago said Florence Russ was legally adopted by Joseph E. and Amanda J. LaBadie, and her name legally changed to Florence LaBadie...."
Part of her youth was spent in Montreal. Her adoptive father, Joseph E. LaBadie, is believed to have been born in Canada and is said to have been a prominent attorney there at one time. Her adoptive mother, the former Amanda Victor, was born in Europe, possibly in Paris. Florence was educated in New York City schools and at the Convent of Notre Dame in Montreal. Her adoptive uncle, Oddiehon LaBadie, maintained an estate in nearby St. Lambert. After her education was completed, she became a model for Penrhyn Stanlaws, one of America's best known illustrators at the turn of the century. (Later, Stanlaws became a movie director.)
Her modeling was discussed in an interview published in The Photoplay Magazine, October 1912: "'I have had quite a lot of posing to do for artists. I have had more work of that sort than many other picture players, I think.' Miss LaBadie rose and hurried off into some mysterious region of her pretty home and soon returned with a portfolio of pictures by Penrhyn Stanlaws, for whom she posed for most of the pictures you have all seen in the magazine covers and on calendars. She is the real 'Stanlaws Girl,' and the walls of her home are lined with pictures by various artists for whom she has posed."
Florence LaBadie appeared on the stage beginning in 1908, when, after she registered with a theatrical booking company, she was signed by Chauncey Olcott's company. She was on the road with Olcott in the autumn of that year, appearing as a scampering little fairy in Ragged Robin. She toured the East and, for example, on October 6, 1908 was seen at the Opera House in Lexington, Kentucky. In the autumn of 1910, she was before the footlights in a minor role in Winthrop Ames' presentation of The Blue Bird at the New Theatre in New York City.
Her Screen Career Begins: A portent of the future occurred in the summer of 1909 when she accompanied her friend Mary Pickford to the Biograph studio at 11 East 14th Street in Manhattan to watch her act in a film which was released the following September under the title Getting Even. Florence was given a bit part. Soon thereafter she was seen in the November 1909 release of In the Window Recess. However, it wasn't until a year later that she joined Biograph as an employee.
The Photoplay Magazine, October 1912, related how Miss LaBadie's screen career started: "'I went into this work just by accident,' she said. 'I was playing 'Light' in The Blue Bird, as a preliminary trial for a road company, at the New Theatre, and one day I went down to see Mary Pickford, an intimate friend of mine, and met Mr. Griffith, the director of the Biograph Company. In a day or two I was on my way to California as a regular member of the Biograph forces. [I spent] one season with the American [Biograph]."
Her first regular work with the Biograph Company was in the autumn of 1910, and after the Christmas season she went with their stock company on its annual winter visit to Southern California. For Biograph she played in The Spanish Gypsy, After the Ball, The Broken Cross, Paradise Lost, A Knight of the Road, His Mother's Scarf, The New Dress, Enoch Arden (Parts 1 and 2), Dave's Love Affair, The Primal Call, The Thief and the Girl, Her Sacrifice, The Blind Princess and the Poet, Fighting Blood, Madame Rex, and Bobby, the Coward.
Joining Thanhouser: In the spring of 1911, unsure of her future at Biograph, Miss LaBadie went to New Rochelle and applied to Edwin Thanhouser for a position there. The Motion Picture Story Magazine, July 1913, stated that Florence joined Thanhouser in June 1911. In New Rochelle she went from one success to another. From 1911 until 1917 she played leading roles in many films, eventually becoming the best known of all Thanhouser players, and the leading player with the longest tenure with the company. Her nickname to her friends, but not in publicity, was "Betty." Florence embodied the very spirit of beauty and charming personality and was admired by her friends and the public. She was a frequent subject for articles and letters in fan and trade magazines, and over a period of years she was the most publicized of all Thanhouser players.
Although interviews and news articles often mentioned Florence's mother, very little appeared in print about her father. An exception was a small item printed in The New Rochelle Pioneer, September 26, 1914: "Joseph LaBadie, father of the delightful star of The Million Dollar Mystery, was a visitor to the studio Tuesday." Another exception was a mention by Gordon Trent in his column in the New York Morning Telegraph, January 5, 1913: "Florence LaBadie of the Thanhouser Company has her mother in Los Angeles to spend the winter with her. I met Flo's father the other day and it is easily discernable where Flo gets her talent."
Fearless Florence: Florence LaBadie was known as a daredevil. The Photoplay Magazine, October 1912, discussed her love for adventure: "To see Miss LaBadie, dainty and demure in a summery dress, surrounded by her family on Sunday morning, one cannot believe her to be the daredevil searcher after excitement and adventure she is reputed to be. Yet this characteristic is her strongest one. They at the studio in New Rochelle never know what she is going to do next. She goes out looking for trouble and usually finds it, whether by land or sea, trolley or motorcycle.
"For some time she made a practice of riding to and from her work in the Thanhouser studios in a high-powered motorcycle. Fast through the darkness she would flash along the dark roads leading into the city, and come to a sputtering halt in front of the largest apartment house in Upper Broadway, where she lives with her mother and father. The land is seemingly not adventurous enough for this photoplay star, for now she has taken up aviation and with Captain Baldwin has made ascensions to a considerable height down at Mineola, Long Island....
"'I love excitement and adventure,' she declared, her violet eyes, just below her mass of sepia hair, flashing and sparkling as she spoke. 'I go out looking for it, and, of course, one usually finds it pretty easily. And I love other things besides adventure, too,' she went on, 'though I don't get much time now for it, and that is reading. I read anything and everything that comes to hand.' This charming young motion picture actress is one of the most popular in the profession, her standing in the popularity contest attesting that, and is not surprising when one looks at her, hears her talk and sees that she is a girl of beauty, refinement and culture, a member of one of the finest Canadian families."
The Thanhouser actress loved automobiles, and her idea of a good time on the road was to speed around a curve or press the gas pedal to the floor on a straight stretch. In January 1914 The Photoplay Magazine noted that she intended to buy a Fiat racing car. One of Florence's favorite weekend pastimes was to go to Coney Island to enjoy the rides - the more thrilling, the better. Danger was her middle name, so it seemed, and many were the press releases and articles which told of her brushes with disaster. Of course, such copy was common throughout the motion picture trade and provided an inducement for patrons to rush to the nearest nickelodeon to see the heroine jump from a ship, be thrown from a bronco, fall over a cliff, or be held fast in the clutches of a villain. In the process, during the developmental years of the "star system," demi-gods and goddesses were created.
Green Book magazine, August 1914, told of a narrow escape: "The women who seem to be so alluringly feminine also have their share of adventures. Florence LaBadie of the Thanhouser Company may be cited as an illustration; and her 'gameness' is typical. A melodramatic scenario was being rehearsed, and Miss LaBadie, as the adventuress, was preparing to climb a tree, drop 12 feet to the ground, make a flying mount to horseback, take an eight-foot jump, ride her horse down a steeply-pitched bank that was 40 feet high, jump into the water and swim 75 yards to a motor-boat, climb into the boat and throw its occupants overboard, start the engine, and then glide gracefully out of the picture.
"But while she was making ready for the start of this mad chase, a horse reared suddenly, and its hoof struck her a glancing blow on the chin. She was unconscious for half an hour; the contusion was severe, and there was a slight laceration, but by the good luck of moving picture players she had escaped fracture of the jawbone.
"When she came to her senses she naturally asked the woman's first question, 'Where am I?' and then insisted upon continuing the picture. The doctor who had dressed her wound begged her not to be foolhardy, and the producer ordered her home for the day, but she refused to obey them. The company, she declared, had come 14 miles from the studio, for that picture, and she did not intend to delay the work. She carried her point, and went through with her exhibition of Amazonian courage. When the last foot of film had been exposed, she wilted in a dead faint, thereby causing more worry for her doctor."
The same incident was described by her friend and fellow Thanhouser player, Jean Darnell, in The Photoplay Magazine, March 1914: "She told me that while working in a picture one day she was seated on her horse, waiting to ride in the scene, when the signal was given to start. A horse ridden by one of the extra men reared into the air and as his front feet came down he struck her in the face, breaking three of her teeth and giving her a very swollen lip and bruised jaw as well. 'I think that is about the closest shave I have ever had to being killed,' she said. 'Had I been half a foot nearer I would have been.'"
John William Kellette, in The New Rochelle Pioneer, September 19, 1914, told of her reputation: "Florence LaBadie, star of 'The Million Dollar Mystery,' and hundreds of other Thanhouser 'hits,' is conceded to be one of the most daring of the girls who work for the clicking Pathés; and her recent arduous work in the Mystery, where she fought, fled and sighed gives promise for even greater work on the screen. Seldom has a girl of 20 received the international notoriety or publicity than has 'Flo,' and her admirers are legion, and at times she is threatened with writer's cramp in answering the enormous quantity of mail that daily pours into the studio and at her home in 'The Garfield,' New York City.... Her chief delight is study; her favorite sport is swimming, and her friendship is worth its weight in gold."
In Blue Book magazine, September 1914, Howell Hansel, director of The Million Dollar Mystery, described the heroine of the Thanhouser serial: "'She'll do anything I ask her to,' said Director Hansel. 'If I were to say to her, 'Miss LaBadie, go and jump out of that window; there'll be someone down below to catch you,' she'd do it without even going to the window to look out to see. She's pure steel.'"
In August 1916, Florence took a vacation motor trip in the mountains. The first postcard she sent to the Thanhouser studio bore this message: "Here's a photograph of a cliff near my hotel. Wouldn't it be dandy for a leap?"
A 1913 Chat: The following appeared in the "Chats With Players" column in The Motion Picture Story Magazine, January 1913: "It would be hard to find a prettier picture of ideal home life than is seen when one calls on Miss Florence LaBadie, who lives with her devoted father and mother in a beautiful apartment on West 124th Street. For this popular young actress belongs to the type so frequently met in our American life - the petted, idolized, only child around whom the home and family revolve like satellites around a star. Some girls are spoiled by this state of affairs; but there are others who seem to develop a rare sweetness of mind and soul from the love and care that surround them. Miss LaBadie belongs to the latter class; meeting her, one feels at once that here is a girl whose character, though broadened by education, travel, and experience, is yet moulded and sweetened, kept simple and sincere, by the wholesome, home-loving life and training that has been her good fortune.
"She is a slender, graceful girl, with a repose of manner that is seldom found. She does not gesticulate when she talks, as do so many of her profession. Her slim hands lie quietly in her lap, and her face, with its delicate regular features, is under perfect control. Miss LaBadie can express much emotion with face and gesture, but she also can, and does, control her expression. She has a mass of fine, soft, brown hair, that lights into a pure golden tint when the sun touches it. Her throat is beautifully curved; her eyes are a bluish-gray, large, and a bit dreamy. And yet this bit of a girl with the demure, half shy manner is known as the girl who is afraid of nothing! She is an intrepid rider, a daring swimmer, venturing difficult dives and feats without an instant's tremor. She has taken flights in the air and on the sea with equal fearlessness, and she greatly enjoyed motorcycling until a recent terrible accident to a friend, who was racing with her, spoiled her enjoyment of the sport.
"But last week her reputation for bravery and nonchalance suffered a terrible shock. She actually got frightened when doing a scene in the studio yard, screamed and jumped and protested like any ordinary, nervous girl. And it was not a ferocious wild animal that caused all these tremors - just the common, back-yard variety of goat! 'He kept putting his head down and looking at me,' she explained. 'It was dreadful!'
"Before Miss LaBadie began her work in the pictures, which was only two years ago, she was successful on the regular stage, playing for two seasons with Chauncey Olcott and then at the New Century Theatre in The Blue Bird. Her first photoplay work was with the Biograph Company, where she played opposite Edwin August. From the Biograph she went to the Thanhouser Company, where she has played a great number and variety of parts. 'I like comedy parts best,' she said, 'but I do much better work in sad ones - why is it we always want to do the things we can't do?' As I ventured no reply to this world-old question, she went on, graciously, but with no self-assertiveness nor apparent desire to advertise her success, telling me interesting details of her work at the Thanhouser studio, which is located in New Rochelle, the famous little town 'Forty Five Minutes from Broadway.'
"'It is all so interesting,' she declared, her eyes losing that faint touch of dreaminess as she became interested in her subject. 'There is such variety to the plays, and I never know what I may be called upon to do next. Not long ago I had the lead in Miss Robinson Crusoe. They left me floating on a log, so far out that, though I am a good swimmer, I really wondered if I'd ever get back to land. Recently I have played 'Undine,' which was a very interesting subject, and have also enjoyed my work in The Merchant of Venice and Lucile. Yes, I always go to see the pictures in which I have appeared, and, silly as it may seem, I really have stage fright. I sit with my hands clenched and watch myself, seeing where I might have done better and longing to walk into the picture again and improve my acting.'
"With this spirit, it is easy to understand Miss LaBadie's progress in her work. There are few more popular actresses today. She was born in New York and it has always been her home, though she has traveled all over this country. Her education was in the public schools and in a convent, and she greatly prefers the former. She is very skillful with pen-and-ink sketches, and meant to be an artist in her early years, until her talent for acting turned her thoughts from the artistic career. Before her stage work began she posed for many of Stanlaws' finest pictures. An omnivorous reader, she is familiar with the whole range of literature, but prefers the old masters of fiction, particularly Dickens, Thackeray, and Bulwer-Lytton. She is fond of outdoor sports, liking best 'the things I can do alone,' as she expressed it, swimming, rowing, and skating. She adores her two tiny white toy spaniel dogs, Beauty and Teddy, and I suspect that she still plays with her dolls! At any rate, I saw three elaborately dressed ones reposing upon a divan in her dainty dressing room, looking just as if somebody loved them.
"'I am always scared when an interviewer is coming,' she confessed, when I finally rose to go, 'but this hasn't been bad at all; I shall be glad to have you come again. I think The Motion Picture Story Magazine is fine.' By the way, the LaBadies pronounce their name thus: Labodee, with accent on the first syllable; the 'bod' is pronounced the same as in 'body.'"
The New Rochelle Pioneer, October 21, 1916, printed the actress' own opinion on how her name should be spoken, the final word on the subject: "Florence LaBadie pronounces her name Lah-Bah-Dee. It's French and there is no accent on any syllable. Some well-meaning persons pronounce it LaBody, which makes Florence shudder and say, 'Sounds like a coroner's inquest.'"
An April 1914 Interview: The New Rochelle Pioneer, April 4, 1914, carried this interview: "Suppose you were an unaffected, carefree young lady of 19 and were sitting quietly in your room. Suppose you were confronted by a perfectly strange man, who after the briefest of introductions announced that he had come to interview you. What would you do? What would you say? If you have any really good ideas jot them down and mail them to Florence LaBadie at the studio of the Thanhouser Film Corporation. They may help her another time. The other day she hadn't quite decided either question. So she perched on a high bench, swung her heels and said 'Oh!' several times with widely varying inflections. Then she touched her prettily rumpled hair, indicated her costume with an airy gesture and remarked, 'Oh, dear, I wish you hadn't seen me this way. I'm made up as a poor woman.'
"Then the man who said 'poverty breeds discontent' is a willful and pernicious liar,' we answered, 'though the saying has always seemed highly truthful up to this minute.' After a short pause to allow due contemplation of the cleverness of these words, we sent on: 'It takes a discriminating sense to tell a lot of interviews from obituaries. They start with the birth of the subject, cover the rapid rise to fame over seemingly unsurmountable obstacles and close with an air of finality which makes you wonder whether it was a pretty funeral. So please tell me about yourself, without any attention to chronology.'
"Miss LaBadie then gave a short account of her various experiences here in New Rochelle. It seems that she has a great ambition to be among the first to try any new amusement device. It makes no difference how dangerous it looks. As a result she is often referred to about the studios as 'the heroine of Coney Island.' All of which goes to show that Miss LaBadie is not a serious person except in her work. When she is not appearing before the camera she looks at life in the most carefree manner. Just think of it. Here is a star of the motion pictures who admits for publication that she is not an amateur psychologist, student of the new thought or philosophy, or afflicted with any of the mental aberrations which leading actresses so often feel it necessary to suffer.
"Life is too short for that sort of thing,' she said. 'My acting is all the serious work I want.' Miss LaBadie is different from many actresses in another way. She cannot bear to live in the country, and is willing to admit it. By 'country' she means everything outside of New York City.
"Well,' said Flo, thoughtfully, 'I'm very fond of Coney Island.'
"'Great!' we cried. 'Go on!'
"Even the urban grandeur of New Rochelle has so little charm for her that she says she wouldn't live here if they'd give her the whole place. So she uses the reverse English on the commuting proposition by coming up to New Rochelle every morning and going back in the afternoon. This enables her to take in the various attractions of New York, including motion picture shows. She is very fond of watching pictures. 'You see,' she explained, 'I not only get entertainment from them, but I also get ideas. When I see myself I find that I never come up to my own expectations, and that of course, inspires me to work harder.'
"During [her motion picture career] she has spent a number of months at studios in Florida and California but, said she, 'I am always glad to get back to New Rochelle, because it is so near New York.'
"We not only had the pleasure of talking with Flo, but also saw her act, and it was a play in which she had to do a lot of unpleasant things. However, she seemed to be very little disturbed, which was hardly strange in view of the fact that she has gone up in aeroplanes and done scores of even more reckless things for the sake of a few feet of thrills in a film. On one occasion she jumped into a stream on a bitterly cold winter day. There were two consequences, a startling scene in a picture and a cold which stayed with the heroine for months. After our visit we decided that Florence LaBadie owes her wide popularity not alone to the fact that she is a good actress and pretty, but to a character and personality which are in accord with her looks. It is impossible for a girl to appear as often to audiences as Miss LaBadie without her personal traits being much better known than she supposes. Her popularity will depend much on what the public thinks of these traits. In this case, the public has decidedly the right impression."
An April 1914 Article: Motography printed the following in Mabel Condon's "Sans Grease Paint and Wig" column, April 4, 1914: "Flo LaBadie was curled up on top of a steamer trunk with her head on a sofa cushion and her feet dangling their patent leather pumps over the trunk's edge. Her blonde curls were long and heavy and they fell over the design of green and gold poppies which had finishing honors at the top of her turquoise-blue silk kimono. It was the LaBadie hour of rest, after a busy morning in the Thanhouser studio. And she was resting, in spite of the fact that she had loaned her dressing room - all but the trunk corner - to the dresser whose duty at that particular hour, was to dress three small boys in Lord Fauntleroy costumes and send them forth into a court scene. The girl in the turquoise-blue kimono obligingly woke up. She smiled with her pretty mouth and with her eyes (they matched the turquoise of her negligee), and she did it as though she liked being waked in the middle of her rest-hour. For a whole minute the three small boys, in various stages of disarray, ceased being 'small boys' and remained quiet, to the intense relief of their dresser. They concentrated with eyes and ears.
"'Lab-a-die' is the correct way, but I don't mind how it is pronounced. It should have been 'Smith,' was what the three miniature gentlemen heard. 'It's French, and I'm German and French,' continued the girl with the curls that half hid the silken poppy design. 'My father is distinctly French and there's title in his family - Count 'de Caciac' is the way it sounds. I really should be a very good French scholar, but I'm not.' A book of instruction as to how to become a master of French and several books written in that language, were scattered over the broad windowsill. 'Oh, yes, I read them, but - !' said Miss LaBadie, intimating that that, really, was nothing at all.
"The threesome, who had lost their interest in the trunk-corner, in the process of being inveigled into blue velvet knickerbockers and be-ruffled shirt-bosoms, were making the life of the dresser one not to be envied. 'Like dressing worms,' commented the latter to the threesome.
"'It's only about three years since I began work for pictures,' Miss LaBadie was saying. 'I started with the Biograph. Before that I had been with various companies on the road; Chauncey Olcott's was one of them. Mother always traveled with me, she does yet whenever I go on long trips, out to the Coast or down South. I posed for front covers of magazines before I went on the stage and afterward, between shows. That was what made me think I would fit into work for the screen. Mary Pickford is a dear friend of mine and it was Mary who suggested I try pictures. I was with the Biograph Company for a year, thence here - and while I live in New York, I love New Rochelle. There's the river right back of us here, you can almost see it from this window, and in summer I swim and row there every day. See - my arms are sunburned from last summer! Lots of times, I was down there in my bathing suit when I should have been up here ready for a scene, and somebody would have to race madly down and get me. It's so easy to forget scenes and things in a hot studio, when you're in a bathing suit and a boat!'
"In front of the mirror the dresser beseeched one of the court gentlemen to not screw up his face and to not try to talk while she was trying to get his make-up on even. The court gentleman, thus adjured, closed his mouth and one eye, and with the other watched his two companions lest they escape without him.
"'No, I detest snakes, but in that picture somebody had to be the dancer and wrap the snake around her and as nobody was more afraid than I was, I guessed I might as well try it. I didn't mind doing it because I felt the thing wasn't going to hurt me. For days afterward, I could feel it about my neck - Ugh! But if another such role were given me, I would not hesitate to do it. For disagreeable things aren't always as disagreeable as they seem,' she philosophized, in the quiet, languorous voice that is so expressive of the speaker who, herself, is both quiet and languorous by nature.
"It is said that nobody at the studio has ever seen her angry and 'tis also said that she never indulges in the use of slang. Neither of these virtues are hers by reason of aloofness, for she is especially companionable and always ready to join in anything that promises fun and adventure. But she does not go forth to seek opportunities for either; she lets them come to her. Thus, is she languorous. And she is quiet in that she is not of the nervous-energy type, though she loves skating and dancing and is proficient in all the latest steps of the latter. She is popular, very popular, as everybody knows, and she is of the caliber designated as being 'true blue.'
"'Charles, the plume in your hat does not droop over your face. And Harold, your make-up is off again - come here! The minute I finish with one of you, another needs attention. Now stay put!' Then the dresser marshalled her band of three out into the studio court setting. And I left the girl in the blue kimono to pin up her gold-spun curls and leisurely dress for the 3:10 train."
A July 1914 Visit: The following article, by "Mae Tinee," appeared in The Baltimore American, July 12, 1914: "Blue-Eyed, Golden-Haired Florence LaBadie: "'Come in!' I had rapped on the door of Florence LaBadie's dressing-room, of the Thanhouser Studio, at New Rochelle, N.Y. and at the pleasant-voiced summons I stepped inside. I stopped abruptly. 'It isn't - ' The funny little thing on the couch laughed, showing teeth that gleamed astonishingly white out of a weird brown face. 'O, yes it is!' She patted the pillows beside her invitingly. Come, sit down!'
"Still staring, I squatted down by her side. She certainly looked too queer for words. She had on an Arabian costume of many colors and her head was swathed in an enormous turban, from under which her blue eyes looked merrily, the whites of them as surprisingly white as her teeth had seemed. 'Why the disguise?' I asked. 'Upon what dark enterprise are you about to embark?'
"She leaned toward me and whispered mysteriously behind her little brown hand: 'Sh! Not a word. I'm a spy! I'm the ward of a governor over in the Orient and we have just discovered there is a plot on hand to kill all the English by putting germs in their food. We sent one man to reconnoiter, but he was discovered and put to death. So I volunteered, and after much persuasion induced my guardian to let me don this costume and go to the city, which is the heart of the conspiracy, where I conduct the fruit stand. I snoop around, and whenever I learn anything I send a message to my guardian in an orange. The orange is delivered to him by a faithful servant who is always about protecting me. I get in with the conspirators and they invite me to attend one of their meetings, at which they tell me they are to talk over something of great importance. I go - '
"'I do go,' Florence LaBadie said, laughing. 'Wouldn't you like to watch this scene taken?' I answered enthusiastically that I would and went up to the stage, on which were all sorts of queer-looking persons in queer-looking garbs - not one of whom you could even think of meeting on a dark night without a tremor. Awful, sinister, bearded men; stinky, furtive-eyed women with half veiled faces, etc. And the scene was a council chamber. At a table in front of rows of chairs evidently intended for the conspirators stood a fierce, bearded individual. Before him on the table were two large glasses filled with mysterious-looking concoctions.
"At a word from the director the conspirators fell in, each raising a hand, as a high sign of some kind. Among them was my interviewer. The camera had not started its grinding yet and she made a face at me. Then she sank into her chair in the very front row and rehearsed what she was to do - which was to depict first alarm then horror - then in a frenzy of fear to tear her bodice revealing her white skin. As the others filed out, after they had taken oaths to make way with the English by the germ system, the bearded individual tapped her on the arm, asked her politely to be seated, and informed her that, as she had been the first to learn the secret, so should she be the first to die by it, and she prepared to feed her a germ. She struggled and - enter the faithful servant, who throttles the bearded one, rescues Florence, and incidentally saves the English. [This was a scene from A Mohammedan Conspiracy, released May 12, 1914.]
"Oh, it was awfully thrilling! But it was over at last and Miss LaBadie still panting a little from her exertions, came and led me back downstairs to her dressing-room. There she removed the warm turban and let down her blonde hair, presenting, as Alice in Wonderland would probably have said, a curiouser and curiouser appearance. She asked: 'Do you imagine you'd like to be a movie actress?' I shook my head. 'Wouldn't have the nerve. It takes a brave human to face a camera. Of course, I suppose one might get used to interior scenes - but the things you have to do out of doors - in front of a crowd. I should die!'
"'Oh, no, you wouldn't.' Miss LaBadie was positive. 'Of course, you do mind it at first, but, like everything else, you get used to it.' 'But the risks! You do have to take terrible risks. Aren't you ever afraid?' 'Oh, no - ' Miss LaBadie started. Then she stopped, laughing. 'What's the use of fibbing? Of course I am. I get terribly panicky. But I don't believe I was ever so frightened as the first time I was called on to do something hard.'
"'Tell me about it, won't you?' She ran her slender fingers through her mass of hair. 'Well,' she said, 'I hadn't been in the business very long when we did a picture in which I and my father had to escape from some Indians. There was a scene in it where we were to climb in a wagon and drive a couple of horses helter skelter down a steep hill. At the bottom of the hill there was a river and we were supposed to jump from the wagon - a big, high affair - into the water and swim for our lives. I had never driven in my life - and I was the one who had to hold the reins. Well, just let me tell you, Miss Tinee, the morning that scene was to take place there wasn't a more frightened girl on the face of the earth than Florence LaBadie.'
"'I can believe it.'
"'Yes. Well.' I said to myself, 'you knew you'd have to do scary things if you got into this business, now it's up to you to go ahead and make good!' So, when the time came we got in our wagon and down the hill we tore, with the wagon bumping over stones and me sawing at the reins, praying every prayer I'd ever heard of just as fast as I could pray. And what do you think happened?'
"'What?'
"'Just as we reached the bottom of the hill the wheels on one side struck a big rock, and instead of jumping the wagon turned over, throwing us into the water. Everybody let out a yell - you see they thought surely we had been killed, but my prayers had worked, and the next they saw of us we were swimming as per program. And the wonderful thing was that the camera caught the whole thing - the camera man being too excited, I suppose, to stop his camera when the spill occurred. It was a great picture, I can tell you - but it came near being the finish of my career.'
"'And I had another thrilling adventure - ' she paused. 'Please,' I said, 'tell me about it.' 'Well,' she said slowly, 'I rather hate to think about that, it came so very near being the end of me; but I might as well get used to talking of it, I suppose. We were playing in a picture called The Ward of the King and there was to be a scene in which I, mounted on a fast horse, would endeavor to escape from the pursuers. (You see, being a leading woman, I am usually either being pursued or something of the kind.) Before it was time for the scene to be taken, I got on my mount and rode over to where my pursuers to be were sitting on theirs. And there we sat all together idly talking until such time as the director should give us the signal that it was time to take the picture. 'Are you ever afraid, Flo?' one of the actors asked me. I smiled and told him that I was, sometimes, but that I never let my fear influence me. 'Afraid now?' he wanted to know. 'No, indeed,' I exclaimed; 'not a bit. I don't believe there's horse on earth that could throw me.'
"'I had no sooner said the words than something or other got into the horse I was to ride. I couldn't tell what was the matter, but probably a horsefly bit him. At any rate, suddenly, without the slightest warning he snorted. Like a flash he whirled around and bolted off down the road, with me clinging to my seat and the reins for dear life and mumbling incoherent and jolty prayers as I sawed away in my frantic efforts to stop him. Behind me the others were coming, of course. They were all frightened out of their wits, for they were sure I would be killed. As suddenly as he started, then, my horse stopped. Of course, I was thrown and almost under the heels of other horses; but for some reason or other I wasn't hurt at all, excepting for a good shaking up. But my nerves received a shock that I can never forget.'
"'Surely,' I said, 'you didn't go on with the picture after that did you?'
"She laughed and nodded. 'Oh, yes. It would have been a shame to disappoint everybody when they were all made up and all for this particular scene.'
"'But you didn't ride the same horse, I warrant.'
"'I did not. And they had to make an awfully long time before I'd get on any horse at all. I insisted on being babied, praised for my bravery, congratulated on my nerve, and all that.'
"'You are a wonder!' I said - and I meant it. 'I should think,' I said, 'that after such an experience you would never have dared to take a chance again.'
"She smiled. 'I thought I never would, but goodness - we live day by day, you know, and I find that when the time comes for me to take a chance I go ahead and take it. My mother and father, though, are frightened all the time. I never dare tell them when something particularly thrilling is docketed.'
"'In The Million Dollar Mystery you'll have quite a number of difficult things to do, won't you?' She took the chair in front of her dressing table and commenced removing her makeup. It was on good and solid, and she was silent for a moment while she applied cold cream industriously. 'Yes,' she said then, 'several. For one thing, I have to jump from the captain's bridge of the Imperator. But that doesn't particularly frighten me, for I can swim like a fish - and I shan't try to dive - might break my back if I'd hit the water just right. I'll go feet foremost.'
"'Well,' I said with conviction, 'feet foremost, or - or - anything foremost, you wouldn't catch this brave person trying it, Miss LaBadie. I'm sitting here regarding you with an amount of awe that would certainly impress you if you could gauge it.' I was sorry afterward that I said it, though, for she immediately grew shy and it was with difficulty that I could persuade her to talk about herself anymore. She has the reputation of being the most modest and retiring person around the studio, you know, or you probably didn't know - but you do now - and it is told of her, proudly, by those who work with her, that she has never, during her entire engagement with the Thanhouser Company been known to say an unkind thing about anybody.
"But I found out quite a little about her. She lives with her father and mother, and when she is not working or enjoying herself out of doors she's usually found domesticating just like any girl who never dreamed of being anything else but somebody's wife or mother or daughter. With all her love of outdoor sports, Miss LaBadie confesses frankly that she is deeply interested in mesmerism, hypnotism and the subjects that bear of the relation of mind to matter.
"'Ever since I was a little girl,' she said, 'I have liked weird stories. The fairy stories that the other children enjoyed were never the ones that made a hit with me. Beautiful, golden-haired fairies interested me not at all. I liked queer, ghoulish creations of the brain, who were always doing miserable, unlooked for, uncalled for things. Not that I approved of them or their doings, you know. I was simply fascinated - that's all.'
"'Ever try crystal gazing?' I wanted to know. She looked at me warily.
"'Djou?'
"'Yes. Once. And once I had my fortune told by a woman who had a stone that looked like a piece of coal. She made me touch it and it had a nasty greasy feeling. She said it was an E-jah stone and that the grease was the elixir of life oozing out.'
"'Oogy!' Miss LaBadie said. 'It was probably in the stove and some bacon grease dripped on it! Yes, I've crystal gazed. It's fun, isn't it?' I agreed that it was and we both agreed the occult was fun, if nothing else. An odd, charming, interesting personality! The Thanhouser people crow shamelessly over her exploits - and the Thanhouser people have good cause to."
Posing for a Cover: August 1914: "The Girl on the Cover," by Mabel Condon, appeared in The Photoplay Magazine, August 1914: "A girl in a black satin bathing suit stood far out on one of the big rocks that jut into the water of Long Island Sound. From under the tight confines of a jaunty red silk bathing cap fluffy strands of gold tinted hair escaped and were stirred by the warm wind that came across the sound. She smiled, and half closed her black-lashed lids over eyes that were bluer than the turquoise water below. As she leaned far out over the rock as though trying to fathom their depths, an excited voice broke the calm: 'Hold it! Hold it!' A click from the depths of a black-hooded object told that the pose had been secured on the plate of the camera, and the girl slowly turned her gaze toward the beach and wondered what came next.
"The girl was Florence LaBadie and she was posing for the picture that decorates the front cover of this magazine. But the cover does not show the fringe of spectators that hung over the hot, white stone railing of a clubhouse, or pavilion - or maybe it was just the top of the rock bluff - from which a splendid view could be had of Miss LaBadie as she fell naturally into the prettiest of poses. And as quickly as she did, the camera clicked. And back of the rocks, on the hot white beach, mothers or nurse-maids interrupted the sand-digging pastime of the kiddies to direct their attention to: ' - the pretty lady getting her picture taken. See?'
"The pretty lady was as unconscious of their gaze as though she were alone on the rocks with no such objects as spectators and cameras and directors present. There were others there, too. Take Jay Cairns, for instance. Miss LaBadie was not allowed to forget his presence. He was a constant reminder because of his constant remark: 'I thought your bathing suit would be shorter.' Sometimes he would vary it with, 'I wish your bathing-suit were shorter.' And once he said 'PHOTOPLAY will expect your bathing-suit to be shorter.'
"Miss LaBadie's unruffled reply, given at five-minute intervals, was 'I don't see how it could be shorter.' Then she would look down at the generous expanse of black silk leg visible above the knees, and - would try tucking the satin skirt an inch higher under its already high-waisted belt. All the way out in the auto Mr. Cairns had bewailed the non-shortness of the satin suit. Miss LaBadie sat in a corner of the car with a coat covering her abbreviated costume, a veil tied over the flaming silk cap, and her feet thrust into unbuttoned button-shoes. 'I expected it shorter - and ripped up the side, maybe,' Mr. Cairns hazarded, as the car turned a sharp curve and caused everybody to rejoice at having taken the precaution to get a grip on something. 'I suppose you mean 'slit'?' Miss LaBadie answered, bringing into use a ragged-edged piece of mirror she had hastily picked up somewhere, just before starting.
"'Yes, I guess that was what I had in mind,' agreed Mr. Cairns. 'Something that would kind of blow open on the side and - you know,' he finished helplessly. 'I know; but do you know that you would have to have one of that kind made to order? And you only told me about this picture this morning, so the best I could do was to borrow my cousin's suit. My own is an Annette Kellermann one,' returned Miss LaBadie in the low voice that is one of her charms. 'My cousin won ever so many medals, in this suit,' she added opening her coat just far enough to allow of her caressing the front breadth of the black satin.
"'Not for its shortness,' Mr. Cairns answered in a voice that refused to be resigned to a three-inch above the knee skirt. 'Certainly not,' Miss LaBadie closed the discussion. 'My cousin is not a member of a burlesque troupe. Besides - the wind is blowing and that will make the skirt shorter.' It did, and every once in a while, Mr. Cairns was guilty of an enthusiasm that he hastily covered with 'Wish it were shorter!' if Miss LaBadie looked his way. The pose on the jutting rock was somewhere about the tenth. Those that had gone before were on the beach, at the very edge of the water and at the 'bubbly fountain.'
"'Now, crook your elbow, bend your knee and raise your foot backward, high, like this!' And Director Howell Hansel secured a firm footing on the rock with one Number 8 whilst he elevated the other and sent a message skyward with the finger-tips of his right hand; said hand protruding from a shirtsleeve that bulged or flapped, just as the wind willed. 'Oh, a Mercury pose,' Miss LaBadie interpreted. 'How's this?' 'Fine - all right; now wait until we change the plate.' The toes of the poser, after an allotted number of seconds wiggled from the strain of the weight upon them, the up-lifted silken leg palpably trembled and the sky-raised arm wavered.
"'It was easy for you - you had your shoes on and the stone didn't hurt your toes,' Miss LaBadie volunteered without changing her position. 'I can't hold this pose much longer - When we're through, may I take a swim?' the girl called out from a gathering sea-weed posture on the water's edge. 'Yes, but I don't want you to get your feet wet now,' Mr. Hansel returned.
"'I know a good pose. May I take it?' Flo asked, inspired. 'Let's see it.' 'Like this,' said Miss LaBadie, walking out into the water and finding a green stone upon which she rested one foot as she beckoned to an imaginary companion to join her. 'Take it Harry!' Mr. Hansel directed his cameraman with as much enthusiasm in his voice as a director ever allows it to show. There were several other posings, then the cameraman folded up his tripod, the director took off his straw hat and fanned a damp brow and Mr. Cairns and everyone watched Flo splash out into the water and heard her repeated opinion, 'It's cold.'
"'Don't get your hair wet. You have to get right into a scene when we go back.' Mr. Hansel sent her a kill-joy command. 'No-o-o!' the answer came back from far out as the swimmer Australian-crawled and side-stroked and kept her silk-covered head above water as much as possible - considering. 'There, her hair'll be soaked!' groaned Mr. Hansel from the depth of the straw hat that shaded his eyes and smothered his voice. But it wasn't; only the little strands that had wandered out from under the silk cap were, and these, Flo comfortably explained, she could brush back and they'd be dry in a minute. On the way back to the studio, Mr. Hansel said he had expected the red cap to come off mysteriously in the water, thus affording its wearer an excuse to have the rest of the afternoon free.
"'There's nobody who can give as many good reasons for not reporting on the minute and being around when they're wanted, as Flo LaBadie and Peggy Snow, he confided to the right-corner occupant of the car. 'I asked them the other day how they managed to have their excuses so ready, and Flo said that they had a whole series of them numbered and that when they had tried number 23 they would bring out number 87, and so on; all peachy excuses. But I want to tell you I never knew anybody with a disposition like Flo LaBadie,' he added in a more serious tone. 'It's an actual fact that nobody has ever seen her angry and she has never had a dispute with anybody at the studio. And she'll rehearse a thing for a director just as many times as he wishes, and never a word of complaint about it. She's a wonderful girl, with that disposition of hers, and she's an actress without trying; the talent was born in her.'
"Wonderful words or praise to come from a director, and everybody else says the same things about her, too. She IS a perfectly charming girl. In her eight-by-eight dressing-room, as she dripped out of her cousin's suit in which she - the cousin - had won many medals, she talked languidly of many things. Clothes, hair, babies, the Chicago Exhibitors' Ball, dancing, motor boats, personalities, snakes, Al Jennings, publicity men, and magazine editors.
"'We had an awfully nice time,' she referred to the Chicago ball. 'I think I'd like Chicago, only they don't dance there. We were at the LaSalle Hotel and both Peggy and I must have showed our disappointment at there being no dancing, as the people we were with took us to a smaller restaurant for supper, and when nearly everybody had left at 12 o'clock, the chairs were removed and the few of us who remained were allowed to dance. I was terribly surprised. But the people there were awfully nice and we had a good time at the ball. If you want to see the dress I wore, I'll show it to you in a minute.' Then she drew the curtain from in front of her row of clothes on hangers and brought forth a dainty white silk crepe gown, sprinkled with cubist flowers and looped and draped at the sides and with no sleeves at all.
"'I wore this head-dress,' bringing from a box a rhinestone-set cap with brushes of glistening silvered aigrettes at the sides. 'And I love my coat - I like its gold collar,' she added holding up a beauteous evening wrap that was all the colors of the rainbow, artistically blended and woven and topped off with a stand-up collar of gold lace. 'We didn't go to Chicago for a rest,' Miss LaBadie talked on in that even way of hers. 'So we didn't rest. One afternoon - we were only there three afternoons - there was a tea-party and all the women talked about their babies and some of them adored housekeeping. That was one occasion on which I had absolutely nothing to say - Don't you like this dress?'
"It was blue taffeta, just the shade of the LaBadie eyes and it was trimmed with ivory tinted lace. "I thought you would - I love it. One has to have so many clothes, in pictures. And now, working in The Million Dollar Mystery, I have had to get several entire new wardrobes. I'm the heroine so I have to have oceans of things. Isn't it too bad,' she went on after a little pause in which she had replaced the taffeta and the crepe gowns and the coat of the blended rainbow colors, upon their respective hangers.
"'Isn't it too bad we have to spend as much time as we do upon thinking what we will wear and what will go nicely with what and all the other quandaries connected with the wearing of clothes? Just think how much time we would have for other things - motor-boating, for instance,' she laughed. And then she told me of her new motor boat and how she was carried away in it by the tide up at Hell Gate and how, when she and her companion finally landed, she had to wait for several hours on a creaking old pier where there was no place to sit down and where there was a rat, until the companion returned with assistance to fix the engine or something that was wrong.
"'I was more afraid of the rat than of the snakes I've worked with in pictures, and I detest snakes. But when a picture calls for work with a snake - why, the only thing to do is do it. I discovered that the very first time I worked before the camera three years ago at the Biograph studio. So I always try to be ready - I don't mean 'on time,' she added rather hastily, 'but willing to do whatever is expected of me.'
"The process of beading her eyes demanded her attention for a minute and she resumed her conversation with the remark, I've been at the Thanhouser studio for two years, and if I should lose my position here I'd become an aviatrix.' This was Miss LaBadie's last remark. She made it placidly enough, and as though she meant it. But of course, she didn't. And even if she did, no one would let her. And even if they would let her she would never lose her job. So there you are!"
Hobbies and Other Interests: In the March 1914 issue of Photoplay, Jean Darnell noted that Miss LaBadie lived on Riverside Drive in New York City, and played the piano and sang. An accomplished pianist, Florence could play many classical selections from memory. She liked to dance but never had lessons. Art, sculpture and painting were among her spare-time interests.
Florence remained single throughout her life, but she was engaged twice. Her first fiancé was Val Hush, a salesman at a Cadillac automobile agency in New York City, who also acted in small parts for Thanhouser and who at one time dated Mignon Anderson. They were very much in love, until Florence and Daniel Carson Goodman, the writer of Thanhouser's Zudora serial, became attracted to each other. Her engagement with Hush was dropped, and she accepted Goodman's proposal. In the meantime she received hundreds of proposals of marriage through the mail from her admirers. She counted these as they came in and considered it good luck to send the writer of each hundredth letter a little trinket and note. In addition, she was squired to numerous events by Marcus Loew, of motion picture theatre fame, but this was in the nature of companionship rather than a romantic situation.
The New York Star, November 4, 1914, told of her many admirers: "Florence LaBadie, whose experiences as the heroine in The Million Dollar Mystery are almost ended, is contemplating the publishing of some of the gems from her thousands of letters received during the showing of the very popular serial. They come from all parts of the world, are well written and legible, and she says they can be divided into three classes: love letters, pure and simple, with sure 'nuff proposals; admirations from screen audiences; and many, many notes requesting help in the solution of the Mystery. 'Which do I prefer? Well, that would be telling. Just let me read you a few of the choicest ones.' Judging from the samples, the book will be enjoyable reading."
She liked dogs, and in various articles about her over the years, several are mentioned, including two spaniels, three white poodles, a fox terrier, and even a Pekinese. In November 1916, a Chicago admirer, a little girl, sent her a kitten, which Florence subsequently reported was "getting along famously" with her collection of canines. Her dogs made the news in The New Rochelle Pioneer, November 4, 1916, which informed readers: "Miss LaBadie recently took to the studio one of her dogs that she had reared in her New York apartment. The dog had to be carried up the stairs at the studio, for he had spent his life in an elevator apartment and didn't know how to walk up steps."
A 1916 interviewer found her in the midst of six dogs, all of which she was training. She told the same interviewer that her favorite poet was Walt Mason. When he asked her if she read Browning, Swinburne, or Burns, she disarmingly replied: "'Burns! Oh, yes. I have a copy around my dressing room somewhere. The press agent brought it in one day so I could be reading it when a reporter for a Boston paper came to interview me.'
"'Did it make an impression?'
"'I don't know. He said he never had read any of Burns' poems, but that if they were as good as his detective stories, they must be great!'"
In an interview with George Vaux Bacon, published in the December 1916 issue of Photoplay, Miss LaBadie's address was given as 200 Claremont Avenue, New York City. She stated that her parents were born "somewhere in France," perhaps Paris, but she wasn't sure. Her favorite author was Lewis Carroll, she said, and she liked his Alice in Wonderland. However, her favorite book at the moment was Memoirs of the French Court.
In 1913 and 1914, Muriel Ostriche, who was leading lady of Thanhouser's Princess division, shared a train ride nearly every day with Miss LaBadie, who lived near Riverside Drive. They boarded at the 125th Street in Upper Manhattan, and alighted at the New Rochelle station. The two girls became firm friends and shared many experiences. "Florence was a wonderful friend and a wonderful person, and we all adored her," Miss Ostriche stated in an interview.
Florence LaBadie was a city girl through and through, and on numerous occasions she expressed her preference to spend as much time in New York City as she could. After work, it was back to Manhattan as soon as possible. The building-walled canyons of the big city were preferable to the tree-lined lanes of the countryside, although one suspects that the hinterlands indeed possessed at least some degree of charm for her, for she was an outdoorswoman and was wont to leave New York City on vacations. She did not admit to any strong philosophies, and declined on numerous occasions to give opinions on the suffragette movement, popular trends, "new thought," religion, psychology, or politics.
In contrast to Marguerite Snow, a Thanhouser actress who was well-known for her lavish wardrobe on screen and off, Florence LaBadie dressed modestly. In an article in Movie Pictorial, July 4, 1914, Miss LaBadie was described as being easier to satisfy than Snow, who shopped on Fifth Avenue. Further: "Miss LaBadie's favorite shop is a little one located on Broadway near 50th Street. Though meek and unpretentious in its appearance, Flo insists that its tastes are distinctly individual and up to the last minute in style."
On the other hand, there were occasions when Florence was front row, center in fashion, at least on the screen. A 1915 Thanhouser news release noted: "Florence LaBadie is wearing in The Smuggled Diamond, a forthcoming Thanhouser two-reeler, several stunning new gowns. Recently she took a vacation - at least that is what her friends supposed she was doing. In reality she was putting in her time keeping five dressmakers busy. When she returned, it was with a trunkful of new costumes which are masterpieces of design, fabric, and cut. Miss LaBadie knows how to wear beautiful creations just as they should be worn, and if photoplay devotees among the fair sex would know exactly what is artistic and smart in the advance modes, let them watch Miss LaBadie's appearances from now on."
Florence LaBadie was the cover subject of Photoplay, August 1914. An interview in the same issue quoted her as saying that if she ever lost her position with Thanhouser she would become an aviatrix. At another time, she told a reporter she was studying office procedures, so if she needed work in another area, she would be qualified as a secretary. However, there was no lack of screen work for Miss LaBadie in the summer of 1914, for this was the height of her involvement in the role of Florence Gray, the daredevil heroine of The Million Dollar Mystery. Nor did she ever have to think seriously of any other employment during her tenure with the New Rochelle studio, for she was kept continually busy.
Another line of endeavor was described in the January 7, 1914 issue of The New York Dramatic Mirror: "Flo LaBadie, the Thanhouser star, is now a motion picture operator.... Miss LaBadie is operating a Power's Cameragraph No. 6A, and judging from her smile, she is perfectly satisfied with her dramatic ability and the clearness of the picture on the screen. Miss LaBadie is not merely posing as an operator, she is one. She spent several weeks in the Thanhouser projection room where the Power's machine is in use, with the result that she is today probably the only motion picture actress who is able to operate a projection machine. Now it's 'Miss LaBadie - Power Star.' She enjoys it most when projecting pictures of herself."
A few years later, she told a writer for the January 21, 1917 issue of New York Morning Telegraph that she never desired to direct films, nor did she ever aspire to write scripts, but she would love to be a camerawoman. No woman had ever been a camera operator for motion pictures, the article stated. Florence had become interested in cameras and was currently studying their operation.
After the World War broke out in Europe in 1914, Florence LaBadie showed great sympathy and compassion for soldiers in the trenches. An account in the New York Morning Telegraph, June 27, 1915, related that a youth wrote her from the front line in Europe and sent her 120 photographs which graphically depicted the horrors of the conflict. Florence promptly announced that at her own expense she was converting the pictures to a set of stereopticon slides and would conduct a series of lectures with them, beginning with an invited audience of Peace Society members. In June 1916 she was one of the most prominent fund raisers for The World's Statue of Liberty Illumination Fund and was seen on Broadway in a special Pullman automobile presented by the Thanhouser Film Corporation "in recognition of her services" and used during her solicitation of contributions.
In July of the same year she gave advice to would-be screen players, in an article in Motion Picture Magazine. She said that one should have the ability to register many emotions, should have a knowledge of screen technique combined with personality and attractive appearance, but the most important requisite was to have brains. Knowledge of stage acting was not necessary, she advised, and the best thing to do was to register as an "extra" with film companies, and then, day after day, visit the studios in the hope of landing a part. "When that chance is first had, the results will be known immediately."
A feature titled "My Album," printed in a fan publication, noted that her favorite flower was the violet, her motto was "work while the sun shines," her favorite pastimes were swimming and horseback riding, her favorite gem was the pearl, her favorite color was blue, as an exercise she liked dancing, her favorite drink was milk, her favorite food was beefsteak, and among animals she was fondest of horses. For an ideal member of the opposite sex she felt he should be "taller than I by at least half a head, and not too fat nor yet too thin." The color of his eyes "depends on his hair," while the color of his hair "depends on his eyes," and his complexion "depends on his hair and eyes." His propensities should be "to do the things I like to do, well."
A 1914 Character Sketch: In 1914, the Photoplay Arts Portfolio of Thanhouser Motion Picture Stars noted: "She is 5'4" in height, weighs 120 pounds, has blue eyes, light brown hair, and fair complexion. Prior to acting before the camera - having appeared in about 400 photoplays to date during the last three and a half years - having first appeared in Biograph films - 'Betty' was on the legitimate stage with Chauncey Olcott and in The Blue Bird. She prefers photo dramas to the stage, expressing an opinion that its influence on the whole is much better. Her greatest ambition is to become a star in Thanhouser 'silent drama.' Of all the roles in which she has appeared on the screen she prefers that of Mary in The Star of Bethlehem and Cymbeline in the photo drama of the same title. [Note: This is erroneous, for the role of Cymbeline, a male, was played by William Russell; LaBadie played Imogen in the film.] She could suggest improvements in motion pictures, but she does not go into detail. However, if her word were law, none of the films would be censored.
"The picture that made the greatest impression on her mind was [the imported film] The Last Days of Pompeii. She is interested in mesmerism, for her personal characteristic is curiosity; likes dancing, and is fond of all sports, especially swimming and riding. Miss LaBadie is of the Catholic faith and was educated in New York City schools and a convent. The most exciting incident in her life was when she was thrown from a horse in Ward of the King. Miss LaBadie is single."
Miss LaBadie's Favorite Roles: An article in Reel Life, February 28, 1914, gave more information about some of Florence LaBadie's favorite film roles up to that time: "She was 'Mary' in The Star of Bethlehem. This is the first thing the Thanhouser people will tell you if you ask them about Florence LaBadie. They consider that the young French Canadian girl made her reputation as a leading woman on the screen in the great Thanhouser Christian morality play. Thousands of people who saw her, a trifle over a year ago, in her first big attempt, will always think of Florence LaBadie as 'Mary.' And that the character suited her personality she herself bears witness - for though she has created many widely differing roles since, she still cherishes above them all her first appearance as 'Mary'....
"She has a fortunate inheritance - being born of cultured French parents in Montreal [sic], where she was educated in the Convent of Notre Dame. She speaks both French and German fluently, and expresses herself charmingly in English, her adopted tongue. She is widely read, and was familiar with 'The Adventures of a Diplomatic Free Lance' in the Blue Book long before the Thanhouser Company thought of filmatizing the series. When she was cast for 'Nan,' the unconventional ward of Lord Trevor, she brought to the part great enthusiasm and appreciation from her knowledge of the stories, and the author, who is in constant consultation with the producer at the New Rochelle studios, says that he doubts whether he could have found any one else so near the type of his heroine, or one who would enter into the spirit of the part as Miss LaBadie does.
"Besides these two greatly contrasting roles, Miss LaBadie played the lead in an adaptation of Cymbeline, and is at present engaged upon a big historic production, Cardinal Richelieu's Ward, in which she stars as 'Julie de Montemar,' with James Cruze opposite. An adaptable actress of many talents, she is an equally versatile and talented young woman in private life. She is very athletic, her favorite sport being swimming, though she also loves horseback and boating. Her pet fad is sketching her friends, and she has real ability for catching their likeness. She also writes poetry. This, however, she is immensely shy about. She will show her verses to no one, except one or two close friends, for they are her most intimate expression. Though one would little guess it, under all her gaiety and lively interest in many activities, Miss LaBadie is a philosopher. She ponders the inconsistencies of life, and out of her meditations come the poems which she hides from the Philistine.
"Perhaps her most fundamental trait is her intense curiosity. She wants to know life and to understand it - to meet all kinds of people - and to study their lives and ideas. This faculty of curiosity will not let her rest content with her own mental outlook, or her triumphs in the pictures. It is constantly urging her on, to educate herself further, and develop her versatile nature. Such a hunger to know all about the world she lives in - especially about all different types of people - supplies her with ever fresh material out of human nature to enrich her character acting. It promises well for her future as a star who can be counted upon to create famous roles for Thanhouser."
A May 1914 Article: An article in Blue Book magazine, May 1914, told of Florence LaBadie's role as Nan in The Diplomatic Free Lance series of films, and of some aspects of Florence's personality: "When the face of a girl not yet twenty-one years of age is known and loved by twenty or thirty millions of people, it may be taken as an established fact that some vital quality in her personality gives it a greater amount of magnetism than that of the average young woman. Even this doesn't fully describe the difference. It is within the power of most girls to exert some personal attraction over the people they meet socially - through charm of manner, a pleasant voice, unselfish willingness to extend little helpful courtesies - all the thousand and one ways evolved by the social relations of every-day life. But when the means of expressing one's personality are limited to intangible, voiceless images thrown upon a blank white screen, there must be an innate something in the girl's psychic makeup which defies all barriers and restrictions.
"Few of the faces on the motion picture screens are better known today than that of Miss Florence LaBadie. Born of cultured French-Canadian parents in Montreal, in April 1893, and educated at the Convent of Notre Dame in that city, she made her stage debut with Chauncey Olcott in Ragged Robin. In 1911, she was playing a minor part in The Blue Bird. From that engagement, she went to the Biograph Company for her first six months in motion pictures - changing, at the expiration of that time, to the Thanhouser Company, where she first appeared in the sacred feature play, The Star of Bethlehem, with James Cruze. Since then, she has played leads with him in many notable screen productions - the two most recent of which are Nan Tremaine to Cruze's Lord Trevor in the series of plays adapted from 'The Adventures of a Diplomatic Free Lance,' which have been a feature of the Blue Book Magazine for years.
"When asked what roles were her favorites, she said: 'Intensely dramatic, exciting parts, suit me best. The out-of-doors sort - where I'm obliged to be active all the time.'
"'But, Miss LaBadie, in some of your characterizations, you impress one as doing very well the quieter roles - the ones with leisurely gestures - the ones - er - '
"'I think you'll find there is usually plenty of quick motion before the end of the scene. I do like parts in which I can get an effect of reserved force, quiet, slow movement, until the crucial moment comes, and then - well - excessive activity, when the spectator isn't looking for it. That is one reason why I like the part of Nan Tremaine so much. My conception of the part when I first read the stories was that of a very unconventional young girl - quite old for her years, in mentality - yet bearing herself like a healthy, happy, carefree child toward older people whom she liked. The sort of girl who might climb a tree - swim a river - or ride a horse, bareback, without a trace of self-consciousness, like an unsophisticated little animal - and yet, as sharp to observe political and social complications - plots, diplomatic intrigue - as a much older woman. It's rather a difficult part to act, when you consider what such a combination means.'
"It is said that when Miss LaBadie was mentioned to the author as a possible player for Nan, he exclaimed without a moment's hesitation: 'Capital! The very girl for the part! You can't do better! I've seen her act, and I think she's just the type.' How far he and the president of the producing company were right in this estimate, those who have seen the first two plays of the series: A Leak in the Foreign Office and The Cats Paw, may judge for themselves. Among other questions asked Miss LaBadie was one bearing upon the relations between the casts of competing companies. Without a second's reflection, she said: 'If I understand your question, I do not think there is any feeling of rivalry between people working for the different companies. For instance - our company is one of the Mutuals, and the Vitagraph is associated with the General Film Corporation. In business, the General and the Mutual are pretty deadly competitors. But that doesn't in the least prevent our meeting and liking the people who work for the Vitagraph. We dance and eat with each other at the balls given by the Motion Picture Association, at the Screen Club, at the annual shows held in Grand Central Palace or some other place. If, for any reason, we happen to leave the company we are working for at the moment, we change over to one of the General or Universal or Mutual companies, and are always sure of employment as long as we behave ourselves and don't get stale. I came here from the Biograph, which is a very seriously competing company - and we're always getting people from one of the Pacific Coast studios, or going out there ourselves.'
"'Do you live here, near the studio, Miss LaBadie?'
"'Oh dear no! ...I live with my mother and father on Claremont Avenue, overlooking Riverside Drive, in New York.'
"'And - do you come out here every day...or do they let you know when they want you?'
"'We're supposed to be here at the studio every morning - rain or shine. Of course, if one is ill, that's different. And our pay goes on just the same. When they're trying out a new girl, they say they'll telephone when they're ready to have her come out - and, for instance, when the directors are quite sure I'll not be needed on any particular day, they telephone me so that I won't make the trip for nothing. But as a rule, we're supposed to be here ready for anything which may be required.'
"'How do you feel when you're talking with the author of a play in which you happen to be acting. You meet them sometimes, do you not?'
"'Yes - but a good many authors are rather disappointing when one meets them - they're such ordinary-looking people - just working for a living like the rest of us, apparently. Really, though - the money isn't all of it, among professional people, whether they're actors, writers, musicians or artists. We all get something out of our work that I never heard of anyone getting in business life - something which makes a lot of us work for very little pay. Take the part of Nan Tremaine, for instance. It's a pleasure for me to forget my own name for a while and be just Nan - helping her guard to get the better of the secret agents who work for the other governments - and some of the plays which will come along during the spring are awfully exciting. In one of them I have to dress as an Arab boy and go prowling about the bazaars in the native quarter of Cairo. In another I'm an Austrian baroness who would be shot or stabbed in one second if the men around me guessed who I really was. Have you noticed Flora - the big dog who acts with us? We're teaching her to lie down in front of the secret doors and howl when she hears anyone coming on the other side. She's doing so well that we're going to raise her salary pretty soon.'
"Miss LaBadie speaks French and German as well as she does English - and for a young woman has done a quite remarkable amount of reading. Her personality off the stage impresses one as being even more attractive than on the screen."
A June 1915 Article: An article in Motion Picture Magazine, June 1915, gave additional details of Florence's coming to New Rochelle and many insights into her personal life: "Florence LaBadie is reaching the zenith of her career as a screen star, and she is just as modest about it today as she was when she walked into the old Thanhouser studio about four years ago and asked Dave Thompson, the then cast director, for work in pictures. Florence had been in stock with Ethel Grandin, and had been listening to the call of the screen, if there can be a call from any silent thing, and, after witnessing a scene in the old studio, bearded Mr. Thompson in his den.
"Dave is quick at sizing one up. He noted the long-lashed, blue eyes under a big panama hat, and figured Miss LaBadie (he didn't know her name) to be about 16 years old; and, with a glance, he took in the expressive dark eyebrows, the abundance of fluffy, light-brown hair and inwardly nailed the thought. 'Gee! some eyes for pictures!' He promised her nothing when she made her request, but took her New York address and said he would send for her. Florence, however, had played a small part in a Biograph; but it was the LaBadie touch she put to this minor part that caught Ed Thanhouser's eye that night as he sat watching a photodrama, and he remembered having seen Miss LaBadie at the studio that day. She made a strong impression on him; so much so that he didn't wait for the next day to get next to Mr. Thompson, but telephoned him after the show and learnt that it was the girl he had in mind.
"'Get her for tomorrow!' was Mr. Thanhouser's command. And David did as Goliath saith, and Miss LaBadie started away from New York on an early train. That was in August 1910 [1911 was intended], and her first picture was In the Chorus. What a change since! She has been 'In the Spotlight' from then on. But if you ask the Thanhouser people, they'll tell you nothing about earlier pictures, because her Mary in the Christian morality play, The Star of Bethlehem, was so inspired that it has shadowed everything she did before that time. But it was not the only big thing she did or has done since. Although Flo will tell you it was the best thing she ever essayed and that the part suited her character and personality, she delights in recalling the terrible time she had in viewing the picture.
"To see Flo around the studio one would think she was an extra on the outside waiting for some one to tell her a mob scene was ready. Many of the extras show more importance while waiting for mob scenes than Miss LaBadie did the morning she met the Duke of Manchester and learnt from director Howell Hansel that she was to work with him in a picture. Florence looked at Mr. Hansel, and the usual queries were honest. She did not fuss with her hair or decorations. She looked at him with those large, blue eyes and simply asked: 'Can he act?' When one tries to pay a tribute to her womanliness and sympathetic imagination, inspiration goes a-glimmering, for it is very difficult to enlarge upon a particular virtue or trait that this young actress has, because she has so many and all equally vivid.
"Perhaps her most basic trait is her intense curiosity. She is a student of life. She wants to understand it. She can't see why cripples or invalids, with no possible reason to live and to whom death would be a mercy, live to become burdens to themselves, while others, reaching the prime of life, surrounded by friends, wealth, hobbies for good that take up their idle moments, are ruthlessly cut down by the grim harvester right to the door of opportunity.
"She keenly felt Mr. Hite's death, and for days after the tragic occurrence went red-eyed about the studio, because he and Florence were 'pals.' As Grieg's Death of Asa surged at the violin strings for liberation at the funeral, it was too much for the girl of the sunshiny disposition. Tears came, and she sought the exterior of the house of mystery where her chief lay for the last act [a reference to the Hite home at 3 Meadow Lane, where scenes for The Million Dollar Mystery were filmed]. In a corner of the piazza where eager eyes have seen her so many times as Florence Gray in The Million Dollar Mystery, Florence tried to get away from everyone and everything and cry as if her tender heart would break, but Peggy Snow, her co-star, hunted her out to comfort her, and before she could do it they were both crying. It was with saddened hearts that they left the ground to go to their own homes.
"She is an omnivorous reader along lines of life. She hungers to know all about the world we live in, its reason for existence, its peoples, what they were and why they are. She believes, though, in an universalness of mind, suggesting that by social intercourse the something - personality, magnetism or whatever it may be - goes from the strongest to be absorbed by the weakest member of the group, which would eventually bring the weakest up to the level of the strongest through the universalism of the mind. And because of this desire to feel, to know, to live and understand, she cannot rest content with her own mental outlook or her triumphs in pictures. It is continually urging her along to educate herself further, to develop a versatile nature; so Florence LaBadie doesn't have the enjoyments young girls find in a theatre, the ballroom floor, or other indoor forms of amusement, because she is a being of the great outdoors, and the sky is her canopy and the earth her throne.
"Perhaps because she was born in Montreal, Canada, of French parentage [this incorrect statement was repeated in countless articles; Miss LaBadie was born in New York], the wonderful 'something' in her eyes may be her inheritance from the Norman. She is truly artistic, and often suggests a more pleasing arrangement to some set in which she is to work. And she writes poetry - the apex of artistry - but she never shows her work to any except those she loves best of all. Few around the studio have been accorded the confidence of viewing Flo's poetry, but those who have read it claim it is superior to much that sees the light of day between vellum bindings.
"Miss LaBadie was forced to adopt her love for the woods and water by nature, but her work under directors at Thanhouser's gives her the fullest scope to benefit by her inheritance. She does love to swim. Weighing scarcely 130 pounds, she claims she's too fat. Did ever a woman live who did not claim the same thing? In this, and this only, has the scribe found a connection between Florence LaBadie and other women. Her reserve kept him at some distance for more than six months, although often he wished to congratulate her upon some portion of her work in stories he had written for her for screen portrayal, but the smiling eyes did not give a welcome license to begin conversation, and he was too timid to break the ice. And it was strange how the ice was broken; well worth telling here.
"A kitten had wandered out into the world from a bed under an old house near the waterfront. Perhaps it was its first time away from its mother's care. A dog spied it and cut off escape through the underground passage, and the kitten cut for the nearest shelter, which happened to be a tree near the shore. It perched on the first branch and looked down upon the fox-terrier, with back raised and tail looking like a chimney-sweep's brush. The snarling bark of the enemy caused the kitten to climb higher, and, after the dog left, the kitten forgot how it got up there. About this time Miss LaBadie came from a swim in Hudson Park. She heard a plaintive 'meow!' and sought out the sound. She located it in the tree and talked baby-talk to it. It failed to dislodge its kittenship. Florence, modest under all conditions, looked about. No one was in sight then, and she climbed the tree. Kitty didn't take kindly to the new company. Florence was a stranger who had never been introduced, and kitty objected. But Florence chatted to it, and it spat back every time her hand went forth. The scribe happened along from a motorboat trip. He heard someone calling his name.
"My word! There was Florence LaBadie perched in the branches of a tree! The scribe looked about for the camera crowd. She and he were, evidently, the only human beings within 40 miles of that particular tree. The writer went to the tree: 'Did you call?' Then she pointed to the kitten. Would he help her to dislodge it so that it could get to its mother? Never anything surer, and although several years the other side of 40, the scribe climbed the tree, caring naught for the aches and pains that would come with morning's dawn, because Florence LaBadie had broken the ice in speaking, and, besides, she wanted a favor done.
"The kitten was caught, despite the scratches inflicted with its sharp claws, and Flo was shown how to hold the little rebel so as to escape injury, and then the scribe held forth a supporting hand, and Florence was dropped to safety. The kitten found its mother, and the walk back to the studio was a rapid-fire of questions leading up to this article. Since then Flo and the scribe have been on good terms. It might be all off, though, if Flo should happen to read the 'squeal' about saving the kitten.
"In her reading, Miss LaBadie followed 'The Adventures of a Diplomatic Free Lance' in a monthly publication and once expressed the desire to play Nan, the lead. Lloyd F. Lonergan, producer of 800 stories for the screen, conceded to be the game's greatest writer, saw in the serial an excellent vehicle for Florence, and several 'Free Lance' stories have found their way into Thanhouser programs.
"With Jimmy Cruze in Cardinal Richelieu's Ward, where she was cast for Julie de Montemar, she created a decided hit with the big historical production, and her adaptability to tragedy, comedy, farce or simple ingenue parts makes her a very valuable fixture at the New Rochelle studio. And on the screen! How many of the young of the world have looked at her and wondered: 'Is she married?' 'Will I write to her?' 'Would she answer it?' To all of which the writer is at liberty say that Miss LaBadie is not married;. you may write to her, but love is strictly barred, because she already has turned down almost 500 proposals of marriage. But if you are sincere and admire her work, Florence takes pleasure in answering those which ring true.
"She has no sympathy for the 'rich yung man wot has a big farrm out West and wud mek a lovin husban.' In her four years with Thanhouser, Miss LaBadie's mail has averaged about 500 letters a month. In the big serial she is completing, women gained the ascendancy for admiration, and some days she receives as many as 20 from women asking, 'Why don't you marry Jim Cruze?' As 'Jim Norton' Cruze is Florence's knight-errant, and so subtle is his love-making, women everywhere want Florence to live like this pair of screen lovers act. Sub rosa, Flo told the writer that as a husband Jimmy Cruze is an impossibility, and she doesn't want to think of marriage until she has to.
"'Weren't you just the least bit scared when Director Hansel told you that he wanted you to jump from a sea-going liner?' Flo was asked.
"'Me scared!' Then she flashed a look. 'What about - that jump?'
"The scribe nodded. 'It was all of 60 feet, was it not?'
"I didn't ask,' she replied. 'All I know was that I was expected to do it, and if there was any real danger Mr. Hansel wouldn't let me do it. Do you know,' she ventured, 'when I hear 'Are you ready, Miss LaBadie? - picture,' I don't know a thing about myself. If it were to go up in an aeroplane, and Mr. Hansel said he wanted me to fly upside down and drop within four feet of the earth and then right the machine, I'd feel that I had to do it, because there is a fascination about the pictures that charms.'
"'Like snakes, for instance?' the scribe interrupted.
"'Please don't mention snakes! Ugh! I detest them!' She shivered. 'When they brought out that Mexican gopher in the Mystery, I thought I'd die, and I plainly showed my fright. It was actually repulsive! I thought it unkind, too, the way they handled it, and do you know that I took on so that the snake escaped, and they didn't find it until some weeks after.' Flo was plainly distressed, and snake-talk stopped. As a matter of fact, all conversation ceased, because just then George Grimmer came along and told Florence she had to get ready for a trip to Paterson, N.J., and let Jimmy Cruze rescue her from quicksands. She started away bidding a smiling good-day, because no one ever saw Flo LaBadie angry."
A 1915 Portrait: An article in Reel Life, September 12, 1915, gave a portrait of: "Beautiful and Talented Florence LaBadie, of the Thanhouser Studios, Conceded One of the Foremost of American Screen Players - 'Curiosity,' goes a wise old adage, 'killed a cat.' Yet here is a most attractive, fluffy-haired, wide-eyed little miss who cares naught for the adage, and flaunts tradition in the face by boldly asserting that 'curiosity' is her chief personal characteristic, and that she is proud of it! But it is not curiosity concerning her neighbor's affairs, she quickly adds - the curiosity she possesses - but a great desire to know people, to understand their joys and sorrows, to appreciate the outlook which everyone - from high to low - has on life, and all this so she may the better interpret life on the motion picture screen.
"It would not be necessary to inform the many admirers of Florence LaBadie as she lives on the screen, that the intelligent young actress of the Thanhouser Company is a student of the ways of life, and that she has met its happiness and suffering eagerly. Hers is not a complex existence, nor does she want it to be complex. She has no theories of life, health, living, morality or sociology that she wants to explain. She is content to make the others about her happy by her joyous acceptance of whatever fate brings her, and by her staunch determination to let no reverse be too great to be surmounted....
"In The Million Dollar Mystery she accomplished daring 'stunts' which few girls would have the courage to undertake, again disclosing that calm acceptance of whatever may lodge in her path. This is but one of her many valuable qualities. While acting is her vocation, Florence LaBadie has two avocations, aside from dancing and swimming and all forms of athletic sport, at which she is adept. One of her avocations, which she keeps secret from the eyes of all but her most intimate friends, is writing poetry. The other is sketching. Miss LaBadie began 'years and years ago,' as she will tell you, when she was a pupil in the convent of Notre Dame, in Montreal, to contrive little verses which pleased her and her adoring girl friends. With added experience she has developed her talent to express in poetical form her thoughts and wishes, and someday she hopes to give them to the world in book form. Although Florence LaBadie loses herself in the roles she interprets in the silent drama, back of it all, those who see her plays feel that there is a strong, indomitable, utterly charming personality, a rare sympathy, and a fine courage which are found too seldom in this old world.
"And if the fact that motion picture theatres all over the world are crowded whenever the name of Florence LaBadie appears on the list of attractions will not convince you that there are many people who love her, go to her home any evening and find the pile of letters and gifts sent from everywhere from London to Africa and from China to Missouri to this little girl whom they have never seen in real life. That will convince you without a doubt, and in going there and seeing her, you will be the most ardent convert to faith in her charm. One of Florence LaBadie's recent triumphs came in her splendid work in God's Witness, a romantic drama of four reels, which has proved one of the most popular of the Mutual Masterpictures. Her followers discern in this picture a vast improvement over even the excellent work of a year or two ago - which only goes to prove that Mr. Thanhouser's faith in the little blue-eyed, light-haired actress, who played a small bit, but played it well, in a Biograph picture, was justly merited.
"Latest of Miss LaBadie's appearances is as the co-star in The Price of Her Silence, a four-part romantic drama, screened at the Thanhouser studios, for release September 30th, as a Mutual Masterpicture. Miss LaBadie has just completed her first picture of a series of a brand new kind of photodrama the Thanhouser Company is going to produce. She has just starred in a play with a philosophical turn to it, entitled A Disciple of Nietzsche. The picture is in three parts, and will go to the public under the release of a 'Than-O-Play,' first of these stirring brands appearing in the regular Mutual Program of September 25th."
Her Views on "Immoral" Movies: The following appeared under the title, "Miss LaBadie On Immoral Movies," in The New Rochelle Pioneer, July 29, 1916: "Miss Florence LaBadie, leading woman of the Thanhouser Film Corporation, writes this self-explanatory letter to the editor of the New York Sun: 'The Rev. Albert Parker Fitch says the movies are immoral because they are not true to life. He said, 'If you take a play that does not portray the facts of life as they are, though the play is scented with lavender, it is immoral, but every play that deals with things as they appear in actual life, although it may outrage every canon of good taste, is a moral play.' He also remarks that, 'We sentimentalize too much in life.'
"'Why pick on the movies? If what Dr. Fitch says is true of motion pictures, how much more true is it of the speaking drama and of literature? He means, of course, if he is sincere in naming the movies as more 'immoral' than any other art, that moving pictures are unreal in plot. Surely they are real in setting. In motion pictures you do not have painted trees and canvas walls. Spoken plays are unreal in lines. How dreary it would be if Oscar Wilde's characters, for instance, spoke as his people really would speak. What a woeful lack of realism there is in Shakespeare. How many of Shakespeare's characters, do you believe, were actually capable of saying the beautiful things Shakespeare put into their mouths?
"'In the movies Dr. Fitch probably objects to the triumph of virtue, of the idealized heroes and heroines; in other words, he puts it, he objects to moving pictures because there is too much sentiment in them. If that is true the immoral moving picture is in the same class with the Fourth of July, Memorial Day, the frightfully immoral Star Spangled Banner, and the horribly immoral custom of celebrating Mother's Day.'"
A 1916 Visit: A reporter's visit to Florence LaBadie was recounted in the September 24, 1916 issue of the New York Morning Telegraph: "No young artist of the screen is more widely known than Florence LaBadie of the Thanhouser Company.... It is said of her that she thinks and speaks in four languages. Her entrance on the screen was made through the Biograph and then to the Thanhouser, where she has reigned supreme for over five years. I found Miss LaBadie curled up like a kitten in her dressing room and was graciously received by this dot of a girl. As I entered she said, 'I was just reading an article of Peter Newell, the humorist, in which he says, 'There are some people who can work only at times - who need inspiration.' From this point of view those who wait for inspiration are lazy. Be that as it may,' she smilingly said, 'the motion picture artist waits only for the command of the director.'
"'Do you always feel ready to obey that command?' I asked.
"'No, indeed,' she answered. 'I sometimes feel that everything in one worthwhile has already been given, that there is absolutely nothing left to give. Often when the next picture is presented I go to it with misgiving, but something gets in your blood and you play as you felt you could never play again.'
"'What do you think the most necessary quality for success?' I asked.
"'The power to reproduce characters so that they live for your audience,' she responded. 'I think, if you will so permit me to state, that the term artist is one of the most abused. How often you hear said, 'He is a fine artist' and in the same breath, 'but he is always John Brown.' To me an artist is one who sinks his own individuality so thoroughly into the character portrayed that he himself is forgotten.'
"I could but think that her premises were well taken. 'What do you consider your most dominant trait?' Without a moment's hesitation the answer came back, 'Curiosity.' It was refreshing to hear a girl so acknowledge herself. 'I want to see the wheels go round,' Miss LaBadie said with a twinkle in her eye, 'and I want to know why they go.'
"Florence LaBadie is a very serious girl, and she looks it. Her great charm rests in her eyes - eyes that are softly blue with a touch of sadness in their depths which gives to her young face a strength and reserve that arrests the attention. It may have been this appeal which caused them to cast her in that great religious film drama, The Star of Bethlehem, in which she played the beloved character, Mary, the mother of Christ. It was in this picture that this young French Canadian actress created a reputation that subsequent triumphs have but strengthened. 'What think you of the condition of the screen world just now?'
"'I think,' she answered, 'that it is in a settling state, the upheaval period having passed. People, managers and producers are beginning to get a proposition of things. I also think that those who have arrived will have to work tremendously hard to keep a standard. It will be a case of the survival of the fittest.'
"'Do you think the long pictures have come to stay?'
"'Decidedly,' she replied.
"'Why?' I asked.
"'On account of the character development. The atmosphere cannot be put over so well in a short picture for, naturally, it takes time to put in detail, and so from an art standpoint we welcome the long picture.' A short time ago Florence LaBadie's name became synonymous with The Million Dollar Mystery, in which she starred. No screen picture was more widely seen or more widely discussed. Miss LaBadie laughingly told me of an episode during its run. A young Chicago girl, lost in admiration of this young artist, came to New York and sought an interview, in which she naively suggested that she live with Miss LaBadie and become a star as well.
"Fully appreciating the sincerity of the admiration, Miss LaBadie was at her wits' end to know how to handle this situation without hurting the feelings of the young applicant when, fortunately, the girl's people discovered her whereabouts and took her home. Lately, Miss LaBadie has been seen in some difficult roles. Her Saint, Woman and the Devil will go down on record as acted most artistically by her. The saint is portrayed with that same simplicity, that same earnestness of manner which is a part of Florence LaBadie. The devil when under the hypnotic influence of an evil man is realistically given. Like Du Maurier's famous Trilby, the theme is fascinating and was splendidly handled by Florence LaBadie. Those who will see her in Saint, Woman and the Devil will realize that Miss LaBadie has given the subject of a dual personality much study so as not to offend any psychologists who might see the picture and be anxious to criticize her interpretation."
A December 1916 Interview - of Sorts: "An Impromptu Interview with Florence LaBadie," by George Vaux Bacon, appeared in The Photoplay Magazine, December 1916: "When Miss LaBadie dropped into my humble office at four o'clock in the afternoon, she left her limousine downstairs, doubtless to keep from vulgarly displaying her wealth. She's a nice girl. I always loved blue eyes and pale gold hair.... I wonder why all the girls I know are brunettes? Let's see. Where are my notes...? Miss Cohen! Bring me my note book, please.... Thank you: - Ah, here we are! - Residence, 200 Claremont Avenue, New York City. Born in New York City. Father and Mother born somewhere in France - Paris, she thinks.
"She first went into the studios five years ago with the Biograph. I asked her age. She replied: 'What is the usual age for interviews?'
"'Nineteen is quite popular this season,' I answered. She agreed to that, so I put her down as nineteen. In reality, she looks about 24. While I was noting the latest in fall street gowns, she opened wide her eyes of corn-flower blue, and said sweetly, 'My favorite flower is the geranium.' I realized at once that she was an experienced interviewee. My own incompetence dawned upon me. No interview is complete without that time-honored and classic bit of knowledge. I hastened to apologize for my oversight. She forgave me graciously.
"'What is your favorite sport?' I asked. 'Gold mining,' she replied. 'And your favorite country?'
"'Iceland. I think the volcanoes and glaciers and sagas and things in Ireland are perfectly sweet!' Her enthusiasm was contagious. I was thrilled. 'Your favorite author?'
"'St. Augustine.'
"'Your favorite actors - stage and screen?'
"'Al Jolson and Raymond Hitchcock.'
"'Raymond Hitchcock?'
"'Yes. I think he is perfectly wonderful on the screen, don't you.'
"'Extraordinary!' I agreed, with feeling.
"'What is your favorite book?'
"'The Bible,' she replied. It's a wonderful lineup of stuff. We both agreed that it was about an original a bunch of information as was ever gathered together in one notebook. She's a pretty nice sort of a girl, Florence is, and after we got the notes down, we had quite a chat. I find out that she's a corking good skater and a true Frenchwoman. She told me that her favorite author was Lewis Carroll, and that next to Memoirs of the French Court she preferred Alice's Adventures in Wonderland.
"'So your favorite flower is the geranium,' I said, harking back to the notes I had taken for the formal interview which was to result from our earlier conversation. 'Geraniums? Heavens, no! I adore American beauties - the most expensive money can buy. You know, most people will insist that one should have simple tastes, so I told you that my favorite flower was the geranium in order that I might not appear to be trying to be out of the ordinary. I wonder why it is always considered a crime to like beautiful, expensive things?'
"'Miss LaBadie,' said I, 'It is sweet to hear you. Mine ear is accustomed to much hullabaloo and piffle of the variety generally handed out to a sweetly unsuspecting public by the interviewer and the unimaginative press agent, as to the tender simplicity of the average actress' life, when I know there is not one who does not prefer champagne to beer and beer to water. I know not one that does not adore delicate salads, expensive viands and luncheon at the Claridge. The theatrical person is a lover of the luxurious things of the world. I wish that I could write an interview some day and tell the exact truth about people as they are.'
"'You may about me,' she replied brightly running a spatulate hand through the strands of her pale gold hair that the wind had loosened so that they fell over her collar in a wonderful loop of scintillant golden threads. 'I am an Indifferentist. I don't care what happens.'
"'I should say you don't!' I expostulated warmly. 'Why, the trouble is, if I were to tell the truth, no one would believe me, and do you suppose for one moment that I, a writer of interviews of some standing in several communities for his truth-telling proclivities, wishes to be branded far and wide, from sea to sea and from pole to pole, wherever Photoplay Magazine is read, as a graceless, brazen liar, imposing on innocent editors in order that I might shout my hoarse falsehoods to all the tribes of men? Never. I shall die before I tell the truth! Woman, think of my reputation!'
"'Yes,' she murmured, rising and bestowing an azure glance from her eyes and a pearl and scarlet smile, 'I suppose, poor man, you must consider your reputation. It is too bad. The thought of reputation keeps so many from having so many good times!'
"The woman has a diabolical faculty for speaking the truth. The thought of her is a poem; the sight of her is the 'Vissi d'arte' aria in the second act of Tosca, and all ye who have seen Geraldine Farrar on the screen, and then imagine her voice as a thousand times more marvelous than her acting in the last scene of the Lasky Carmen, will realize that Florence LaBadie, in whose veins flows the blood of that France whose saints, sinners and heroes are immortal, and the beauty of whose face is as the beauty of all women, as the Gaels say, is worthy of a poem by Swinburne carved into marble by Rodin. After I bade her goodbye, and she had vanished through my portals enroute to her waiting limousine below, I sighed. The delightful part of my meeting with the delightful lady was over. There was nothing to do but make up an interview and write it....
"'Oh,' said Miss Cohen, 'wasn't that the interview? I've taken it all down!'
"'Great Scott! Have I been talking aloud?' I demanded.
"'Yes.'
"'Very well then. Write it down and mail it. We will send this account of a real conversation with the real Florence LaBadie as a shining mark which all interviewers forever hereafter may look back upon as a precedent granting them forever hereafter the right to tell the truth!' No man is a hero to his stenographer. Miss Cohen went to her typewriter with a sardonic smile, while I retired to my sanctum with Miss LaBadie's copy of Memoirs of the French Court. She had forgotten to take it with her."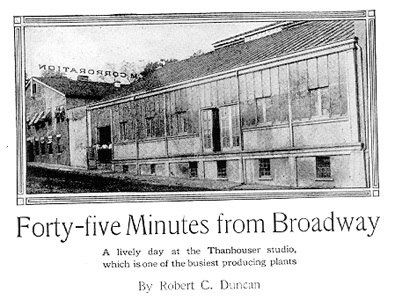 Thanhouser studio, topping an article by Robert C. Duncan in the January 1917 issue of Picture-Play Magazine.
An Autumn 1916 Interview: The following is an excerpt from "Forty-Five Minutes From Broadway," an article by Robert C. Duncan, written in autumn 1916 and published in the January 1917 issue of Picture-Play Magazine: "Just then the publicity man came into the office. 'Pardon me,' he said, 'but if you want to talk to Florence LaBadie, you'll have to see her now. She's just starting out on a location.'
"Did I want to talk to Florence LaBadie! Visiting the Thanhouser studio without talking to Florence would be like spending a vacation in New York without seeing Fifth Avenue! When you stop to think of it, what a wonderful career Florence LaBadie has had. She was one of the first actresses to achieve fame in pictures, and every day her place in the hearts of the fans seems to grow stronger. So many of the early picture stars have faded, outshone by more talented actresses, who came over into pictures from the stage. But Florence LaBadie still is at the top. Miss LaBadie was working on Divorce and the Daughter, under the direction of Frederick Sullivan, who, by the way, is a nephew of Sir Arthur Sullivan, the famous composer'
"'I'm glad my pictures are being shown again,' she said. "For several months, including the time Mr. Thanhouser was transferring his allegiance from Mutual to Pathé, none of my pictures were released, and I felt as if I were in a tomb. I like to steal into a theatre where my film self is appearing and hear the comments. Especially do I want to overhear the critics, for you can't improve unless you are criticized. I couldn't see myself, and I seemed to be like the person who tries to speak and finds he has lost his voice. I didn't know how I was getting along. Now, however, I'm back on the screen, and am very happy.'"
An April 1917 Article: An unattributed article dated April 21, 1917, in the Robinson Locke Collection, told of Miss LaBadie's interest in gardening: "'Mobilize the back yards!' That's the plea of Florence LaBadie, the Pathé-Thanhouser star, who sees in the promotion of a back-to-the-soil movement for the suburbanite an opportunity for her to do her 'bit' for the country in war time. As a practical demonstration and to prove that she practices what she preaches she has laid out her back yard in New Rochelle, N.Y. according to a carefully devised plan, has dug up the soil, 'fined' it, fertilized it, and now waits only for the planting weather of the merry month of May to put in the seed.
"'Statistics show,' says Miss LaBadie, 'that the percentage of city dwellers is constantly increasing and that today about one half of the population of the United States are city residents. That is one explanation of the high cost of living - the consumers are increasing faster than the producers. Now if you were to deduct from the percentage of all city dwellers those who reside in the smaller cities the figure look a good deal better. Outside of the big cities like New York, Chicago, San Francisco, etc., many of the so-called city residents live in what are to all intents and purposes suburban conditions, that is where backyards are something more than a name and where cultivation of the soil is entirely feasible. If everyone who has a backyard will raise some foodstuffs just think of how it will all bulk up in the aggregate! Why it would make a material difference in the cost of living and be really a patriotic service to the country as well as benefiting those who actually raise the vegetables.
"People have become too lazy. They ride in motor cars and think they are exercising. They aren't at all! The time will come when many of them, through the early breaking-down of their bodies, will realize that fact. Among my neighbors are men still young who have lost their waist lines and who would be wonderfully improved physically by digging in the ground every day. Their appetites would improve and they'd sleep better!'
"'What are you going to raise in your garden,' she was asked. 'First of all tomatoes,' she replied. 'In the house I have seed pans where I have already started the plants. About the second week in May I'll put them in the ground. They are very easy to grow and very prolific. We paid fifteen cents a quart for tomatoes last summer. Think of it! I can raise enough for several families from less than two dozen plants. Secondly, I'm going to plant onions. I have room here to raise a bushel or so and you know how high they have been. Though I haven't much room. I'm also going to put in a dozen hills of potatoes. I have great hopes of those twelve hills! Nothing doing with lettuce. I've tried it and can't make it head, but cucumbers are going to be favored with a half dozen hills. The other vegetable that I'm going to raise is sweet corn. I have one or two rows of country gentleman, two of Stowell's evergreen and two of that dandy yellow corn, golden nugget, I think they call it. Those three rows will give us all we can eat, especially as I shall arrange my plantings two weeks apart so as to have a continual supply coming on.
"I am going to try and persuade every woman I know to have a vegetable garden this summer. It's up to us all to help out on this high cost of living which is bound to increase during war time, and in the cultivation of the backyards every little bit helps!' So then, women, mobilize the back yards! If you can't do it, make your men folk do it. There's sound common sense in the suggestion."
Her Death: While Florence was driving an automobile near Ossining, New York on August 28, 1917, with her fiancé, Daniel Carson Goodman as a passenger, the brakes failed, after which the car plunged down a hill at a frightening rate, causing it to overturn at the bottom. While Goodman escaped with a broken leg and minor injuries, Florence was thrown from the vehicle and suffered a compound fracture of the pelvis. She was hospitalized in Ossining, under the care of Charles C. Sweet, M.D., of 13 Maple Street, who first attended her the day following the accident. Complications ensued, and her condition worsened.
On October 13, 1917, the New York Morning Telegraph gave a somewhat misleading account of the reason for her grave condition: "At a late hour last night, Miss Florence LaBadie, the little motion picture star, was almost at death's door in the Ossining Hospital, where she has been under the care of her own and hospital physicians for some time. A nervous breakdown followed by a complication of maladies reduced her fine physique so greatly that for a time yesterday, it was feared she could not survive."
Florence LaBadie, 29 years of age, died of infection (septicemia) at 1:35 p.m. on Saturday, October 13, 1917. Services were held at 11 o'clock the following Wednesday, at the Frank E. Campbell Funeral Home, 1970 Broadway (at 66th Street), New York City, with interment at Greenwood Cemetery on the same day. Dozens of floral arrangements were received, and the crowd of mourners included numerous Thanhouser and Pathé players. Obituary notices stated that she was survived by her mother, Amanda LaBadie, with no mention of her having been adopted. At the time of her accident Miss LaBadie was living at the Hotel St. Andrew, Broadway and 72nd Street, New York City.
The New Rochelle Evening Standard, October 15, 1917, printed an obituary notice which included this sentence: "She had been one of the Thanhouser stars until a few weeks ago, when she severed her connection." The point was moot, for at the time of her passing, Thanhouser was no longer producing films.
A popular film writer for The Chicago Tribune, May Tinee (a nom de plume from "matinee"), offered a tribute: "As I think back it is almost impossible to realize that she has gone on. Rather a quiet girl, she had, nevertheless, lots of reserve force and energy. I remember I asked her: 'What do you do when you are not working?' It's a question that comes as near being a stock question as any in the category of the interviewer. But the fans do so love to know what the people of the screen do between times - so it's always a necessary question. I had expected her to say, 'Oh, I embroider,' or 'I make my own clothes,' or 'I study interior decorating.' Her answer was most unexpected:
"'I'm crazy about swimming. I love to ride - fast! Anything with an element of danger in it appeals to me. And NEVER do I expect to be thrilled again as I was not long ago when I took my first ride in a speed boat.' It may have been too much speed that caused the machinery of the car which killed Miss LaBadie to go awry. Probably not. Anyhow, death came through the thing she loved to do and, since we all must go, perhaps after all the gods were good to the little blonde picture lady."
Note: In an era in which leading actresses were often in their late teens or early twenties, Florence LaBadie subtracted five years from her birth, so in publicity it was stated that she was born on April 27, 1893, or on the same date in 1894. Numerous accounts erroneously placed her birthplace in Montreal.
Thanhouser Filmography:
1911: The Smuggler (7-25-1911), The Buddhist Priestess (9-12-1911), In the Chorus (9-15-1911), The Satyr and the Lady (10-20-1911), Little Em'ly and David Copperfield (10-24-1911), The Last of the Mohicans (11-10-1911), A Mother's Faith (11-17-1911), The Baseball Bug (11-24-1911), Beneath the Veil (12-1-1911), Cinderella (12-22-1911)
1912: Dr. Jekyll and Mr. Hyde (1-16-1912), Her Ladyship's Page (1-23-1912), East Lynne (1-26-1912), As It Was in the Beginning (1-30-1912), The Trouble Maker (2-6-1912), The Silent Witness (2-13-1912), The Guilty Baby (2-27-1912), The Arab's Bride (3-1-1912), Extravagance (3-5-1912), Flying to Fortune (3-12-1912), My Baby's Voice (3-29-1912), The Girl of the Grove (4-5-1912), A Love of Long Ago (4-9-1912), Rejuvenation (4-23-1912), The Saleslady (5-7-1912), Jilted (5-14-1912), Jess, Part 1 - A Sister's Sacrifice (5-21-1912), The Ring of a Spanish Grandee (5-24-1912), Jess, Part 2 - Through the Boer Lines (5-28-1912), Jess, Part 3 - Jess, the Avenger (5-28-1912), Whom God Hath Joined (5-31-1912), Dottie's New Doll (6-4-1912), Called Back (6-21-1912), In Blossom Time (6-25-1912), Ma and Dad (7-5-1912), Under Two Flags (7-7-1912), The Portrait of Lady Anne (7-23-1912), The Merchant of Venice (7-26-1912), Big Sister (8-11-1912), The Wrecked Taxi (8-16-1912), Lucile, Parts 1 and 2 (8-27-1912), Lucile, Part 3 (8-30-1912), The Voice of Conscience (9-3-1912), A Star Reborn (9-10-1912), Undine (9-24-1912), Miss Robinson Crusoe (10-8-1912), When Mercy Tempers Justice (10-15-1912), Mary's Goat (10-27-1912), Petticoat Camp (11-3-1912), Through the Flames (11-8-1912), A Noise Like a Fortune (11-10-1912), The County's Prize Baby (11-12-1912), Aurora Floyd (12-10-1912), The Race (12-20-1912), The Star of Bethlehem (12-24-1912)
1913: A Poor Relation (1-3-1913), Some Fools There Were (2-14-1913), The Pretty Girl in Lower Five (2-18-1913), The Two Sisters (2-21-1913), The Way to a Man's Heart (3-2-1913), An Honest Young Man (3-9-1913), Won at the Rodeo (3-21-1913), Her Gallant Knights (3-23-1913), Cymbeline (3-28-1913), Retribution (4-18-1913), Rosie's Revenge (4-27-1913), Her Sister's Secret (5-6-1913), The Other Girl (5-9-1913), Marble Heart (5-13-1913), In Their Hour of Need (5-23-1913), The Snare of Fate (6-17-1913), Tannhäuser (7-15-1913), In the Nick of Time (8-1-1913), Oh! Such a Beautiful Ocean (8-10-1913), The Lie That Failed (8-15-1913), An Unromantic Maiden (8-24-1913), The Ward of the King (8-26-1913), The Message to Headquarters (9-12-1913), When the Worm Turned (9-21-1913), Life's Pathway (9-30-1913), Louie, the Life Saver (10-7-1913), A Deep Sea Liar (10-12-1913), A Peaceful Victory (10-17-1913), Beauty in the Seashell (10-19-1913), The Mystery of the Haunted Hotel (10-21-1913), A Twentieth Century Farmer (10-31-1913), The Water Cure (11-2-1913), The Junior Partner (11-4-1913), Little Brother (11-7-1913), The Blight of Wealth (11-25-1913), Curfew Shall Not Ring Tonight (11-28-1913), A Beauty Parlor Graduate (12-9-1913), The Head Waiter (12-28-1913)
1914: Their Golden Wedding (1-2-1914), Adrift in a Great City (1-13-1914), Turkey Trot Town (1-18-1914), The Elevator Man (1-25-1914), Twins and a Stepmother (2-3-1914), The Success of Selfishness (2-6-1914), A Leak in the Foreign Office (2-17-1914), Cardinal Richelieu's Ward (3-1-1914), The Cat's Paw (3-17-1914), A Debut in the Secret Service (4-7-1914), A Mohammedan Conspiracy (5-12-1914), The Somnambulist (5-17-1914), Out of the Shadows (6-2-1914), Under False Colors (12-22-1914). The Fall of Khartoum (12-31-1914)
1914-1915 Serial: The Million Dollar Mystery
1915: Graft vs. Love (1-19-1915), The Finger Prints of Fate (1-26-1915), The Smuggled Diamond (2-9-1915), The Adventure of Florence (2-23-1915), The Final Reckoning (3-9-1915), The Duel in the Dark (3-23-1915), The Cycle of Hatred (4-6-1915), Bianca Forgets (4-27-1915), Monsieur Nikola Dupree (5-4-1915), God's Witness (5-20-1915), A Freight Car Honeymoon (6-6-1915), The Six-Cent Loaf (6-8-1915), The Country Girl (6-15-1915), Crossed Wires (6-29-1915), When the Fleet Sailed (8-3-1915), M. Lecoq (8-26-1915), Reincarnation (8-31-1915), A Disciple of Nietzsche (9-25-1915), The Price of Her Silence (9-30-1915), Mr. Meeson's Will (11-6-1915), All Aboard (11-28-1915), Her Confession (12-12-1915)
1916: The Five Faults of Flo (1-20-1916), What Doris Did 3-1-1916), Master Shakespeare, Strolling Player (4-20-1916), The Fugitive (8-13-1916), The Fear of Poverty (9-10-1916), Saint, Devil and Woman (9-25-1916), The Pillory (10-8-1916), Divorce and the Daughter (12-3-1916)
1917: Her Life and His (2-18-1917), When Love Was Blind (4-15-1917), The Woman in White (7-1-1917), War and the Woman (9-9-1917), The Man Without a Country (Jewel 9-9-1917)
# # #
Copyright © 1995 Q. David Bowers. All Rights Reserved.