<![if pub11]>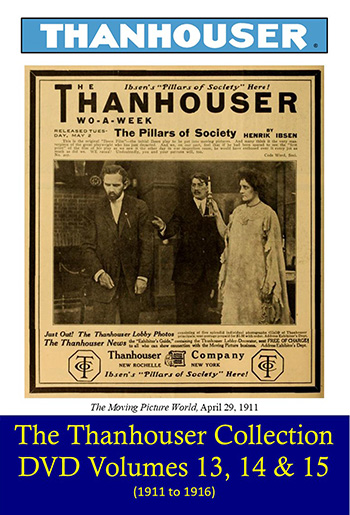 Thanhouser Company Film Preservation announced on October 3, 2020 at the Pordenone Silent Film Festival the new release of 19 silent films produced by the pioneering Thanhouser studio in New Rochelle between 1911 and 1916 not seen by the public in over 100 years. Produced in cooperation with international archives and private collectors, this release brings the total number of Thanhouser films available to the public to 96.
The films in this new collection were made available by the Library of Congress in Washington, DC, the George Eastman Museum in Rochester New York, the British Film Institute in London, England, the Academy Film Archive in Los Angeles, California, The University of California Film and Television Archive in Los Angles, California, Getty Images in New York, New York, and Hiroshi Komatsu in Tokyo, Japan.
A highlight of this anthology are two films released in 1911 based on Henrik Ibsen's classic plays: The Pillars of Society and A Doll's House. An optional commentary track by Eirik Frisvold Hanssen of the National Library of Norway provides additional insight into Ibsen's motivations and Thanhouser's realization on the screen.
Other highlights include The Star of the Side Show, a one-reel comedy with the "Thanhouser Kid" (Marie Eline) who joins a circus troupe only to fall in love with a seven-foot giant, The Twins of the GL Ranch featuring the "Thanhouser Twins" (Marion and Madeline Fairbanks), who save the day, and Toodles, Tom and Trouble featuring the Thanhouser collie ("Lady") who leads "Tom" (Colin Campbell) on a hilarious chase as he attempts to save baby "Toodles" (Baby Gereghty) from certain tragedy!
New and original music is composed and performed exclusively for this collection by Ben Model, Stephen Horne, and Nathan Avakian. Included with the collection is a 12-page booklet with film notes, synopses, and cast listings for all films.
Titles in Volumes 13, 14 & 15

Bonus Film:
Or stream individual films online for $1.99 each.
---
Thanhouser Company Film Preservation, Inc.


Contact Us
Copyright © 2020 Thanhouser Company Film Preservation, Inc., All rights reserved.