Return to www.thanhouser.org

BENHAM, Harry

Thanhouser Career: Actor (1910-1915)

Harry Benham from The Photoplay Magazine, July 1913.
(Courtesy of Robert S. Birchard)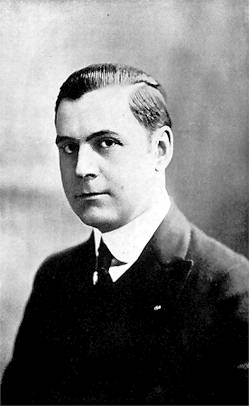 Thanhouser Career Synopsis: Harry Benham joined Thanhouser in 1910 and became one of the studio's best-known players. He worked at the studio until the summer of 1915. His wife, Ethyle Cooke, and his children, Dorothy and Leland, were also prominent Thanhouser personalities.
Biographical Notes: Born on February 26, 1884 (another source says 1886) in Valparaiso, Indiana, Harry S. Benham was educated in Chicago, Illinois and Goshen, Indiana, where his family moved when he was a child. The Benhams then relocated to Chicago, where Harry, who had an outstanding voice, sang in a local church choir. The experience was enjoyable, and when Peggy From Paris was playing in Chicago in 1904, he became a member of the chorus, while earning a living in the wholesale paper business. He soon gained the leading role in the same production, which position he maintained during its three-year run. He subsequently played juvenile and other roles in The Sultan of Sulu, Woodland, Marrying Mary, The Gay Musician, H.M.S. Pinafore, Floradora, The Mayoress and Madame Sherry.
His entry into show business was described in an article in The New York Morning Telegraph, October 22, 1916: "Preceding his entry into the silent drama, Mr. Benham had a long stage career, particularly in musical comedy…. In one moving picture a few years ago, he portrayed nine different characters on the screen. Mr. Benham was born in Valparaiso, Indiana, 20 years ago, but his parents soon moved to Chicago. As a boy, he worked particularly hard, because he wanted enough money to train himself to become an opera singer."
Harry Benham joined Thanhouser in 1910 and remained there through 1915, during which time he had lead roles in dozens of different films. He was not a matinee idol by any means, although he did have his admirers and was a frequent subject for notes in fan magazines. Rather, he was a regular, steady actor who year in and year out acted in many films, not with great histrionics or emotions, for the most part, but with a calm manner which perhaps befitted a family man—which, when he was away from the studio, was precisely the role he liked best.
"Handsome Harry": A notice in the Toledo News-Bee, January 30, 1915, stated: "Harry Benham, 'the Handsome Harry' of the movie world, recently won a Ford runabout in a popularity contest. In a facetious mood he telegraphed to send the car by parcel post, and the senders acted on the instructions. Benham is going to form a stock company to pay the charges and release the machine from the New Rochelle post office. Then all he has to do is put the 1,000,001 parts together and—Zipp!—Away she goes!"
Even before he won the aforementioned Ford, Benham was fond of tinkering with cars, and his adventures—and misadventures—with his Model T Ford furnished the subject for many humorous notes printed in The New Rochelle Pioneer and elsewhere.
After his entry into motion pictures he returned to the stage, where he essayed the leading role in The Rainbow Girl, opposite Beth Lydy, in a production which was a success on the New York stage and on the road. He also appeared in Toot-Toot, the musical comedy version of Excuse Me, and in other plays and vaudeville skits from time to time, as his motion picture schedule permitted.
After Thanhouser: Harry Benham's last day at the Thanhouser studio was Saturday, August 7, 1915, after which he and his children, Leland and Dorothy, went to Famous Players. This arrangement proved to be ephemeral, and soon the three were working for Universal in Coytesville, New Jersey. His wife, Ethyle Cooke, remained with Thanhouser, and the family continued to live in New Rochelle. Subsequently, Harry Benham appeared in many Universal pictures, including Man Inside, Joan of the Hills, Capital Prize, The Doll Doctor, Love's Masquerade, The Girl Who Didn't Tell, Peggy and the Law, When Thieves Fall Out, Mignonette, and Her Mother's Sweetheart. Benham also appeared in the 1917 Astra release (through Pathé) of The Last of the Carnabys.
In 1917 Harry Benham worked with several studios and appeared in Warfare of the Flesh (Warren Productions, states rights), The Victim (Catholic Art Association), The Frame Up (American), Mischief Maker (Fox), and The Outsider (Rolfe for Metro). In 1918 he was seen in Convict 993 (Astra for Pathé), and in 1920 he appeared in The Dangerous Paradise (Selznick) and The Prey (Vitagraph), among others. Among his memorable later film roles was the male lead in the 1918 Select production of Cecilia of the Pink Roses, opposite Marion Davies in her second film. Benham was also seen in Hush Money (Paramount, 1921), The Road to Arcady (J.W. Films, 1922), Your Best Friend (Warner Bros., 1922), and The Town That Forgot God (Fox, 1922).
A directory in 1916 noted that he was 5'11" tall (a 1914 biography gave his height as 6'), weighed 175 pounds (a 1918 directory stated he was 170 pounds), and had brown hair and brown eyes. His pastimes included swimming, skating, horseback riding, golf, and tennis. In 1918 his home address was 209 West 107th Street, New York City.
In the 1920s Harry Benham was involved in the clothing business. His wife, Ethyle Cooke Benham, passed away in 1949. In 1953 he married Doris Townsend Deppe, a widow, whom he had met in Sarasota, Florida one winter. During the later years of Harry Benham's life the couple spent their winters in Sarasota and their summers in Doris' cottage on the north shore of Devil's Lake in Wisconsin. Following four and a half months of hospitalization, Harry Benham died on July 17, 1969 in Sarasota. After her husband's death, Mrs. Benham gave his scrapbooks to film historian Clark Wilkinson, who subsequently presented them to the State Historical Society of Wisconsin.
Use the browser's back button to return to previous page.
---
Thanhouser Company Film Preservation, Inc.


Contact Us
Copyright © 1988-1993 Q. David Bowers, All rights reserved.