Thanhouser Classics, vols. I–III, VHS tapes. Thanhouser Company Film Preservation, Inc., 1996. $24.95 each.

reviewed by GARY MORRIS, Brightlights Film Journal, January, 1999

Silent cinema is often written off, even by cinephiles who pride themselves on their intimate knowledge of more recent genres, as too archaic and otherworldly to be of interest. A few textbook classics are occasionally trotted out for film classes or repertory exhibition, but these are frequently viewed strictly for their historical or sociological interest, as in the case of the still controversial Birth of a Nation, rather than for their original intention: entertainment and artistry.

There was a time when respectable critics believed the cinema had achieved its highest state in silents, with the work of masters like Griffith, Murnau, Borzage, Eisenstein, Sternberg, and Stroheim. It was not always considered perverse to prefer silent John Ford to sound John Ford, and a few cineastes — Peter Bogdanovich is one — have stated categorically that

Allan Dwan's silent films like Robin Hood are superior to his sound work.

Alas, time sweeps away all opinions, sensible and otherwise. This unfortunate fact has pushed some very worthy cultural achievements into the historical dumpster. Among these is the output of the Thanhouser Company, a silent studio that produced over 1,000 titles between 1909 and 1917. Sadly, only 180 or so of these prints are known to exist today, thanks to founder Edwin Thanhouser's destruction of his entire archive as worthless. (The remaining prints can be found in various archives around the world.)

Thanhouser, based in New Rochelle, New York, was known for its attempts to bring quality to an artform still in its creaky infancy. Edwin Thanhouser was the first American studio head who came from legitimate theater, which may explain the company's attention to detail, narrative verisimilitude, and the building of a stock company of the kind that existed in the theater. Subjects were extremely varied, from period melodramas, mysteries, and social reform films to horror movies and fairy tales.

Thanks to the efforts of Thanhouser's grandson Ned and the cooperation of some of the major archives around the world, a generous sampling of the company's output is available on this three-tape "collector's set." This set used the best available preprint material — much of it beautifully preserved — and has elegant new organ scores by Andrew Crow and a booklet.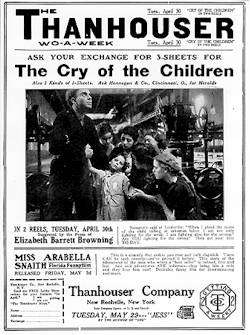 Volume 1 (1910-1912) shows the diversity of the Thanhouser playlist. The first film here is Only in the Way (1911). This simple short is like a PSA about elder abuse, with an ill-treated old woman finding her only defender in her little granddaughter, played by the "Thanhouser Kid" Marie Eline. More ambitious is Get Rich Quick (1911), a still timely story of a scheme to fleece the poor. A clever effect here is a dissolve from a newspaper headline about ruined depositors to a starving widow and child and back to the newspaper. The Coffin Ship (1911) has been accurately described as a "sprawling adventure truncated to one-reel length." This is another narrative typical of its era — the stern parent who accepts his daughter's marital choice only when death threatens. Two fantasies round out this tape: Cinderella and Dr. Jekyll and Mr. Hyde. Cinderella is typical of Thanhouser's detail-mindedness; with its elaborate costumes and sets, it has a gravitas not usually associated with the story. Dr. Jekyll was the second known screen version, and stars future director James Cruze (The Covered Wagon) in both parts. Based on a stage play, the film generates a mild pathos and has an amusingly primitive transformation scene that no doubt scared audiences of the time.
Thanhouser was acquired by the Mutual Film Company in 1912 but kept its stock company and studio. Volume II (1912-1914) brings together some of the more ambitious works the company turned out under its new banner. First is Cry of the Children (1912), a featurette (28 minutes) considered the most famous Thanhouser film, perhaps because it powerfully brought attention to the horrors of child labor. The film has an almost documentary grimness, with still striking images of hordes of starving mill workers, real factory locations, and squalid shacks. The plot — a rich couple trying to wrest a poor child away from her parents — still packs a punch, and the melodramatics are kept to a minimum. Petticoat Camp (1912) is a clever comic take on the sex-role reversal. A group of women abandon their men in disgust at being "slaves" and force the men to do their bidding. Modern viewers may be pleasantly surprised by how undated this one is. The Star of Bethlehem (1912) cost a monumental $8,000 and had a cast of 200. This standard biblical tale, only one-third of which exists today, gains from its early use of special effects — a glowing star and superimposed angels over Mary and her baby. The Decoy (1914) is a solid corrupt-city vs. innocent-country tale, with urban "card sharpers" setting up a naïve lass for their evil enterprise. Completing this tape is the sentimental drama A Dog's Love (1914), starring Shep (The Thanhouser Collie) as himself. The versatile dog-actor runs the gamut of emotions here, from depression to a kind of groveling pathos to joy, easily outshining the histrionics of co-star Baby Helen (The Thanhouser Kidlet).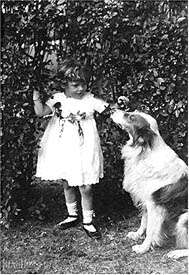 Baby Helen and Shep
celebrate A Dog's Love.

Volume III (1914-1916) is in some ways the most robust of the three collections. The tape opens with the Hitchcockian drama Crossed Wires (1914), a well-plotted melodrama with an evil housemaid, a bottle of poison, a corpse, and an unjustly accused nephew. The story gains from clever visual effects, including the startling one of a flashlight shined directly into the camera. The Soap Suds Star (1915) is a hilarious, too-brief comedy. Sophie, a trashy laundress, and her drunken boyfriend re-create their constant fights as comic fodder for a vaudeville audience. Their piece de resistance — the balcony scene in Romeo and Juliet — is punctuated by delirium tremens, violent pratfalls, and Sophie's catty dialogue: "Where are your stage togs, you boob?" Reginald Perry excels as the much-abused drunk. The World and the Woman is a welcome rarity: the first film to star legendary stage diva Jeanne Eagels. Here she plays a prostitute who becomes a faith healer, a plot lifted from her stage success The Outcast. Eagels is brilliantly effective in this 56-minute melodrama. Relying more on looks and simple movements than eye-rolling and grand gestures, she disproves the cliché that silent movie actors always overact. Location shooting in Manhattan and the Adirondacks add visual heft, and Thomas A. Curran is a suitably vicious villain constantly threatening to expose her past. The titles are redolent of a long-passed era, but that's the only thing dated about this film. Like the best of Thanhouser, The World and the Woman is clearly part of its era but also timeless.
December 1998
Copyright © 1998 by Gary Morris

There's more Thanhouser nitrate material awaiting preservation. Part of the proceeds from the sale of the videos goes to this purpose. For more information, check out the fabulously detailed Thanhouser web site, with loads of history and pictures and ordering information for the videos, at http://www.thanhouser.org.