Volume III: Biographies
LESLIE, Gladys **
Actress (1915-1917)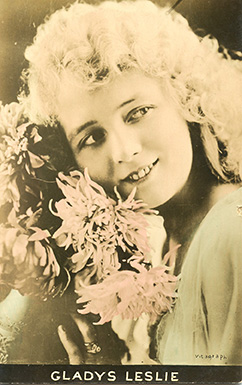 Postcard courtesy Thanhouser Company Film Preservation, Inc.
Thanhouser Career Synopsis: Gladys Leslie was seen in Thanhouser films during the 1915-1917 years.
Biographical Notes: Gladys Leslie was born on March 5, 1899 in New York City and was educated at Washington Irving High School and Columbia University. She had two older brothers. Her motion picture career began with the Edison studios, where she was hired as an extra. Later, she appeared in the 1915 New York Motion Picture Company release of The Mating. Gladys Leslie played in various Thanhouser films and was with the studio from 1915 onward.
An article in The Moving Picture World, March 17, 1917, told of her success with Thanhouser: "'The girl with the million dollar smile' has smiled her way into stardom. In other words, Gladys Leslie will be featured by the Thanhouser Film Corporation in a new five-act feature, the name of which is not announced. It is stated, however, that the leading role is one for which she is exceptionally suited. Miss Leslie's nickname was given her by the critic of the New York Herald when he reviewed The Vicar of Wakefield, now playing at the Rialto Theatre. In this classic the young actress appeared as Sophia, the younger daughter of the Vicar. Her work was so excellent that Edwin Thanhouser, president of the company that bears his name, decided she was worthy to play leading roles. And during the negotiations that followed, Miss Leslie smiled happily. Miss Leslie's smile is attractive, because it is a natural one. She is the kind of a girl who always looks on the bright side of life, and her smiles are never forced. They come easily because they are spontaneous.
"The new star's first screen experience was gained at the Edison Studio, she leaving there to come to Thanhouser, where she appeared in a number of features. And almost every new release was followed by a flood of letters asking 'who is the girl with the beautiful smile?' Apparently the theatre-going public yearns for stars who regard the world as a beautiful place. If this is so, then Miss Leslie is assured of a joyful welcome, where she considers this life as one worthwhile, and the happy creature who is seen upon the screen is simply a correct photo reproduction of the real girl 'with the million dollar smile.'"
Variety, April 13, 1917, carried this paragraph: "Edwin Thanhouser, of New Rochelle, thinks he has found confirmation of his old theory that the right kind of star material can be developed overnight in Gladys Leslie, who is to be featured in a picture being directed by Van Dyke Brooke. In this view he is supported by the director, who says: 'Miss Leslie has that unexplainable charm which only needs development to get across. She has sense, and really feels her part. I think it is only a matter of part so far as her success is concerned. She would never do as a vampire, but in this, her first feature, I think we have the right atmosphere and she will make a profound impression."
Gladys Leslie remained with Thanhouser through the early summer of 1917, when she was dismissed as part of an economy move. When her brother Robert was in the First Battalion, New York Naval Militia, Miss Leslie did her "bit" by serving coffee to militiamen at a stand set up at the Long Island entrance to the Queensboro Bridge. A photograph of Gladys in this activity appeared in the New York Morning Telegraph, April 8, 1917. In 1918 the actress was with Vitagraph, appearing that year in His Own People (the first Vitagraph film in which she worked), The Soap Girl, The Wooing of Princess Pat, Wild Primrose, The Beloved Impostor, A Nymph of the Foothills, and other films, and in a number of 1919 releases, including Fortune's Child, The Girl Woman, The Midnight Bride, and The Golden Shower. Vitagraph publicists borrowed a line from her Thanhouser days and advertised her as "the girl with the million-dollar smile."
The 1918 edition of the Motion Picture Studio Directory noted that she was 5' tall, weighed 95 pounds, and had a light complexion, light hair, and brown eyes. Her pastimes included horseback riding, motoring, and painting. At the time her home address was 1386 East 21st Street, Brooklyn, New York, and her studio address was Vitagraph, Avenue M, Brooklyn. A July 1918 article in Photoplay stated facetiously that her favorite flower was the cauliflower and her favorite book was her bank-book. On the more serious side, it was revealed the actress was a reader of Dickens, Laura Jean Libbey, Ring Lardner, and "most all the classic authors."
In an article in Motion Pictures, April 1919, Gladys Leslie told of her dreams for the future: "Someday, when the [bank balance] columns have mounted high enough, I want to own a farm, with chickens and flowers and ducks and all that - and a husband. Most of all I want to be able to afford to take time to have children. I adore babies." The same article quoted her as saying she had been in public restaurants just five times in her life and that was five times too many, that she did not like dancing and cabarets, and that she required eight hours of sleep each night. In April 1920 Gladys Leslie was in the Graphic Film release of Child for Sale. She remained in films in later years and died on October 2, 1976 at her home in Boynton Beach, Florida. She was survived by a son, Charles L. Moore, two granddaughters, and a brother, Richard Leslie.
Thanhouser Filmography:
1916: Betrayed (1-29-1916), Simple Simon's Schooling (Falstaff 4-22-1916), The Skilful Sleigher's Strategy (Falstaff 5-6-1916), Deteckters (Falstaff 5-15-1916), Steven's Sweet Sisters (Falstaff 5-20-1916), Peterson's Pitiful Plight (Falstaff 6-3-1916), Doughnuts (Falstaff 6-17-1916)
1917: The Vicar of Wakefield (2-25-1917), Her Beloved Enemy (3-4-1917), When Love Was Blind (4-15-1917), An Amateur Orphan (6-3-1917), It Happened to Adele (7-15-1917)
# # #
Copyright © 1995 Q. David Bowers. All Rights Reserved.