Volume III: Biographies
ADAMS, Kathryn * .
Actress (1915-1917)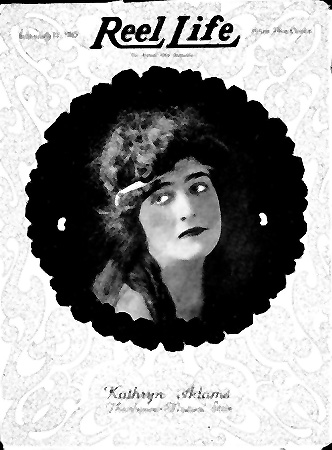 Advertisement from Reel Life February 12, 1916. (F-960)
Thanhouser Career Synopsis: Kathryn Adams appeared in various films during the later years of the company's existence.
Biographical Notes: Born in St. Louis, Missouri on May 25, 1896 (some accounts say 1894 and 1897), Kathryn Adams was educated in the same city. After coming to New York City to study music and spending a year on the stage in musical comedy, she entered films. Her screen career included acting for Popular Players for Metro (The Shooting of Dan McGrew), Fox (Lady Audley's Secret), World, Famous Players, Terriss, and Solax. She was with Thanhouser by 1915 and subsequently played supporting roles in films through 1917.
An article in The Moving Picture World, November 25, 1916, told of her career: "Kathryn Adams, a Thanhouser leading woman, who is an adventuring young widow in Divorce and the Daughter, Florence LaBadie's next Pathé Gold Rooster play, is an example of an actress who can play with equal facility sweet girls and vampires. Miss Adams has specialized in parts where she was called upon to wreck men's lives, but so successful has she been in other characterizations that when Ernest Warde wanted an actress to play Olivia, the oldest daughter of the Vicar of Wakefield in the Thanhouser that Frederick Warde is now making, he chose Miss Adams for the part.
"St. Louis was Kathryn Adams' birthplace. She showed talent for singing and after several years of study, joined Louisiana Lou, a musical comedy. This engagement was followed by one in Hop o' My Thumb. She went to New York determined upon an operatic career. Several of her friends were motion picture actresses and she decided to try the films. She was immediately successful. She was with Tom Terriss in The Pursuing Shadow and went to Metro to play 'The Lady That's Known as Lou' in The Shooting of Dan McGrew. After engagements with World, Fox and Famous Players she became a member of the Thanhouser stock company and has been at the New Rochelle studios for more than a year. Miss Adams was the wife who almost went astray in The Shine Girl and has a strong vampire role in Divorce and the Daughter. Mr. Thanhouser believed that Miss Adams' Olivia in the Vicar of Wakefield will be the finest thing she has ever done."
A 1916 directory noted that she was 5'7" tall, weighed 130 pounds, and had blonde hair and dark gray eyes. For recreation she enjoyed music and singing.
The following is from an unattributed clipping dated May 26, 1917, preserved in the Robinson Locke Collection: "Miss Adams has played a number and a variety of roles that would do credit to a more experienced picture player. She has been seen in prominent straight roles as leading lady, in vampire and in character parts. Perhaps she will best be remembered in the role of Olivia in The Vicar of Wakefield, in the screen version of the play in which Frederick Warde was featured. Playing opposite Mr. Warde, Miss Adams appeared as Eppie in Silas Marner, and in a whole series of recent productions. Her latest part before coming to the Goldwyn studio was in Hinton's Double, a current feature release.
"Under the Thanhouser management Miss Adams was persistently cast as a vampire, and it has been remarked of her that for pure prettiness Miss Adams was one of the most alluring 'vamps' ever screened.... Miss Adams is of that type which has been described as concentrated blonde; over a face of slender and delicate lines she carries a mass of golden hair which is almost a pale straw color."
In early 1917 she lived at 508 West 139th Street, New York City and was with Famous Players. In 1917 she was seen in Raffles, the Amateur Cracksman (Hyclass Producing Company for Weber Photo Dramas, states rights release), and in May of that year she was with the Goldwyn studios. Kathryn Adams was in films through at least the 1940s and died in Hollywood, California on February 17, 1959.
Note: Another actress named Kathryn Adams worked for Universal in the early 1940s, appeared in Unfinished Business, and was engaged to marry young actor Hugh Beaumont, with the ceremony scheduled for May 1942, per an article in The New York Post, April 14, 1941.
Thanhouser Filmography:
1915: The Long Arm of the Secret Service (10-16-1915), In Baby's Garden (11-14-1915), An Innocent Traitor (12-14-1915)
1916: The Bubbles in the Glass (1-4-1916), The Phantom Witness (1-19-1916), The Spirit of the Game (2-9-1916), Silas Marner (2-19-1916), A Bird of Prey (3-16-1916), The Romance of the Hollow Tree (4-11-1916), For Uncle Sam's Navy (5-23-1916), Other People's Money (6-1-1916), The Shine Girl (8-27-1916), Divorce and the Daughter (12-3-1916)
1917: The Vicar of Wakefield (2-25-1917), Pots and Pans Peggie (3-18-1917), The Woman and the Beast (Graphic Features 4-17-1917), Hinton's Double (5-6-1917)
# # #
Copyright © 1995 Q. David Bowers. All Rights Reserved.