Volume III: Biographies
MUNSON, Audrey *
Actress (1915)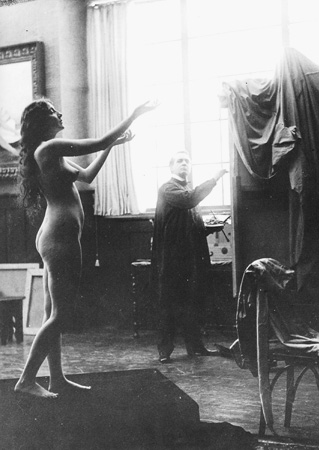 Audrey Munson, posing circa 1916-1917 at the American "Flying A" Studio in Santa Barbara, California. Courtesy Robert S. Birchard. (F-870)
Thanhouser Career Synopsis: Audrey Munson was an actress on a special-project basis with Thanhouser and appeared in Inspiration, a film released in 1915 (and reissued by the Arrow Film Corporation in 1918 under the title, The Perfect Model).
Biographical Notes: Audrey Munson was considered to be a very beautiful woman. She was a well-known model and was referred to by some as "The Venus of Washington Square." She modeled for numerous sculptures created by Daniel Chester French, Adolph A. Weinman, Isidore Konti, Robert I. Aitken, Albert Jaegers, Attilo Piccirilli, and other artists. Among the works of art made in her likeness were Konti's Column of Progress, Weinman's Descending Night (a prominent feature of the 1915 Panama-Pacific Exposition), a statue by French on the Pulitzer Memorial at the Fifth Avenue entrance to Central Park in New York City, as a figure in Suffering Humanity, in the memorial to General Booth (founder of the Salvation Army), Sherry E. Fry's figures used atop the Festival Hall at the Panama-Pacific event, and Robert Aitken's Fountain of Youth.
An article in Reel Life, April 29, 1916, told of her early career as a sculptors' model: "Strange, indeed, is the story of Audrey Munson, star in the Mutual Masterpicture. It was through an accident that she became a model. While crossing the street near Washington Square shortly after her arrival in New York, she was struck by an automobile. Fortunately, she escaped injury. One of the occupants, a sculptor of note, impressed by her rare beauty, asked her to pose for him. The opportunity was seized. Another unknown girl was made famous. The first pose that attracted the attention of the art world was for the statue of Evangeline, from the studio of Daniel Chester French. This work adorns the Longfellow home at Cambridge, Mass. She was selected for the symbolical figure representing History, which is atop of the Florida State Capitol."
She served as a model for a government-issued commemorative medal for the 1915 Panama-Pacific International Exposition, held in San Francisco to commemorate the rebuilding of the Golden Gate City and the opening of the Panama Canal, and was known as "The Exposition Girl." Others were fond of calling her "Divine Audrey" or "The Modern Venus." In addition to her likeness in statue and medallic form, her image was reproduced by artists William de Leftwich Dodge and Milton H. Bancroft, for use in decorations on Great Lakes steamers; she was seen as "Lady Godiva" in a series of commercial silver novelties by Scarpetti, an Italian sculptor; her picture was in the dining room of the Astor Hotel in New York City; and she was sketched and painted for magazine illustrations by Charles Dana Gibson, Harrison Fisher, A.B. Wenzell, Henry Hutt, and other limners of the so-called "American Girl."
In April 1915 Miss Munson was on stage at the Palace Theatre in New York City, in the production of Fashions, in which current and coming clothes were modeled. It was announced that under the auspices of her manager, Arthur Hopkins, she was to be seen soon in a "variety act" in several theatres. In July of the same year, she was on stage at the Jardin de Danse in New York City, where she enacted a series of "living pictures," with such titles as Water Nymph, Sea Sprite, and Fairy of the Waterfall. In one number she posed as the Statue of Liberty, with a scenic backdrop of New York harbor.
An article by Ada Rainey, in American Magazine, August 1915, described her personal life: "Audrey lives with her mother very simply in a small apartment in Upper New York City and is as domestic as her exacting work will allow her to be. She is a young woman of pronounced artistic ability, for she sings, plays, and dances classical dances in quite an exceptional manner, without the least show of affectation. This artistic ability is also shown in the ease with which she enters into the spirit of each artist's work...."
In connection with her renown as a model, she wrote an article which appeared in the New York American, issue of September 13, 1915 and other newspapers of the time, in which she suggested that children should begin to develop their grace and posture at an early age by viewing statuary and by exercising before a mirror. "It is better to keep before a child models of grace than to correct her when she is awkward," she advised. In August 1916, she offered to exhibit herself in a statue-like pose at the entrance to the California State Fair, scheduled to open on September 2nd. Her request for a $1,500 fee was rejected, and the event did not take place.
Nude on the Screen: The Thanhouser film, Inspiration, depicted her nude while modeling for a statue. The concept of nudity on the screen was daring at the time, and Edwin Thanhouser took great pains to assure the public that here was art, not obscenity, and the censors agreed. However, some exhibitors billed the film as a display of nudity, which it was, and undoubtedly its great success was due to this factor alone. The acting ability of the beautiful Miss Munson apparently was not worthy of serious notice.
In June 1916 it was announced that the American Film Manufacturing Co. ("Flying A") was completing a film in which Audrey Munson, again nude, was re-creating her posing for Adolph A. Weinman's statue, Descending Night, which crowned a building at the Panama-Pacific Exposition. This seven-reel film, titled Purity, in its final form showed the shapely Miss Munson posing nude not for just one statue but several, as well as interpreting various nude poses in classical paintings. The August 26, 1916 issue of The Moving Picture World featured a full page advertisement for this release, illustrated by a picture of Weinman's statue. The flavor of the advertisement seemed to be that the nude Miss Munson was the attraction, but to avoid censorship problems the picture was being done in the name of "art."
An article on Purity, in Reel Life, June 17, 1916, had as a subtitle: "Model Appears Nude in Several Scenes." The text noted, in part: "It is in the outdoor scenes that Miss Munson appears most frequently in the nude, representing a series of masterpieces in bronze and marble...." Undoubtedly the executives of the Mutual Film Corporation enjoyed quite a few behind-the-scenes chuckles when the Thanhouser and, later, the Flying A film brought in a flood of nickels, dimes, and quarters from members of the public who were seeking to increase their knowledge of "art."
Her Later Life: In 1919 Audrey Munson was featured in lurid headlines involving Dr. Walter Keene Wilkins, who was a neighbor of hers and her mother, Katherine Munson, in an apartment building at 164 West 65th Street. It was said that Wilkins, described as "aged," killed his wife, Julia, on the night of February 27th at the couple's primary residence in Long Beach, Long Island. Upon the murder suspect was found a card bearing Miss Munson's name, and those who knew him stated that he was very fond of the young girl. He had remarked to numerous acquaintances that the beautiful model should never marry. Wilkins subsequently hanged himself in his cell.
District Attorney Weeks and detectives from the Burns Agency tracked down Miss Munson, who was in Toronto when the murder occurred, and sought to question her about Dr. Wilkins, his activities, and their relationship. She freely told what she knew, and was never implicated by any evidence. Indeed, Miss Munson, a far cry from the publicized "vamps" of the era, had a reputation among her friends as being the epitome of propriety. The case created nationwide attention, and the American Film Corporation, of Santa Barbara, California, for whom she was still an actress, in effect cancelled her contract by saying that she was not needed for any films at present, and she was free to seek employment elsewhere. After seeking employment as an an actress in Los Angeles, Detroit, New York City, and elsewhere, Miss Munson and her mother came to Syracuse, where they secured a furnished room at 621 East Fayette Street.
By October 1920, Variety and other publications reported that the actress had fallen on hard times and was being supported by her mother, who was peddling kitchenware door-to-door in Syracuse, New York. Audrey herself had been rejected in her application for a position at 15 cents per hour as an apprentice at the Syracuse Public Library and was trying to raise funds by selling tickets on a bronze statue of herself, modeled by Ulysses Ricci, on view at the Syracuse Museum of Fine Arts. A less than charitable columnist suggested that Miss Munson's alleged poverty was the work of a press agent and was just another publicity stunt. In February 1921 the trade was informed that the actress had been paid $27,500 as a deposit on a contract under which she was to appear in Allan Rock's production, by Perry Plays, Inc., of her life story - seemingly an endless source for scripts. In the meantime, several dozen newspapers serialized her biography.
On Saturday evening, May 27, 1922, Miss Munson, who was living in Mexico, Oswego County, New York, swallowed poison in a suicide attempt. In a comment to the press, her mother stated that Audrey was despondent because of the treatment she had received from motion picture companies and newspapers which had thwarted her attempts to regain prominence as a screen star. Later, the actress was institutionalized. As of 1988, Audrey Munson was living in retirement in Ogdensburg, New York.
Thanhouser Filmography:
1915: Inspiration (11-18-1915)
1918: The Perfect Model (Arrow Film Corporation reissue of the November 18, 1915 Thanhouser film, Inspiration. 10-21-1918)
# # #
Copyright © 1995 Q. David Bowers. All Rights Reserved.