Volume III: Biographies
FEALY, Maude ***
Actress, scenario writer (1911-1914)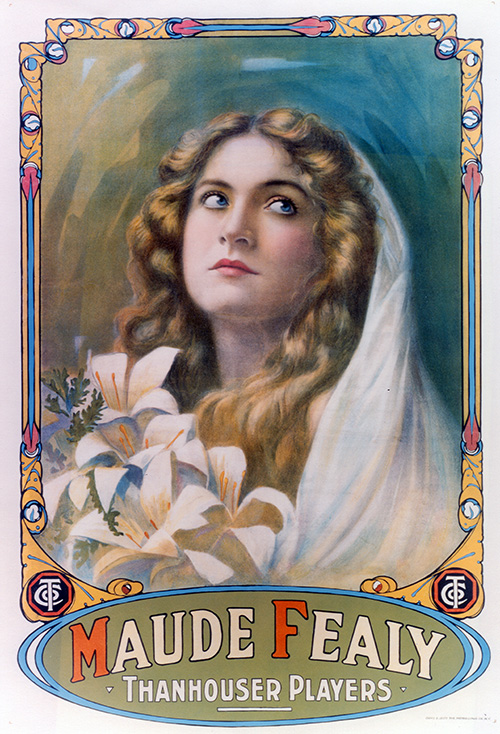 Poster Image Courtesy The Marguerite Herrick Library, Academy of Motion Picture Arts and Sciences and Thanhouser Company Film Preservation, Inc.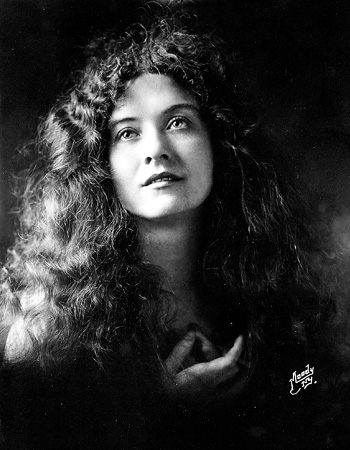 Maude Fealy in a studio portrait. Courtesy of Alan Brock (P-110)
Thanhouser Career Synopsis: A well-known stage actress, Maude Fealy appeared in Thanhouser films intermittently in 1911 and 1912 and with fewer interruptions in 1913 and 1914. She received extensive publicity during her 1913-1914 tenure and was featured in advertising more than any other Thanhouser player. Month after month, advertisements featuring such multiple-reel films as Moths were run in Reel Life, The New York Dramatic Mirror, and elsewhere.
Biographical Notes: Maude Fealy was born Maude Hawk in Memphis, Tennessee on March 3, 1881 (one account says March 4, 1883), the daughter of Margaret Fealy (1866-1955), a stage and film actress who conducted an acting school at the time, and who later was in charge of the Tabor School of Acting in Denver, Colorado. At one time, Maudes mother was married to orchestra leader Rafaello Cavallo, who became Miss Fealys stepfather.
Stage Appearances: At the age of three Maude made her first appearance on the stage, taking the part of an angel in an adaptation of Faust and Marguerite, in which her mother played Marguerite. When she was five years old, she took the part of little Willie in the great melodrama, East Lynne, and was also seen in the role of Meenie in Rip Van Winkle.
"In the cast is a child of nine years whom older actresses might well copy - her performance is singularly beautiful and artistic is her name," a critic wrote of one of her appearances on stage in Chicago.
Reel Life, April 4, 1914, told of Maude Fealys education and early career: "Between Miss Fealy and her mother there was always the closest companionship. Mrs. Fealy did not take it for granted that her talented daughter would become an actress. Her first thought was for the girls education, and she read and studied with little Maude, until, at the age of ten, it seemed best to place her in Higbees Academy at Memphis, Tennessee. [She also attended Memphis High School.]
"Mrs. Fealy, however, was obliged to be away a great part of the time, on theatrical tours. Separation from one another made both intensely homesick, so the mother arranged to star in the famous Denver Stock Company and have her daughter with her. [An article in The Photoplay Magazine, August 1914, stated that Maude in her youth was sent by her mother to France, where she spent several years in a convent.]
"But, in a short time, Mrs. Fealy decided to retire from the stage so that Maude could live a more normal life and complete her schooling. She founded and carried on successfully, in Denver, The Tabor School of Acting, which graduated several well-known actresses. Miss Fealy was permitted, occasionally, to take part in some of the performances given by her mothers pupils; but, far from being forced on the stage, in her formative, immature years, she was wisely restrained.
"All the more natural and inevitable, accordingly, was the manner of her debut at the age of 15. Blanche Walsh, then leading woman with a summer stock company in the West, wished to produce Romeo and Juliet. She was seeking everywhere the type of her ideal Juliet to play opposite her own performance of Romeo - and when she saw Miss Fealy, she would not be satisfied with anyone else. Refusal was impossible - and so pronounced was the young girls success in this most appealing of all Shakespeares roles, that she was engaged to succeed Henrietta Crosman [who left following an argument with the director] at the Manhattan Theatre in Denver.
"Her fame traveled to New York. Augustin Daly sent a representative to see her play, and he signed the youthful star for a five-year contract. Miss Fealy reached New York to enter Mr. Dalys company just four days before his death. [Daly died in 1899; some accounts state that Daly signed Fealy to a contract when she was just 14 years old - this would have been circa 1897.] She was then in spring heels and short dresses slender and childlike, with two long braids of golden brown hair hanging down her back. Richard Mansfield wished to fulfill the Daly contract, but his play that season was Cyrano de Bergerac - and she was too youthful to look the part of Roxanne. So she went to see Mr. [Fred C.] Whitney who was working on his production of Quo Vadis? Here again, her childlike appearance was against her. But when Mr. Whitney and his critics asked her to give them a few scenes from some of her old plays she threw herself into the performance with such absorption and temperament that she was signed on the spot for the part of 'Eunice...."
One of Miss Fealys later encounters with Fred C. Whitney ended in court. According to legal depositions, on May 3, 1909 Whitney induced her to sign a contract for work in a play, Divorce, for which she was to be paid $250 per week, beginning on October first of the same year. The starting date came and went, and the actress was not called to the stage. Finally, on November 22nd, rehearsals began, and her first paycheck followed shortly thereafter. The play opened for its first New York City run, at the Lyric Theatre at a matinee on Monday afternoon, November 29th. The production garnered poor reviews. One writer for a New York City paper observed: "Not only is the play unsatisfactory, but it is not well cast. Miss Maude Fealy enacts the nurse, and imparts to the character the charm and temperament of a tenpenny nail."
A misunderstanding erupted between Miss Fealy and Whitney, and she resigned. The performance of December 6th saw Roberta Distori as her replacement. The next stop was at an attorneys office, where she hired a lawyer to press her claim for $1,600, representing wages for the period before November 22nd, when she was not called for work. Over four years later, on April 22, 1914, a jury awarded her $600 plus costs.
The biographical article in Reel Life, April 4, 1914, continued: "At the close of Quo Vadis, William Gillette sent for her at the Garrick. He thought her altogether too young to play the part of Alice Faulkner in Sherlock Holmes. But Miss Fealy persuaded her mother - who was with her through all her adventures - to let her have her first long dress and heeled shoes, and to pile her abundant hair high on her head - with the result that on her second visit to Mr. Gillette she captured the part. [In this role she was seen at Philadelphias Broad Street Theatre in 1901.] She was with Gillette two years - the second season, in London, where she made, perhaps, her biggest success on the stage...."
She spent two years with Henry Irving and E.S. Willard. As leading woman with Irving, she played Ellen Terrys former roles as Julie in The Lions Mail, as Nora in Waterloo, as Rosamonde in Becket, and as Marie in Louis XI. In an interview published in the New York Morning Telegraph, April 19, 1914 [partially reprinted in Motion Picture Magazine, February 1915], she gave a lengthy recounting of her stage work with Willard, noting that he was a doddering old man at the end of his career: "My recollection of him is that of a grand and noble structure crumbling and tottering to ruin."
In a story-interview in Blue Book magazine, July 1914, Miss Fealy related that she became acquainted with Henry Irving when she was on stage in London with William Gillette, in Sherlock Holmes. Into her dressing room wandered a stray cat, which she fed malted milk and bedecked with a blue ribbon. Soon, Irving came to claim his pet, and in the process met Miss Fealy. At the age of 19, Miss Fealy joined Irving on stage. At one time he was sidelined with an illness, and during this period Maude Fealy and her mother went to Paris for eight weeks, where the actress polished her usage of French. "About that time the Paris Figaro Illustre held an international beauty competition. I think there were 30,000 photographs sent in. Mine was chosen." The contest, with a prize of 1,000 francs, closed on April 20, 1903.
With E.S. Willard she went on stage in the role of Lucy in The Professors Love Story after just three hours of rehearsal; followed by The Rogues Comedy, The Cardinal, David Garrick, and, at the end of the week, For Her Sake. Although she had never been in even one of these plays before, Miss Fealy received many accolades from British theatre audiences. Despite the acclaim received from London critics, she expressed the opinion that these foreign notices did little to advance her overall career, which she felt would always be centered upon the stage in distant America. Around this time, she was co-star with Orrin Johnson in Hearts Courageous at the Broadway Theatre in New York City. She also played the role of Felicite in That Man and I, a play by Mrs. Frances Hodgson Burnett.
In 1906 she signed a five-year contract with John Cort, under whom her first appearance was in The Illusion of Beatrice, a comedy by Martha Morton. In 1907 Maude Fealy began the season in the role of Ernestine in The Truth Tellers, another play by Martha Morton, and ended it co-starring with William Collier in On the Quiet. By this time she was well known as an actress and was featured on magazine covers and other publicity. In 1907 and 1908 she was seen the leading role in The Stronger Sex, a play by John Valentine, which toured Western America and Canada. Another play, The Right Princess, staged by Maude Fealy and her husband, drew many enthusiastic reviews during the 1911-1912 season.
For many summers, beginning about 1901 and continuing for well over a decade, she appeared in summer stock at the Lakeside Theatre at Elitchs Gardens, the famous Denver amusement park and theatre facility, playing in such productions as A Royal Family, The Prince and the Pauper, Dorothy Vernon, Little Lord Fauntleroy, Of Mice and Men, The Little Minister, When Knighthood Was in Flower, Romeo and Juliet, The Christian, Faust (one of her favorite plays, in which she appeared for several years), and Lady Dainty.
Wedding Bells: In 1901 the story made the rounds that Maude Fealy was engaged to be married in William Gillette, with whom she was acting on the English stage, and the story was printed in so many papers that her mother cabled denials to leading press agencies in the United States and England. The union never took place.
On July 15, 1907 Maude Fealy was secretly married to Lewis Hugo Sherwin, a young Englishman who was dramatic critic for the Denver Republican. The couple, fearful of what Maudes mother might say if she learned of the situation, lived apart for the first two weeks. Then, for a brief time, the newlyweds were together at her parents home at 826 East Colfax Street in Denver. Maudes mother did not approve of the match, and referred to her new son-in-law as a "nobody." She did her best to split the couple apart. Her stepfather, Rafaello Cavallo, likewise viewed the union with disfavor and was quoted as saying that Sherwin did not earn enough money to keep Miss Fealy provided with gloves, or, for that matter, to buy his own cigars and pay his laundry bills.
Not surprisingly, a rift developed between Maude and her husband when her mother, stating that Maude was not ready for such a marriage, forced her husband to agree to live separately for a year, after which he moved to the East. Miss Fealy subsequently filed for divorce, giving desertion and non-support as the reason. The decree was granted on Saturday, September 25, 1909.
An unattributed clipping (preserved in the Robinson Locke Collection) gives a sarcastic view of the goings on: "Well, Mamma Fealy ought to be perfectly happy, since the marriage between daughter Maude and Lewis Hugo Sherwin, which she struggled so sweetly to disrupt from the first day of the nuptials, has yielded to her motherly efforts in a divorce. Maude hasnt lost any time arranging for number two, either, in the person of a Wall Street broker...."
In Washington, D.C., on November 28, 1909 (one account says October 31, 1909), Maude Fealy married an actor who played juvenile leads with Keiths stock company, James Peter Durkin. Her new mate apparently won his mother-in-laws approval, for an article datelined St. Paul, Minnesota, December 15, 1909, and printed in The Kansas City Post, quoted him as saying: "I can assure you that the marriage took place with the entire approval of Maudes mother. We would never have been married without her sanction. We were married in Washington, we dont care to say where, when, or by whom. Marriage is too sacred to be talked about publicly."
Using Maudes financial resources, the couple later formed the Fealy-Durkin stock company, which performed plays in Denver and elsewhere. Sacred or otherwise, the Fealy-Durkin marriage ended in divorce in Denver on June 18, 1917. Subsequently, Maude Fealy made a third and final trip to the altar, to wed James E. Cort. The marriage ended in an annulment in 1923.
With Thanhouser: Maude Fealy appeared in several Thanhouser films in 1911 and 1912, and worked at the New Rochelle studio between stage engagements. She played occasional parts at the time and was not featured in Thanhouser publicity releases or advertisements.
In April 1913, following stage appearances in the road show of The Right Princess, she signed a three-year contract with Charles J. Hite to appear in Thanhouser films. She came to New Rochelle and spent seven weeks with the production company for the film, King Renés Daughter. Her husband, James Durkin, accompanied her and also secured a position with Thanhouser. Parts of June, July, and August were spent back in Denver, where she was on stage at the Lakeside Theatre at Elitchs Gardens.
During the week of August 4, 1913 Miss Fealy was seen on stage in Denver at the Lakeside Theatre in the company of her husband and the Fealy-Durkin players in an English comedy, Just to be Married, written by Cecily Hamilton and earlier performed in New York City by Grace George and Lyn Harding. Later, Eugene Walters melodrama, Paid in Full, was staged at the Lakeside, with Miss Fealy in the role of Mrs. Joe Brooks. Her appearances ran through Labor Day, September first.
Following the stage shows, Miss Fealy and her husband were scheduled to go back to New Rochelle. From there, she would "join the Thanhouser Company on an expedition to Nova Scotia, where Evangeline will be given a most elaborate production in the original locale of Longfellows immortal book among 'the murmuring pines and hemlocks of 'the forest primeval," according to a news item.
Shakespeares The Winters Tale and Tennysons Elaine were also said to be scheduled. Although The Winters Tale had been produced by Thanhouser in 1910, no 1913 version was ever made, nor did the New Rochelle firm ever release films under the titles of Evangeline or Elaine.
The July 27, 1913 Denver Times article continued: "Miss Fealy is delighted with New Rochelle and has enjoyed her season there immensely - yachting, boating, bathing, and indulging in the various seashore pastimes seldom accorded to players in summer stock. 'Just think, she says, 'only six hours of work a day, no lines to study, no worry about next weeks play nor learning your part for the week after next. No night appearances and no extra matinees. Just compare that with the usual experience of summer stock actress and the late-to-bed and early-to-rise hurry-or-you-will-miss-the-train breakfasts of road engagements.
"'These are a few of my reasons for declining two flattering offers for the coming season in order to go with the Thanhouser people, although moving picture work is sometimes very exacting, and in one production I had to make 15 costume changes during three weeks of rehearsals and actual picture making. Miss Fealy was tendered one offer to star with William Faversham, and John Cort endeavored to engage her for the stellar role in his Peg o My Heart company that season."
A New Rochelle city directory noted that Maude Fealy lived at Beacon Hall, an apartment building adjacent to the Thanhouser studios, in 1913. In 1914 Maude Fealy is not listed, but there is a listing for an Ellen Fealy at 150 Main Street. The New Rochelle Pioneer, October 10, 1914, described her home: "In private life she is Mrs. James Durkin, wife of a Thanhouser director, with whom she scored triumphs in stock on the legitimate stage, and their home is at Home Park, where, with her pets and plants, her art and books, she manages to find life anything but unpleasant. Miss Fealy is now taking a well earned rest from the screen, but those who have seen her work in the past know that there are other triumphs awaiting her."
A June 1914 Visit With Miss Fealy: An excerpt from an article by Arthur Edwin Krows, in The New York Dramatic Mirror, June 24, 1914, told of her work with films: "It is readily understood that this enormous amount of work finally tolled on little Miss Fealy, and why her physician warned her that she must become a more constant devotee of the great outdoors. She was in a quandary. It was out of the question for her to be idle, for her energy is of the consuming kind that must find some vent. At last she bethought herself of the pictures. Here is the way she might live a life in the open, and at the same time act. So that was how it came about that Maude Fealy became a motion picture star of the Thanhouser Corporation up at New Rochelle.
"New Rochelle, it will be remembered, was used by George M. Cohan as the locale of his play, Forty-Five Minutes From Broadway, although he neglected to add that its somewhat more if you miss your train. Fortunately, I didnt miss mine, so I found Miss Fealy punctual to the appointment. She was religiously employing a few spare moments on a walk around four blocks near the studio, the same walk that provides her with a constitutional every morning.
"Almost immediately she whisked me away in an automobile with her company to take some pictures in the woods. The director was her husband, James Durkin, none other than that able and versatile actor who has been identified with some of the best work done in stock companies during recent years, and a fine gentleman into the bargain. Thus it came about that the interview took an unexpectedly sylvan aspect.
"Instead of gnawing a pencil, I chewed grass, and fancied myself rather literally the New York farmer O. Henry used to tell about, who, though born and brought up in the city, had never been across Second Avenue in his life. It was all very unusual in an interviewers experience, and very pleasing. One could look on the nether side of a tree trunk in the scene and find it able to support itself without a stage brace, while the only gridiron was a group of 'mares tail clouds above. Miss Fealy has a mighty respect for the pictures, incidentally pointing out to other players of the regular stage that the lesson of her experience shows how to solve the problem of regaining health at the same time that it meets the bread-and-butter question.
"'Above all, she says, 'remember that theres no degradation in working before the camera. I am perfectly ready to admit that the pictures have not the beauty of the spoken word, but there is a compensation in their wonderful ability of the changing scene, and in the fact that that scene is unlimited in its possibilities. It is able to show miles of country as easily as a moving steamship. Over-enthusiasm about the pictures probably does more harm than too little, but to recognize just what they are, with their advantages balanced by their limitations, is at least to respect them, and to know that they are worthy of most patient and intelligent endeavor.
"'Even though players may not intend to remain in the pictures because they offer no opportunity for diction and voice, and prefer to make them an advocation rather than a vocation, they will find them valuable to histrionic training in that they place an unusually strong demand upon the pantomimic part of their work. And pantomime is very vital to an actors art. Of course subtitles in the pictures convey those ideas that would be almost impossible for an actor to get across, but even that doesnt make the players work negligible.
"'I learned the foundation of what I know about the art of acting at the dramatic school which my mother, Margaret Fealy, conducts in Denver. Knowing then first how to study, I was able to profit by all the experience that came my way. The next best thing after the school, I believe, is the stock company, although the school should come first, for there the beginner has the chance to do things and not just look on, as is often the way with newcomers in stock. Understand, it all depends whether or not the school is properly conducted, for if it isnt, the aspirant for stage honors is apt to find it a waste of time and money.
"Miss Fealy has not neglected her voice and diction because she has no immediate use for them in the pictures, for she intends one of these days to return to the regular stage and be seen again as her own charming self, who cannot be duplicated for the exchanges and sold in a hundred places at once. She is not ready to believe with many others that the stage has fallen from its high estate, but is rather inclined to the same idea that James Forbes put in the mouth of The Chorus Lady, that 'its always a bad season for a bad play. In other words, she feels that we have not had the best provided in the way of dramatic attractions. Also, 'As fashions change, she says, 'so changes the public taste, and the cycle is bound to come around again. Each variety of play has its fling and passes on while the next one comes, but they all stand in line waiting for their next chance. Perpetual change is the keynote of the theatrical world as it is in life. Every dog has her day as every cat has her night."
She was treated with a queenly respect in Thanhouser publicity and in the trade press 1913-1914, due to her great renown on the stage earlier. Thanhouser films in which she played included Moths, The Legend of Provence, and Frou Frou. She also wrote several scenarios for Thanhouser films. Maude Fealy remained with Thanhouser through middle of summer 1914.
Her Career After Thanhouser: Variety, July 10, 1914, carried this item: "The withdrawal of James Durkin, director, and Maude Fealy, leading woman, from the ranks of the Thanhouser Film Co. comes as a big surprise to the movie world. Mr. Durkin and Miss Fealy are not deserting the pictures, but will, very likely, branch out with a new company of their own, featuring Miss Fealy. Ralph Cummings is slated as Durkins successor with the Thanhouser." After leaving the Thanhouser Film Corporation, Miss Fealy went to Detroit, where she joined the Washington Theatre stock company, with whom she was seen on stage in August.
An article in The Moving Picture World, October 24, 1914, told of additional motion picture work after she left Thanhouser: "As the star for the first motion picture producing company in Boston, Miss Maude Fealy is now at work in the studios of the Holland Film Manufacturing Company [where she wrote many of her own scenarios]. Miss Fealys introduction to picture followers was through her fine performances in Thanhouser and Majestic features. She had long been on the stage before going to New Rochelle....
"The coming winter she will star at the Cort Theatre, in Boston, in The Right Princess. Her stage appearance will not interfere with her screen work, as it will require her absence from the studio only on Wednesday and Saturday afternoons. Miss Fealys partial return to the boards indicates a change of heart in a way. It was only last winter that she told a Moving Picture World man, talking with her at the Thanhouser studio, that she was glad her stage experiences were behind her - now that she had a home, with her family around her. She distinctly disavowed that the footlights had any lure for her; but, after all, she has simply exercised a womans prerogative and changed her mind.... The first release of the Holland Company will be in November. Two pictures are already completed. Mary Janes Burglar is a one-reel subject from the pen of Miss Fealy. The Girl From Tims is in two reels. It is adapted from the novel by William Munn."
The New York Dramatic Mirror, April 7, 1915, reported that she was going to star in the Pre-Eminent Film Companys production of The Inner Shrine, directed by James Durkin. The same periodical, in its October 16, 1915 issue, noted that she would appear in George Kleines release of Bondwomen, for which Kleine had set up a special company to showcase her talents, and that, further, she would continue her work on the stage in addition to her film efforts. The New York Dramatic Mirror, September 29, 1915, stated that Miss Fealys first work for Kleine would be a five-reel feature titled The Average Woman, written and directed by Edwin August. An article in The Moving Picture World, November 20, 1915, told of her acting for Kleine, and then went on to give her opinion that films would help revive one-act stage plays, for: "Moving pictures sharpen the curiosity of the public to see the actor in person."
From August 8 to 15, 1915, she was on stage in Denver at the Denham Theatre. The engagement drew large crowds, and the management implored her to hold the production over, but she declined.
An article in The Toledo Blade, September 18, 1915, informed readers that Maude Fealy "recently returned to New York; her future plans are as yet unsettled."
The Moving Picture World, October 16, 1915, stated that for Knickerbocker Star Features, Miss Fealy would appear in The Girl from Tims Place, and, in blithe disregard for the facts, went on to inform readers: "Miss Fealy is a well-known figure with the legitimate stage, and The Girl from Tims Place marks her initial appearance before the moving picture public."
The November 7, 1915 edition of the New York Morning Telegraph included a large portrait of Miss Fealy, with the caption identifying her as "a Thanhouser Star," although by this time she had been away from New Rochelle for over a year!
During the week ending February 6, 1916, "Maude Fealy & Co." staged a 14-minute vaudeville act twice daily at the Colonial Theatre in New York City. Reviewer A. Herbst wrote that the performance drew good applause, had a fine finish, and elicited 12 - count them - 12 laughs.
An unattributed news clipping of the time noted: "Maude Fealy played pleasantly all the week at the Colonial in a prettily mounted sketch, in which she was altogether charming, but she is already looking for a stronger vehicle.... The Orpheum Circuit wants Miss Fealy in her present offering, for she is a powerful box office attraction all over the West. However, she is doing motion pictures in the East and prefers to remain here.
"While playing two shows a day at the Colonial last week, Maude Fealy got up before sunrise and went to the Pathé studios in Jersey City and worked until matinee time, when she drove to the theatre, played her sketch, and then hurried back to the studio and resumed her life in the movies, only stopping in time to eat a bite and return to the theatre. She kept this up all week and, mind you, the picture was a thriller in the course of which she was submerged under water, blown up, and made to undergo the perils of a picture heroine. And then they say that all player folk have it soft. Not in pictures do they have it easy. Its getting to be a dogs life. In many studios the players are simply superior mill hands turning out film under the supervision of the worst rotters in the world. That explains so much bad film and such a condition of loss as faces many picture producers today."
In early 1916 she was a headliner on stage at Proctors Theatre in Mount Vernon, New York, in a playlet, When the Tide Turned. Miss Fealy appeared in The Immortal Flame, released by Ivan Film in March 1916, possibly the film that was being produced at the Pathé studios as described above. In December 1916 she joined the Jesse Lasky Picture Company to star with Theodore Roberts in a feature film for the Paramount program. She remained with Lasky in 1917.
The October 1916 Motion Picture News Studio Directory noted that Miss Fealy was 51" tall, weighed 110 pounds, and had brown hair and dark blue eyes. At the time she lived at 206 West 52nd Street, New York City, and her pastime diversions included swimming and writing. She spoke German and French in addition to her native language.
By early June 1917, Maude Fealy assembled a company of stage players for work on the stage at the Lakeside Theatre in Denver, where such productions as Sauce for the Goose, Her Own Money, Baby Mine, and a four-act play from her own pen, Shadow Lights, were staged. On September 1, 1918, The Little Teacher, a comedy drama, opened at the Grand Theatre in Kansas City, with Miss Fealy as the star. Later, the production traveled to the West Coast. In the 1920s she was on stage in numerous plays, including the 1928 Chicago productions at the National Theatre of Dancing Mothers and Madame X.
In the 1930s she was involved in the Los Angeles Federal Theatre Project, where she became the center of a bitter controversy (the nature of which was not disclosed in articles preserved in the Robinson Locke Collection and consulted for the present biography) and was demoted to a job in the sewing division of the Works Progress Administration. During the same decade she was seen in such films as Laugh and Get Rich, The Buccaneer, and Southern Pacific. In the early 1940s, Maude Fealy returned to Denver, where she taught dramatics. Later, she moved to California and opened a dramatic studio in Hollywood. Among her students were Edwina Booth and Nanette Fabray. In 1954 her stepfather retired. He was hospitalized in Pueblo, Colorado, and later died after a prolonged illness. Her mother passed away in 1955.
Maude Fealy remained in films for many years and had parts in many Cecil B. DeMille pictures during the sound era, including the 1956 release of The Ten Commandments, for which she also provided voices which were dubbed in the sound track for other players. She and DeMille were fast friends, having met years earlier shortly after the actress first engagement at the Lakeside Theatre in Denver, where Fealy and DeMille engaged in a swordfight in a play, Dorothy Vernon of Haddon Hall. In 1957, she came back to Denver to retire, but it was not long until she was on the stage again in Colorado, also giving a lecture series at Loretto Heights College. She last appeared in a dramatic role on stage in 1961, in a production which concerned the life of Emily Griffith, a well-known Denver educator. In the same year, she told a reporter: "Actors never give up acting; it gives them up." At one time in the 1960s she lived in Denver at the Paramount Apartments at 30 East 14th Avenue.
Maude Fealy died in her sleep on November 9, 1971 in Woodland Hills, California. Prior to her passing, she had been hospitalized with arteriosclerosis at the Motion Picture Country House and Hospital. Funeral services were held at 11:30 a.m., November 12th, at Pierces Hollywood Chapel, 5959 Santa Monica Boulevard, Hollywood. She was interred in the Hollywood Memorial Park Cemetery Mausoleum, close by her mothers remains. The expenses were provided for by a provision in the will of Cecil B. DeMille (who had died in 1959). No close relatives survived her.
Note: In many news items her name was given as Maud, rather than Maude. Occasionally her surname was misspelled as "Fealey."
Thanhouser Filmography:
1911: The Early Life of David Copperfield (10-17-1911)
1912: Aurora Floyd (12-10-1912)
1913: King Renés Daughter (7-1-1913), Little Dorrit (7-29-1913), Moths (Mutual 9-1913), The Legend of Provence (12-1-1913), An Orphans Romance (12-23-1913)
1914: Frou Frou (1-1-1914), The Runaway Princess (1-9-1914), The Woman Pays (1-27-1914), The Golden Cross (2-24-1914), Kathleen, the Irish Rose (3-10-1914), The Musicians Daughter (4-14-1914), Pamela Congreve (5-26-1914), Was She Right in Forgiving Him? (5-26-1914), Remorse (6-16-1914), Deborah (7-7-1914)
1916: Pamelas Past (reissue of the 1914 film, Pamela Congreve, by Exclusive Features 12-1-1916)
# # #
Copyright © 1995 Q. David Bowers. All Rights Reserved.