Volume III: Biographies
CRUZE, James ***
Actor, director (1911-1915)
Poster Image Courtesy The Marguerite Herrick Library, Academy of Motion Picture Arts and Sciences and Thanhouser Company Film Preservation, Inc.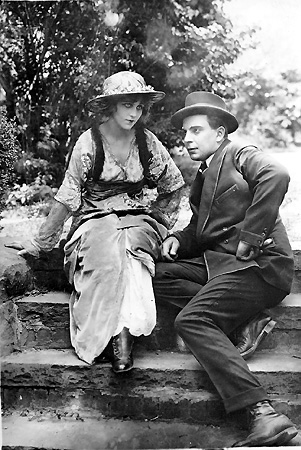 Florence LaBadie and James Cruze, circa 1914. Courtesy of Donald Collins (X-190)
Thanhouser Career Synopsis: James Cruze was the best known of all Thanhouser leading men. He played numerous and varied roles in many films, with his portrayal of Jim Norton, a newspaper reporter, in The Million Dollar Mystery serial being among the more memorable. He also starred in the second Thanhouser serial, Zudora. He directed at least one Thanhouser film, From Wash to Washington. At one time he was married to Marguerite Snow, one of Thanhouser's most important leading women. His infant daughter, Julie, also appeared in Thanhouser films.
Biographical Notes: James Cruze was born Jens Vera Cruz Bosen in Five Points, near Ogden, Utah, on March 27, 1884. His middle names, Vera Cruz, came from the famous Battle of Vera Cruz. Later, he used the name James Cruze on the screen, but the Bosen surname was retained in his private life.
According to a note in The Billboard, October 1921, "Cruze is a quarter-breed Ute Indian and was born in the Uintah Indian Reservation near Vernal, Utah. His grandmother on his mother's side was burned at the stake for giving birth to a pair of twins. The Indians of the tribe considered this the performance of a witch and took those extreme measures to rid themselves of what they considered a malignant influence." It was said that James Cruze had 17 siblings. He was fond of telling different stories to different interviewers, and over the years many diverse versions of his childhood and early career appeared in print. The information given here is a composite, with preference given, in order, to accounts independently verified, to very early interviews (published before 1915), and to later accounts which were consistent in two or more interviews. Many, if not nearly all, of the interviews he gave in the 1920s were highly dramatized and contained a generous measure of fiction.
James Cruze was raised in the Mormon religion, a discipline he abandoned when he reached his teen years. At the age of seven he began working in the family's garden patch, and at the age of 15 or 16 he left home, because, as he told numerous interviewers in the 1920s, including Dorothy Donnell, Doris Irving, and Alfred A. Cohn, he disliked weeding acres of onions for the wage of 25c per day.
Cruze, the Ballyhoo Artist: Thornton Fisher, a writer and cartoonist, told of the actor's early years, in The Moving Picture World, May 16, 1914: "Boom! Boom! Boom! Step this way ladies and gents. The big show's about to begin. Everybody! Come on! It's free! Free to all!' Boom! Boom! To the accompaniment of a leather-lunged barker's voice, a young man on a raised platform outside a small tent is vigorously whaling a huge bass drum.
"The barker continues his barking while the drummer drums while a crowd of passers-by collect around the wildly gesticulating individual and listen with feigned curiosity to the extravagant description of an unparalleled performance about to be presented under the canvas. In the meantime the drummer has danced a few steps to the tune of a light song, while here and there a few of the gullible leave the crowd and enter the hay-laden atmosphere of the tent. As the hawker's irresistible appeal prevails and an audience has been secured, the young man on the platform, with a final flourish of his feet and a parting blow on the drum, leaps to the ground and disappears within. This is Billy Banks' Medicine Show, and the young man who has been capering about on the platform is Jimmie Cruze. Such was his professional debut as an actor.
"Incidentally he sold medicine between the acts. This unpropitious start occurred in California about 16 years ago. To go back to the beginning, the present star of the Thanhouser company was born in Ogden, Utah, where he witnessed his first theatrical performance. It thrilled the youngster with its realism. That show was Uncle Tom's Cabin, and young Jimmie secretly yearned to become an actor, but the opportunity didn't bang on his door - at least so you could notice it - and he kicked around the old hometown leading a normal boy's life.
"Then the Spanish-American War broke out and young Cruze went to the Coast, where he tried to land a meal ticket as a general helper on board the transports. His opportunity came at this time to star in Billy Banks' Medicine Show. It cannot be said that Jimmie was unprepared for his new job. He had taken a course at a dramatic school and was ready to tackle anything that resembled three meals a day in the profession of his fancy. And here we find him beating the big bass drum before mentioned.
"Aspiring to achieve recognition in a regular company, Cruze, with a side partner, resolved to communicate with a theatrical organization in Boise City, Idaho. While waiting for developments Jimmie's friend received a notice to report to a theatrical company in Southern California, leaving James alone with nothing more tangible than a healthy appetite. One day a bright message was received notifying Cruze's friend to join the company at Boise City. This was Jimmie's first cue, and answering the note himself, he accepted the job. As a financial success the company proved to be a flivver. The manager, figuring the cost of sending Jimmie home, decided it would be far cheaper to keep him, and James lingered a while with the show. By this time he was a full-fledged, honest-to-goodness actor, and had mastered the art of tremulous whispering to the soft strains of The Flower Song.
"Next we find the young thespian collecting a company of his own for a tour. He led the organization from town to town, playing one-night engagements without regard to booking, for two years. If the troupe arrived in town on Wednesday they played that day; however, when a washout occurred on the line or the cars left the track, and the belated company reached its destination Friday, the town was played Friday. Then came a period of acting with large productions, including Shakespeare and stock. With the ripening experience of the years he progressed in his profession, and was ready when the click of the camera called him from the stage to the studio, where the big fellow has honestly won the admiration of thousands of movie fans throughout the world...."
Cruze, the Reporter: An article by John William Kellette, in The New Rochelle Pioneer, September 12, 1914, filled in some details concerning his early career: "James Cruze, of 26 Stephenson Boulevard, is one of the best known character actors on the screen, and stands among the highest in his profession.... Born in Five Forks, Ogden, Utah, 30 years ago, Jimmy got stung by the stage insect before he had reached the age when it was time to quite school, and he joined Billy Banks' Medicine Show to tour that part of the West. His wanderings led him into Idaho where he went broke' with the show and turned his attention to newspaper work, holding down the arduous task of interviewing the people in and about the flea-bitten town of Oakley, for the News. It is said that the News was so funny that it made Mark Twain's boomerang look like a governmental statistical report, and Jim was the fellow that furnished the sinews of war. Jim, recounting incidents a short time ago, said that it was worth as much as a man's life to try to turn a corner out there if you worked on the News, because someone would either try to drop a safe on one or a brick or something. However, it became so strenuous that Jim sighed for safer fields and caught on with a company producing Shakespeare's plays. He was made stage manager and from then on the uphill climb brought him nearer the top. Jimmy dropped into New Rochelle one day when he was playing New York, and became fascinated with pictures. A ramble around the City Beautiful' obsessed him with the thought that here was home, and he went into the game with what results the world already knows. He is a member of Huguenot Lodge, No. 46, F. and A.M. New Rochelle Lodge of Elks, and many theatrical organizations. He has a beautiful home, wherein he has stacked the masterpieces of literature, but to his O. Henry and DeMaupassant he devotes the most of his time, and for recreation hurls horseshoes at an iron stake."
Details of His Early Life: An article in Reel Life, September 5, 1914 gave additional information concerning the actor's early career: "James Cruze, the Thanhouser star, probably the most popular man on the screen both here and abroad, has won his prominence by sheer hard work, pursuing the trail of an indefatigable ambition. It was Uncle Tom's Cabin which in childhood took hold of his imagination and never again left him fancy free. Forever after, he was enamored of the stage. That was in Ogden, Utah, then a small town which did not thrust greatness upon its young citizen, Jimmy Cruze. He grew up, a thoroughly normal boy, with every opportunity to develop the foundation of the superb physique which now distinguishes him.
"When the Spanish-American War broke out, Cruze went to the Pacific, intending to get a job as general helper aboard the transports. There he ran into Billy Banks' Medicine Show which was traveling up and down the coast with its headquarters in San Francisco. While this enterprise had not the glamor of a seafaring life, it did look more like an entering wedge into the theatrical business. Sixteen years ago Cruze made his debut as barker' for Billy Banks. He whaled a big bass drum and performed clogs on an inverted soapbox - and got in the crowds. Between acts, he sold bitters and snake bite cures. Wishing, however, to win recognition in a bona fide theatrical company, he and a friend applied to a dramatic concern in Boise City, Idaho. The friend, meanwhile, was called to join a troupe in Southern California, and later, when the Boise City Thespians wrote the young man to come on immediately, Cruze answered the note himself, accepting the position.
"The company didn't make a success financially. But on figuring whether they should send Cruze back home, they decided it was cheaper to keep him. And thus he managed to get a salary in experience which he never regretted. The following season he organized a company of his own. They kept afloat for two years, playing one-night stands, without booking, from town to town. Floods and lack of railroads were the only serious drawbacks. All this roughing-it was invaluable to Cruze. It was his training school for the development of his art. He took for his encouragement or correction the applause or the hisses of the people, and doubtless this is the secret underlying his remarkable popularity today. Whatever Cruze does, he gets it over. And all sorts and conditions of men are his enthusiastic admirers. Serious dramatic work in Shakespeare, and in big stock, also comedy in Hattie Williams' company, next occupied Cruze until his advent in pictures...."
Still more details were included in an article in the Hollywood Citizen-News, August 4, 1942: "His first job - when he was 15 - was as a farm laborer on a ranch near Ogden, Utah, for the weekly wage of $1. For a few days he substituted for the night elevator operator at a little hotel in Ogden, where he met an actor who was getting the fabulous salary of $25 a week. The youthful Cruze immediately decided to become an actor. A short time after he returned to his farm job, he hopped a freight train and headed for San Francisco. After a period of infrequent meals and irregular sleeping places, he obtained a job as a dishwasher. Later be became a busboy. Months later he was elevated to the position of waiter. Whenever he could save $2 he took a lesson at a school of acting.
"Then he spent a season as a seaman and salmon fisher in Alaskan waters and returned with enough money for a complete course in acting. Two weeks after he enrolled, he got a job as leading man with Billy Banks' Tent Show, a traveling organization touring Central California. His salary was $10 a week. Finally the show ended in Lodi. The young actor, then broke, pawned his watch for $4, and practiced going hungry again. Then he got an acting job in Idaho and joined a stock company in Salt Lake City. Later he went on the road with Hutchinson's Imperial Stock Company, which traveled by wagon and played in halls, empty stores, and hotels. He was the leading man and driver of the four-horse baggage wagon. At Fort Duchesne, Utah, he was especially lucky in a poker game and won enough money from an Army officer to buy a big show tent, so he organized his own company and started on tour, first in wagons, and later, during a period of prosperity, in a railroad baggage car. The company eventually went broke. After two years with small stock companies, medicine shows, and vaudeville, Mr. Cruze began his picture career...."
In The Photoplay Magazine, September 1914, Mabel Condon told of his early career and quoted Cruze on the subject: "Were the boyhood days down on the farm?' you are curious to know, but he of the James Cruze name and fame declares they were not; that they were begun at Five Points, Ogden, Utah, and developed into a whirlwind stampede of the public schools there. It was in Ogden that he first saw a theatrical performance. The play was Uncle Tom's Cabin' and the then youthful Jimmie' sobbed himself to sleep over his vivid recollections of it for every night of the week following. With his tears he developed the consoling reflection that when he grew up he would be a great actor and revise the play so that uncle Tom should have a happy as well as an heroic fate. With this ambition in mind, he went to school because his parents forced him to and learned what he was supposed to learn because if he didn't, the teacher would have kept him after school. And what fun would there be in life for a boy if he had to spend the best part of the day - the after school hours - sitting alone and lonely in a deserted classroom?
"I didn't fulfill my aim to improve upon the story of Uncle Tom,' says Mr. Cruze, but I did manage to get into the profession that first took my fancy. I barked for a medicine show, out at the Coast, and that, I think, was my first step toward my present position,' Jimmie' began, with a smile tugging at the corners of his mouth and showing in those slant eyes of his. Japanesy, you might call them, but when you've looked at them several times you discover that it is just the bigness and highness of the brown pupils that give them the fascinating slant.
"It was during the Spanish-American War, and my original hope was that I might be general helper or anything that would mean my keep,' on board one of the transports. But there were too many there before me with an ambition to be of aid to their country and about the time that the medicine show came along and offered me the arduous job of drumming up patronage, I was ready to do anything that would insure me three meals a day. So I practically jumped at the chance.' And, if I do remark it myself, I developed into a first-rate barker, for I became expert not only in calling oratorical attention to the value of the show that those who honored themselves by stepping into the canvas tent would see, but I also was able, in time, to beat a clever tattoo on the drum. At a distance of three hundred feet that tattoo convinced any fairminded person of the worthiness of the combined barker and drummer and, maybe, of the show.
"Then I was inspired to further attract the notice and dimes of the public, with a little dance that I executed in cowhide boots. I also furnished the accompaniment myself, in the way of a series of whoops and yoo-hees that had an echo several blocks away. Oh, I was a lucky addition to that show, I tell you! Billie Banks' Medicine show! When I had saved up money enough to keep me in meals for a whole month, I withdrew from this fearful occupation and, with a partner, sent a communication to a theatrical company in Boise, Idaho. We each set forth our sterling qualities in the endeavor to inspire the company with the desire to honor itself with our services.
"Well, my partner got tired waiting for an answer and seized a small theatrical offer in Southern California. But I stayed around and called at the post-office three times a day. And one day, the letter came. It ordered my partner to report for an opening. That was my chance and I took it. The company, however, failed to come up to my expectations and in a few months, all the recompense I received for services, was my meals and just enough money to prevent my buying a new hat or doing anything that I wanted to do. The company was an out and out failure, but the manager decided it was cheaper to keep me than to pay me what was coming to me, so I stayed on - for a while. My only recompense was experience, but it was enough to give me courage to collect a little company of my own and tour the small towns.
"And we got the crowds and enough money with them to make it worthwhile for about two years. Then came my chance to join a regular' company, a stock one that played Shakespeare three nights of the week and howling melodrama the other three. It was splendid experience; and did much to prepare me for the bigger offerings when they came along. They didn't always come along' though; the majority of times I went out and got them myself. That was the way with The Heart of Maryland lead. I convinced the manager I could do it better than anybody else, and either he was scared into letting me try it or he wanted to show me up, but the role became mine, whichever was the case.
"There was no particular reason, as I recall, to mark my coming into the picture profession. I just came, that was all. And I did my best, and I stayed. That was two years ago and the Thanhouser film She was the first picture in which I appeared. I had done some big stuff on the stage just previous to that, so I came into the company as lead and played opposite Marguerite Snow...."
Cruze Enters Motion Pictures: Contrary to the preceding, Cruze's first motion picture work is believed to have been with Lubin, with whom he had a role in the January 1910 release of The Usurper. The next stop was Pathé, where, among other films, he played in the August 1911 release of A Boy of the Revolution, in which Jack Pickford, brother of Mary, appeared. James Cruze joined the Thanhouser Company in the first half of 1911, where his first part may have been a role in The Pied Piper of Hamelin (released August 1, 1911), although he later stated that his first Thanhouser picture was She (released in two reels, December 26, 1911 and January 2, 1912), in which he played two parts: Leo Vincey and Kallikrates, Vincey's ancient ancestor.
Karl Brown, a cameraman, recalled years later, in 1986, that Cruze worked at the Kinemacolor studio in 1912. If this was so, then Cruze's early employment at Thanhouser must have been interrupted by that engagement. Writing in the April 1986 issue of Films in Review, Brown noted:
"In 1912 I was working for Kinemacolor at the Whitestone studio. Cruze did one picture there and I saw him in all his glory: big, assured, and master of all he surveyed. I also overheard him tell wonderful stories of his own heroic conquests of reluctant women and of his hairbreadth escapes from vengeful males thirsting for his blood. I was not shocked. As a backstage brat I had known of the way of a man with a maid, but it had always seemed to me that common decency required that such private matters be kept private and not crowed about like a rooster on a fence."
A biographical sketch published in 1914 noted: "He fitted peculiarly into photo drama because of his versatility and powers of mimicry. He perhaps has had the widest range on the motion picture stage in the variety of parts played."
The Motion Picture Story Magazine, January 1914, printed the following story by Grace Lamb: "James Cruze lives in New Rochelle, works in New Rochelle, and, from his unbounded enthusiasm for the Westchester County city, will die in New Rochelle. And he is going to make his home there - permanently - and always. Right next to the apartment house [Beacon Hall] in which Mr. Cruze lives is the Thanhouser studio. So close they are that the walls touch elbows, and he can sit in one of his big, comfy, leather chairs and read his favorites, DeMaupassant, Rabelais, or Scott, and encircle himself in the blue haze of his cigaret smoke, until the 'phone summons him to the studio around the corner. And that is just exactly what he does.
"It was in the apartment, over steaming chocolate and variously assorted good things, that we interviewed' - and James Cruze, host, is not one whit less delightful than James Cruze, actor. And he is exceedingly good to look at. Tall, to the height of six full feet, 180 well distributed pounds in weight, with very dark, very brown eyes, and darker brown hair. Moreover, he is very gracious, and very natural - and I should call these two his chiefest characteristics - a gracious naturalness.
"He startled me at first, as we touched on religion, by announcing himself to be a Mormon - but I was reassured by his assurance that the present-day Mormon is not, according to the old idea, a sheik with an extensive harem - in fact, Mr. Cruze is interested in Christian Science, and is therefore quite exempt. He has only been East since 1906, and previous to that he played in Western stock companies for a number of years. The movie world has known him for almost four years - a glimpse or two through the medium of Pathé at first; then with the Thanhouser, which he will never leave, he says, unless it be to go into the producing end of motion pictures. He believes there is big money in that field - also big monopoly.
"He loves his work - especially character work - and his favorite character was in Letters of a Lifetime. Furthermore, he doesn't care to play leads - detests romantic leads - and is particularly partial to impersonating quavery, 70-year-old men - in disregard of the six feet and the dark eyes. It was superfluous to ask him whether he thought life worth living - you knew that he did from the cheery geniality of him and his whole-souled optimistic views. He has an ambition, too, and he believes that the fulfilling of that ambition spells all the best happiness the world holds - a beautiful home and beautiful kiddies. Only one thing could ever get me away from home,' he said, and that is prize fighting.'
"He handed me a picture of a cunning little boy in a grown-up suit. It is the first picture he ever had taken in his life, at the mature age, for first pictures, of 11 - and his mother made the grown-up suit, even to the weaving of the cloth. Do you wonder that he prizes domestic happiness? He has two views on politics which are interesting, one being a firm belief in woman suffrage, and the other an equally firm belief in the adequacy of William Jennings Bryan. He is misunderstood,' he told me, earnestly, and there's never been anything in his life to be ashamed of. They've hunted and hunted, and they can't find one thing to say against him.'
"He doesn't believe in censorship, and he does believe that there are unspeakable quantities of improvements to be made, the chief fault being with the scenarios. They don't taking the writing of scenarios seriously enough,' he told me. And then I had to catch my train, and I carried with me the remembrance of a charming hospitality, and an equally charming personality."
Reel Life, May 2, 1914, discussed some of his screen roles: "He was Joseph in the Old Testament adaptation of Joseph in the Land of Egypt. In The Adventures of a Diplomatic Free Lance' series, he plays Lord Trevor to Florence LaBadie's Nan. As Sir Henry in The Legend of Provence, with Maude Fealy, he created a very convincing type. Mr. Cruze is at his best, perhaps, in Oriental character, and in virile, adventurous roles, with a flavor of the medieval about them."
In The Moving Picture World, May 16, 1914, Thornton Fisher told of a visit with the actor: "I called to see him the other day at the Thanhouser studio in New Rochelle. Outside the glass structure I encountered a crowd of supers waiting for - well, just waiting for something to turn up. I was rescued by Bertram Adler, who, by the way, is the first person and usually the last youll see at the studio, and undoubtedly the busiest. He scurried around and located friend Cruze.
"The Thanhouser star hove to and after the usual preliminary greetings we repaired to his apartment close to the studio, where he made-up and incidentally lunched at the same time. All movie heroes are expected to be handsome, and Jimmie Cruze qualifies. Physically he is a big man. His face is strong. A pair of large brown eyes - you will declare they are black at times - gaze steadily at you as he speaks. The head is splendidly molded and is covered with a luxuriant mass of dark hair. He easily measures six feet, and possesses a pair of broad shoulders, which are very useful at times in his heroic parts. Between bites he fastened his collar and attached his tie, and when his servant had brought on the final course of the lunch, he was ready to return to the studio for a big scene in The Million Dollar Mystery, in which he was starring...."
Reel Life, September 5, 1914, told more: "Mr. Cruze works on the jump from morning till night. He is in constant demand at the studio. He has an apartment nearby, where daily he is to be found, at about noon, lunching and making up simultaneously, to save time. He is six feet tall, broad shouldered, of hero build. His strong face is peculiarly expressive. His large, dark-brown eyes gaze intently at the person whom he is addressing. His well-shaped head is covered with a thick mat of silky dark hair. Remarkable powers of mimicry especially qualify him for the pantomimic stage.
"His roles in pictures are numerous and exceedingly varied.... In The Star of Bethlehem, he was Joseph to Flo LaBadie's Mary. Last winter, in the elaborate filmatization of the Old Testament epic, Joseph in the Land of Egypt, he had the title role. Dr. Jekyll and Mr. Hyde was one of the strongest pieces of acting Cruze ever did. At present, he is starring as Jimmy Norton, the reporter in The Million Dollar Mystery, playing opposite Flo LaBadie's Florence Gray. In this part, which he makes vigorous and romantic, he gives still more startling proofs of his versatility."
The New Rochelle Pioneer, Saturday, September 19, 1914, told of festivities held in New Rochelle a week earlier: "James Cruze entertained a party of studio folk at his home, 26 Stephenson Boulevard, Saturday night. Bruce Weyman sang, and Boyd Marshall gave piano accompaniment. Others in the party were Sidney Bracy, Al Mayo, Miss Fanny Bourke, and Mr. and Mrs. John William Kellette."
Cruze was one of the leading players in the two Thanhouser serials, The Million Dollar Mystery and Zudora. Cruze directed at least one Thanhouser film, the 1914 release of From Wash to Washington. He married another prominent Thanhouser player, Marguerite Snow, in February 1913 in Los Angeles, in a filmed ceremony, and was father of her child, Julie Cruze, born on October 24, 1913. In an interview in The Photoplay Magazine, January 1913, he stated, "One girl is enough for me, providing of course she is THE girl." Apparently, Marguerite Snow wasn't THE girl after all, for he divorced her in 1922.
The goings and comings of Cruze furnished fodder for fan magazine "fillers," as in this mention in Jean Darnell's column in The Photoplay Magazine, December 1913: "James Cruze has now practically recovered from his broken rib. He is a little weak yet, but outside of that he is feeling excellent."
New Rochelle city directories gave his address in 1913 as Beacon Hall, and from 1914 through 1917 as 20 (or 26 in some listings) Stephenson Boulevard; however, by 1917 he had long since departed from the city.
Westward Ho: When Edwin Thanhouser returned to New Rochelle in early 1915, he made it clear to James Cruze that his services were no longer needed with the firm, and by that time the actor was seeking a change anyway. On May 15, 1915, he and Sidney Bracy, also formerly of the Thanhouser studio, left New Rochelle with mechanic Abraham A. Meltzer and a cameraman, and headed west on a self-arranged publicity tour.
The Evening Standard, May 15, 1915, told of a send-off event: "All Thanhouserville turned out last night to dance before James Cruze, Peggy' Snow, and Sidney Bracy, who are leaving the Thanhouser force, go to California. About 300 were there, most of them in white flannels and the women in simple white ideal costumes for warm weather dancing. It was one of the jolliest affairs ever held by Thanhouserites, and through it all there was a strain of regret for the severing of ties, some of which have lasted five years or more.
"The reception was announced originally as a send-off' to Messrs. Cruze and Bracy, but it turned out to be really a farewell party to Peggy' Snow (Mrs. Cruze), who expects to start tomorrow for California, where she is to become leading woman for Francis X. Bushman, star of the Metro Company. Of course, her husband and his partner, Mrs. Bracy, received their share of attention, but Pretty Peggy' was the lode star. Thanhouser people and their friends made up the company. Mr. and Mrs. Edwin Thanhouser and the heads of the concern, including scenario writers and editors, directors, laboratory and mechanical experts and their wives, were present.
"A good orchestra furnished the music. Miss Marie Dressler, the comic opera star, sang several songs. Then there were baritone solos by Bruce Weyman, a violin solo by Mrs. Morgan Jones, the sextette from Lucia by the orchestra led by Mr. Bracy, and a selection by a quintette composed of Miss Fanny Bourke, Mr. Bradley, James Dunne, Morgan Jones, and Mr. Weyman. Eugene Moore was master of ceremonies. The grand march was led by Mr. Cruze and Miss Snow, with Mr. and Mrs. Bracy next. Two large silver cups were awarded, one to Miss Rene Farrington, who had the lucky ticket, and to Miss Marguerite Zauner, who danced with Dr. Addison Jones, secretary and treasurer of the Thanhouser Film Corporation. The committee in charge of the affair consisted of Chris Krooss, John Lehnberg and Lors McKascle [Lord McCaskill].
"Messrs. Cruze and Bracy, in khaki suits, puttees and white hats, started out in their gray car at 10:45 o'clock, this morning, on a trans-continental tour to San Francisco. The car is driven by Albert [sic] Meltzer, who is to accompany them all the way. A crowd of several hundred were at the studio when they started, and there was great hand-shaking, waving of hats, cheers and shouts of Good luck,' kissing of babies and wives before the movie camera. The pictures are to be rushed to the first stop at Poughkeepsie, where they are booked to give an entertainment. On either side of the car the travelers had a blue pennant bearing the inscription: Cruze & Bracey, New Rochelle.'
"Accompanying the car for some distance rode little Doris Farrington in cow-girl costume on a gray horse. Following the car came seven-year-old Leland Benham, son of Mr. and Mrs. Harry Benham, made up as Charlie Chaplin,' in a little push-mobile, labeled Frisco or Bust.' He busted' 100 feet from the studio when one of his rear wheels came off. A large silver cup called the Friendship Cup,' was presented to him. Messrs. Cruze and Bracy are to play in 100 theatres on the way to the coast, where they expect to locate the motion picture business. Mrs. Cruze is to arrive before them. Mrs. Bracy intends to join her husband later."
The South Bend Tribune, June 4, 1915, told of an early stop on the trip: "The visit of James Cruze and Sidney Bracy to South Bend today is an event in motion picture circles. Their appearance, talks, and reception at the LaSalle Theatre at the afternoon and evening performances, gives many an opportunity to see and meet them, who have followed their screen adventures with much interest. Probably no other two photodrama players have appeared before so many picture patrons in the same length of time as did these two clever actors during the successful run of The Million Dollar Mystery. Mr. Cruze is remembered as the fearless newspaper reporter and Mr. Bracy appeared as the faithful butler who turned out to be the father of the harassed heroine.
"They arrived from the east by automobile this morning and tomorrow will continue their journey to the Pacific Coast. While here they will visit a number of points of interest about the city. This evening the management of the LaSalle Theatre will entertain them at an informal dinner at the Oliver Hotel at which will be present a number of South Bend newspapermen."
The following unattributed article is dated June 1915 and is preserved in the Robinson Locke Collection: "Adventure?' queried Jim Cruze, as he shrugged his broad shoulders. Adventure - eh, Sid?' Sidney Bracy wrinkled his brows and looked more mysterious than he did during the episodes of The Million Dollar Mystery. Maybe this little motor jaunt from New Rochelle to San Francisco is an adventure,' Bracy admitted, but, tell the gentleman, Jim, about the aeroplane down in St. Augustine.'
"Or the hydroaeroplane over Long Island Sound,' Cruze added. It was this way: Peggy Snow, Sid Bracy, Florence LaBadie and I were working down in Florida, and we were among the first to use aerial thrillers. I came to like the sport, and particularly as one friendly aviator had the proper amount of dare-devil pep to try anything once. Ever looked down on the sordid world from a height of a mile? Well, the horizon is up even with your eyes, and it's just like a great bowl - with you in the middle. You stay still; the scenery moves. Sometimes it just wafts springing down the Grand Central concourse to make the nine-fifty-three. I don't know how many times I had gazed down on historic St. Augustine - twenty, maybe. And that day - the big day - I was booked for another flight. It was getting to be regular and commonplace. But a telegram interfered at the last minute; an old dramatic friend was coming from Atlanta to see me - had wired enroute. Of course, I tarried. The birdman went up without me. I was at the railroad station when it happened. Sid, here, came racing up to me. He had a green ring around his mouth and his face twitched. He stuck out a hand and said, Congratulations, Jimmy.' Because the train's three hours late?' I asked disgustedly. No,' he responded, rather hysterically, but because the aviator made it head-on from three thousand feet - and landed head-on. They are picking up what's left of him for the coroner now!'
"Jim would take those chances,' Bracy admitted gravely. When they had put on their hydroaeroplane stunt for the Mystery, the aviator insisted on showing Jim some of the Lincoln Beachey stuff. He stopped his engine a mile high, and dropped straight down. When they do the big volplane, they are supposed to turn on the power. Well, the engine was dead. I saw em, and Peggy and Florence saw them, and we stopped breathing. They seemed to be almost on the water when the spark started - but they hit hard enough to hear it a thousand yards. Jim walked wobbly for two days. Had it been on land - well, it wouldn't be Cruze and Bracy doing the transcontinental now.'
"He was one of the very best directors in the movies,' observed James Cruze, of the Thanhouser Film Corporation and Million Dollar Mystery hero, as he and Sidney Bracy passed Greeley Square in New York, and glanced at the statue of the pioneer journalist. He said, Go West, young man, go West' - and they went, and played the original cowboy roles. My dad heeded the admonition, Cruze continued, and that gave me my start in life in Utah. Say, Sid, it would be great to go West again - in a prairie schooner - or a motor.'
"Bracy, who was Jones, the butler, as well as Hargreave, in the Mystery, sensed the spirit of adventure - and that's how it came about. From coast to coast, winding up at the big fair in San Francisco, marks the new adventures of Cruze and Bracy - who have permitted their car to pay its respects to the Atlantic, by backing it into the surf - and who will eventually introduce the same car to the waves of the Pacific at the trail's end. And in the meantime, Cruze and Bracy will stage an act before the white screen in picture theatres - a clever little movie act, that will be just the same as another movies, except for the patter and the absence of clicking of the projecting machine.
"But it isn't simply a holiday affair. There are bets on - double, triple and other kinds of bets - all tied down to a schedule, and carrying with them some of the hard-earned Mystery dollars. The pair will appear locally in the near future - and just what their act is to be is shrouded in mystery. They got the mystery habit in New Rochelle, and they are sticking to it.
"On their trip, they will keep two diaries; one will be written and the other will be photographic. They will appear in more than a hundred theatres - and will not respect the clock or the weather on their journey. They have acted on Horace Greeley's advice - and their final appearance will be at the big exposition, after which they will settle down once more in the films - just which depending on their choice of several offers tendered them by Western studios."
The same trip was the subject of an article by Martha Groves McKelvie, in The Motion Picture Story Magazine, October 1915, which was written before Bracy had to go back to the East from the Midwest: "James Cruze and Sidney Bracy stopped in our town the other day, on their famous transcontinental vaudeville tour. Thru their manager I learnt that, if I should come to the theatre between two and three o'clock in the afternoon, they would tell me something of their trip.
"Did you ever interview a famous person? Well, if you have, you know that stage fright is milk compared to interview fright. I had a clear case of it as I approached the theater, promptly at two. The manager guided me to the rear of the theatre, and before my eyes had become accustomed to the darkened room I heard him saying: Mr. Cruze, this is Martha Groves.' The man who arose from the dark rear seat was so big that for a moment I had to just look at him. It took a firm, honest handshake to wake me up.
"Big Jimmie' Cruze has so excellent a handshake that methinks he would have made a good politician, except for the fact that his is an honest one. I have shaken hands with many famous politicians, have listened to I am so glad to meet you' that I catch myself murmuring it before they say it. They never, to use slang, get it across' with me. But I am forced to admit that James Cruze did. Honestly, I actually believed that he was glad to see me. And when he said, It is nice to have some one to talk to,' I surrendered, and Big Jimmie' had won another firm friend. I know that the ring lost a fighter when James Cruze decided to be a movie actor: I know that some political party lost a dandy good handshaker, and I know that the speaking stage lost something more, for to me one of the most charming things about James Cruze is his voice. You, who see him on the silent stage only, are deprived of a lot. He is so enthusiastic about motion pictures that I doubt if he will ever return to the speaking stage.
"He and Mr. Bracy are having a glorious time on their trip, in spite of the fact that in the thirty days since they left New Rochelle they have had twenty-eight of rain and hail. Nevertheless, they have not missed a single engagement at a theatre. While traveling thru Iowa they were caught in a fearful hailstorm. Mr. Cruze was inclined to believe that the hail he encountered was as large as the proverbial egg (and harder). Since it was impossible to continue until the storm abated, they stopped their car under a roadside tree. Almost immediately the tree was struck by lightning. Uninjured - but in some haste - they sought shelter in a farmhouse. I don't think Mr. Cruze mentioned their stopping for permission to enter. He just said, We rushed into the house and found the family on their knees praying." I guess the family thought their prayers for protection had been answered when they looked up and saw the two heroes of The Million Dollar Mystery standing in the doorway. That night they slept rolled upon their motor rugs on the farmhouse floor.
"I intimated that I didn't believe the roads would improve as they traveled west, but they were optimistic. Now here's a secret - James Cruze plans to play hooky' all along the line! At least, he asked me if I knew of any good places to fish near the main road. This doesn't mean that they are traveling slowly. On the contrary, it's a rare morning when they don't motor one hundred miles and get to some town in time for a matinee.
"After I broached a new subject, I understood why Jimmie' was optimistic about the road ahead. The subject was Mrs. Cruze (Marguerite Snow) and Baby Julie, and right here I found out another thing: the husband of Mrs. Cruze and the father of Julie has an especially beautiful smile reserved just for this subject. Mrs. Cruze and Julie are now on the Coast, and Jimmie' will probably make a new transcontinental record because of it. He mentioned an especial spot in Hollywood that he has selected for a building site; and, altho he admits that Hollywood is his future home, his other plans are secret.
"He told me something interesting about Julie. You no doubt remember that motion pictures were taken of the Cruze and Snow wedding. And now, at intervals, a film is taken of Julie. The first was a taken when she was a week old, showing her nurse bathing her. A recent one was taken, in which a frisky pup unexpectedly dashed into the picture and dragged protesting Julie, by her single garment, out of the camera range. These films and those to be taken will be joined together and sealed. And when baby Julie is of age she will see herself in all her growing stages, just as her parents have seen her. Then she will understand why they adore her. I envy Julie the possession of such a treasure. I happened to mention, during the interview, the happiness of a man I knew. James Cruze said, He should be happy - he has a wife and baby.' This is James Cruze's idea of perfect happiness. He is a homey kind of fellow.
"At this point in the conversation Mr. Bracy entered. Mr. Cruze called, Oh, Sid!' and when Mr. Bracy approached, introduced us. First impressions are usually good ones, and although it has been several days since I met Mr. Bracy, I am still impressed with his sincerity. Little time was left before their act, but Mr. Bracy stopped long enough to admit that they were enjoying their trip. He said their car had changed greatly in appearance since they left New Rochelle, due to the fact that in all the towns where they have stopped, people have written, painted or carved their names on it, until at present it is literally covered. In response to my question as to what had been the greatest inspiration and help in his work, Mr. Bracy said that he had enjoyed and derived the most help from letters received from old people. Of course, he likes to receive them from young people also when they are serious in tone.
"The motion picture of their start from New Rochelle was now thrown upon the screen. Mr. Bracy immediately began criticizing his own work. An occasional Now, why on earth did I do that?' came from his corner. I found him to be a stern critic indeed where Bracy is concerned. As it was nearly time for their appearance, I arose to say good-by, and left them with the thought that while some of the stars stay in my memory as actors first and men incidentally, I should always think of these two as men first and actors incidentally."
More on the trip was printed in The Spokane Review, July 11, 1915, from information sent in advance by the actors. By this time, Bracy had left the westward trip and had returned to New York, although this was not reflected in the advance article: "James Cruze and Sidney Bracy, former stars of the film serials, The Million Dollar Mystery, who will be in Spokane at the Liberty Theatre for one day, July 22, are the first moving picture actors of prominence to visit the city in the flesh. In pictures they are widely known in Spokane.
"They are making a 5,000-mile transcontinental trip by automobile, accompanied by a mechanic and cameraman, and are having some novel experiences. The cameraman has caught a great many of these, and they will be shown at the Liberty during the visit. The stars will appear in a 45 minute sketch at each performance, and their offering is said to be a distinct novelty. Mr. Cruze played the part of the reporter hero and Mr. Bracy the double role of Hargreave and Jones, the butler, in the serial. A feature of their appearance will be a reception at which all film friends of the two actors will be given an opportunity to meet and shake hands with them. They left New York May 15 and the tour will terminate at the Panama-Pacific Exposition."
The Spokane Review, July 23, 1915, told of the visit: "Burned brown and dressed in canvas khaki jacket and trousers and leather stockings, with a dusty peaked cap, James Cruze, moving picture star, best known to movie fans as Jimmy Norton, the reporter hero of The Million Dollar Mystery, arrived in Spokane at 2:15 yesterday afternoon, having been obliged to come by train from Coeur d'Alene, where his big 60 horsepower Lozier broke down yesterday morning on the transcontinental tour. Without even waiting to wash Mr. Cruze stepped on the stage at the Liberty Theatre before a crowd that packed the playhouse and filled the foyer.
"Cheers greeted him as he appeared, and hundreds shook his hand in the lobby after the performance. The matinee girls were out in force, and swarmed about the picturesque actor, the first moving picture star of the first water who has visited Spokane. Mr. Cruze smiled upon them all, chatted with many of them and kissed the babies, who were present in considerable numbers. The reception, which will be a feature of each show during his two days' visit, was in the nature of an ovation.
"Since leaving New Rochelle, N.Y., May 15, I have shaken hands with 292,000 people, not counting the last three towns,' said Mr. Cruze yesterday. My secretary, who stands near, has a ticker and keeps accurate count. The muscles of my right arm are almost paralyzed. My car, which I hope will be here in the morning, is the feature of our trip. It bears the signatures of 10,000 people who got near it during the various stops.'
"Mr. Cruze is a virile type out of the pictures, with brown eyes, dark hair and an athletic figure, which his khaki suit sets off to splendid advantage. He shows his first scenario, In a Garden, and calls special attention to one scene in which he proposed for the first time to Margaret Snow, the countess of the Mystery, who is now Mrs. Cruze. He calls her Peggy,' as do most of her friends. Mr. Cruze played on the Orpheum time here in On Stony Ground five years ago, just before he went into moving pictures. His home is in Ogden, Utah, and he toured the west and Spokane with his own repertory show several years ago. He played stock in Boise for a year, and calls the West his home.
"The nerviest thing I have been called upon to do in pictures was to fly an aeroplane after three days' practice,' said Mr. Cruze. It was in the Mystery. I took Florence LaBadie along with me and we were in the air 17 minutes. An army aviator coached me for three days beforehand, although I had frequently been up with other birdmen. The nastiest thing I had to do was to drop down a sewer manhole and float out the sewer outlet. On one occasion I had to swim the Hudson at West Point when I had to break the ice ahead of me. Some cold, believe me! In my last picture, Patriot and Spy, I had to drop from a high bridge into water when it was far below freezing.
"The only place to sell a scenario is to the producing company. The producer will take any available scenario and his editors will put it in shape for presentation if worth anything. It is not necessary for the writer to map out all the scenes, as the scene plot will doubtless have to be revised in any event. There is no hard and fast rule for writing scenarios. A clever writer may launch out on an entirely new method and score a tremendous success. Nearly all the newspapermen who have tried writing scenarios have made a success.'
"Mr. Cruze will leave the city tomorrow evening. During his stay in the city he announces that he will be glad to meet any who are interested in entering the motion picture business, either as actors or writers. He can be found at the Liberty Theatre or at the Spokane Hotel. In Los Angeles he is to join a large new company, just being organized, and expects to spend two years at Hollywood. Mrs. Cruze, he states, is now starring for the Metro company and will soon be shown in Spokane."
Jim Cruze Points the Way!: After James Cruze left Thanhouser he was involved in several promotional ventures, including the offering of a mail-order "course" which seemed to promise that just about anyone, talented or not, could make a fortune in the motion picture industry.
In its June 1915 issue, The Motion Picture Magazine carried a full page advertisement titled: "JIM CRUZE, HERO OF THE MILLION DOLLAR MYSTERY,' WILL TELL YOU HOW TO BE A MOVIE ACTOR." Breathless prose, strengthened by an ample supply of exclamation points, informed the reader that: "20,000,000 American picture theatre patrons want new talent, new names, new faces! How to be a movie actor or actress: Your ambition has told you time and time again that you would win in the movies! You have as much right to fame, wealth, and success as any of those you see upon the screen! Jim Cruze points the way! You know Jim Cruze. You held your breath at his easy daring in The Million Dollar Mystery. You marveled at his cunning in Zudora.... You have read about him in the magazines and newspapers. You have seen his portrait before the picture houses. And now - he points the way!"
The copy went on to state that anyone who could swim, ride a bicycle, drive a team, run, jump, pose, mimic, typewrite, dance, laugh heartily, wear good clothes easily, play ball - just about anything in addition to breathing - was a candidate to earn a fortune on the screen. Eager readers were invited to send for a book which promised to have the clever Mr. Cruze point the way to wealth, undoubtedly his wealth, for he needed the money and stood ready to collect "tuition" from any and all applicants.
But first, readers received a handsome 64-page booklet published by an outfit known as the Movie Actor's Ass'n, at 1327 Michigan Boulevard, Chicago, How to Be A Move Actor or Actress, written by none other than Jim Cruze (whose face peered from the title page) "and associates." Cruze prevailed upon his friends to write testimonials or consent to having their "success story" printed, and even his wife, Marguerite Snow, whose relationship with the author was not revealed, complied. Among those who lent their names to the promotion were Carroll Fleming, Sidney Bracy, Frederick Sullivan, Howell Hansel, Lucius Henderson, Daniel Carson Goodman, Florence LaBadie, Frank Farrington, Eugene Moore, Muriel Ostriche, Pearl White, Carl Louis Gregory, and Lawrence Marston.
Page after page was crammed with unsupported enticements of great wealth and comments suggesting that even the most abject failure in society could make money as a movie star. Samples:
"Can you feel these mighty millions calling you?"
"Thousands of movie actors and actresses are being added to continuously; new names are appearing in the advertising, and new faces are seen upon the screen!"
"If you are a stay-at-home, then of course you would not be greatly interested in the subject of movie acting.... You might be in a company that would go to the East Indies, or to the Hawaiian Islands.... Of course, the fare and other expenses are paid."
"Your fame moves forward as your ability increases. Sometimes it is really not great ability at all, but simply a matter of favorable appearance."
"[People everywhere will write to you and] your photos will eventually occupy permanent, prominent places in the homes of all kinds of folk - from the little hall bedrooms of department store clerks, and the family albums of rural homes, to the sumptuous drawing rooms of the wealthy."
"[Once you become a famous actor] it will be necessary to seek some form of amusement or recreation to offset your work in the studio.... Some [of your fellow actors] attend the great theatres.... Others amuse themselves with the auto and even as aviators. Vast numbers ride horseback or drive motorcars, and others prefer to hunt and fish. A great many play golf.... Others enjoy excursions by rail or boat...."
"Recognition follows you everywhere.... At first it is a little annoying to be stared at, but after awhile you realize that it is advertising and that the more people who recognize you, the greater will become your claim upon the public."
"When you travel, your expenses are paid by the company. At the same time your pay is large, and no exceptional demands are placed upon you. You can lay away a large part of the money you earn, so that within a few years you should be independent."
Readers were further informed that most successful movie stars didn't have any talent when they began, that stage experience is not only unnecessary but is a liability, that one doesn't have to learn any lines when acting for movies, and that the studios were searching everywhere for "the beautiful and the homely; the physically perfect and the physically imperfect; for the tall and the short; the long and the lean; the fat; the stoop-shouldered; men, women, and children of all nationalities and races and colors" - from little boys and girls to invalids and aged people. In fact, except for corpses, no human beings were omitted from those Cruze was eager to help amass wealth via the screen!
"The student of medicine, law, architecture, dentistry, or the other professions must put in four years of good, hard study at college, and then go through a starvation period of perhaps as many years more. But here, within a few weeks, you are put in a position to learn all of the requirements of movie acting, scenario writing, film advertising, managing a picture theatre, and the numerous other things of which we have told you. And you do all for one small cost."
As if this was not enough, the helpful Mr. Cruze proposed to send students the addresses of real studios to which to write to apply for positions.
A few months after running Cruze's catchpenny advertisement, The Motion Picture Magazine printed a story by Horace Fuld, "The Fakes and Frauds in Motion Pictures," which stated that the chances for success in films via the mail order route was just about impossible, and those responding to advertisements were candidates for membership in The Order of Hopeless Boobs. Little else was ever heard of Cruze's mail-order motion picture school, and the invalid, stoop-shouldered, untalented, etc. hopefuls had to make their millions somewhere else.
Later Film Activities: Cruze suffered a number of financial reverses, and by autumn 1915 a number of creditors were on his trail. The actor went to Palo Alto, a small film producer located in the California city of the same name, then by early 1916 joined Metro Pictures Corporation, where his wife, Marguerite Snow, was already working. Cruze appeared in the May 1916 release, The Snowbird (Rolfe Photoplays, Inc. for Metro).
The Moving Picture World, March 17, 1917, told of his move to Fox: "James Cruze, known wherever a motion picture screen is to be found, is the newest of prominent photoplayers to join the still rapidly growing William Fox forces. Millions of silent drama fans will remember Mr. Cruze as the intrepid reporter, the star character in the big serial, The Million Dollar Mystery. This part came as a fitting reward for his seven years in the films. From 1909 to 1916 he was allied at various times with Thanhouser, Pathé, Kinemacolor, Metro, Kimberley, and Lasky."
He played in the 1917 Fox release of Her Temptation and, the same year, in the Lasky for Paramount films, On the Level, What Money Can't Buy, and Nan of Music Mountain. In 1918 he was in the Paramount films, Less Than Kin, Wild Youth, Too Many Millions, and Hidden Pearls. Around the same time, he broke a leg, making further effective acting impossible, therefore he turned to directing. In 1919 he directed You're Fired and The Love Burglar for Paramount, and in 1920 he directed Mrs. Temple's Telegram and Terror Island for the same company, and Food for Scandal for Realart.
He had a lengthy career directing films in California, where in 1923 The Covered Wagon earned special attention as an early full-scale Western. This production brought him great renown in the 1920s, and it was stated that he was the highest-paid director in the film industry, earning some $6,000 per week. In later years, any mention of Cruze's career was apt to mention this film as its highlight.
A lavish brochure about The Covered Wagon was issued by Paramount and suggested that it and The Birth of a Nation were the two greatest pictures ever made. The cameraman was Karl Brown, who years later was to declare in an article in Films in Review that Cruze was a drunken, obscene, lecherous individual worthy of little more than contempt.
Many other pictures were directed by Cruze in the 1920s and 1930s, and until the late 1920s, a number of these were eminently successful from a financial viewpoint. Among his titles were Old Ironsides, The Old Homestead, Merton of the Movies, Ruggles of Red Gap, Hollywood, Beggar on Horseback, and Washington Merry-Go-Round. In 1926 and 1929 polls named him as one of the world's 10 best film directors. Numbered among the stars he directed in the 1920s were Roscoe ("Fatty") Arbuckle, Will Rogers, Claudette Colbert, Edward Everett Horton, Wallace Reid, and Edward Arnold.
Frolic, Finances, and Films: Following his divorce from Marguerite Snow in 1922, Cruze led a riotous life as a bachelor. Karl Brown, in a recollection printed in the April 1986 Films in Review, told of the director's dissipation: "Cruze was now completely free to indulge his own natural urges, and he became a living exemplar of the Beggar on Horseback. He not only did as he pleased; he over-did every chance he got to thumb his nose at whatever is considered polite behavior among civilized people.
"He loved bawdy songs and sang them gleefully as the highlight of the nightly drunken carouse that ran its nonstop course in his beautiful Mound Street house at the crest of the Vine Street hill. One of his favorites dealt with a fight between two Irishmen during which one kicked the other violently in the crotch. This was half sung, half narrated by Cruze, whose gestures and grimaces made everything vividly clear....
"This may be very amusing for those who are amused by such things, but Ronald Colman, who lived nearby, was not greatly amused by these festivities that lasted until four or five in the morning night after night. So the very proper Mr. Colman took the very proper steps by going to the law and having Cruze declared officially a public nuisance, together with a stiffly-worded suggestion that he get the hell out of there and stay out.... So Cruze moved high into a side lane of Laurel Canyon...and the party went on without missing a beat."
The same writer concluded: "For a complete analysis of the man, read Jarnegan, by Jim Tully. Tully...spent months living as a guest on Cruze's big estate studying his subject day and night before writing a fictional, but true psychological analysis of what made Cruze tick.
"I spent years - four of them - filming all his output, with the result that I know far too much about the rise and fall of Jim Cruze to be able to write anything about him that won't sound like a merciless vivisection. Let someone else portray this modern Caliban."
On October 14, 1925, James Cruze was married in Los Angeles to film actress Betty Compson (March 18, 1897 - April 18, 1974), who entered films in 1915 and enjoyed a career that spanned more than three decades. Domestic tranquility did not characterize the Cruze-Compson household, as Cruze continued his fondness for wild parties, foul language, and drunken brawls. Neighbors frequently summoned the police to quiet things in the early hours of the morning. Apparently, Cruze enjoyed the image he projected, for a biography by Margery Wilson, James Cruze, published in 1928, noted:
"He is the self-conscious primitive. It pleases him to be thought crude and rude. It delights him for people to think he had no schooling. He will tell interviewers that he is entirely ignorant, and yet the writer has seen a school program which named him valedictorian."
Cruze's marital differences with Betty Compson regularly reached the papers, as in this nationally-distributed item datelined Los Angeles, March 29, 1927: "CRUZES USED TO IT. Jimmie Cruze and his wife, Betty Compson, are reported to have come to the parting of their ways for the third time within two years. It is understood that the couple contemplate legal separation by Miss Compson inaugurating divorce proceedings."
On July 18, 1927 Cruze filed incorporation papers for his own company, James Cruze Productions, capitalized for $10,000. Later, he formed a related company, James Cruze, Inc., which intended to make five pictures each year and release them through the DeMille-P.D.C-Pathé organization. Cruze was personally to direct two of these films each year. The Metropolitan studios in Hollywood were to be utilized.
A February 1928 news article stated that Cruze had experienced a checkered career, had become dissatisfied with Paramount, and had signed with Pathé, after which he was at liberty and was considering going with United Artists, or with a states-rights company.
It was announced on March 23, 1929, that James Cruze, Inc. had purchased the property of Chadwick Pictures, consisting of a lot at 1440 North Gower Street, Hollywood, measuring 220 by 312 feet, with office buildings and a small store. Improvements to cost $100,000 were projected, in connection with 15 talking pictures to be produced there under a budget of $1 million. In December of the same year, the trade was informed that eight talking pictures costing $3 million would be produced by Cruze within the coming six months, and that in addition to the company's own facilities, the studios of Metropolitan and Educational would also be employed. Cruze was set personally to direct such pictures as Circus Parade, The Big Fight, and Ann Boyd. Walter Lang, of the company, was at work directing Clipped Wings, while other titles to be produced by Cruze's enterprise included The Soul of the Tango, Once a Gentleman, and The Pioneer Mother. A popular Cruze early talkie was The Great Gabbo, starring Betty Compson.
By early 1930, James Cruze, Inc. was bankrupt. In February, the General Outdoor Advertising Company filed suit against the studio, alleging non-payment of a bill totaling $17,000. In a separate action, Elizabeth K. Chadwick alleged that the property Cruze had agreed to buy from her on North Gower Street, and had been using for some time, had not been paid for. Another action, filed in Federal Court in Los Angeles on April 2, 1930, alleged that Cruze and his company had violated the bankruptcy laws, and that claims amounting to $9,935 had not been paid; creditors included McHuron's Grill, Metropolitan Sound Studios, Inc., and Smith & Adler.
On June 14, 1929, Cruze was subpoenaed to appear in court in Los Angeles in a grand jury proceeding investigating the circumstances surrounding the filming of Old Ironsides off Catalina Island three years earlier. During a dynamiting scene directed by Cruze, a seaman, Charles O. Davis, was killed, and several others were injured.
On July 1, 1929 Cruze made more headlines with a suit against an artist he had filed in Los Angeles the day before. It seems that John Decker, a fairly prominent Hollywood painter and caricaturist, was commissioned by Cruze to do his portrait. The image was less than Cruze hoped for, and he refused to pay the bill, whereupon Decker added some vertical bars to the portrait frame and displayed it in a show window at 6070 Sunset Boulevard, with the caption: "JAMES CRUZE - IN PRISON FOR DEBT."
Explaining the $200,000 suit filed by his attorney, Milton Golden, Cruze said that he wanted the portrait as a gift for his wife, Betty Compson, but, "Good Lord! If I ever showed my wife the picture Decker painted I'd scare her to death - mouth like a gargoyle; face like a frog." Decker countered: "If Cruze wanted some wishy-washy, sloppy, sentimental portrait of himself, he could have had a photograph taken, or hired a two-bit painter to do it. I gave him a work of interpretive art."
On April 8, 1929, Cruze and his wife legally separated. On April 19, 1930 Betty Compson filed for divorce in Los Angeles. The suit, which gave the couple's private life names of Luicime C. Bosen and James Bosen, alleged that Cruze "kept open house every night, Sundays, and holidays." She stated that he preferred the company of his rowdy friends to her companionship, and that conditions at their home were so noisy that it was impossible for her to study her lines. However, she stated, "We parted on the best of terms."
Years later, in his column in the Los Angeles Mirror-News, September 5, 1957, Fred W. Fox, who had been one of Cruze's friends, wrote of the happenings at the Cruze-Compton home in the 1920s: "Cruze never went to premieres, not even of his own movies. Why should I?' he remarked once. I've got a better show here,' indicating the concourse of guests who rambled through the big rooms and gardens of his mansion near Pasadena. They guzzled gallons of hooch, ate tons of food from mammoth refrigerators in the kitchen, and lived high for a night or weekend. It was all on Jim Cruze, an unstinting host, but he seemed to enjoy it.
"He probably had the greatest variety of poachers under his roof in the whole history of movieland parties.... Reigning over these fêtes was Mrs. Cruze, Betty Compson. An exquisite chatelaine, this doll-like beauty had a leavening influence on the hubbub. From a big chair in the corner, Cruze watched the show, sometimes animatedly joining in the scattered conversations. Even there he wore the white cap that was his trademark, his eyes of almost Mongolian slant taking in the segments of festivity. He was like a Kubla Khan reigning over a noisy court." The same writer went on to say that Cruze had spent over $100,000 decorating his home.
In a letter to the author, November 7, 1988, film historian Anthony Slide related an experience of Mignon Anderson, the Thanhouser actress, who in her later life was a friend of Slide's: "Mignon Anderson told me she was invited to a party given by Betty Compson and Cruze in the late twenties, and invited to go upstairs to chat with Compson, Mignon was extremely embarrassed to discover her hostess sitting naked in her bedroom entertaining her female guests."
A 1929 Portrait of Cruze: Liberty magazine, April 20, 1929, printed the following article, "The Great Dane, a Portrait of a Self-Made Man," by Jim Tully: "James Cruze fought his way out of the most primitive background in the nation. His parents were illiterate peasants who heard the call of Brigham Young and who settled in Utah as Mormons. He is one of 23 children. Day after day he trudged six miles to school and returned home and taught his many younger brothers and sisters that evening. Cruze's real name is Bosen. He changed it early in life. He entered pictures 16 years ago at five dollars a day. He has long been one of the highest salaried directors in the world. His salary with Paramount was a thousand dollars a day - seven days a week - three hundred and sixty-five days a year.
"Six feet tall, with heavy muscular body, eyes deep-set, quick and dark - he has the mannerisms of an Indian. In fact, he first attracted attention on the stage by playing Indian roles. A man of little or no education in the academic sense, he has a powerful brain and great understanding of life. He blends the agnostic with the materialist. Everything is factual with him. He is self-conscious, even shy at times.
"Cruze is a man who will never reach full bloom. The full seeds of expression were choked by destitution and ignorance when he was a lad. The producers' and his own desire for money since he has become a great director will never allow him to untangle the snarled cords of the great artist that bind him. He is the greatest repressed emotionalist among the film directors. His soul is at times large enough for chaos and futility. In speaking of directors he once said to me, None of them is great.' He has no illusions.
"Cruze's father was a giant, weighing 370 pounds. Each year at a Utah picnic he would carry a thousand pounds on his shoulders for a quarter of a mile. A religious fanatic, he could preach a sermon or knock a mule down. He often did both. Though a mighty tyrant, he was not strong enough to dominate his stronger son. He believed in beating children and mules - and all who disagreed with him.
"He carried his despotic sway even to the edge of the grave. He rose from his sick bed to thrash a man - then crawled back to join his Viking ancestors the next day. When he was dead the future director, a lad of 14, looked at his mighty figure, then turned to his mother and said: I'm damn glad he's gone - he was a mean man.' Away from that wretched house went the youth - to a destiny mightier than a king's. He was later to take his mother and many of his brothers and sisters along the golden trail with him. For in the dynamic Dane who resembles an Indian there is a fierce strain of loyalty toward all who have paid him in the coin of kindness.
"He was Roscoe Arbuckle's bosom friend before the trouble came upon Arbuckle. At a time when it was financial suicide to stand by Arbuckle in the public prints, Cruze told reporters: I'm Fatty Arbuckle's friend - I've never known him to do a mean thing - nor an unkind one. Put me down as his pal now, and until hell freezes over.' And the reporters - students of mob psychology - often answered, Hell, we don't want that.' Incidentally, when Arbuckle was acquitted, each member of the jury signed a letter which said, You are one man who was not prosecuted but persecuted.'
"When Cruze directed a picture in the South, leading club women asked him to talk before them.I will,' he said, on one condition - that you let me tell of the injustice done Roscoe Arbuckle.' He did not appear before them. The mother of James Cruze, now a worn-out old lady, has not the imagination to grasp the immense salary received by her son. Reared in destitution herself, and having clawed for sustenance at the Utah ground for more than fifty years, she has never been quite able to understand the eagle of her brood who flew away at 14 and touched the world's far places before he was 26. Now, pensioned by her son, she is still reluctant to buy anything new. Moored in habits of penury and forever beyond the need of them, she still insists on wearing her son's old shoes.
"She lives on a plot of California ground and raises fruit. often does she boast that her figs are the finest in the world. Are they not large and luscious and does she not receive a dollar each for them? She is not aware that her son sends a man from Hollywood each year with enough money to buy the whole crop.
"Cruze joined a tent show when first leaving home. He remained with it four months. When the company broke up in San Francisco, he was imbued with the desire to become an actor. He went to an old Shakespearean trouper who conducted a dramatic school. He learned that a dramatic course would cost two hundred dollars. He had less than five. With the hope of saving the required amount, Cruze secured a job as a waiter's assistant in a cheap hotel. His salary was four dollars a week and board. He was later given a chance to work on a salmon vessel which plied Alaska waters. He remained on the vessel 16 months and returned with four hundred dollars.
"Sending his mother a hundred dollars, he enrolled as a student in the school of drama. In two weeks he told his teacher, I'm goin' to quit - this ain't the way to act - it ain't natural.' The old man struck a Hamlet-like pose, then laughed loud and long. How are you going to quit? I got your two hundred dollars.'
"Well, you can have it for teachin' me something,' was the rejoinder. What's that?' asked the Shakespearean follower. How not to act.'
"Man and boy parted friends. The teacher not only returned the money, but secured for young Cruze a position acting a small part with a patent-medicine show. True to type, the company became stranded in Salt Lake City, a short distance from Cruze's home. Cruze found himself with another young actor, well known on the wagon-show circuit. His name was Stevens, and he too was penniless. He pawned his watch and sent a telegram to Luke Cosgrave [1862-1949; an actor of stage and screen], a wandering Irish troubadour and owner of a small stock company then playing in Boise, Idaho. The telegram asked for a position. Stevens' telegram remained unanswered for two weeks.
"In the meantime he had secured a job in an out of town theatre. Later a wire came from Cosgrave offering Stevens a position and sending him his fare to Boise. Taking the money and telegram, Cruze reported to Cosgrave. Astonished at his audacity, but needing a player, Cosgrave gave him a chance. The 16-year old Dane played leading roles before the season closed. So crude was the company and the audience that a melancholy sheepherder might have succeeded as Hamlet. Many of our greatest directors were developed in such a school.
"That winter Cosgrave and Cruze became partners and opened a stock company in Provo, Utah. It was the beginning of a great friendship. Cosgrave, a man of lovable personality and broad contact with life, was the one person the groping young Dane needed. Sensing a fine intuitive quality and mental power in Cruze, the older man taught him all he had learned about acting on the roadways of the world. It was no surprise to Luke Cosgrave when James Cruze went beyond him; for long ago he had said to him, I missed the peak, Jim, but you won't - they can't stop a fellow like you.' Cosgrave has since played many important parts in films directed by his young friend and protegé.
"Cruze is now 42 years of age. Cosgrave is on the borderline of 70. Their friendship is the finest flower that grows in a land of selfseekers. It is beyond the need of words. There is always a room in the Cruze mansion for Cosgrave. He is ever the honored guest. To get at the riddle of James Cruze, I asked Cosgrave to tell me his greatest quality. He's got it here and here,'' he answered tapping his heart and head. And what's more, he never broke his word in his life. I'll tell you, boy, there ain't another Jim Cruze in the world.'
"At 20 Cruze arrived in New York wearing a sombrero and a smile of confidence. Unable to secure work on the stage, he worked as a waiter for six months. But he always kept in contact with the stage. After indifferent success on it, he left it for motion pictures after playing under David Belasco in The Heart of Maryland. Starting at five dollars a day as an extra and never making over 50 dollars a week for a period of two years, he at last attracted attention by his work in The Million Dollar Mystery - one of the earliest of film serials.
"Unlike most actors, Cruze saw a greater future as a director. Some time after Jesse L. Lasky [actually Adolph Zukor] organized the Famous Players, the young Dane, still several years under 30, was given his first picture to direct. It was a film in which the late Wally Reid appeared. Cruze was successful and later directed many of Reid's best known efforts. Among the 55 pictures Cruze has since directed are Merton of the Movies; Mannequin, made from Fanny Hurst's $50,000 Liberty prize novel; The Goose Hangs High; Hollywood; The City that Never Sleeps; Ruggles of Red Gap; and The Pony Express.
"Cruze's great opportunity came when he was chosen to direct The Covered Wagon. Then destiny met the man. As a lad he had absorbed the silence and the primitive background of the West. A natural leader of men, it was during the filming of this picture that he showed great qualities of leadership. When his company, which consisted of several thousand people, was snowed in 70 miles from a railroad, mutiny arose among them. Cruze stood on a barrel and offered to give every man his fare to Hollywood.
"What'll you do? someone yelled. By God, I'll stay here if I have to stay alone and eat snowballs all winter. I'm not a damn bit better than you fellows.'
"We'll stay too, then,' many thousands of voices rose in unison. After weeks of idleness, during which time no pictures could be taken on account of the inclement weather, the company wired for Cruze to return home with his troupe. He responded by wiring for $300,000 more. It was the audacity of the boy who had reported to Luke Cosgrave all over again.
"The company sent the money. The film was finished and became one of the greatest, financially and artistically, ever made. Cruze failed to make Old Ironsides a great film. This picture cost nearly two million, eight hundred thousand of which could have been saved had the company officials had the forethought to start the film when the weather was more settled.
"Cruze is married to Betty Compson. She is also from Utah - of Norwegian parents. She calls her husband the Great Dane.' They live in a rambling old house on twelve acres of ground. Their home is always open. They return no calls. Cruze's mother has never met his wife. They wouldn't understand each other,' he says. He has been to Los Angeles twice in 10 years. He lives 12 miles away.
"James Cruze's contract with Famous Players called for the direction of three pictures in two years. He was often idle for weeks at a thousand dollars a day. The studio officials worried a great deal about his salary, but were not astute enough to have a story ready by the time he had finished the direction of one. Whenever a story was submitted the question was asked, Is it big enough for Cruze?' Unmindful of the fact that all great pictures just grow,' the company is determined to make them grow by placing the responsibility on Cruze's shoulders. It is much the same as a group of editors saying to a man, Here is what we think will make a great novel - now go ahead and write one.'
"As a matter of fact, most great pictures are accidents. They just happen. Directors and studio officials are often more surprised than the public when the accidents happen. But it would be poor showmanship to admit it. Great men grow by humility. After the first showing of one of the most successful pictures of last year, the man who directed it walked out of the projection room in despair. It has since swept the country and the man is called a genius. The few men who have shown decided directorial talent have had their careers twisted by the producers. Lubitsch of Passion, Stroheim of Blind Husbands, Cruze of The Covered Wagon, are examples.
"Cruze seems more content than the other big directors. He is either too shrewd or too indifferent to suffer under the economic lash of public and producer. With a million dollars' worth of property, he is content to take orders from merchants who sell film to exhibitors by the yard. Even under this handicap he has made one great picture out of 55.
"Since leaving the Paramount organization, Cruze has directed five films. The first, On to Reno, was of no merit. It was directed in 11 working days. The second was from a story by John Russell entitled The Red Mark. The third is Excess Baggage, starring William Haines. The fourth was a film in which Thomas Meighan appeared. The fifth is The Mating Call, from a Rex Beach story.
"No director has ever approached Cruze's speed in directing a film. His organization is always keyed to the highest pitch. Assistant director, cameramen, electricians, and other employees work in complete unison with him. A recent Thomas Meighan film was behind production schedule. In order to finish the film at the appointed time Cruze was engaged. He was given sixty thousand dollars for a period of three weeks. The film was finished on time. This is perhaps the highest salary ever received by a director.
"He goes over every small detail of a film before he starts directing. He knows the location of the most obscure object on any of his numerous sets.' After working with him, Cedric Gibbons, the Metro-Goldwyn-Mayer art director, said that he knew more about the intricacies of directing than any two men in the film world. This perhaps explains the phenomenal speed with which he directs a film.
"A leading critic once called Cruze a stock actor inspired once.' The Dane, like Griffith and all the other members of the Way Down East school of drama, has never been quite able to outgrow the tawdry early period. Directing pictures with Cruze is a business and not a fine passion. A director, if he survives, must have in him a quality of cheapness. Cruze is no exception. His redeeming feature is, he admits it.
"With all their failings, it is upon the shoulders of such men as Cruze that younger directors will grow to greatness. But they cannot grow until the producers and their spokesman, Will Hays, are more concerned about art than middle class American outlook and morals. It may be fitting to recall that the director [D.W. Griffith] of one of the finest pictures ever made is now destitute in Hollywood. He lacked the quality of cheapness."
The 1930s: Following his divorce from Compson, Cruze remained in La Hacienda, the couple's home in Flintridge, near Pasadena. On January 26, 1934, Cruze, under the name of James C. Bosen, obtained a permit to build a larger home in Flintridge, to be built at a cost of $50,000, at 4445 Woodleigh Drive. In September 1931 it was revealed that Cruze intended to cast his former wife in a new film, which was to be made by filming a stage play in a combination of stage and screen techniques. A story had not yet been selected. In the meantime, Betty Compson was set to work in a film produced by a Dr. Peters, who had invented a sound system known as the Syncophone.
In September 1932, a collection agency filed suit against Cruze for non payment of $69.50 due to the B.H. Dyas Company. On November 1, 1932, the Conciliation Committee of the Academy of Motion Picture Arts and Sciences ordered Cruze to pay $6,050 in back salary to actress Pauline Starke.
On June 30, 1941, James Cruze married Alberta Beatrice McCoy, 43 years of age, in the bride's home at 337 North Martel Avenue in Hollywood. Cruze was ailing with heart trouble at the time. Hal Mohr, a cinematographer, acted as best man, and his wife, the actress Evelyn Venable, was the maid of honor. The ceremony was said to have been the third (one Los Angeles newspaper account said the fourth) for Cruze and the first for Miss McCoy. Alberta McCoy Cruze died on July 7, 1960 at her home at 435 South Curzon Avenue, Hollywood, and was buried at Hollywood Memorial Park Cemetery.
By 1941, his movie career was over. His films from the late 1920s on had been a mixed bag, with some successes and many failures. Among his later pictures were She Got What She Wanted, Salvation Nell, and Racetrack, all made by his own company, and talking pictures, including If I Had a Million, Sailor be Good, I Cover the Waterfront, Helldorado, David Harum, and Sutter's Gold. Among his last pictures were those made for Republic: Prison Nurse, Gangs of New York, and Come On, Leatherneck. His first wife, Marguerite Snow, and their daughter Julie were frequent visitors to Cruze's home in the late 1930s and early 1940s, indicating that the former breach was at least partially healed.
James Cruze died virtually penniless on August 3, 1942 in Hollywood, at the home he had shared with his wife for over a year at 337 North Martel Avenue. Rites conducted by friend and actor Luke Cosgrave were held at the Crane & Eberle Chapel. It was Cosgrave who hired Cruze years earlier, just after the young actor left the Billy Banks' Medicine Show. Following cremation at the Hollywood Memorial Park Crematory, his ashes were placed in a crypt at the Hollywood Memorial Park Mausoleum, not far from the remains of Rudolph Valentino and other luminaries of the screen. He was survived by two sisters, one of whom was Mrs. W.E. Quillinan. James Cruze had a younger sister, May (also spelled as Mae), who was in films, including a brief stint with Thanhouser in 1912.
Notes: In various publicity over the years his surname was occasionally misspelled as "Cruz" (especially in The New York Dramatic Mirror), "Crus," and "Cruse." When he was working for Thanhouser 1911-1915 he often noted on hotel registers that his home was Ogden, Utah, although he was a resident of New Rochelle.
Thanhouser Filmography:
1911: The Pied Piper of Hamelin (8-1-1911), Back to Nature (8-9-1911), The Higher Law (10-10-1911), The Last of the Mohicans (11-10-1911), A Mother's Faith (11-17-1911), Brother Bob's Baby (12-8-1911), Beneath the Veil (12-1-1911), She (12-26-1911)
1912: Dr. Jekyll and Mr. Hyde (1-16-1912), East Lynne (1-26-1912), On Probation (2-2-1912), The Arab's Bride (3-1-1912), Flying to Fortune (3-12-1912), The Golf Caddie's Dog (3-22-1912), For Sale - A Life (3-26-1912), A Love of Long Ago (4-9-1912), Into the Desert (4-19-1912), Rejuvenation (4-23-1912), The Cry of the Children (4-30-1912), The Girl of the Grove (4-5-1912), Miss Arabella Snaith (5-3-1912), Love's Miracle (5-10-1912), Jess, Part 1 - A Sister's Sacrifice (5-21-1912), Jess, Part 2 - Through the Boer Lines (5-28-1912), Jess, Part 3 - Jess, the Avenger (5-28-1912), Whom God Hath Joined (5-31-1912), Called Back (6-21-1912), Pa's Medicine (7-9-1912), Nursie and the Knight (7-12-1912), The Finger of Scorn (7-14-1912), Baby Hands (8-6-1912), Lucile, Parts 1 and 2 (8-27-1912), Lucile, Part 3 (8-30-1912), Undine (9-24-1912), But the Greatest of These is Charity (9-27-1912), Letters of a Lifetime (10-1-1912), Miss Robinson Crusoe (10-8-1912), When Mercy Tempers Justice (10-15-1912), The Woman in White (10-20-1912), In a Garden (10-25-1912), Put Yourself in His Place (10-29-1912), The Ladder of Life (11-5-1912), Cross Your Heart (11-22-1912), The Thunderbolt (11-26-1912), The Forest Rose (11-29-1912), The Other Half (12-17-1912), The Star of Bethlehem (12-24-1912), A Militant Suffragette (12-29-1912)
1913: A Poor Relation (1-3-1913), The Tiniest of Stars (1-14-1913), Napoleon's Luck Stone (1-17-1913), The Dove in the Eagle's Nest (1-28-1913), When the Studio Burned (2-4-1913), Good Morning Judge (2-9-1913), His Heroine (3-4-1913), Her Neighbor (3-7-1913), The Idol of the Hour (3-14-1913), Her Gallant Knights (3-23-1913), For Her Boy's Sake (3-25-1913), Cymbeline (3-28-1912), The Woman Who Did Not Care (4-1-1913), When Ghost Meets Ghost (4-6-1913), The Dog in the Baggage Car (4-13-1913), Rosie's Revenge (4-27-1913), Her Sister's Secret (5-6-1913), Marble Heart (5-13-1913), The Caged Bird (6-3-1913), The Snare of Fate (6-17-1913), The Lost Combination (6-27-1913), Tannhäuser (7-15-1913), Brethren of the Sacred Fish (7-20-1913), When Darkness Came (7-22-1913), The Top of New York (7-25-1913), Little Dorrit (7-29-1913), An Unromantic Maiden (8-24-1913), The Ward of the King (8-26-1913), Moths (Mutual 9-1913), The Message to Headquarters (9-12-1913), The Daughter Worth While (10-10-1913), The Plot Against the Governor (10-14-1913), The Silver-Tongued Orator (10-26-1913), The Legend of Provence (12-1-1913)
1914: Frou Frou (1-1-1914), The Woman Pays (1-27-1914), Joseph in the Land of Egypt (2-1-1914), Why Reginald Reformed (2-1-1914), A Leak in the Foreign Office (2-17-1914), Cardinal Richelieu's Ward (3-1-1914), The Desert Tribesman (3-3-1914), The Cat's Paw (3-17-1914), A Debut in the Secret Service (4-7-1914), A Mohammedan Conspiracy (5-12-1914), A Dog of Flanders (5-19-1914), Rivalry (6-9-1914), From Wash to Washington (7-26-1914)
1914-1915 Serials: The Million Dollar Mystery, Zudora
1915: The Heart of the Princess Marsari (5-18-1915), The Patriot and the Spy (6-7-1915), His Guardian Auto (Falstaff 6-11-1915)
# # #
Copyright © 1995 Q. David Bowers. All Rights Reserved.