Volume III: Biographies
HULETTE, Gladys ***
Actress (1911, 1915-1917)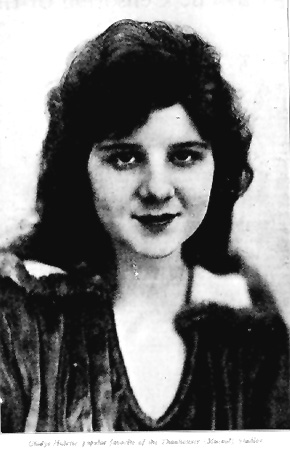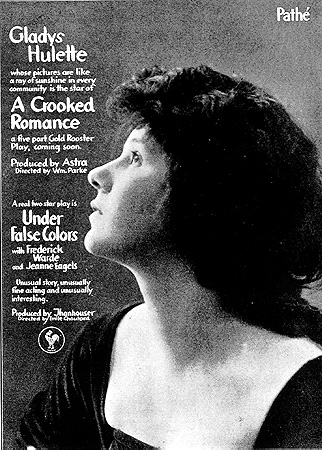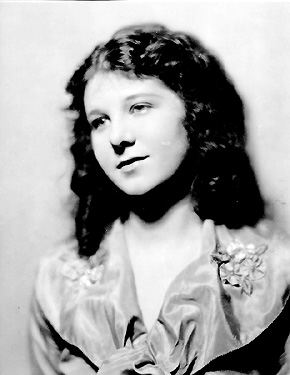 Publicity photo from Reel Life, December 25, 1915 (L) and cover (C)  from The Moving Picture World October 6, 1917. (F-871 & F-1160)
Gladys Hulette (R) in a studio portrait, circa 1916-1917. Courtesy of the Academy of Motion Picture Arts and Sciences (P-200)
Thanhouser Career Synopsis: In 1916 and early 1917, Gladys Hulette was among the most prominent Thanhouser actresses.
Biographical Notes: Gladys Hulette was born in Arcade, New York on July 21, 1896. Her mother, Frances, was an opera singer and, later, was a screen actress for Edison. Educated privately, Gladys began her stage career at the age of three, when she appeared in the role of a flower girl. However, this was but for a single matinee, so she considered her real debut to have been an appearance in 1905 in the role of Nannette with DeWolf Hopper and Marguerite Clark in a revival of Wang. Her stage credits included appearing with Bertha Kalich in The Kreutzer Sonata, and playing the role of Ivan with Alla Nazimova in A Doll's House.
Gladys Hulette also played the original Tyltyl role in the New Theatre (New York City) production of Maeterlinck's The Blue Bird, one of the most acclaimed stage offerings of the 1910-1911 season. Marguerite Clark was to have had the part, but she was busy in Baby Mine at the time, therefore it went to Miss Hulette. This important role gained her much publicity. The New York Dramatic Mirror, October 5, 1910, printed a large picture of a scene in which she was included, and noted in its review of the October first premiere: "Gladys Hulette and Irene Brown, who sustain the long juvenile roles, acted with notable ease and spontaneity from beginning to end." A minor part in the same production was played by Florence LaBadie. Gladys Hulette was next seen in Little Women. In 1911 she was on stage with the Bertha Kalich and Henry Miller companies.
Her Early Film Career: Her screen career, which is believed to have begun by 1909, included IMP, Vitagraph, Biograph, and Edison. Among her earliest films were the 1909 IMP release of Hiawatha, and A Midsummer Night's Dream, a Vitagraph picture of the same year. She had a part in Vitagraph's memorable 1909 special effects film, Princess Nicotine, or the Smoke Fairy.
An article in the New York Morning Telegraph, April 3, 1910, told of the young actress' work for the screen: "A little New York girl, 14 years old, by the name of Gladys Hulette, is said to be more in demand as a moving picture artist than any other young woman in her profession. Her life before the camera has been full of events of the most thrilling nature. She is rather tall for her age, and by clever make-up is competent to assume nearly every role from girlhood to mature womanhood. Those who frequent the moving picture shows of this country have no doubt seen her many times, sometimes chasing a burglar out of the house with a broom, sometimes riding wild ponies over the plains, running for her life over mountains and through valleys, being rescued by firemen, etc., etc. Yet with all these blood-curdling experiences, she has a decidedly childish face and appears to thoroughly enjoy life."
She was with Edison for several years and appeared in many films, some of the earliest including the 1911 releases of Father's Dress Suit, The Star Spangled Banner, The Price of a Man, The Winds of Fate, A Stage Struck Lizzie, Papa's Sweetheart, and Pull for the Shore, Lizzie. Gladys Hulette's 1912 Edison releases included Jack and the Beanstalk, The Guilty Party, The Bank President's Son, A Romance of the Ice Fields, Jim's Wife, Their Hero, Martin Chuzzlewit, The Passer-By, How the Boys Fought the Indians, The Escape from Bondage, The Librarian, and The Harbinger of Peace. In the autumn of 1912 she went back on the legitimate stage and appeared as Beth in Little Women, which opened in Pittsburgh on September 30th and which moved to the Playhouse, New York City, where it opened on October 14, 1912, after which it moved again and enjoyed a long run at the 48th Street Theatre in the same city. Later in the production Miss Hulette changed roles and played the part of Amy.
The August 30, 1913 issue of The Moving Picture World reported that after an absence of two years she was back at work with Edison, where she wrote the scenario for A Royal Romance. However, her film credits indicate that she produced many Edison films during the 1911-1912 years. Her 1913 Edison releases included Her Royal Highness, The Treasure of Captain Kidd, Bobbie's Long Trousers, The Younger Generation, Embarrassment of Riches, Why Girls Leave Home, Bill's Career as a Butler, Silas Marner, A Hornet's Nest, A Royal Romance, and Falling In Love with Inez. Her 1914 Edison releases included The Janitor's Flirtation, How Bobbie Called Her Bluff, An American King, The Adventure of the Extra Baby, Courting Betsy's Beau, With the Eyes of Love, The Double Shadow, On the Heights, Good Night Sweet Love, The Lucky Vest, The Adventure of the Missing Legacy, A Foolish Agreement, The Two Daughters, A Deal in Statuary, A Canine Rival, The Stuff That Dreams Are Made Of, A Village Scandal, An Absentminded Cupid, A Summer Resort Idyll, The Poisoned Bit, Post No Bills, A Transplanted Prairie Flower, George Washington Jones, Getting to the Ball Game, A Millinery Mix-Up, His Chorus Girl Wife, and A Double Elopement.
Miss Hulette's 1915 Edison films included the following titles: The Young Mrs. Winthrop, Tracked by the Hounds, Joey and His Trombone, A Thorn Among the Roses, The Mission of Mr. Foo, Count Macaroni, Won Through Merit, Out of the Ruins, Wrong Woman, The Corporal's Daughter, Working of a Miracle, Eugene Aram, King of the Wire, A Sprig of Shamrock, and What Happened on the Barbuda. In August 1915 it was announced that she was leaving Edison to return to the legitimate stage. The next month the trade was informed that she had signed to appear in Thanhouser films.
On the Screen for Thanhouser: Gladys Hulette worked briefly for Thanhouser in 1911 (during the time she was primarily with Edison, as was her mother) and was seen in Lorna Doone. After making many films with Edison, she departed for Thanhouser by September 1915. In the spring of 1916, Edwin Thanhouser offered a contract whereby she was to star in eight productions of five or more reels each per year. Miss Hulette remained with Thanhouser through early 1917. Her roles in Thanhouser films, often that of a lovable girl, were well received and found an appreciative audience.
The October 2, 1915 issue of Reel Life told of her contract with Thanhouser: "Gladys Hulette will not, as has been rumored, return to the legitimate stage this fall. Instead she is binding her ties to picturedom all the more fast by signing a very pretentious-looking document which states that she will from now on be a regular member of the Thanhouser contingency at New Rochelle. Miss Hulette has recently been one of the most loved little stars of the Edison Company. She has appeared in many dramatic productions, in which her delightful ingenuity gave inexpressible charm to the picture. It is with great appreciation for her talents that the Thanhouser studios have engaged her as a member of their stock company....
"Gladys Hulette is quite content to give up her laurels on the stage for the sake of motion pictures. She feels that everything she does is a stepping stone to some greater usefulness and power, and she hopes by ardent study to some day reach the heights that many of the stars she has supported have reached. Life is so glorious,' says the young actress. 'There is nothing so inconsequent that we cannot learn many things from it.' It means much to a young actress to have the privilege of watching great stars from a position in their own company. She absorbs something of their attitude towards life, of their ideas of dress, and improves her own style of acting tremendously by watching them...."
The December 4, 1915 issue of Reel Life told more: "Gladys Hulette has not been with the Thanhouser forces long, but she has already established herself as an eagerly watched-for Mutual player. This charming young star has a very distinctive way of acting, and everyone who has seen her once remembers her the second time.... 'Acting for the motion picture camera,' says Miss Hulette, 'had always been my life's ambition, and the day I made my debut to Mutual audiences was the happiest one of my life.'"
The New Rochelle Pioneer, November 4, 1916, informed readers that "Gladys Hulette accents her name on the last syllable, like 'You bet!'" In the autumn of 1916 the Motion Picture News Studio Directory noted that she was 5'4" tall, weighed 114 pounds, and had brown hair and gray eyes. For recreation she enjoyed swimming, horseback riding, drawing and scenario writing. At the time she was with Thanhouser in New Rochelle. Reel Life, May 20, 1915, on page 10, gave a different version of her physique: "Gladys Hulette...is known as the smallest star now in captivity. Miss Hulette stands little more than five feet in height and weighs but little more than 100 pounds. Nevertheless, for one so small physically, she has played many big parts." In the very same issue, in an article on the immediately following page, she had shrunk in size: "Gladys Hulette, who is frequently starred in Thanhouser-Mutual feature releases, is one of the smallest actresses now engaged in screen work. Standing less than five feet tall, Miss Hulette weighs but ninety-five pounds. But what is missing in height and weight is made up in ambition."
Gladys Hulette's Philosophies: An article about the actress appeared in the December 27, 1915 issue of Reel Life, and revealed her to be a philosopher on the subject of books and old age: "Gladys Hulette has many friends, but her chief friends and most constant companions are her books. She has a library of her own consisting of several hundred choice volumes, which she picked up in quaint little book shops during her travels. Many of the books in her 'authographed' section were presented to her by the writers. Over these she has hung a painting given her by one of New York's most successful artists, and on the top shelf she has a number of brass candlesticks which she picked up during excursions among the foreign population of the Lower East Side of New York City.
"Her delightful rooms are always a mass of flowers and leaves. 'That is why I am always kept poor,' says the charming little actress. 'I cannot resist flowers when I see them. What other girls spend on finery, I prefer to spend on flowers - and my books. Books are such wonderful companions and friends, and they never fail one. They respond to every mood. They are always at hand, no matter what the weather or the hour. They always have something to teach, and something to give.'
"Miss Hulette is especially fond of drama, and has read all the classic and modern plays. She has studied the history of the art of acting, and has worked hard to perfect herself, so that she may someday be a really great artist. 'It is sad, is it not,' she asks, 'that when actors have studied and worked to perfect their art, have given their youth, their very life blood to it, that they are old, and worn out and weary by the time they have reached the heights for which they have been striving? If one could only combine the strength of youth with the wisdom and experience of age! But that is one of the futile wishes we feel.
"'I have met so many wonderful old players. If I can only be as unselfish, as generous, and as broad-minded as they are, by the time my hair is white I will think that life has been worthwhile.'... The attractiveness of the list of Mutual players has been greatly enhanced by the addition of Gladys Hulette's name. If one may gauge popularity by the number of letters an actress receives, Gladys Hulette is popular to the extent of an easy 200 letters a week mailed from every corner of the world.
"Miss Hulette never throws away a single letter she receives. She has an immense file in which she keeps them, classified according to letter, and according to the country from which they were sent. Close second to the United States comes Canada, then Australia and New Zealand, then England and even Africa. One of the most interesting letters the little actress ever received was from a Japanese girl who was being educated in England. She wrote in a queer hand, on hand-tinted paper, and informed Miss Hulette that she believed her to be the most beautiful actress on the screen."
In early 1916, Thanhouser distributed a news release which told of her penchant for exercise: "'I do not believe it is necessary for an actress or any other girl to have nerves,' says Gladys Hulette, the Thanhouser actress. Miss Hulette, besides being a very pretty girl, is an athletic one. Clad in a scarlet sweater and cap, she may be seen any morning in New Rochelle, N.Y., taking a brisk early morning walk long before many people have turned out of their beds. 'I find it quite necessary to keep in good trim. There are so many different things required of a motion picture actress that she must be ready for every emergency. I find taking long walks and living as much as possible out of doors eliminates nerves,' she says."
In early 1917, the students of New York University voted for the most popular movie actress. From 9,100 ballots cast, Miss Hulette was the easy winner with 5,643, trailed by Mary Pickford, Viola Dana, and Mary Miles Minter.
Gladys in the Kitchen: The following is from an undated (1917) news release issued by the Pathé Exchange, Inc.: "Another phase of the educational value of motion pictures is offered in the avowal of little Gladys Hulette, Thanhouser star, that she is learning how to cook in productions in the Thanhouser studios. 'When I first came here I didn't known if water turned brown from overboiling,' confesses Miss Hulette. You see, she was a stage baby, having played parts from her third year. Now she is 17, and there are few stars on the screen today who can match her stage and studio experience. But she lived all her life in hotels, and she never got into a kitchen, even by mistake.
"There is real fire in real stoves in most realistic kitchens in the Thanhouser-Pathé productions starring Miss Hulette. Real chickens are prepared, stuffed, roasted, basted, begravied and eaten. Real seed is given to real canary birds. Real milk tickets are put out on the back stoop. Real icemen troop in and are exclaimed against for muddying up the kitchen floor. And real milk bottles erupt when those perfectly awful paper tops treacherously give way when being pried open.
"Gladys is learning all. Each of her productions adds some kitchen instruction. In The Shine Girl she was able to study a kitchen sink. In Her New York she was mistress of her first kitchen. Pots and Pans Peggie, to be released in March, has Miss Hulette in charge of a big home, cooking for a family of eight. She not only expertly managed the house, but taught the children how to help her. The photograph shows Miss Hulette sympathizing with little Helen Badgley, who is peeling onions when she isn't crying. Little Helen's brother, Gerald, is mashing potatoes. After Pots and Pans Peggy Miss Hulette will be seen in The Candy Girl, the scenes of which are being taken at this time. In The Candy Girl she still advances in a culinary way, not only managing a kitchen, but finally branching out as a candy manufacturer and becoming a billionairess."
Later Years: In 1917 she left Thanhouser and played in various Astra (released through Pathé) films, including the 1917 releases of The Cigarette Girl, The Last of the Carnabys, Streets of Illusion, Miss Nobody, A Crooked Romance, and Over the Hill, all of which were directed by William Parke, formerly of the Thanhouser studio. For Astra-Pathé in 1918 she appeared in Mrs. Slacker, For Sale, Annexing Bill (which was advertised as being the best film in which she had yet appeared), and Waifs. In 1919 she was seen in the Hallmark picture, High Speed. In 1920 she was in the Louis Tracy Productions film, The Silent Barrier.
Gladys Hulette became interested in art and painted in oils. In the 1920 Midsummer Exhibition mounted by the New York Society of Arts, one of her creations, The Dismal Passage, was hung. She painted it in her spare time during the period she was acting in The Silent Barrier. In 1921 she had a leading role in Tol'able David, a memorable film produced by Inspiration and directed by Henry King. Her later films included Fair Lady (United Artists, 1922), The Referee (Selznick, 1922), How Women Love (B.B. Productions, 1922), Secrets of Paris (Whitman-Bennett Productions, 1922), As a Man Lives (American Releasing Corporation, 1923), Whispering Palms (Fidelity Pictures, 1921), Enemies of Women (Cosmopolitan, 1923), The Night Message (Universal, 1924), The Slanderers (Universal, 1924), The Family Secret (Universal-Jewel, 1924), The Iron Horse (Fox, 1924), The Ridin' Kid From Powder River (Universal, 1924), Hoodman Blind (Fox, 1924), On the Threshold (PDC, 1925), Private Affairs (PDC, 1925), Go Straight (Schulberg, 1925), Lena Rivers (Arrow, 1925), Thoroughbred (Truart Film Corporation, 1925), Pride of the Force (Rayart, 1925), The Mystic (Metro-Goldwyn, 1925), Skyrocket (Associated Exhibitors, 1926), Combat (Universal, 1926), Warning Signal (Ellbee, 1926), Jack O' Hearts (American Cinema Association, 1926), Be Your Age (Roach-Pathé, 1926), Night Owl (Rayart, 1926), Unknown Treasures (Sterling, 1927), A Bowery Cinderella (Excellent, 1927), Faithless Lover (Krelbar Pictures, 1928), Making the Varsity (Excellent, 1928), and Life's Crossroads (Excellent, 1928).
Years after she was with Thanhouser she lived at the Hotel Empire, 63rd and Broadway, New York City. She married former Thanhouser actor William Parke, Jr. on August 21, 1917 and was divorced from him in 1924. In 1917 the couple lived on Washington Square in New York City. In 1948 Gladys Hulette and another former Thanhouser player, Grace DeCarlton, were both working as ticket sellers at Radio City Music Hall in New York City. In the 1980s she lived in the Los Angeles area. At one time her brother Frank was an assistant director for Vitagraph. Film historian Anthony Slide has written that the Hulettes were relatives of J. Stuart Blackton, one of the principals of the Vitagraph organization.
Thanhouser Filmography:
1911: Lorna Doone (6-30-1911)
1915: His Majesty, the King (12-18-1915), Ambition (12-21-1915)
1916: In the Name of the Law (1-11-1916), What Doris Did (3-1-1916), The Flight of the Duchess (3-11-1916), The Traffic Cop (4-8-1916), The Girl From Chicago (4-18-1916), When She Played Broadway (5-9-1916), Other People's Money (6-1-1916), The Shine Girl (8-27-1916), Prudence the Pirate (10-22-1916)
1917: Her New York (1-7-1917), Pots and Pans Peggie (3-18-1917), The Candy Girl (5-20-1917)
# # #
Copyright © 1995 Q. David Bowers. All Rights Reserved.