Volume II: Filmography
LOOKING FORWARD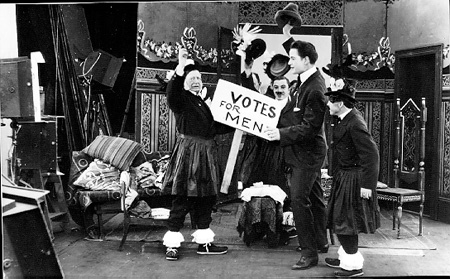 Frank H. Crane and William Russell in LOOKING FORWARD. Courtesy Robert S. Birchard (R-10)
December 20, 1910 (Tuesday)
Length: 1,000 feet
Character: Comedy
Scenario: From a short story by James Oliver Curwood
Cast: Frank H. Crane, William Russell
BACKGROUND OF THE SCENARIO: James Oliver Curwood, the author of this work, was the son of James Moran Curwood and Abigail Griffin Curwood. Born in Owosso, Michigan in 1878, he died in the same town in 1927. Curwood began writing adventure stories shortly after learning to shoot a gun. He was later expelled from school, and spent much of his time thereafter touring the South on a bicycle, peddling medicines, and trapping animals, after which he returned to his native state to study at the University of Michigan. From 1900 to 1907 Curwood was a reporter and later editor of the Detroit News-Tribune. Quitting this post, he returned to Owosso, and over the years from 1908 through 1927 wrote 26 novels, primarily on themes relating to the Northwest section of the American continent, "God's country." He told of the wild beasts that lived there and the men who mastered them, as well as of the climate and other vicissitudes of the wilderness. Many of his stories were adapted for motion pictures, and in distant France Curwood gained a standing as great as that enjoyed by Upton Sinclair and Jack London. An ardent conservationist, Curwood gave up hunting during the last 10 years of his life and stressed instead the brotherhood of man and beast. Looking Forward was one of many short stories from his fertile mind.
ADVERTISEMENT, The Moving Picture World, December 17, 1910:
"A comedy novelty which makes it all the more desirable. It carries some unbeatable laughs; for instance, when the hero finds a suffrage war raging even in the future - but it's the women who have the vote and the men who aspire to it, and parade about 'votes for men' banners; and when the lady mayor gives her hand in marriage - by dropping to her knees and pleading with the hero to accept it."
SYNOPSIS, The Moving Picture World, December 24, 1910:
"Jack Goodwin is a young student of chemistry who is far advanced for the times. He discovers a compound that has the power to put a man to sleep for any stated period of time, after which he will be as physically fit as ever. Jack tests this marvel for the period of a week, finds that it works, and decides to take a test of 100 years. He hires space in a safety deposit vault, has himself locked in a box and the box sent to the vault. There, according to instructions, it is to remain for 100 years, and at the end of the time to be sent to the mayor of the city.
"There is no hitch in Jack's experiment, and he wakes in 2010 as much surprised at the people as they are of him. He discovers that the rapid transit facilities have been greatly and strangely improved, and that instead of their being any fight for 'women's rights' it is the men who have their troubles. Jack finds a friend in the lady mayor, and she finally wins his hand, but not until she realizes that the man from the century before intends to be master in his own house, although the indications are that he will be a kind, loving and considerate master."
REVIEW, The Moving Picture World, December 31, 1910:
"The story of a young man who puts himself to sleep for one hundred years. He finds a lady mayor when he awakes and wins her hand after a time, although he makes it plain that he is to be master in his own house, although she was a suffragette."
REVIEW, The New York Dramatic Mirror, December 28, 1910:
"Here is a rather exaggerated farce with a good many laughs in it. It has for its basis recent cartoons, but has original treatment. The male members of the cast seemed to enjoy their roles, perhaps for the reason that it is a man's picture; the laugh seems on the ladies. A young scientist discovers a fluid that will suspend animation. He tries it for a week, and at the end of that time wakes up as good as ever. He then tries it for a hundred years and comes to himself with the same result. It is now 2010, however, and times have changed. From the vault where he has been confined, he is sent by a pneumatic tube to the lady mayor's office. She is quite taken with him and invites him home in her airship. Here he meets her father, who induces him to be a 'suffragehim' and work for votes for men. He joins the society and they appear before the lady mayor, who has them sent through the pneumatic tube to jail. She keeps the young scientist behind and proposes to him. He consents only on the condition that the rights of men be granted. She signs a decree giving men their liberty. she attempts to lead him to the altar, but he shows her that man must lead. When they would put the bridal veil on him, he transfers it to the lady."
# # #
Copyright © 1995 Q. David Bowers. All Rights Reserved.