Volume II: Filmography
POTS AND PANS PEGGIE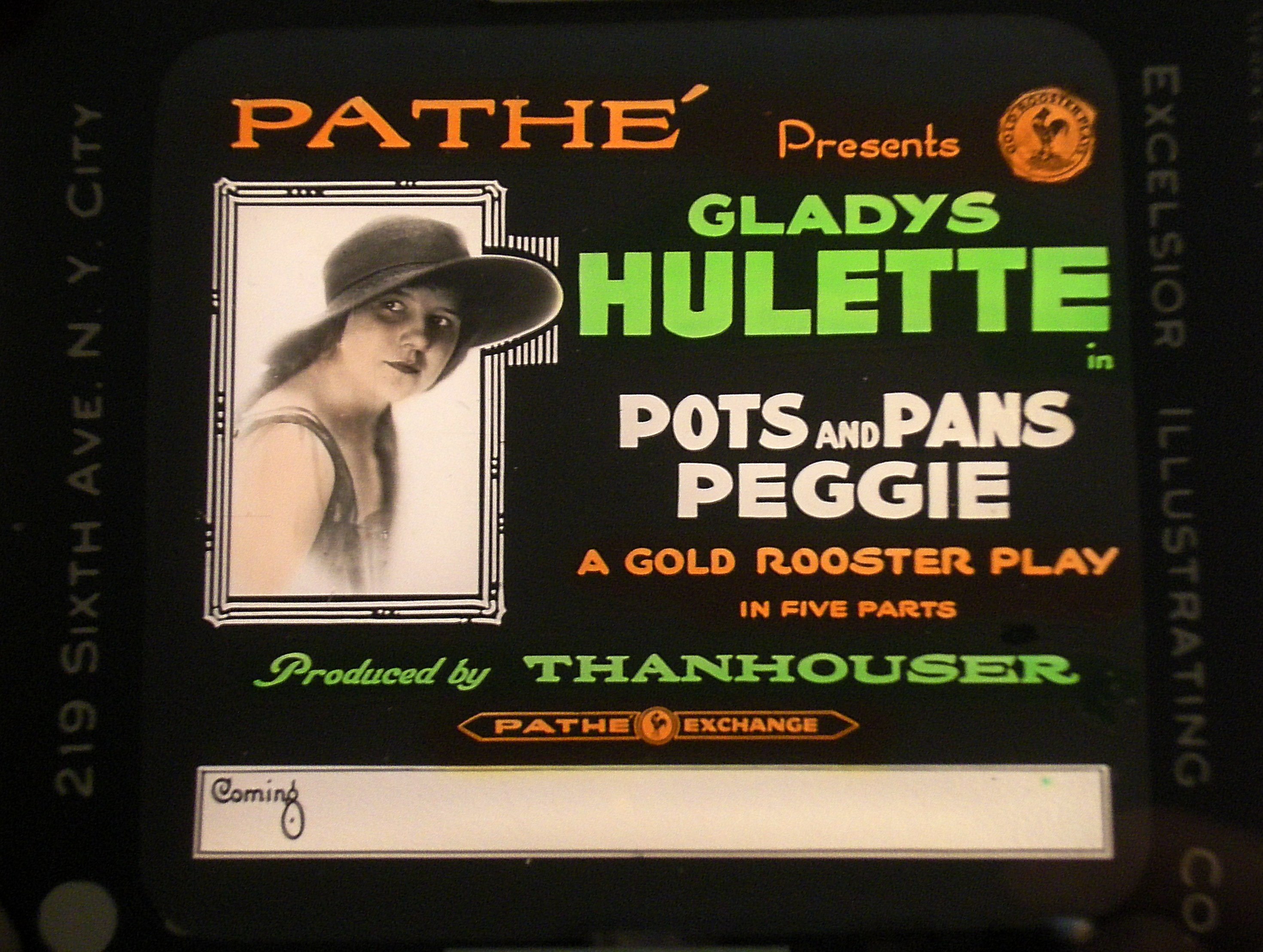 Early working title: KATE O' THE KITCHEN
Later working title: PEGGIE O' THE POTS AND PANS
Variant title: POTS AND PANS PEGGY
(Pathé Exchange)
March 18, 1917 (Sunday)
Length: 5 reels
Character: Drama; Pathé Gold Rooster Play
Director: W. Eugene Moore
Scenario: Agnes C. Johnston
Cameraman: George Webber
Cast: Gladys Hulette (Peggie McGraw), Doris Grey, Wayne Arey (Taxi Barney, the chauffeur), George Marlo ('Rah-'Rah Arthur), Arthur Bauer (Million Dollar Deane), Kathryn Adams (Drawing Room Marian), Grace Henderson (Society Mrs. Caldwell), Lord McCaskill (Eighteen-per-Week Jack), Helen Badgley (Peggie's sister), Gerald Badgley (Peggie's brother), Clarine Seymour, Ernest Howard, William Parke, Jr.
Notes: 1. In early trade notices in the autumn of 1916 this film was referred to as Kate o' the Kitchen. By mid December 1916 the title had been changed to Peggie o' the Pots and Pans. Could the final title have been "inspired by" the August 1915 Lubin release, Polly-of-the-Pots-and-Pans, which has a curiously similar title? A somewhat related title is the 1913 Reliance release of Peg of the Polly P., a canal-boat romance. 2. In some notices, the first part of the title is hyphenated, as Pots-and-Pans Peggie. 3. In some notices (review and synopsis in The Moving Picture World, March 24, 1917 and a Pathé-Thanhouser advertisement in the same publication, May 12, 1917, for example), the title was given as Pots and Pans Peggy. 4. In a notice in The Moving Picture World, William Parke, Jr. was erroneously assigned to the role of 'Rah-'Rah Arthur. 5. A lengthy story by Grace Ade, based upon the film scenario, appeared in the April 1917 issue of The Photo Play Journal. 6. In at least one account, the Caldwell family name appeared as "Stuyvesant."
ARTICLE, The Moving Picture World, November 11, 1916:
"Gladys Hulette, the Thanhouser star, has nearly finished Her New York, and director Eugene Moore is preparing to start work on Miss Hulette's next play within a few days. Agnes C. Johnston, author of all Miss Hulette's Pathé Gold Rooster plays - The Shine Girl, Prudence, the Pirate, and Her New York - has written for Miss Hulette a feature called Kate o' the Kitchen, in which Miss Hulette plays a little girl, poor but happy, who has to go to work for four reasons - three sisters and a brother. Edwin Thanhouser has given Kate o' the Kitchen a splendid cast, including besides Miss Hulette, Doris Grey, Wayne Arey, George Marlo and Arthur Bauer."
ARTICLE, The Moving Picture World, February 10, 1917:
"John Barleycorn gets a knockout in the Thanhouser comedy drama, Pots-and-Pans Peggie, featuring Gladys Hulette, to be released as the Thanhouser-Pathé Gold Rooster play in March. The knockout, too, is administered by the small hands of Miss Hulette. There is a bad boy - 'Rah 'Rah Arthur, he is called in the story - who comes home at dawn heavily laden and tilting. William Parke, Jr., who usually plays opposite Miss Hulette, is 'Rah 'Rah Arthur."
SYNOPSIS-ARTICLE, The Moving Picture World, February 17, 1917:
"Pots and Pans Peggie is written by the authoress of Miss Hulette's famous series of screen successes, Agnes C. Johnston. Miss Hulette has more opportunities for acting as Peggie than in any other of the 'lovely girl' roles, and it has been her acting as well as her prettiness and 'million dollar smile' that has won her her place in the estimation of theatregoers. She is a 17-year old ingenue with 14 years of acting experience. Peggie, in an employment agency, is sent out to a certain home badly in need of a competent housekeeper. Despite her size she flies into the reorganization of the household, and has her place in order in a marvelously short time. She conducts certain reforms in the male members of the household, and finally is pressed into service as a dinner guest, where she distinguishes herself with a bang. The children in Pots and Pans Peggie are delightful, especially little Helen Badgley and her baby brother Gerald, whose conduct under camera fire was spoken of so favorably in reviews of Her New York."
SYNOPSIS, The Moving Picture World, March 24, 1917:
"'A lady wants a good, honest girl!' the matron of the employment agency spoke to a room full of them, and they all rose to their feet and crowded about her. She continued, 'to cook, and wait on table, and mend and sweep and wash and - ' but the place was empty of all aspirants save little Peggie McGraw. 'Pots and Pans Peggie' she was called, and Peggie got the job. And she needed it, for four reasons - her four little orphan brothers and sisters. When she arrived at the Caldwell home and found the mother trying to marry off the unwilling daughter, Marian, who was in love with Jack, to a horrid millionaire, her sympathetic Irish heart revolted, and she ran Marian's affair for her, to Jack's everlasting joy. The son of the house, Arthur, a rah-rah boy and a ne'er-do-well, fell in love with Peggie, but Peggie's heart was carted around the city under the jacket of Taxi Barney, who worked for his living. The millionaire, William Deane, got Arthur a job in the War Department, and then the fun began, for Deane was a thief and planned to use guileless Arthur as his tool in a deal to sell some valuable plans to another country. The scheme worked - that is, halfway - until Peggie stepped in. How she, with the aid of Barney, a broomstick and a vacuum cleaner - the implements of her trade - outwitted the villains, saved Arthur and the Caldwell name, and straightened out things generally, and how she became Taxi Barney's 'fare' for life make a delicious tale of thrills and foolery."
REVIEW, The Chicago Examiner, March 22, 1917:
"After seeing Pots-and-Pans Peggie one can imagine the feelings of Mr. Columbus of 1492. It is a great experience to discover something new, particularly in filmdom, which seems generally all mapped and charted. But here is a sparkling little story, original in concept and procedure and characterization, a blithe bit of fun that takes you quite away from regulation film impressions, except for the 'stolen papers.' and those we can forgive. It isn't a bit elaborate, but is human and it abounds in incidents as unexpected and funny as life itself. Gladys Hulette is the moving spirit of it, she is ably assisted by her colleagues in the cast, especially Wayne Arey, who makes his Barney, the taxi driver, a delightfully distinctive knight of the honk-honker. But Peggie McGraw, the warm-hearted, eager, impudent, roguish daughter of Erin, who puts the rich folks' house to rights, brings up her young brothers and sisters and falls in love with Barney, is as Miss Hulette makes her, somebody to meet with interest and remember with joy. Her distinction of herself as being one of the pots-and-pans persons, destined for usefulness rather than one of the fine china and glass sort, for ornamental purposes, keys her performance into a wide range of activities, useful in intent and humorous in incident. Sometimes there's a glint of the ornamental, demonstrating that Miss Hulette has capacities in that direction.
"It was a wise company that picked her out of the Edison fold and gave her a chance in clean little comedies. It'll be still wiser if it keeps her in such association, for a picture of this kind will win many hearts and circulate widely. There's a lot of room for the type. When it's billed at the neighborhood theatre it's a pretty safe thing to take family to for an evening's party. There are a few little incidents which could be eliminated in the interest of the young folks, but in the general good they can be passed over. Sometime, probably, such bits won't even be made in pictures, if people show enough regard for the wholesome subjects to make them pay producers. Of course, earth has no Peggys in real life, but then this one is no more of a phenomenon than some of our juvenile fiction heroines, to wit: those of Kate Douglas Wiggins, and such. Does anybody remember the Beth of Little Women when it showed at the Garrick Theater? Well, she was Gladys Hulette."
REVIEW, Exhibitors Herald, March 17, 1917:
"As a whole: wholesome feature; story: pleasing; star: well cast; support: adequate; settings: suitable; photography: clear.
"Pots and Pans Peggy is a satisfying picture, well presented and it provides good entertainment. Gladys Hulette is given a role that is particularly well suited to her histrionic talents. As the little Irish maid-of-all work, she gets every bit of humor and pathos out of the part, and surrounding her is a very capable company of Thanhouser players. The subtitles are particularly pleasing and no fault can be found with the direction, settings, or photography. Agnes G. Johnston wrote the story and Eugene Moore directed it. This film should particularly please the little folk.
"The story: Peggy McGraw needs a job for four reasons - she has to support four little orphan brothers and sisters. She is employed by the Caldwells, a family on the outer edge of society, trying to marry off a daughter to a millionaire, although she is in love with an $18-a-week clerk. An Irish princess disappoints them at a dinner at which they wish to impress the millionaire, so Peggy is pressed into service and is driven from the kitchen door to the front of the house and palmed off on society women and gentlemen. Arthur Caldwell falls in love with the little cook-waitress-maid and, although she saves him when he loses government plans, she spurns him when he proposes, and weds Taxi- Barney."
REVIEW, Exhibitor's Trade Review, March 10, 1917:
"Pots and Pans Peggy offers Gladys Hulette in another very entertaining picture. It is a grateful relief to view a picture that avoids the vampirish or sordid life details but instead presents a quaint and pleasing story that can be appreciated by all. Its utter simplicity adds to its interest. At times it does appear as though the author has endowed her leading character with a part that at times becomes improbable. This appears the strongest when Peggy, supposed to be only a slavey, shows an overabundance of common sense. During the dinner scene she carries herself with a style that does not impress one with the fact that she is only the maid of all work dressed up in good clothes. While this might lessen to a slight degree its dramatic appeal, the effect upon the entertaining quality of the picture is very little. There are a number of kid stunts that add greatly to the pathetic appeal of the story and are done in a style that does not become boresome.
"Closely following the success Gladys Hulette experienced in Her New York, this latest Pathé release provides a vehicle particularly well adapted to Miss Hulette's acting abilities. Her mannerisms and her true out-and-out Irish character portrayal is so well done that had the same been placed in another's hands it might prove disastrous. From start to finish her work is of such worth as to demand high praise. Kathryn Adams likewise presents a very pleasing part as the daughter, while George Marlo and Wayne Arey in their respective parts provide able characterizations. The author has injected a certain amount of clean, wholesome wit that will bring more than one laugh from the audience. The humor, well woven together with the pathos, constitutes a story that, being free from all blemishes and sexy suggestions, will be appreciated by those who wish to be entertained and not thrilled during every 100 feet of film. Community houses will find this of particular value."
REVIEW by Dickson G. Watts, The Morning Telegraph, March 4, 1917:
"Pots and Pans Peggy is a frivolous confection loosely hung together, but providing the featured player with an admirably suited vehicle. As a little slavey, Gladys Hulette goes her way through the five reels in a most engaging fashion, providing at least cheerfulness and a large number of laughs, if nothing more lasting. In an age of sex and vampire plots, this production will be found most refreshing. At times the incidents are old, as when Peggy is impressed into service to impersonate the guest of honor at a society dinner, and during the first half of the play the padding is heavy, yet the action is speeded up well at the last, and an exciting climax provided. Above all there is spontaneity to the humor and to the acting of the whole cast that raises the work out of the average run of films.
"Peggy, maid of all work in the home of the Caldwells, who are vainly endeavoring to keep up appearances in the face of reduced circumstances, becomes involved in an attempt to save Marian for Jack, her poor, but honest suitor. Mrs. Caldwell much prefers Deane, a millionaire, who has been kind enough to secure a position in the War Office for her son, Arthur. Deane's morals are not all that they should be, and it develops that he is using Arthur as a tool. The plot involves some important plans, which Deane steals from Arthur, but which are recovered by the indefatigable Peggy through the medium of a vacuum cleaner, skillfully manipulated through a transom. Of course, Arthur wishes to marry Peggy, but she much prefers her taxi-driver lover, and finally brings him to the question.
"Acting honors much go to Miss Hulette for the way in which she carries the leading role, but this is no reflection upon the other members of the cast. Every part is well taken. The settings and photography are standard, and the leaders of more than usual worth."
REVIEW by Edward Weitzel, The Moving Picture World, March 17, 1917: This review is reprinted in the narrative section of the present work.
REVIEW, The New York Dramatic Mirror, March 10, 1917:
"That the story of Pots and Pans Peggy is strongly sentimental does not matter in the least. The main issue is that the picture offers a welcome relief for a theatre that has been showing hectic melodrama and sex plays. It will also appeal to any class of audience, young or old. The combination of Gladys Hulette's acting in photoplays written for her by Agnes Johnston is a most happy one. There are a great many short scenes, but the film does not have the appearance of being choppy because of the continuity of the episodes. The director wastes no time in getting down to the meat of every incident. He keeps the human interest of the story always evident. The direction was by W. Eugene Moore.
"The theme of the story is the adventures of an extremely young Irish girl, Peggy, who becomes a servant so as to support her four brothers and sisters. She secures a position in the home of a wealthy family and not only sets the house in order but straightens out the destinies of the members of the family, making the son get a job and go on the 'water wagon,' arranging it so that the daughter marries the man she loves, and securing some plans that have been stolen by the deep dyed villain. Gladys Hulette is delightful in the character of the slavey with an obsession for work. She is remarkably pretty and she also plays the part with spirit. The rest of the cast, which includes Wayne Arey, George Marlo and Kathryn Adams, offers fine support to the star. If an exhibitor has been showing a lot of blood and thunder or the eternal triangle, Pots and Pans Peggy stands a fine chance of lifting up his jaded patrons. - F.T."
# # #
Copyright © 1995 Q. David Bowers. All Rights Reserved.