Volume II: Filmography
WHEN LOVE WAS BLIND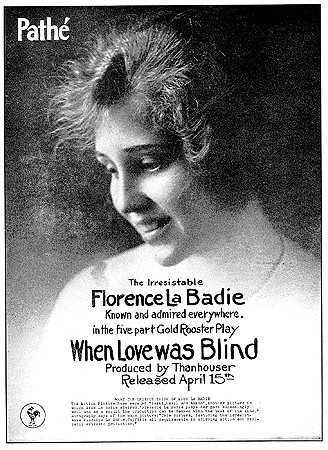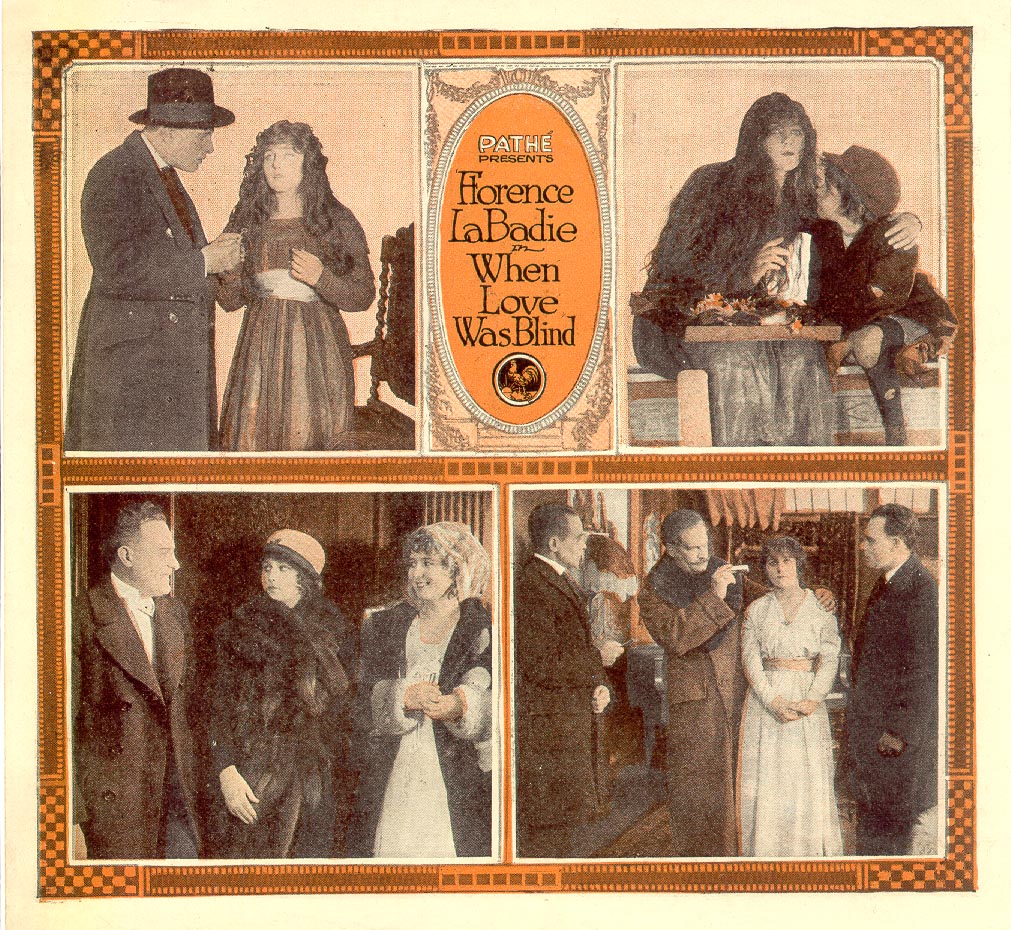 From THE MOVING PICTURE WOLD (L), April 28, 1917 (F-1100-B)
advertising Herald (C, R) for When Love Was Blind (When_Love_Was_Blind)
Working title: THE EYES OF ELEANOR
Alternate working title: THE LONELY HEART
(Pathé Exchange)
April 15, 1917 (Sunday)
Length: 5 reels
Character: Drama; Pathé Gold Rooster Play
Director: Frederick Sullivan
Scenario: Agnes C. Johnston
Cast: Florence LaBadie (Eleanor Grayson), Thomas Curran (John Grayson), Inda Palmer (Mrs. Meggs), Boyd Marshall (Burton Lester), Harris Gordon (Frank Hargreave), Gladys Leslie (Vera Hargreave), Ida Darling (Burton's aunt), Ethyle Cooke (Ruth Porter), Helen Badgley, Grace Henderson, Henri Leon (French art teacher), Anna Osgood, Lucille Gervais, Arthur LeVien, Clay Carroll, Samuel Niblack
Notes: 1. The same title, When Love Was Blind, was used for an unrelated one-reel Thanhouser film released on January 24, 1911. 2. The family surname used in certain roles variously appears as Hargreaves, Hargreave, and Hargraves in various synopses and reviews; the surname Hargreave was important in the 1914-1915 serial, The Million Dollar Mystery. 3. In credits, Henri Leon's surname sometimes appeared as Leone. 4. In a review in The New York Dramatic Mirror, April 7, 1917, the title was given erroneously as When Love Is Blind.
ARTICLE, The New Rochelle Pioneer, December 30, 1916:
"Frederick Sullivan has started work on a new society-art-atmosphere story in which Miss Flo LaBadie is to star. Others in the cast will be Boyd Marshall, Ethyle Cooke, Grace Henderson, and Henri Leone, especially engaged to take the part of a French teacher in painting."
ARTICLE, The Morning Telegraph, January 14, 1917:
"FINE CAST SUPPORTS FLORENCE LA BADIE: Stars of Film World Engaged for Thanhouser's The Lonely Heart, Now Preparing: A fine supporting cast has been accorded Miss Florence LaBadie, Thanhouser star, in the newest Thanhouser-Pathé Gold Rooster play now being taken, The Lonely Heart.... The Lonely Heart, by Agnes C. Johnston, is directed by Frederick Sullivan. In the story Miss LaBadie, as an artist, loses her sight, then regains it only to see her lover in a compromising position. There is a splendid house party scene. Supporting Miss LaBadie are Boyd Marshall, Ida Darling (late of Common Clay), Ethyle Cooke, Gladys Leslie, Harris Gordon, Walter (Fatty) Hiers, Arthur LeVien, Clay Carroll (a 'discovery' of Mr. Sullivan's), Sam Niblack, Thomas A. Curran, Inda Palmer, and Helen Badgley."
ARTICLE, The Moving Picture World, April 14, 1917:
"On April 15 will be released When Love Was Blind, a Thanhouser-made picture, with Florence LaBadie in the stellar role. Miss LaBadie has a strong following, and her name is always an excellent attraction. When Love Was Blind was written by Agnes Johnston and tells the story of a girl who, through misfortune and severe handicaps, finally attained happiness."
SYNOPSIS, The Moving Picture World, April 21, 1917:
"Refusing the attentions of Burton Lester, Eleanor Grayson is forced to confess her past to Frank Hargreaves, a young society chap to whom she is engaged. Believing his love to be strong, she feels sure that he will forgive her, but being a society leader Frank shuns her. Her father is an artist, and while working on a masterpiece becomes ill and is forced to go west. Returning he discovers that Eleanor has been stricken blind. Disheartened at this misfortune, Grayson dies, leaving Eleanor to the kindness of the housekeeper. Burton Lester, a young artist, in search of a studio, selects the one used by Eleanor's father. Being of an artistic temperament, Eleanor delights in hearing Burton speak of his art. Constant companionship ripens into love. Since holding a position, Burton learns that Eleanor's sight can be restored by an operation. This proving successful, Eleanor reaps the first fruits of happiness. In the midst of her happiness she learns that Burton has been married, but to his misfortune he selected an undesirable wife. Realizing the circumstances she leaves at once. Coming to New York, Eleanor decides to finish her father's unfinished masterpiece. The picture proves a sensation, which earns her a renown reputation, and the affection of Frank and his sister Vera. Vera, being a frivolous character, visits a cabaret, in which she leaves her necklace. Questioned by her brother and becoming frightened, she seeks the aid of Burton. Eleanor, preparing to leave on an early train, discovers Burton and Vera. Fearing for Vera, she remonstrates with her, but learns that they were only going for the necklace. Hearing a commotion, the house is aroused, and the amazed guests see standing in front of them Eleanor and Burton happily smiling."
REVIEW, Exhibitors Herald, April 28, 1917: This review is reprinted in the narrative section of the present work.
REVIEW, Exhibitor's Trade Review, April 7, 1917:
"The latest Thanhouser production upon the Pathé program, entitled When Love Was Blind, is an average entertainment. There have been better productions from this company, and the authoress, Agnes C. Johnston, has been credited with better stories, but still as the production stands there exists enough general interest to be appreciated by the average audience. The play's opening is rather depressing. The ailing father and his final death and the sudden blindness of Eleanor as a child occupy the first few hundred feet of film. A large amount of the first part is taken up with the artist picturing to the blind girl streets, narrow and dirty, of a large city as being of such grandeur as to outwit the imagination of the greatest fairytale writers. This in itself has very little to do with the plot proper and produces a draggy moment in the unfoldment of the play. However, after her sight has been restored and the girl meets with the Hargreaves, the action of the story becomes much more brisk and lively. The climax is distinctly interesting and of a sudden nature. It takes the audience completely unawares. The acting honors fall to Florence LaBadie and Boyd Marshall. As the blind girl, Miss LaBadie has a part, while not calling too strongly upon her emotional abilities, that is pleasing throughout. Boyd Marshall makes an exceptionally interesting hero. The supporting cast does well."
REVIEW by Dickson G. Watts, The Morning Telegraph, unattributed date:
"From the pen of Agnes Johnston, When Love Was Blind contains the charm that one is accustomed to find in that author's work, but in this case there is not so much of it as in a number of her other Thanhouser productions. The outcome of the story appears early, while the attempt to sustain the suspense by adding trivial complications in the last reel is not entirely successful. However, the picture will without doubt find favor because of its excellent presentation by the director and the cast. The characters portrayed will arouse sympathetic interest, while the fine continuity will please. What little of the 'sex problem' there is in the story has been handled with great delicacy.
"Eleanor Grayson, blind, but possessed of great potential ability as an artist, is restored to sight by Burton Lester, a wealthy young man unhappily married. A misunderstanding arising, Eleanor leaves her benefactor and in a few years attains fame through her work. Freed of his matrimonial chains, Burton returns to marry the artist, only to find her engaged to another man. Burton's successful attempt to win her back brings the last two reels to a happy conclusion. Florence LaBadie presents an excellent character study as the fascinating blind girl and is well supported by Boyd Marshall in the leading role. Gladys Leslie is cast in a butterfly part which suits her well, while Ethyle Cooke contributes another of her good 'heavy' impersonations as the calculating wife of Burton. The production is well set and artistically photographed."
REVIEW, The Moving Picture World, April 14, 1917:
"The scenario of this five-reel photoplay was written by Agnes C. Johnston, and is a radical departure from her usual style of work. The story is not at all convincing. It is given a careful production by the Thanhouser Company and the cast is led by Florence LaBadie. A longer review appears on another page of this issue."
REVIEW by Edward Weitzel, The Moving Picture World, April 14, 1917:
"When a writer has made an unusual success in one branch of work it is generally safer to stick to that line of endeavor. Agnes C. Johnston, the author of When Love Was Blind, a five-reel photoplay produced by Thanhouser, has earned an envious reputation for her whimsical, often irresponsible, but always entertaining, stories for the screen. In the play under discussion she has attempted to give an authentic reproduction of several serious phases of life, and has quickly found herself beyond her depth. Lack of experience in the deeper moods of existence prevents much of her story from ringing true - an indictment that makes the entire picture unworthy of serious consideration. The efforts of Florence LaBadie, who heads the cast, and of Frederick Sullivan, director of the picture, lend every possible assistance to Miss Johnston's story, but the scenario is never worthwhile."
REVIEW, The New York Dramatic Mirror, April 7, 1917:
"Undeniably the chief requisite for an entertaining presentation of a simple heart interest story, such as the kind that readily flows from the pen of Agnes C. Johnson, is a thoroughly careful adherence to continuity. Thanhouser's production of When Love Is Blind is a simple heart interest picture, with a well constructed plot. The story concerns a young blind girl who undergoes an operation that restores her sight, at the expense of a young man who at first feels only a platonic affection for her but afterward comes to want her for a wife, and gets her. It is told pleasingly, with unbroken sequence, and acted by a company of players who get all the worth possible out of their parts. The direction is adequate and the settings and exteriors are a help. Florence LaBadie deserves special mention for the manner in which she acted a role that does not call for much more than a pleasing personality. She really makes quite a lot out of it. The clear photography shows her to advantage. Although there have been a multitude of heart interest stories released lately, here is an opportunity for an exhibitor to book one that will not prove a bore to his patrons. When Love Is Blind will go in any class of motion picture house. - F.T."
REVIEW, Variety, March 30, 1917:
"It has taken the combined efforts of the Thanhouser players, Frederick Sullivan, the director, and Agnes C. Johnston, the author, to make a five-part photoplay, with the above title, which is neither drama nor comedy, nor a satisfactory mixture of both. It is full of absurdities and inconsistencies from a dramatic point of view, and strikes a number of discordant notes where harmony is essential to graceful continuity.
"Eleanor Grayson, left to the care of a housekeeper by her father, an artist who dies, grows up blind. Burton Lester, another artist, takes her father's studio, and they fall in love. Burton finds that an operation can restore her sight. He provides for it, and on recovering her sight she learns that Lester has made a mistake in his marriage, his wife not being in accord with his ideals. Eleanor leaves, comes to New York, finishes her father's picture (another masterpiece) and was renowned through it. Hargreaves, a society man, wins her affection. Vera, his sister, a frivolous young thing, made up to imitate Mary Pickford, visits a cabaret unknown to her rather careful brother. She loses her necklace and being afraid of her brother gets Burton to help her recover it. Eleanor, having refused Burton's plea for love, is forced to tell of her past to Hargreaves, and is shunned by him. As she is preparing to get away from both men by an early train she meets Burton and Vera. She remonstrates with Vera, declaring that Burton shall not break another girl's heart as he had broken hers, but is pacified when she learns they were only going after Vera's necklace. Overturning a vase arouses the household, Vera escapes to her room, and the guests see Eleanor and Burton together and receive an invitation to the wedding. The production is one of the frivolous, inconsequential things which, while they do no good, at the same time do no particular harm except feed the desire of many 'fans' for froth. It will fit in with programs where the exhibitor knows his people like that sort of thing, but otherwise carries no appeal. Released by Pathé, April 15."
# # #
Copyright © 1995 Q. David Bowers. All Rights Reserved.