Volume II: Filmography
JENNINGS, Al *
Actor (1914)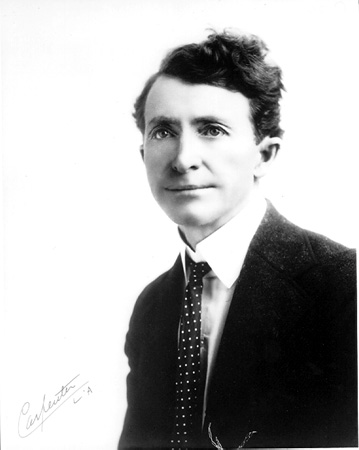 Al Jennings, supervised the 1914 production of BEATING BACK. Courtesy of the Wisconsin Center for Film and Theatre Research (Q-36)
Thanhouser Career Synopsis: In 1914 Al J. Jennings, an ex-convict, played himself in a 1914 biographical film, Beating Back.
Thanhouser Career Synopsis: Al J. Jennings was born in Tazewell County in Virginia on November 25, 1863. He ran away from home at the age of 10 and went to Cincinnati because, he said, his father killed his pet squirrel. He then drifted west to Colorado, where he signed on as a hand on Jim Stanton's ranch in Trinidad, where he learned to handle a gun. Standing five feet, five inches tall, Al Jennings made up for his medium stature with bravado and an outspoken nature. Al had three brothers, who were all respected citizens, although one, Fred, later joined him in banditry. At one time his father was a circuit court judge. Jennings studied law and was admitted to the bar in Kansas in 1884. In 1892 he won election as county attorney in El Reno, Oklahoma. There was a feud between Al's brother Ed and another man, and one evening, Ed was shot from behind. As he was dying, he asked Al to avenge him. A trial was held, and Ed's alleged assassin was found not guilty. Al then devoted his life to revenge.
Soon, Al Jennings was in trouble himself. As he told it in later years, members of the Norman gang, who were clients of his law practice, held up a train. Although Al asserted that he was not with them during the daring escapade, he was incriminated, and even his father believed him to be guilty. Oklahoma authorities put a price of $20,000 on his head, at which time Al Jennings decided to become a bandit in earnest. He joined the Norman gang and became their leader. Many train robberies later, the Norman gang was caught while trying to blow a Wells Fargo safe in an express car. Under a life sentence, Jennings was dispatched to the Ohio State Penitentiary. While in jail, he made the acquaintance of Ohio industrialist Mark Hanna, who was a friend of the warden. Hanna believed Jennings' contention that his life of crime started when he was unjustly accused, and he persuaded his friend, President William A. McKinley, to commute the sentence to five years. In 1907 he received a full pardon from President Theodore Roosevelt. Jennings returned to Oklahoma, where he ran for public office. He narrowly lost the race for prosecuting attorney in the same county which had posted the $20,000 reward for his capture, dead or alive, years earlier. Later, in 1914, he ran an unsuccessful race for governor of the state in the Democratic primary and finished third.
Jennings on the Screen: Drawing upon his experience and a seemingly unquenchable thirst for publicity, he appeared in many films, of which The Bank Robbery, produced by the Oklahoma Natural Mutoscene Company in 1908 and which re-enacted Jennings' robbery of the Bank of Cache, in the Oklahoma city of that name, was perhaps the first. In his book, The War, the West and the Wilderness (Knopf, 1979), Kevin Brownlow makes the observation that: "The Bank Robbery can be singled out as perhaps the only Western in which horses relieve themselves without being censored." The same writer notes that this film was made at the instigation of President Theodore Roosevelt, who sent a cameraman, J.B. Kent, to the Wichita National Preserve to film a wolf hunt and, hopefully, capture on nitrate the prowess of a Rough Rider veteran, John Abernethy, who was said to have been able to capture a wolf with his bare hands. While in the area, Kent encountered Jennings, who had been pardoned a year earlier, and arrangements were made to create a film of his earlier bank robbery episode. Wolf Hunt, another Oklahoma Natural Mutoscene film, was made around the same time and showed Jennings on horseback in various scenes.
In September 1913, the Al J. Jennings Motion Picture Company was busy in Oklahoma filming Jennings' life story. On October 1st, the Curtis Publishing Company, owners of The Saturday Evening Post, obtained an injunction to halt filming until that magazine's serialization of Jennings' biography had been completed. In 1914 the filming resumed, but this time under the auspices of the Thanhouser Film Corporation and with Thanhouser players. Jennings was the principal consultant for Beating Back, which told of his re-entry into society, a film in which he played himself. While the film was being produced, he was an object of attention and curiosity in New Rochelle, and granted several interviews. The picture was released in early June 1914 on a states rights basis. (Refer to the film synopsis and accompanying articles for additional details concerning Jennings' colorful life.) In 1915, Jennings was hired by Alan Dwan to supervise certain effects for the film, Jordan is a Hard Road. If Jennings didn't know how something should be done, he gave the impression that he did, thus creating a demand for his services.
His Later Life: Later, Jennings again became involved in producing his own films and played in and produced pictures through the early 1930s. In 1918 he organized the Al Jennings Production Company, with home offices in Tucson, Arizona and studios in Tucson and Culver City, California. The firm stated that its films would be the ultimate in realistic depiction of the old West. The first release was titled Lady of the Dugout, which was released on a states rights basis through Ernest Shipman. Other pictures in which Jennings was involved include the 1919 two-reel subject, Bond of Blood, and the 1920 Capital Films releases of Bandit's Gold, The Long Riders, The Banker's Treachery, and The Outlaw's Deputies. In August 1921 it was announced that Jennings would appear on the stage in vaudeville in a dramatic playlet written by Herbert Frank.
Jennings was a familiar figure in Los Angeles-area film studios in the 1930s, where he often acted as an advisor for Western genre films. In 1945 he sued the makers and sponsors of the radio show, The Lone Ranger, who he said defamed him in a broadcast about his gunslinging days. Although Jennings lost, the courtroom audience enjoyed hearing his highly dramatic testimony about the wild days of yore. When a modern remake of an earlier picture, Al Jennings of Oklahoma, starring Dan Duryea, was made in 1951, Jennings condemned it as being inaccurate, stating it was a "disgrace to the old West." Jennings was known for his exaggerated view of his own accomplishments, and when he regaled writers with his tales of derring-do, some but not all took his words with a grain of salt. Many highly dramatized, inconsistent, and inaccurate versions of Jennings' banditry found their way into print. From his work over the years with Los Angeles studios, Al Jennings set aside enough earnings to buy a chicken farm in Tarzana, in the San Fernando Valley, not far from Los Angeles, where he made his home with his wife, Maude. He died there on December 26, 1961.
Thanhouser Filmography:
1914: Beating Back (released by Direct-From-Broadway Features 6-9-1914)
# # #
Copyright © 1995 Q. David Bowers. All Rights Reserved.