Volume II: Filmography
THE THREE ROSES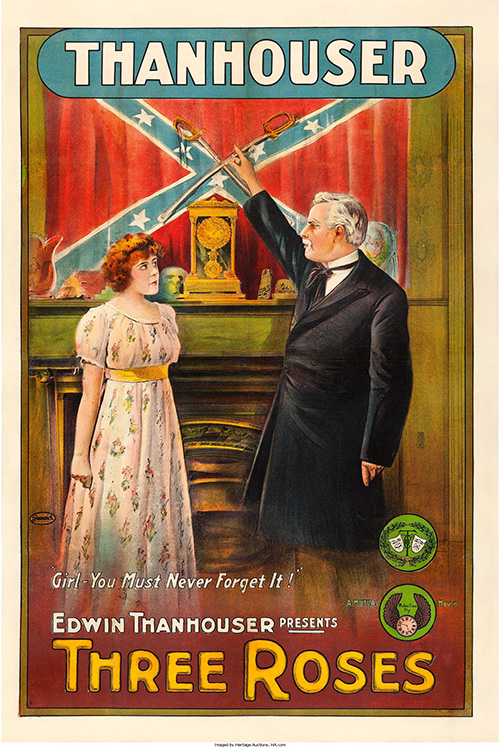 Poster Image Courtesy Thanhouser Company Film Preservation, Inc.
May 16, 1915 (Sunday)
Length: 1 reel (1,012 feet)
Character: Drama
Cast: Morgan Jones (the colonel), Inda Palmer (the first Rose), Lorraine Huling (the second Rose), Helen Badgley (the third Rose), Riley Chamberlin (the butler)
Note: "The" was erroneously omitted from the title in some listings.
SYNOPSIS, Reel Life, May 8, 1915:
"The Colonel, for many years, has lived in the past, reverencing the lost cause of the Confederacy and hating all Northerners. When his daughter, Rose, named for her mother, falls in love with a New England youth, he haughtily refuses his consent. Rose and John Hewins run away and are married. The years pass, and the Colonel steadfastly declines to become reconciled to his daughter. Eventually the old Southerner loses his property. Then his wife dies. But, with her last breath, the first Rose wins her husband's promise that he will seek out their daughter and make peace with her. The old man goes North but is unable to find Rose. His money soon is spent. At last, wandering, cold, hungry and penniless in the snow, he is befriended by a little girl who takes him home to her mother. It is the third Rose who has found her grandfather. The Colonel's declining days are happy. On the table in his room he keeps a vase containing three roses - one in full bloom, another half open and the third still a bud - to remind him of the three lives most dear to him."
REVIEW, The Moving Picture World, June 5, 1915:
"This picture might have been more impressive had the costuming been more carefully attended to. It is hard to understand how a Thanhouser production could be allowed to face the public with the attire of the Colonial period and that of the present day mingled so promiscuously. The story of the production is not unusual. It is an old story of a Southern girl eloping with a Northerner and being disowned by her father, who repents in after years. Apart from the carelessness in costume the picture has been nicely produced. In the cast are Morgan Jones, Inda Palmer, Lorraine Huling, Helen Badgley, and Riley Chamberlin."
# # #
Copyright © 1995 Q. David Bowers. All Rights Reserved.