Florence La Badie's memorial headstone was dedicated on her 126th birthday April 27, 2014 at the Green-Wood Cemetery. Read news coverage of this event:
Thank you to everyone who made this possible and especially to all who came out on Florence's birthday to remember her.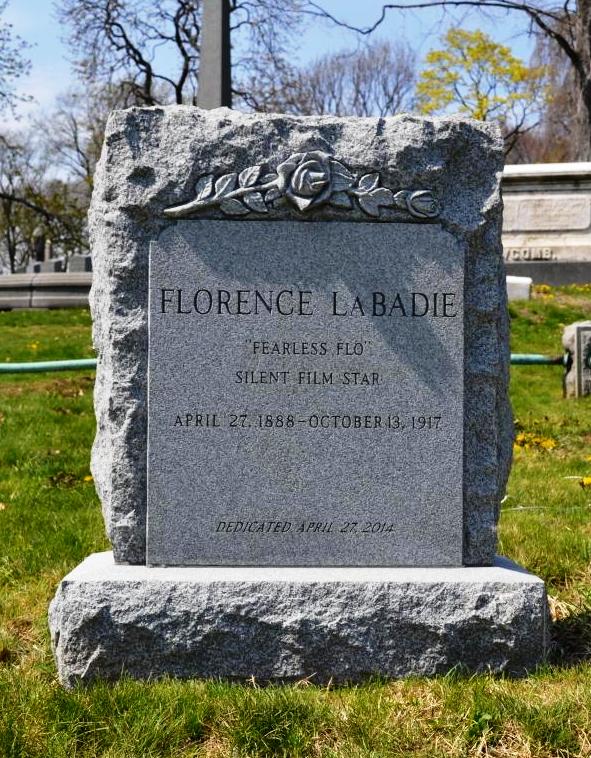 The Florence La Badie Memorial Fund Campaign completed its fund raising goal and as of April 27, 2014 stands at $3,229 or $162% of our target! The campaign ended Sunday October 13, 2013, the 96th anniversary of Florence's tragic death. If you haven't yet contributed, donations will still be accepted and donor gifts will be sent.

The Green-Wood Historic Fund matched dollar-for-dollar your donations bringing our total budget for the project to $6,458! This allowed us to have a beautiful monument celebrating her life. The installation of a headstone at Florence's grave site took place at the historic Green-Wood Cemetery in Brooklyn, NY on her birthday, Sunday April 27, 2014; details were published on the Thanhouser Company Film Preservation, Inc. Facebook page: www.facebook.com/thanhouser.

You can read Florence's biography and watch 12 of her surviving Thanhouser films at https://www.thanhouser.org/people/labadief.htm.

Thank you again to everyone who has supported this effort...your contributions are very much appreciated!
"Fearless Flo" Memorial Video from Ned Thanhouser on Vimeo.
Florence La Badie (April 27, 1888 to October 13, 1917) was one of the most important and popular actresses of the early motion picture era. She appeared in over 180 silent films from 1911 through 1917 for the Thanhouser studio based in New Rochelle, NY.
A daredevil at heart, she was known as "Fearless Flo" for taking risks and performed many of her own stunts. She was a frequent subject for articles and letters in fan and trade magazines, and over a period of years she was the most publicized of all Thanhouser players. Florence showed great compassion, care, concern, and sympathy for the men fighting in WWI, and was one of the most prominent fundraisers for the World's Statue of Liberty Illumination Fund.
Tragically, in October 1917, she succumbed to injuries suffered in an automobile accident, making her the first major "movie star" to die at the zenith of her popularity. Her biography and links to 12 of her surviving films may be viewed online at no charge here.
Florence was buried in an unmarked grave at the Green-Wood Cemetery in Brooklyn, New York on Wednesday October 17, 1917. Founded in 1838 as one of America's first rural cemeteries, the Green-Wood Cemetery has developed an international reputation for its magnificent beauty and became the fashionable place to be buried. The famous and infamous have continued to come to Green-Wood for over a century and a half, bringing their lively stories and dark secrets with them. Green-Wood has more than 560,000 permanent residents, including Leonard Bernstein, Boss Tweed, Charles Ebbets, Jean-Michel Basquiat, Louis Comfort Tiffany, Horace Greeley, baseball legends, politicians, artists, entertainers, inventors, and Civil War generals.
Almost 100 years have passed since her untimely death, but her popularity remains high and is surging on social media and blog sites. Through the cooperation of Thanhouser Company Film Preservation, Inc. and the Green-Wood Historic Fund, a campaign has been launched with the goal to raise funds to install a suitable monument to commemorate her brief but historic career. Film fans, historians, and the public at large are encouraged to contribute to the effort.
Contributions to the Florence La Badie Memorial Fund may be made through Thanhouser Company Film Preservation, Inc. (www.thanhouser.org) or The Green-Wood Historic Fund (www.green-wood.com). The goal is to raise $2,000 by October 13, 2013, the 96th anniversary of Florence's death. The Green-Wood Historic Fund will match all donations up to $2,000 dollar-for-dollar to fund a suitable headstone (see proposed design on the right side of this page).
Donors received a keepsake in recognition of your support to the memorial campaign plus e-mail updates about a celebration of life during the installation of Florence's memorial.
Donation Levels and Donor Keepsakes
$10 - Colorized 5x7 printed portrait of Florence La Badie by Stacey Palmer

$25 - Set of 13 reproduction Thanhouser postcards, including Florence La Badie

$50 - DVD of Thanhouser's 1911 David Copperfield featuring Florence La Badie

$100+ - All three of the above items
The campaign continues to accept donations. 100% of all contributions were used to fund the memorial. Contributions are to a 501(c)(3) tax exempt organization and may qualify for a tax deduction; please consult your tax attorney or CPA for details.
---
Thanhouser Company Film Preservation, Inc.


Contact Us
Copyright © 2013 Thanhouser Company Film Preservation, Inc. All Rights Reserved.