LA BADIE, Florence

Thanhouser Career: Actress
(1911-1917)


Return to www.thanhouser.org

Florence La Badie in a 1913-1914 publicity portrait. (Courtesy of Donald Collins)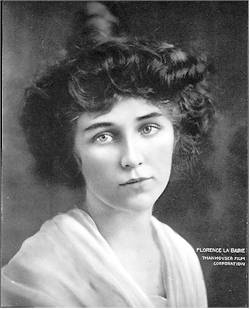 Thanhouser Career Synopsis: Florence LaBadie, who was with Thanhouser from 1911 until 1917, was the company's most prominent player during that span. She appeared in leading roles in dozens of Thanhouser films and had the leading female role in the 1914-1915 serial, The Million Dollar Mystery.
Read Flo's full biography by Q. David Bowers here including many more pictures!
Florence La Badie: Silent Film Star and Presidential Courtesan? by Ned Thanhouser with Bryan Smith, presented at the Women and the Silent Screen VIII conference in Pittsburgh, PA on Sept. 18, 2015.
Read about the installation of a headstone at Florence's gravesite at the Green-Wood Cemetery funded by her loyal fans dedicated on her birthday, April 27, 2014.
Below is a chronological list of extant films featuring Florence LaBadie available for viewing:
Cinderella

(12/22/11)

Dr. Jekyll and Mr. Hyde

(1/16/12)

The Girl of the Grove (4-13-12)
The Portrait of Lady Anne

(7/23/12)

The Voice of Conscience

(9/3/12)

The Star of Bethlehem

(12/24/12)

Petticoat Camp

(11/3/12)

The Evidence of the Film

(

1/10/13

)

Cymbeline

(3/28/13)

Marble Heart (5/13/13)
Tannhäuser

(7/15/13)

Little Brother (11/13/13)
Crossed Wires

(6/23/15)
The Woman in White (7/1/17)
Biographical Notes: Florence M.L. LaBadie was born in New York City on April 27, 1888, and to have been an only child. A deposition by Marie C. Russ, a patient at the Home for Incurables, now known as St. Barnabas HospitalNew York City, October 8, 1917, now known as St. Barnabas Hospital, stated that: "Florence Russ, my daughter, is an owner of lot no. 17187 in the Greenwood Cemetery, being a grandchild and heir of Mrs. Louisa Russ, the purchaser of said lot. That some years ago said Florence Russ was legally adopted by Joseph E. and Amanda J. LaBadie, and her name legally changed to Florence LaBadie.…"
Part of her youth was spent in Montreal. Her adoptive father, Joseph E. LaBadie, is believed to have been born in Canada and is said to have been a prominent attorney there at one time. Her adoptive mother, the former Amanda Victor, was born in Europe, possibly in Paris. Florence was educated in New York City schools and at the Convent of Notre Dame in Montreal. Her adoptive uncle, Oddiehon LaBadie, maintained an estate in nearby St. Lambert. After her education was completed, she became a model for Penrhyn Stanlaws, one of America's best known illustrators at the turn of the century. (Later, Stanlaws became a movie director.)
Florence LaBadie appeared on the stage beginning in 1908, when, after she registered with a theatrical booking company, she was signed by Chauncey Olcott's company. She was on the road with Olcott in the autumn of that year, appearing as a scampering little fairy in Ragged Robin. She toured the East and, for example, on October 6, 1908 was seen at the Opera House in Lexington, Kentucky. In the autumn of 1910, she was before the footlights in a minor role in Winthrop Ames' presentation of The Blue Bird at the New Theatre in New York City.
Her Screen Career Begins: A portent of the future occurred in the summer of 1909 when she accompanied her friend Mary Pickford to the Biograph studio at 11 East 14th Street in Manhattan to watch her act in a film which was released the following September under the title Getting Even. Florence was given a bit part. Soon thereafter she was seen in the November 1909 release of In the Window Recess. However, it wasn't until a year later that she joined Biograph as an employee.
Joining Thanhouser: In the spring of 1911, unsure of her future at Biograph, Miss LaBadie went to New Rochelle and applied to Edwin Thanhouser for a position there. The Motion Picture Story Magazine, July 1913, stated that Florence joined Thanhouser in June 1911. In New Rochelle she went from one success to another. From 1911 until 1917 she played leading roles in many films, eventually becoming the best known of all Thanhouser players, and the leading player with the longest tenure with the company. Her nickname to her friends, but not in publicity, was "Betty." Florence embodied the very spirit of beauty and charming personality and was admired by her friends and the public. She was a frequent subject for articles and letters in fan and trade magazines, and over a period of years she was the most publicized of all Thanhouser players.
Hobbies and Other Interests: In the March 1914 issue of Photoplay, Jean Darnell noted that Miss LaBadie lived on Riverside Drive in New York City, and played the piano and sang. An accomplished pianist, Florence could play many classical selections from memory. She liked to dance but never had lessons. Art, sculpture and painting were among her spare-time interests.
Florence remained single throughout her life, but she was engaged twice. Her first fiancé was Val Hush, a salesman at a Cadillac automobile agency in New York City, who also acted in small parts for Thanhouser and who at one time dated Mignon Anderson. They were very much in love, until Florence and Daniel Carson Goodman, the writer of Thanhouser's Zudora serial, became attracted to each other. Her engagement with Hush was dropped, and she accepted Goodman's proposal. In the meantime she received hundreds of proposals of marriage through the mail from her admirers. She counted these as they came in and considered it good luck to send the writer of each hundredth letter a little trinket and note. In addition, she was squired to numerous events by Marcus Loew, of motion picture theatre fame, but this was in the nature of companionship rather than a romantic situation.
The World War: After the World War broke out in Europe in 1914, Florence LaBadie showed great sympathy and compassion for soldiers in the trenches. An account in the New York Morning Telegraph, June 27, 1915, related that a youth wrote her from the front line in Europe and sent her 120 photographs which graphically depicted the horrors of the conflict. Florence promptly announced that at her own expense she was converting the pictures to a set of stereopticon slides and would conduct a series of lectures with them, beginning with an invited audience of Peace Society members. In June 1916 she was one of the most prominent fund raisers for The World's Statue of Liberty Illumination Fund and was seen on Broadway in a special Pullman automobile presented by the Thanhouser Film Corporation "in recognition of her services" and used during her solicitation of contributions.
A 1915 Portrait: An article in Reel Life, September 12, 1915, gave a portrait of: "Beautiful and Talented Florence LaBadie, of the Thanhouser Studios, Conceded One of the Foremost of American Screen Players— 'Curiosity,' goes a wise old adage, 'killed a cat.' Yet here is a most attractive, fluffy-haired, wide-eyed little miss who cares naught for the adage, and flaunts tradition in the face by boldly asserting that 'curiosity' is her chief personal characteristic, and that she is proud of it! But it is not curiosity concerning her neighbor's affairs, she quickly adds—the curiosity she possesses—but a great desire to know people, to understand their joys and sorrows, to appreciate the outlook which everyone—from high to low—has on life, and all this so she may the better interpret life on the motion picture screen.
"It would not be necessary to inform the many admirers of Florence LaBadie as she lives on the screen, that the intelligent young actress of the Thanhouser Company is a student of the ways of life, and that she has met its happiness and suffering eagerly. Hers is not a complex existence, nor does she want it to be complex. She has no theories of life, health, living, morality or sociology that she wants to explain. She is content to make the others about her happy by her joyous acceptance of whatever fate brings her, and by her staunch determination to let no reverse be too great to be surmounted….
"In The Million Dollar Mystery she accomplished daring 'stunts' which few girls would have the courage to undertake, again disclosing that calm acceptance of whatever may lodge in her path. This is but one of her many valuable qualities. While acting is her vocation, Florence LaBadie has two avocations, aside from dancing and swimming and all forms of athletic sport, at which she is adept. One of her avocations, which she keeps secret from the eyes of all but her most intimate friends, is writing poetry. The other is sketching. Miss LaBadie began 'years and years ago,' as she will tell you, when she was a pupil in the convent of Notre Dame, in Montreal, to contrive little verses which pleased her and her adoring girl friends. With added experience she has developed her talent to express in poetical form her thoughts and wishes, and someday she hopes to give them to the world in book form. Although Florence LaBadie loses herself in the roles she interprets in the silent drama, back of it all, those who see her plays feel that there is a strong, indomitable, utterly charming personality, a rare sympathy, and a fine courage which are found too seldom in this old world."
Her Death: While Florence was driving an automobile near Ossining, New York on August 28, 1917, with her fiancé, Daniel Carson Goodman as a passenger, the brakes failed, after which the car plunged down a hill at a frightening rate, causing it to overturn at the bottom. While Goodman escaped with a broken leg and minor injuries, Florence was thrown from the vehicle and suffered a compound fracture of the pelvis. She was hospitalized in Ossining, under the care of Charles C. Sweet, M.D., of 13 Maple Street, who first attended her the day following the accident. Complications ensued, and her condition worsened.
Florence LaBadie, 29 years of age, died of infection (septicemia) at 1:35 p.m. on Saturday, October 13, 1917. Services were held at 11 o'clock the following Wednesday, at the Frank E. Campbell Funeral Home, 1970 Broadway (at 66th Street), New York City, with interment at Greenwood Cemetery on the same day. Dozens of floral arrangements were received, and the crowd of mourners included numerous Thanhouser and Pathé players. Obituary notices stated that she was survived by her mother, Amanda LaBadie, with no mention of her having been adopted. At the time of her accident Miss LaBadie was living at the Hotel St. Andrew, Broadway and 72nd Street, New York City.
The New Rochelle Evening Standard, October 15, 1917, printed an obituary notice which included this sentence: "She had been one of the Thanhouser stars until a few weeks ago, when she severed her connection." The point was moot, for at the time of her passing, Thanhouser was no longer producing films.


Return to www.thanhouser.org
Use the browser's back button to return to previous page.
---
Thanhouser Company Film Preservation, Inc.


Contact Us
Copyright © 1988-1993 Q. David Bowers, All rights reserved.