(One reel, approx. 1,000 feet, released January 10, 1913)
Directed by Edwin Thanhouser and Lawrence Marston.
Print source: Library of Congress, 14 minutes, 30 seconds.
Cast: William Garwood (the broker), Florence LaBadie (sister of little boy), Marie Eline (messenger boy), Riley Chamberlin (clerk)
Original music composed and performed by Raymond A. Brubacher.
The Evidence of the Film was selected in 2001 for inclusion in the National Film Registry by the National Film Preservation Board of the Library of Congress for its cultural, historical and aesthetic significance.
Congress first established the National Film Preservation Board in the 1988 National Film Preservation Act, and most recently extended it with passage of the National Film Preservation Act of 1996. The Board advises the Librarian of Congress on 1) national film preservation policy,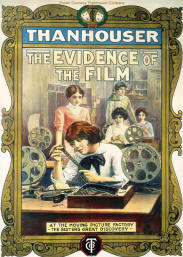 including continuing implementation of a plan to save the American film heritage, and 2) on the annual selection of "culturally, historically or aesthetically significant films" for the National Film Registry.
For more information on this film, read The Influence of D.W. Griffith on Thanhouser's 1913 Release: The Evidence of the Film plus a detailed shot-by-shot analysis of this this film.
Recently discovered and preserved, The Evidence of the Film is a particularly clever and unusual early example of a fictional dramatic movie with filmmaking as a subject. The portrayal of a movie crew that just happens to be at work on a street corner is accurate. The director is seen consulting a shooting script, something a Thanhouser director would do but probably not another studio's director. The film laboratory and editing scenes are of enormous interest as historical document as well as ingeniously integrated in the crime tale.
This film Copyright © 2011 Thanhouser Company Film Preservation, Inc. All Rights Reserved.
---
Thanhouser Company Film Preservation, Inc.


Contact Us
Copyright © 2000 Thanhouser Company Film Preservation, Inc., All rights reserved.