Return to www.thanhouser.org

THANHOUSER, Edwin

Thanhouser Career: Executive (1909-1913, 1915-1918)

Edwin Thanhouser in a portrait after he left the motion picture buisiness. (Thanhouser family archives, courtesy of Joan Thanhouser Sherman)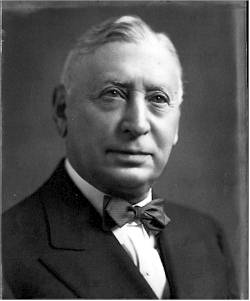 Film Career Synopsis: Edwin Thanhouser founded the Thanhouser Company in 1909 in New Rochelle, New York. From then until he sold his interest in spring 1912 (although he was involved in films released through early 1913, and again from 1915 until the close of business in 1918), he directed the affairs of the company that bore his name.
Biographical Notes: Edwin Thanhouser was born in Baltimore, Maryland on November 11, 1865. He spent his youth and was educated in Fort Wayne, Indiana. Edwin later moved to Garden City, Kansas, where he spent some of his teenage years. In 1893, he was impressed by Alessandro Salvini, a well known orator and actor, and joined Salvini's traveling company. Four years later, Salvini died, and his company dispersed. Edwin Thanhouser traveled around the United States and Eastern Canada with various companies, after which he formed his own stock companies in Atlanta and Milwaukee. In Milwaukee he managed the Academy of Music, which became a very profitable venture. In 1897 he became a member of the Players Club, an affiliation which brought him much pleasure. Years later, he was to use the Players Club insignia of two masks, one for comedy and the other for tragedy, as a Thanhouser trademark.
On February 8, 1900, Edwin Thanhouser married Gertrude Homan, an actress whom he met the preceding summer. Their first child, Lloyd (named after Lloyd Lonergan, who had married Gertrude's youngest sister, Molly), was born on January 31, 1902, followed by Marie Louise (named after Gertrude's mother) on March 23, 1906. Success with the Milwaukee theatre and fortunate speculation in the securities market gave Edwin Thanhouser sufficient capital to lease the Bush Temple Theatre in Chicago, after which transaction his family moved to Chicago in 1907. Attendance was lower than hoped for, and Edwin Thanhouser terminated his lease. Seeking to enter the growing field of motion pictures, he moved to the New York City area, which was then the center of film production. After staying briefly with Lloyd Lonergan, Edwin Thanhouser and his family moved to New Rochelle, New York, where he leased an old wooden skating rink. His new venture, the Thanhouser Company, released its first commercial film on March 15, 1910.
In 1910 and 1911 he lived on Slocum Street in Rochelle Heights. In 1912 his residence was at 3 Hamilton Avenue in New Rochelle. In 1912, he sold out to a combine headed by Charles J. Hite and retired from the motion picture business, taking his family on a grand tour of Europe, where he remained until the World War broke out in August 1914. He returned to America about the same time that Charles J. Hite was killed in an automobile accident. After managing by committee for many months, the stockholders of the Thanhouser Film Corporation asked Edwin Thanhouser to resume his old position as managing head of the company. He did this early in 1915, but as the film industry, its practices, and the tastes of the public had changed since he had last been in films in 1912, Edwin Thanhouser's re-entry did not duplicate the success he had scored in earlier years. By autumn of 1917 Thanhouser and his secretary, Miss Jessie Bishop, were the only remaining employees at the studio, while he waited for his contract to expire. He remained until early 1918, when the Thanhouser Film Corporation was liquidated, with several hundred thousand dollars remaining on deposit in various accounts. During much of this time he resided at the Pepperday Inn, a few steps away from the studio.
New Rochelle city directories indicate that Edwin's widowed mother, Julia Thanhouser, lived in the Locust Apartments, 11 Locust Avenue, in 1916 and 1917. Edwin Thanhouser retired to Bayville, Long Island, New York in 1918, subsequently relocating in 1925 to Sands Point, New York. In 1945 he and his wife sold their Sands Point home. Within a year the couple moved to New York City and soon became residents of the One Fifth Avenue Hotel, where they lived for the remainder of their days. Edwin Thanhouser kept active in securities investments and enjoyed collecting art. Gertrude Thanhouser died on May 29, 1951, and Edwin passed away on March 21, 1956.
Use the browser's back button to return to previous page.
---
Thanhouser Company Film Preservation, Inc.


Contact Us
Copyright © 1988-1993 Q. David Bowers, All rights reserved.