Return to www.thanhouser.org

THANHOUSER, Gertrude Homan
(Mrs. Edwin)

Thanhouser Career: Actress, scenario writer, film editor, executive (1909-1912, 1915-1918)

Gertrude Thanhouser in a portrait that was one of Edwin Thanhouser's favorites. (Thanhouser family archives, courtesy of Joan
Thanhouser Sherman)
Thanhouser Career Synopsis: Mrs. Edwin Thanhouser, wife of the Thanhouser Company's founder, was active in the firm's business from 1909 to 1912 and again from 1915 to 1918.
NEW: Gertrude Homan Thanhouser: Her Story in Film
Gertrude Thanhouser Photo Gallery
Gertrude Homan Thanhouser: Pioneering Studio Executive 1909-1918
Gertrude Homan Thanhouser: Chronological Biography (1882 - 1951)
Pioneering Woman in Silent Film
Biographical Notes: Mrs. Edwin Thanhouser, the former Gertrude Homan, had extensive stage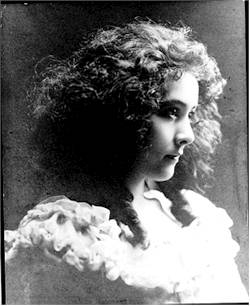 experience and was a child star. She was born in Beauvoir, Mississippi on April 23, 1882 (one family account gives a different date, 1880). She soon moved north to Brooklyn, New York with her parents. At the age of six she played her first part on the stage. From then until she married Edwin Thanhouser 12 years later, she appeared in many productions, including the title roles in Little Lord Fauntleroy and Editha's Burglar. In the late 1890s she joined the stock company at the Academy of Music in Milwaukee, which was managed by Edwin Thanhouser. Gertrude Homan married Edwin Thanhouser in Brooklyn on February 8, 1900. In the years at New Rochelle during the film business, she reviewed scripts, wrote scenarios, and helped Edwin Thanhouser in many ways. According to family tradition, she acted in just one Thanhouser film, the 1910 release of St. Elmo. After returning to Thanhouser in 1915, she was responsible for writing scenarios for several productions.
Gertrude Homan had nine siblings. Her sister Marie, known as "Molly" to her friends, was about ten years older and, by the time Gertrude was 10, Molly was Mrs. Lloyd F. Lonergan. A brother, Frank, was 20 years older, married and had several children, but his family never visited with the Thanhousers in later years. Gertrude's younger brother, George Homan, Jr., remained a bachelor throughout his life and passed away in the 1920s. Ida, the oldest of Gertrude's sisters, married Kennedy Stout, who worked with the United States Department of the Interior in the Bureau of Indian Affairs. "Uncle Ken was a pedantic man," Edwin Thanhouser's son, Lloyd, recalled in later years. "He was full of wise sayings, such as 'What is so rare as a day in June? As for me, I'd like 'em better done!' Aunt Ida was socially ambitious and wanted to join the Daughters of the American Revolution, and she had the Homan family's genealogy investigated. Sure enough, a Homan fought in the Revolutionary War, but the rascal turned out to be a Tory! Aunt Ida and Uncle Ken had one child, Miner."
Louise, another of Gertrude's sisters, married a man named Bayright, divorced him, and married I. Gainsburg, a New York lawyer. The firm of I. and L.H. Gainsburg furnished the inspiration for a Broadway show, Counsellor at Law. Carey Tidball, another of her sisters, was an actress and was on stage in Milwaukee in 1899 with Edwin Thanhouser's stock company. Under the screen name of Carey L. Hastings she appeared in many Thanhouser films from 1910 to 1917. Gertrude Homan Thanhouser died in her apartment at 1 Fifth Avenue, New York City, on May 29, 1951.
Use the browser's back button to return to previous page.
---
Thanhouser Company Film Preservation, Inc.


Contact Us
Copyright © 1988-1993 Q. David Bowers, All rights reserved.