Return to www.thanhouser.org

HITE, Charles J.

Thanhouser Career: Executive (1912-1914)

News article from The Moving Picture World issue of January 10, 1912, telling of the formation of a new film exchange in Chicago. Soon thereafter, Charles J. Hite would purchase the Thanhouser Company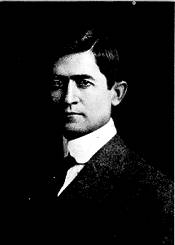 Thanhouser Career Synopsis: Charles J. Hite was president and chief executive officer of the Thanhouser Film Corporation from spring 1912 until his death in August 1914.
Biographical Notes: Charles Jackson Hite was born on June 7, 1876 in Pleasantville, near Lancaster, Ohio, the son of Mr. and Mrs. Lemuel Hite, and was one of 10 brothers and sisters. His father, Joseph Lemuel Hite, was born in Pleasantville on October 25, 1842, and his father before him, Joseph Hite, was born in the same township on October 24, 1811, of parents who had come to Ohio from Rockingham County, Virginia around 1806. The Hite family expanded to the extent that by the late 19th century, dozens of citizens of Pleasantville Township had that surname.
Hite's Early Life: Motography, September 28, 1912, told of Charles J. Hite's early life: "The first thrill of a country lad comes with his red-topped boots. It is the day he discovers his spine. He sees things from a course. When motion pictures began to manifest themselves, this boy who was born in the country had an edge on the fella who wasn't. He knows what it means to earn a dollar. He got his first one by digging twenty rows of potatoes. A dollar has the meaning of 100 cents to the man who was a country boy 25 years ago. The same boy never forgot his early associates. He learned to take their measure and he never forgot how he did it. When he grew up he made his estimate of men by the same rule."
Into Motion Pictures: The account in Motography continued: "During these and preceding years Charlie Hite developed a bug for lyceums, lyceumites, and bureaus, courses and causeways. Being of a bashful and retiring disposition he found freedom in the turmoil of the lyceum program. There was more fun in sitting on the back bench at the town hall and listening to the 'show' than there was going swimming with the gang. After time he worked up to the front seats, and a little later he became identified with the business end of the Midland Lyceum Bureau. He traveled in the Southern states, organizing lyceum courses at so much a course. When motion pictures began to manifest themselves, Hite had met them more than half way. With a half of one of his good bright eyes he saw a place for motion pictures in the lyceum programs. They would help with the entertainment. That was what they were for and he gave them a welcome.
"In 1906, Charlie Hite organized himself into the C.J. Hite Moving Picture Company. He would supply the Midland or any other lyceum with part of their entertainment so much per part. He found lots of demand for his services. He rapidly outgrew the days when Bill Bryan was the afternoon stunt and Charlie Hite with his pictures was the evening attraction. In the meantime, Hite was garnering up film subjects and other increments that failed to shake off. His collection of reels consisted of scenics, fairy tales and religious subjects—the best that could be had in those days, and it was the most natural thing in the world for Hite to embark in the exchange business, as early as the demand for films came on. Early in 1908, C.J. Hite gathered up his precious reels and stored them in a vault in the Monadnock Building, Chicago. It was the least pretentious film exchange in the world. You could walk right into it—all the way up to Hite's mean little desk with the rickety drawers. But you would find the whole force there, day or night, and if you wanted some pictures, Hite would get them for you. He was the whole force on the day and night shift. There weren't any go-betweens. You know how long that would last today in the film business.
"Hite got thinner and thinner. He had the address of his home, but he never got that far away from his little old desk. One day he called in the doctor—a physician he had known all his life—and the doctor looked him over. He listened to Hite's proposition and left a big, fat check instead of a prescription. Now and then you find a smart one. This was Dr. Wilbert Shallenberger, one of Charlie Hite's boyhood chums. He's all tangled up with the film business by now…." The story of the check in lieu of a prescription was repeatedly denied by Hite, but it became a part of film folklore and was repeated in many biographical accounts concerning him.
The account in Motography continued: "This first Chicago film exchange was modest like its owner. It was called the C.J. Hite Company, just like that, telling nobody what it stood for. After little time a partition was knocked down to make room. The name was changed to H. & H. Film Service Company [when S.S. Hutchinson, who was later to achieve success with the American Film Manufacturing Company, joined him as a partner]. More people were hired; more money was let in; the place moved down a flight of stairs and across the hall; bang, what a lot of walls; the place strung out on the Federal Street side and got bigger and bigger. Hite was too busy to eat. Then Des Moines was taken in and Detroit was added, and people began to lose track. One day Hite grabbed some stock in the American Film Manufacturing Company, and next he bought the Globe, the Royal, and the Union film companies and formed the Majestic Film Exchange."
The Thanhouser Acquisition: "After a while, Hite said he was going to New York to look around." the narrative in Motography continued. "He had only been down there a week or two until it was announced that he had bought the Thanhouser Company. Then things got all woozy. The plot thickened and obscured the stage. Since the mist has blown away, Hite's name looms large as a stockholder, a director or an officer; and sometimes all three, in these concerns: Mutual Film Corporation, the Film Supply Company of America, American Film Manufacturing Company, Carlton Motion Picture Laboratories, Majestic Manufacturing Company, Thanhouser Company, and Thanhouser Film Company, Ltd., London."
The Thanhouser Years: With the Shallenberger brothers (Wilbert E. and William Edgar), Crawford Livingston, and others as investors, Charles J. Hite joined founders John R. Freuler and Harry E. Aitken in the formation of the Mutual Film Corporation early in 1912. By acquisitions and internal growth, Mutual during the next several years became one of America's most important film manufacturers and distributors. Hite and his partners acquired the Thanhouser Company from Edwin Thanhouser for $250,000 on April 15, 1912, in a transaction arranged by Harry E. Aitken and other principals of the Mutual Film Corporation. Charles J. Hite was named as president of the company, which was recapitalized and renamed the Thanhouser Corporation. Edwin Thanhouser agreed to remain on hand as a supervisor and film director until the end of 1913.
Hite's Business Success: Hite was a gifted entrepreneur, and under his administration Thanhouser achieved many successes, building upon the foundation laid by the firm's founder. The first of two Thanhouser serials, The Million Dollar Mystery, released in 1914, was the most profitable serial issued by any motion picture company up to that time.
In an article, "Fortunes of the Movies," in The Photoplay Magazine, October 1914, Charles J. Hite was among 12 millionaires listed. The others were Siegmund Lubin, Thomas A. Edison, Harry E. Aitken, Marcus Loew, G. M. Anderson, Adolph Zukor, George K. Spoor, Aaron J. Jones, Carl Laemmle, William N. Selig, and Jesse E. Lasky. Like Edwin Thanhouser, Charles J. Hite was widely respected by others in the trade and was admired by his employees, many of whom in later years stated that working for the Thanhouser Film Corporation was the most enjoyable time of their careers.
The Final Curtain: On Friday, August 21, 1914, Charles J. Hite, having just returned from a meeting with financial interests in Chicago, was busy in New York City with arrangements concerning the Broadway Rose Gardens, which was being remodeled and was considerably behind schedule for its planned opening. On that particular afternoon he was previewing a special "daylight" movie screen which had just been installed. He worked late, had a quick evening meal with J.W. Chase, a broker of New York and Chicago (some accounts say he skipped the evening meal), then jumped in his car and headed northward, for he was to host an evening affair.
The New York Times, August 22, 1914, continued the story: "Charles J. Hite, president of the Thanhouser Film Company, was on the way to his home in New Rochelle last night and was crossing the viaduct at 155th Street at 9 o'clock when his automobile, in which he was driving alone, skidded and ran onto the south sidewalk, tore through the iron rail at the side of the walk, and dropped fifty feet to the ground beneath. The machine landed on the fifteen-foot wooden fence on the 155th Street side of the Central Casino, which fronts on Macomb's Place, and tore through it, at the same time turning until it landed, wheels up, on the sidewalk with Mr. Hite pinned beneath it.
"Patrolman Waters of the Lenox Avenue station, who was on the viaduct when the auto fell, ran down the steps and summoned aid. There was a dance in the Central Casino, and the sound of the crash as the auto hit the fence brought the music to a stop and the dancers to the street. It took fifteen minutes to get Mr. Hite from beneath the motor. Then he was taken to the Harlem Hospital by Dr. DePalma. In the ambulance he recovered consciousness and asked that his wife in New Rochelle should be notified of the accident. He had suffered a fractured skull, a compound fracture of the jaw, a cut on his right arm, and three broken ribs. It was said he would die."
"The funeral services on Tuesday afternoon were held from the beautiful home in which Mr. Hite had resided since taking up his duties with the Thanhouser Company. It is one of the showplaces of New Rochelle, and is known as the Francis Wilson estate."
Final Arrangements: Charles J. Hite was survived by his wife and two daughters, Marjorie, age four, and Muriel Alice Josephine, age one; by his parents, who lived in Lancaster, Ohio; four brothers: Claude, Leo, Joseph, and Guy; two unmarried sisters who lived in Lancaster, and another sister, Violet, who was the wife of W. Ray Johnston, a Thanhouser executive. One sister married Grover Baluser, of Ohio, and named her infant daughter Zudora, from the Thanhouser serial of that name. Following the funeral services, his body was taken to Beechwood Cemetery. Nearly a year later, in its issue of June 15, 1915, The New Rochelle Paragraph noted that his remains were removed from that location and interred in Oakwood Cemetery, Chicago, by order of his widow.
Use the browser's back button to return to previous page.
---
Thanhouser Company Film Preservation, Inc.


Contact Us
Copyright © 1988-1993 Q. David Bowers, All rights reserved.