Volume III: Biographies
BRACY, Sidney ***
Actor, scenario writer, director (1913-1915)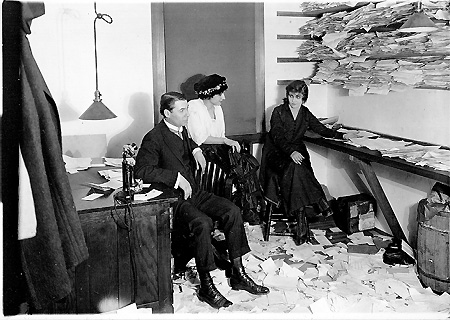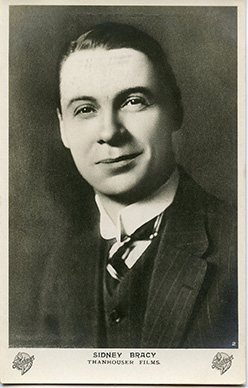 Sidney Bracy, Marguerite Snow and Florence LaBadie (L) look over thousands of fans' answers to THE MILLION DOLLAR MYSTERY. Courtesy Donald Collins (X-100)
Postcard (R) courtesy Thanhouser Company Film Preservation, Inc.
Thanhouser Career Synopsis: Sidney Bracy was one of the better known Thanhouser players circa 1913-1915. He received much publicity for his roles as a butler.
Biographical Notes: Sidney Bracy (who also spelled his name as Bracey) was born in Melbourne, Australia on December 18, 1877 (in later years he stated his birth date as 1882), the son of concert singer Henry Bracey and stage actress Clara T. Bracey, both of whom were from England. Years later, circa 1909-1913, his mother was an actress with American Biograph. Sidney Bracy was educated at Melbourne University. He entered the stage and played six years with J.C. Williamson in Australia, later coming to the United States, where he appeared with Kyrle Bellew, Viola Allen (Twelfth Night, in 1905), Nazimova, Nat Goodwin, and others, and played in Robin Hood (1912) and Rob Roy in New York City.
He claimed to have begun his film career with Thanhouser in 1910, although this is probably incorrect; or, at least, he was not a full-time member of the Thanhouser stock company until a later date. While with Thanhouser, his surname was usually spelled Bracy, but Bracey was used as well.
In 1914, the Photoplay Arts Portfolio of Thanhouser Motion Picture Stars noted: "He joined the Thanhouser stock only a short time ago, and has since been in many pictures. In his mind the motion picture studio has a better influence than the stage; he has tried both.... He is musically inclined, having composed several vocal and instrumental 'hits.' All sports have a warm place in his heart, but swimming is his favorite. He lives in New York City."
An article in The Chicago Tribune, October 18, 1914, told of his career: "Sidney Bracy of the Thanhouser, who, while not playing the leading role, has won a hero's place for himself in the hearts of spectators and readers of The Million Dollar Mystery and wins a place in the 'Frame' [a page devoted to a movie star, with captioned biography - Ed.] today. He is a gallant young man of 32 summers and was born in Melbourne, Australia. Before entering moving pictures he acted with Viola Allen, Nazimova, Nat Goodwin, etc. His last stage appearance was in Rob Roy.
"'My 20 years of stage experience,' says Mr. Bracy, 'has carried me all over the world and into some pretty queer environments and conditions, I can tell you. My father and mother have been in the profession all their lives and my aunt was the famous Lydia Thompson. My father is chief producer for all of J.C. Williamson's enterprises in Australia. His name is Henry Bracy.'
"Mr. Bracy is five feet eight inches tall, has brown hair and eyes, and weighs 145 pounds. His hobbies are composing music and automobiling, and his favorite sports swimming, walking, riding, and foiling. It would seem that he is a most versatile gentleman. In addition to all this he declares Shakespeare to be his favorite author, so he must be all right!"
Personal Notes: The New Rochelle Pioneer, June 13, 1914, told of an important event: "It has just become known that Sidney Bracy and Miss Evelyn Foshia [sic; Forshay was intended], both well known at the Thanhouser Film Corporation studio, were married on May 23 at the studio. It was a very quiet affair, being attended by only James Cruze and Marguerite Snow. Mr. and Mrs. Bracy are now housekeeping in Beacon Hall...." Soon, Bracy named his yacht Evelyn, after his wife.
The New Rochelle Pioneer, August 29, 1914, gave more news: "Sidney Bracy, the wonderful 'Jones the Butler,' of the Thanhouser Million Dollar Mystery, finds life in New Rochelle enjoyable with his June bride in their delightful apartment at Beacon Hall, and daily trips via motorboat on the Sound. Mr. Bracy is so delighted with New Rochelle that he plans to make a permanent home here. It is said that he is to be co-star with Florence LaBadie in a new serial soon to be written especially for them." Ed. note: The identity of the serial is unknown. If it was Zudora, then plans were changed, for Florence LaBadie did not appear in it.
A 1914 Sketch: In its issue of September 26, 1914, The New Rochelle Pioneer printed the following sketch by John William Kellette: "[In The Million Dollar Mystery] Sidney Bracey...bids fair to become one of the best known artists on the screen. Certainly his work deserves that recognition, but it is seldom that so big a part comes to one playing an apparently minor character. With Jimmy Cruze he is sharing the male honors just as Florence LaBadie and Peggie Snow are sharing the female leads, but to Bracey, as the pivot about which this remarkable drama swings comes more than the usual share of publicity.
"Bracey is apparently new to pictures - in fact Little Dorrit, one of Thanhouser's 'Big Productions,' with Maude Fealy, first brought Mr. Bracey to the front, and so well was his work that he was importuned to sign a contract to play in stock. He was, on the legitimate stage, a singer of considerable renown. In Robin Hood he, was the inimitable Guy of Gisborne, and his masterful handling of this decrepit's part won renown from even the callused New York critic. His snug apartment at Beacon Hall now contains a June bride, for Mr. Bracey took unto himself a sweetheart from childhood days, and who could be happier than the 'crusty old butler' of the Mystery, with a charming wife, a delightful home, unnumbered friends, a garden spot like New Rochelle and water, water everywhere, for Mr. Bracey loves the water for swimming, motor boating, yachting and skating, and for every other purpose where water is useful as well as ornamental.
"'Sid' is musically temperamental. He is a composer and that's why harmony means so much to him. Just now he has the time of his life matching his wits with William J. Burns, the world's greatest detective, in unraveling The Million Dollar Mystery. When you see Bracey on the street go up and tell him how well his work suits. He won't bite you. He'll like it. And then it will show him that you're glad he's living in New Rochelle."
Other Activities: Bracy was a British citizen, but on Monday, September 28, 1914 he declared his intention to become an American and took out naturalization papers (as did his friend Frank Farrington on the same day).
The New Rochelle Pioneer, October 24, 1914, carried this item: "Sidney Bracy and Frank Farrington, who scored a tremendous triumph at Loew's [theatre in New Rochelle] last Thursday, Friday, and Saturday, will open in New York, Monday, over the Loew circuit, their manager, John William Kellette, having completed arrangements with Joseph M. Schenck for a whirlwind tour. They are to appear nights only and are to be headlined along Broadway in the same offering that took New Rochelle by storm at their initial appearance."
A week later, on October 31, 1914, the same newspaper reported: "Sidney Bracy and Frank Farrington end their first week over the Loew circuit tonight, having played four theatres this week - The Boulevard at Simpson Street; Seventh Avenue at 124th Street; The Orpheum, over which Sol Meyerson, formerly of the local house, is manager, at 86th Street and 3rd Avenue, and at Lincoln Square, 66th Street and Broadway. They appear nights only, one show or two shows a night in each house."
The Chicago Tribune, April 25, 1915, told of a brush with death: "Speaking of woman's intuition: A friend asked Sidney Bracy the other day where he kept his power yacht during the winter. 'Oh, she's in dry dock,' Bracy explained. They were sitting in his dressing room in the Thanhouser-Mutual studios in New Rochelle. 'There's a picture of her,' he added, pointing to a framed photograph on the wall.
"'Nice looking boat,' said the friend. 'What do you call her?'
"'Named her Evelyn,' the actor went on. 'That's my wife's name, and since our last cruise I've been particularly glad I named the yacht for her. Funny thing about a woman's intuition. We were way out in the sound that day when suddenly everything grew dark and fog fell round us like a great gray curtain. We were all straining our eyes in every direction. Suddenly my wife dodged into the pilot house, grabbed the wheel from the steersman, put it hard aport, and signaled the engine room for full speed astern. I hadn't time to get back to find out why, when a destroyer shot by like an arrow, her siren whining like a lost soul. There hadn't been a sound before. 'Evelyn, did you see that boat coming?' I asked.
"'Oh, no," she answered. 'I just sort of felt it.' Can you beat that? Her feeling in the matter saved our lives, though.'"
One Thanhouser film in particular bore Bracy's imprint. He co-authored the scenario for Sid Nee's Finish, directed the picture, and acted the title role as well.
After Thanhouser: When Edwin Thanhouser returned to the studio bearing his name, on March 1, 1915, he made it clear that Bracy's services were no longer required. During the third week of March, Bracy and over a dozen other players lost their employment. On April 28, 1915 he and his wife Evelyn moved from their New Rochelle residence on Locust Avenue to 139th Street and Riverside Drive, New York City.
Sidney Bracy departed in mid May 1915 on an automobile trip across the United States with James Cruze. The New Rochelle Pioneer, May 1, 1915, stated that they were going to leave on the 15th, stop in about 100 cities, and expected to earn about $1,000 during the anticipated four months it would take to make the journey. However, when Bracy reached Ogden, Utah he received word that his wife was ill, so he returned to the East, arriving back in New Rochelle, to greet his former studio friends, during the third week of July.
Later, he went to Fox (Merely Mary Ann, Sporting Blood, etc), then by late 1915 he went to Universal to play in films released in 1916 and early 1917 (Joan of the Hills, The Path of Happiness, Won by Valor, When Thieves Fall Out, Elusive Isabel, The Doctor of the Afternoon Arm, The Huntress of Men, A Knight of the Night, The Crystal's Warning, The Masked Cupid, Temptation and the Man, etc.). By September 1916 he had moved to Arrow, where he appeared in Arrow films released through 1917, including The Deemster and Crime and Punishment. He played a part in the August 1917 Paramount release of The Long Trail. In 1918 he was with Metro (A Man's World), and by 1920 he was with Realart (Food for Scandal).
In 1916 a directory listing noted that he was 5'8" tall, weighed 148 pounds, and had brown hair and brown eyes. At the time his mail address was care of the Screen Club in New York City. In 1917 and 1918 his home address was Lansdown Apartments, West 46th Street, New York City. Sidney Bracy's film career extended to the 1940s. He died on August 5, 1942, in Hollywood, California.
Note: In Thanhouser publicity his name was usually spelled as Bracy, but often the Bracey spelling was used. His nickname at the Thanhouser studio was "Bricy."
Thanhouser Filmography:
1913: His Sacrifice (6-13-1913), Little Dorrit (7-29-1913), Robin Hood, Parts 1 and 2 (Mutual 9-23-1913), Robin Hood, Parts 3 and 4 (Mutual 9-30-1913), A Twentieth Century Farmer (10-31-1913), The Problem Love Solved (12-2-1913), Uncle's Namesake (12-12-1913), Lawyer, Dog and Baby (12-14-1913), An Orphan's Romance (12-23-1913), The Milkman's Revenge (12-7-1913), An Amateur Animal Trainer (12-30-1913)
1914: Their Golden Wedding (1-2-1914), Mrs. Pinkhurst's Proxy (1-4-1914), Adrift in a Great City (1-13-1914), The Elevator Man (1-25-1914), Twins and a Stepmother (2-3-1914), The Success of Selfishness (2-6-1914), The Skating Master (2-15-1914), The Miser's Reversion (3-24-1914), An Hour of Youth (4-12-1914), When Algy Froze Up (4-24-1914), From the Flames (4-28-1914), The Somnambulist (5-17-1914), The Emperor's Spy (9-13-1914), Sid Nee's Finish (12-20-1914)
1914-1915 Serials: The Million Dollar Mystery, Zudora
1915: Graft vs. Love (1-19-1915), Finger Prints of Fate (1-26-1915), In the Jury Room (2-2-1915), On the Brink of the Abyss (3-2-1915), God's Witness (5-20-1915), The Baby Benefactor (6-1-1915)
# # #
Copyright © 1995 Q. David Bowers. All Rights Reserved.