Return to www.thanhouser.org

FAIRBANKS, Madeline (Thanhouser Twin)

Thanhouser Career: Actress (1912-1916)

Marion and Madeline Fairbanks, Thanhouser Twins (Courtesy Q. David Bowers)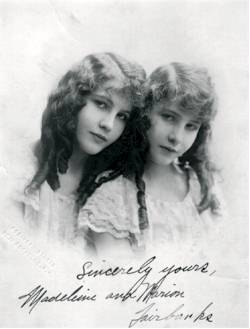 Thanhouser Career Synopsis: With her sister Marion, Madeline Fairbanks was one of The Thanhouser Twins. The pair garnered much publicity during the 1912-1916 era.
Biographical Notes: Born in New York City on November 15, 1900, Madeleine (known professionally as Madeline) and her twin sister Marion were educated by private tutors at home and while traveling. Their mother was Mrs. Jennie M. Fairbanks, known professionally as Jane Fairbanks, and their father was the son of Nathaniel Fairbanks, who served in the Civil War, and a descendant of Jonathan Fairbanks, a Massachusetts hero of the Revolution, who maintained an estate in Dedham. The Fairbanks twins had one sibling, Robert, an older brother.
For a period of about a year and a half, before coming to Thanhouser, they were on the stage, playing in such productions as Claudia, The Prince Chap, Mary Jane's Pa, Snow White, The Blue Bird, and The Piper, under the management of Winthrop Ames at the New Theatre, New York City, and the Little Theatre in the same city. Other plays from the same era in which they were seen included Alias Jimmy Valentine, Mother, Salomy Jane, and Mrs. Wiggs of the Cabbage Patch. In late March 1912 they were on tour in The Prince Chap at the Wieting Theatre in Syracuse.
On the Screen: The following biography, while centered upon Madeline, discusses both twins, for in publicity they were rarely mentioned separately, and a news item concerning one usually pertained to the other as well. The Fairbanks twins entered films with Biograph, circa 1910, but were not publicized there, for it was Biograph policy at the time not to mention the names of their players.
Reel Life, May 9, 1914, noted: "Before going into pictures, Marion and Madeline were at the New Theatre in New York, and with the Winthrop Ames Company in the Little Theatre. Favorite roles in the legitimate were 'Claudia' in The Prince Chap, 'Mary Jane' in Mary Jane's Pa, and 'Roselis' in Snow White. They have been in so many photoplays at the Thanhouser that they have lost count of the number. Sometimes the Thanhouser Twins write poetry. They collaborate, one composing every other stanza. Of course, no one but twins could write a poem in this way. But these two little girls have never been apart; their experiences have been identical; and they have never known an unhappy or jarring moment together in their lives."
Later, Madeline Fairbanks and her sister Marion joined the Thanhouser Film Corporation, where they were billed as The Thanhouser Twins, beginning with their first film, The Twins, released on June 18, 1912. In the spring and summer of 1913 they were back on the stage, including playing in stock in Syracuse, New York. They soon reappeared in Thanhouser publicity in connection with the release of Life's Pathway (September 30, 1913).
The Fairbanks twins lived in New York City in 1912 and 1913 and commuted to New Rochelle each day on the train. To pass the time profitably, they studied French enroute. At home they also studied piano and, as time permitted, took ballet lessons, according to an interview with Jean Darnell, published in the October 1913 issue of The Photoplay Magazine. Muriel Ostriche, who played with Thanhouser 1913-1915, recalled that even their fellow players could not tell the Thanhouser Twins apart, except that one twin had a birthmark on her arm.
For Thanhouser, Madeline and Marion Fairbanks appeared in many films. Typically, both twins were featured in a given film. However, a few films were made with just one of the girls. In England they were sometimes billed as "The Fairburn Twins." The October 1916 Motion Picture News Studio Directory noted that each twin was 5' tall, weighed 75 pounds, and had chestnut-brown hair and hazel eyes. They worked at Thanhouser but lived in New York City at the Hotel Oxford. The 1918 edition of the same directory listed their weight as 85 pounds each and their home address as 245 West 51st Street, New York City.
The Twins in Later Years: In spring 1917 it was announced that the Fairbanks twins were to soon appear in Florenz Ziegfeld's Follies. For the next several years they were seen in the Follies at the New Amsterdam Theatre in New York City. An announcement was made by Madeline in 1923 that she would devote her efforts to serious dramatic roles with a stock company in Newark, while Marion elected to remain in musical revues in New York City and on the road. Madeline was seen in Mercenary Mary, The Grab Bag, and The Ritz Revue. In 1924, Marion toured in the title role with the Little Nellie Kelly company. By this time, the girls had felt their separation too keenly, and they rejoined on stage in George White's Scandals, followed in early 1927 by parts in Oh, Kay.
Most of their activity was before the footlights, rather than the motion picture camera, but the spring of 1921, when the twins were on stage at the George M. Cohan Theatre in Two Little Girls in Blue, it was announced that they had been signed by Cosmopolitan Productions for parts in a forthcoming film to be released by Paramount, The Beauty Shop. The duo appeared on stage in The Midnight Frolic (a revue), Up the Ladder and in the 1929 Warner Bros. musical film, On With the Show. Madeline married Leonard Sherman in 1937, a union which ended in divorce in 1947. The couple had a daughter, Kate, whose later married name was Kate Cenedella. Mrs. Cenedella had one child, a son, David.
Madeline Fairbanks lived until early 1989, as this notice in Variety, April 5, 1989, indicates: "NEW YORK: Madeleine Fairbanks Sherman, 82 [sic], one of the Fairbanks Twins who headlined for the Ziegfeld Follies in the '20s, died here January 26 of respiratory failure. With her sister Marion, Sherman also appeared in George White's Scandals, Two Little Girls in Blue, and other Broadway productions. Survived by her daughter and a grandson."
Use the browser's back button to return to previous page.
---
Thanhouser Company Film Preservation, Inc.


Contact Us
Copyright © 1988-1993 Q. David Bowers, All rights reserved.