Return to www.thanhouser.org

OSTRICHE, Muriel

Thanhouser Career: Actress (1913-1915)

Muriel Ostriche in a photograph signed in 1914 for Ardice Blanchard, when she visited the studios. The same image was widely used in Princess Films advertisements. (Courtesy of Donald Collins)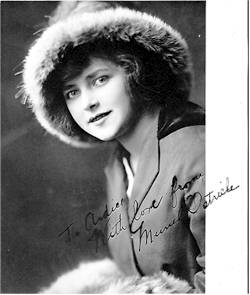 Thanhouser Career Synopsis: Muriel Ostriche was a well-known Thanhouser actress from 1913 to 1915 and was the leading lady of Princess films.
Biographical Notes: Born Muriel Henrietta Oestrich in New York City, on March 24, 1896, Muriel Ostriche planned to become an elementary school teacher. Her plans changed one day, while she was in high school, when she encountered W. Christy Cabanne on the street and was invited by him to take a screen test at the American Biograph studios. She did this, and in autumn 1911 she joined Biograph as an extra in several films, after which the budding actress went to Powers, Pathé, and then to the newly-formed American Eclair Company in Fort Lee, New Jersey, where she spent a year under the direction of Etienne Arnaud and appeared in many films.
Following her work with Eclair, Miss Ostriche had a brief stint with Reliance, after which she went to Thanhouser, where she was hired by Charles J. Hite. Her first Thanhouser film was Miss Mischief, released in June 1913.
A 1913 Interview: The following interview with the actress appeared in a 1913 book by Frances Agnew, Motion Picture Acting. At the time of the interview Miss Ostriche was with Reliance, just before going to the Thanhouser studio. She relates her beginning in the film field: "One of the most wonderful examples of success as a photoplayer without having had any previous experience or training in stage work is Miss Muriel Ostriche, a dainty, bewitching little miss of 17 summers. Yes, it's true! She is only 17 and really looks younger. A bubbling bit of enthusiasm regarding her own work and the wonderful future in store for motion pictures, Miss Ostriche is a most entertaining little talker, and merely being with her imbues one with the same instinct of a determined ambition which means to win!"
With Thanhouser: Charles J. Hite, president of the Thanhouser Film Corporation, was impressed with Miss Ostriche's acting and the favorable reviews her films garnered in the trade press, and in the autumn of 1913 he set up a special division, the Princess Department, to showcase her talents. For most of the next year she appeared in weekly single-reel Princess releases, usually with Boyd Marshall as her leading man.
A note in the November 15, 1913 issue of Motography told of her activities: "Muriel Ostriche, as the little princess of the new brand of Princess Films, is so busy these days that she finds it impossible to get to her home in the Bronx any evening before seven. 'And then I am so tired I ought to go to bed at nine, but—.' But of course she doesn't."
Muriel Ostriche was the subject of dozens of articles in trade and fan magazines over the years. The following is a sample from Reel Life, house organ of the Mutual Program:
Issue of May 16, 1914: "The little leading lady of the Princess playlets recently has won several trophies for her beautiful dancing. It has been the custom lately, in New York, for the cafés on certain evenings to offer cups to the most graceful amateur dancer on the floor, and two nights in succession Muriel Ostriche carried off the prize in the largest and most popular restaurants. Her latest triumph was at the new Rector's. On this occasion she appeared in a soft cream-color frock and a golden headdress, eminently suited to her youthful beauty. Miss Ostriche says that she stands more chance of winning if she makes no special preparation for the contest. Going on short notice, she almost invariably carries off the cup. She also says she prefers to dance with a variety of partners, as novelty inspires her to invent new steps."
At the time, Rector's was one of the best-known restaurants in New York City. Among the waiters there was Rudolph Valentino, who was a frequent dancing partner of Miss Ostriche and a close friend. A so-called taxi-dancer, Valentino would dance with patrons. At the time he was playing small parts in movies, including My Official Wife, a 1914 Vitagraph film in which Leon Trotsky, who was later to be a principal figure in the Russian Revolution, had a part. After some trouble with the law, and an uncertain early career in films, Valentino went on to great success and fame as a matinee idol. Upon his death of a perforated ulcer on August 23, 1926, he was mourned by countless women fans, and a memorial parade was staged for him in New York City.
After Hite's death in August 1914, the interim management of Thanhouser placed her in other films, but she later returned to Boyd Marshall and the Princess productions. During the time she was with Thanhouser she lived at home with her parents at 565 West 144th Street, New York City. As did many other Thanhouser players, Muriel Ostriche departed by early 1915, during the time when the future of the studio was uncertain and the management lacked direction.
In a conversation with the author, on February 23, 1988, Miss Ostriche reminisced about the days of long ago: "I remember that a boyfriend of mine, 'Corney' Shields, who at one time raced for the America's Cup, would bring his sailboat to the dock in back of the Thanhouser studio in New Rochelle and take me sailing. I recall that one day we went out and the water was really rough, and I got seasick. He had to help me back to my dressing room, and it was just awful. Charles Hite was originally a schoolteacher. He was very nice. He planned to have me do Alice in Alice in Wonderland, but he died, so it never happened. I remember that after Harry Benham—we used to call him 'Earl'—left films he went into the clothing business. All of the actors would buy from him, and he was highly successful."
Later Years: Later, Miss Ostriche was with Universal, then Vitagraph, and then for three years with World, where she appeared in many productions. Still later, she starred in several films released through Arrow Productions and others. In July 1916 Miss Ostriche's address was 656 West 114th Street, New York City. Her chauffeur was Harry J. Halpin. In 1918 she married Frank A. Brady, by whom she had two children, Gloria and Mollie. Divorcing Brady in 1926, she married Charles Wesley Copp, Jr., and with him had two children, Charles Wesley Copp III and Jean. Muriel Ostriche Copp passed away at the age of 93, on May 3, 1989, in St. Petersburg, Florida, following a short hospitalization. She remained mentally alert until her final hours. Interment was in the Flushing Cemetery, Flushing, New York, after a service conducted at 1:30 p.m. on May 11th. Miss Ostriche was the last surviving major star from the Thanhouser studio.
In 1987 she was the subject of a book, Muriel Ostriche: Princess of Silent Films, by Q. David Bowers, to which refer for detailed biographical information.
Use the browser's back button to return to previous page.
---
Thanhouser Company Film Preservation, Inc.


Contact Us
Copyright © 1988-1993 Q. David Bowers, All rights reserved.