Return to www.thanhouser.org

MARSHALL, Boyd

Thanhouser Career: Actor (1913-1917)

Boyd Marshall in a candid photograph from the scrapbook of Ardice Blanchard, circa 1914-1915. (Courtesy of Donald Collins)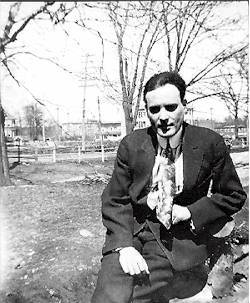 Thanhouser Career Synopsis: Boyd Marshall was a leading man in many pictures, particularly of the Princess Department, during his 1913-1917 tenure with Thanhouser.
Biographical Notes: Boyd Marshall was born in 1885 in Port Clinton, Ohio, and was educated at the University of Michigan in Ann Arbor. Against his family's wishes, he pursued a stage career singing and acting. He appeared with Fritzi Scheff in Mlle. Modiste, with Kolb & Dill, and in vaudeville in The Wall Between. For Lasky Productions he was a juvenile baritone at the Hippodrome in New York City.
Boyd Marshall came to Thanhouser in the autumn of 1913 and was employed as the leading man to Muriel Ostriche in the newly-formed Princess Department. For much of the next year, he and Muriel Ostriche played in one Princess film each week. For a time, Thanhouser billed him as the "handsomest man in the movies," but the idea didn't catch on, and outside of Thanhouser advertisements and local publicity he was never well known. Later, when Muriel Ostriche was employed in other films outside of the Princess Department, he played opposite Reenie Farrington, Mayre Hall, and others. He also appeared in numerous regular Thanhouser films.
A 1914 Sketch: The New Rochelle Pioneer, October 31, 1914, printed this biographical sketch by John William Kellette: "Boyd Marshall has the distinction of being the 'handsomest man in pictures,' and locally he gained the pennant in the league of good fellowship, and he's enjoyed every one of his hours in New Rochelle with the exception of a certain five, the 300 minutes of which escaped him on one dark, damp night, somewhere between New York City and New Rochelle, and he's never been able to account for them. He's still searching for them without success. Boyd came to the Princess films after a considerable stage experience, both in musical comedy and vaudeville, and his wonderful voice is lost in the silent drama. Were his audiences to hear his voice as they look at him upon the screen their appreciation would grow and Marshall would be wafted along on to Popularity Boulevard with one fell swoop. But at that he has a great following.
"He was born in Port Clinton, Ohio, some time after the close of the Civil War, just when Boyd won't divulge. He studied with the idea of becoming a professor of languages and spent one year in the preparatory and one year in the literary department of the University of Michigan. Time changed his mind and he decided to go into grand opera. He studied at Michigan University of Music for three years (voice), and graduating in the Detroit institution went directly to the stage; with Fritzi Scheff later, he had a small part in Mlle. Modiste; was leading man for Kolb & Dill on the coast, and was with Lasky's Night on a Houseboat; in vaudeville, was half of the team, Boyd Marshall and Katherine Bell, playing The Wall Between. He was baritone juvenile at the Hippodrome for a year; went to Elmira in musical stock and was a big favorite; he had never seen a camera when he heard Princess was in the market for a leading man, and came here little over a year ago.
"His first picture was with Muriel Ostriche in The Campaign Manageress, which Carl Louis Gregory wrote and directed. He has played in almost 100 pictures, and was with Maude Fealy in The Musician's Daughter. It seems strange to see a picture billed like a circus, but they say when a Princess goes on at Elmira with Boyd in it that's the kind of billing he gets. He's 5 feet 11 inches, has brown hair, brown eyes, fair complexion, weighs 160 pounds, and can make a piano talk."
Other Information: After the Falstaff Department succeeded the Princess Department in early 1915, Boyd Marshall was in many comedy productions. In January 1916 his New Rochelle home address was 74 Main Street. In the spring of 1916 he was working in Falstaff comedies at the Jacksonville studio. He stayed with Thanhouser through early 1917.
Boyd Marshall married Mitzi Hajos, a well-known Hungarian dancer and stage personality, who sometimes used the stage name of Dixie Crane. In the 1920s Marshall was often seen with his wife in musical stage plays, including Pom-Pom and Head Over Heels. In 1930 they were in Sari at the Liberty Theatre in New York City. The actor was 5'10" tall, weighed 160 pounds, and had brown hair and brown eyes. Boyd Marshall died on November 9, 1950 at his home in Jackson Heights, New York. He was survived by his wife and two siblings, Tom and Helen.
Use the browser's back button to return to previous page.
---
Thanhouser Company Film Preservation, Inc.


Contact Us
Copyright © 1988-1993 Q. David Bowers, All rights reserved.