Return to www.thanhouser.org

RUSSELL, William

Thanhouser Career: Actor (1910-1913)

William Russell in a studio portrait. (Courtesy of the Academy of Motion Picture Arts and Sciences)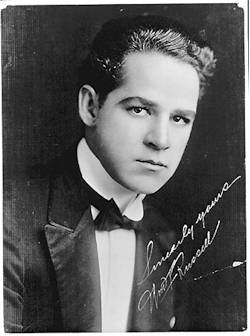 Thanhouser Career Synopsis: William Russell was one of the most important players in the Thanhouser stock company from 1910 until 1913. Here are links to 13 surviving films in which he is featured:
Biographical Notes: William Russell was born in the Bronx borough of New York City on April 12, 1886 (other accounts say 1884 or 1889), on East 75th Street, the son of Charles Russell, at various times a clergyman and professor (at Fordham University), and Clara Russell, a well-known stage actress. William Russell was educated at Fordham University in the Bronx, New York City, where he studied law, was involved in sports, was a member of the football team, and won a 220-yard swim meet. He then went to Bernarr MacFadden's Institute, where he received a degree. In an interview published in The Motion Picture Story Magazine, March 1913, Russell stated that he had been educated at Harvard. Apparently he studied law, for, following his parents' wishes, Russell hung out his shingle as an attorney in Pittsburgh. Fortunately for a later generation of moviegoers, few would-be plaintiffs or defendants noticed him, and before long he found himself involved in taking and placing racetrack bets. Around the same time he also taught boxing. At one time he was a lifeguard for the Chicago Beach Hotel.
None of these ventures put much money in his pockets, therefore he decided to investigate a stage career, having had considerable acting experience in his youth. William Russell was on the stage and appeared in vaudeville sketches and plays in New York City from the age of eight, when he earned $50 per week with Charles Hopper in Chimmie Fadden, never dreaming that someday he would make the stage his life's work. At the same age he also served as a water boy in A.M. Palmer's Theatre (later known as Wallack's) at 38th Street and Broadway and was seen on stage with Ethel Barrymore in Cousin Kate. For two seasons he appeared in St. Elmo. Over a period of time he appeared on stage with many players, including David Higgins, May Tully, John Stoddard, Catherine Countiss, Ezra Kendall, Chauncey Olcott, Julia Marlowe, Florence Bindley, Roselle Knott and Blanche Bates. He was the leading man in stock companies in St. Louis and St. Joseph, Missouri. For the Poli stock company he played in Philadelphia in St. Elmo and other productions. He also played stock in Lancaster, Pennsylvania and Seattle. His brother Albert also followed a career before the footlights.
Russell in Films: William Russell began his film career in 1910 with Biograph, where he stayed for nine months and played many minor parts. He later recalled that his first role with Biograph was in a film directed by D.W. Griffith, The Roman Slave. William Russell went to Thanhouser in 1910, after leaving Biograph. With the New Rochelle studio he achieved prominence and played leads in many films, becoming one of the best known Thanhouser actors of his time. In the summer of 1912 he was catcher for the Thanhouser Stars baseball team.
In her "From the Inside" column in the August 1913 issue of The Photoplay Magazine, Jean Darnell, who was also a Thanhouser player, wrote of Russell's athletic prowess: "Billie Russell, the big fellow, spends a great deal of time outside of work boxing with the different boys in training for bouts, or with his brother, Albert. They make a wonderful team, and for amateur boxing they head the list."
More on the same subject appeared in her December 1913 column in the same publication: "Billie Russell has taken handsome apartments in Pepperday Inn for the winter, instead of commuting daily from his home in New York. Mr. Russell is quite an athlete and has joined the New Rochelle Rowing Club, and is training every day. This winter, when the Sound is covered with ice, they will keep in practice with a stationary boat in the club house."
In the spring of 1913 the actor left Thanhouser and went back to American Biograph for a short time. The New Rochelle Pioneer, June 13, 1913, carried this item: "William Russell, former leading man at the Thanhouser Film Corporation Studio, but now playing the leads for the Biograph Company, will be the first subject of a series of bronze busts of popular photo players, which are soon to be made by a New York City art company." Shortly thereafter, he returned to Thanhouser for a brief period, and in the last week of August 1913 he went with other players to Cape May, New Jersey, to produce a series of pictures.
His Later Career: Later, he went to Klaw & Erlanger for about a year, Famous Players, Clipper (for whom he acted in the January 1916 release of The Smugglers of Santa Cruz), American Biograph once again (1916 release of Pique), and then to American, where he was in the famous 1915 serial, The Diamond from the Sky, which in later years was his best remembered role. During his stay with American he lived on a small ranch in Montecito, a suburb of Santa Barbara, where he raised dogs and horses. Although he was a smoker of cigarettes himself, he decreed that no woman could smoke in his house, nor could a woman touch alcoholic beverages there.
In view of work for many companies during the 1914-1916 years, it is probable that he was signed up for specific productions and was not a member of stock companies. Reel Life, September 4, 1915, printed a full-page biography, with several errors, including the statement that he was with Biograph for only "a few weeks." Directories published in 1916 and 1918 noted that he was 6'2" tall, weighed 203 pounds, had dark brown hair and eyes, was an all-around athlete, and was with the American studio in Santa Barbara, California. His thick, dark eyelashes were very distinctive, as was his rich, wavy hair. He was a Christian Scientist.
In 1917, following a courtship of two years' duration which began during the time both were acting in The Diamond From the Sky, he married film actress Charlotte Burton in a ceremony performed in Santa Ana, California. The union later ended in divorce. Among Russell's 1916-1920 American film releases (some later ones of which were released through Pathé) were Soul Mates, The Torch Bearer, The Thoroughbred, The Strength of Donald McKenzie, The Man Who Would Not Die, The Frame-Up, New York Luck, The Masked Heart, The Sequel to The Diamond from the Sky, In Bad, When a Man Rides Alone, Where the West Begins, A Sporting Chance, and The Valley of Tomorrow.
He acted in the William Russell Productions film, This Hero Stuff, directed by Henry King, released in August 1919 through Pathé. He then went to Fox, where he played in Eastward Ho! (1919), Shop with Fire (1920), and Leave It to Me (1920). In early 1920 he was with the Victor studios in New York City. At the time he told numerous interviewers that he did not like New York City at all, despite having spent his childhood there, and he longed to return to California. He continued in films with other companies through the late 1920s. He married Helen Ferguson (life dates: July 23, 1901—March 14, 1977), who started her motion picture career with Essanay around 1914. William Russell died of pneumonia in Beverly Hills, California on February 18, 1929, and interment was at the Forest Lawn Mausoleum. He was survived by his widow, a brother, Albert Russell, and three sisters, Mrs.William Miller and Mrs. Nicholas Peterson, of New York City, and Mrs. Charles Schaffer, of Los Angeles. Some stills of his films were donated to the Academy of Motion Picture Arts and Sciences by his wife, Helen, in 1948.
Use the browser's back button to return to previous page.
---
Thanhouser Company Film Preservation, Inc.


Contact Us
Copyright © 1988-1993 Q. David Bowers, All rights reserved.