Volume III: Biographies
FAIRBANKS, Marion (Thanhouser Twin) ***
Actress (1912-1916)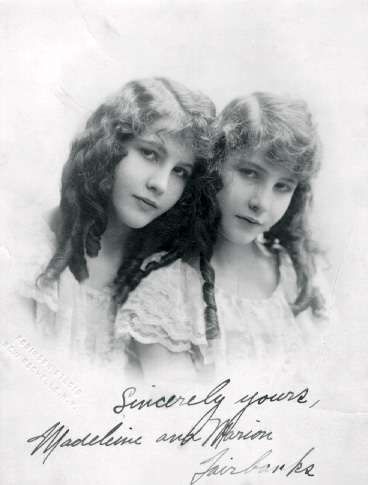 Marion and Madeline Fairbanks, The Thanhouser Twins. Courtesy Q. David Bowers (N-1)
Unidentified still (R) of Marion and Madeline Fairbanks, the Thanhouser Twins. Possibly from THE FLYING TWINS, released January 1, 1915.
Courtesy American Museum of the Moving Image/Lawrence Williams Collection (M-7-X-2)
Thanhouser Career Synopsis: With her sister Madeline, Marion Fairbanks was one of The Thanhouser Twins. The pair garnered much publicity during the 1912-1916 era.
Biographical Notes: Born in New York City on November 15, 1900, Marion Fairbanks and her twin sister Madeline were featured in Thanhouser films from 1912 to 1916. Refer to the preceding biographical listing for Madeline Fairbanks for additional information concerning The Thanhouser Twins. Virtually all of the publicity accorded to Madeline featured Marion as well, for the two were seemingly inseparable. However, their Thanhouser filmographies are slightly different, as on occasion one twin appeared in a film without the other.
As was her sister Madeline, Marion Fairbanks was seen on stage in many productions after she left Thanhouser (refer to Marions biographical listing). In the late 1920s Marion engaged in a romance with McCormick Steele, former Yale football star, who besieged her with telegrams for six months when he was on a trip to South America with his brother. She married him in 1927, but within a few years trouble erupted, and the two became subjects of various gossip columns. A divorce followed, after which she married Ray Smith. She divorced again, and married her third and final husband, William Delph.
In December 1932, Marion Fairbanks was on stage separately at the Waldorf Theatre, New York City, where she succeeded Eleanor King as the leading lady in Whistling in the Dark. In the 1930s she operated a beauty parlor and "directed a branch of a cosmetics manufacturer," according to a newspaper account. In her later years she knew much unhappiness and struggled with the temptations of alcohol. Her death occurred in Georgia in the mid-1970s, by which time she was known as Marion Fairbanks Delph. Childless, she had no survivors.
Thanhouser Filmography:
1912: The Twins (6-18-1912), Cousins (7-28-1912), As Others See Us (8-18-1912), The Little Girl Next Door (11-1-1912)
1913: An Unfair Exchange (9-23-1913), Lifes Pathway (9-30-1913), The Twins and the Other Girl (10-3-1913), The Childrens Hour (11-14-1913), Their Great Big Beautiful Doll (11-23-1913), Uncles Namesakes (12-12-1913), Lawyer, Dog and Baby (12-14-1913), Jack and the Beanstalk (12-19-1913)
1914: Twins and a Stepmother (2-3-1914), The Eugenic Boy (3-15-1914), Beautiful Snow (3-27-1914), The Tin Soldier and the Dolls (4-5-1914), In Her Sleep (Princess 5-15-1914), The Legend of Snow White (5-29-1914), The Girl Across the Hall (6-14-1914), The Widows Mite (6-28-1914), The Pendulum of Fate (7-21-1914), In Perils Path (8-14-1914), In Dangers Hour (9-11-1914), The Benevolence of Conductor 786 (10-9-1914), Left in the Train (10-18-1914), Sheps Race With Death (11-1-1914), Pawns of Fate (11-17-1914), Shadows and Sunshine (Princess 12-18-1914), A Hatful of Trouble (12-27-1914)
1914-1915 Serial: The Million Dollar Mystery
1915: When Fate Rebelled (Princess 1-1-1915), $1,000 Reward (2-26-1915), The Life Worth While (4-4-1915), Their One Love (5-2-1915), Fairy Fern Seed (5-25-1915), Through Ediths Looking Glass (6-13-1915), The Baby Benefactor (6-1-1915; this may have been Madeline alone), Which Shall It Be? (6-22-1915), The Stolen Anthurium (Falstaff 6-25-1915), The Flying Twins (7-1-1915), The Twins of the G.L. Ranch (9-19-1915), The Baby and the Boss (11-23-1915), An Innocent Traitor (12-14-1915), His Majesty, the King (12-18-1915)
1916: The Burglars Picnic (1-26-1916), A Man of Honor (4-25-1916), The Answer (5-16-1916), The Heart of a Doll (9-15-1916)
# # #
Copyright © 1995 Q. David Bowers. All Rights Reserved.