Volume III: Biographies
FAIRBANKS, Madeline (Thanhouser Twin) ***
Actress (1912-1916)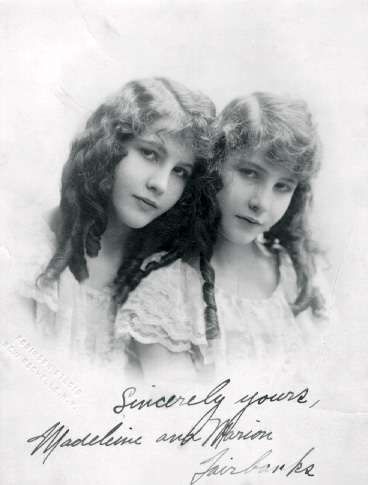 Marion and Madeline Fairbanks, The Thanhouser Twins. Courtesy Q. David Bowers (N-1)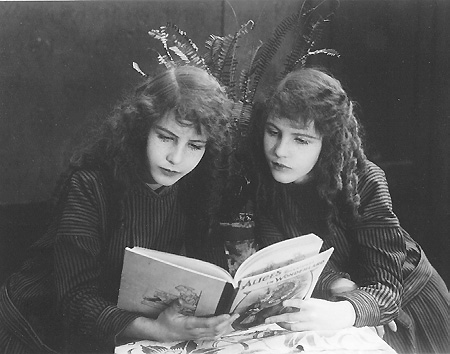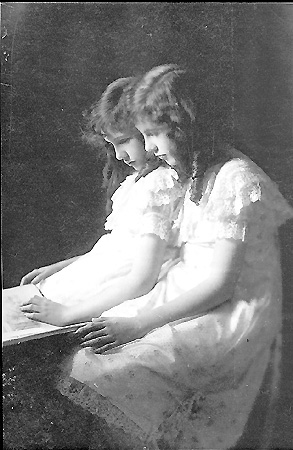 Madeline and Marion Fairbanks (Top Row, L & R), with Eldean Steuart and Helen Badgley (Bottom Row, L & R).
Courtesy of the Wisconsin Center for Film and Theatre Research (Q-39)
Madeline and Marion Fairbanks (C) in FAIRY FERN SEED, released May 25, 1915. Courtesy of the Wisconsin Center for Film and Theatre Research (Q-40)
Madeline and Marion Fairbanks (R), the Thanhouser Twins, in a portrait circa 1913-1914 (X-230)
Thanhouser Career Synopsis: With her sister Marion, Madeline Fairbanks was one of The Thanhouser Twins. The pair garnered much publicity during the 1912-1916 era.
Biographical Notes: Born in New York City on November 15, 1900, Madeleine (known professionally as Madeline) and her twin sister Marion were educated by private tutors at home and while traveling. Their mother was Mrs. Jennie M. Fairbanks, known professionally as Jane Fairbanks, and their father was the son of Nathaniel Fairbanks, who served in the Civil War, and a descendant of Jonathan Fairbanks, a Massachusetts hero of the Revolution, who maintained an estate in Dedham. The Fairbanks twins had one sibling, Robert, an older brother.
For a period of about a year and a half, before coming to Thanhouser, they were on the stage, playing in such productions as Claudia, The Prince Chap, Mary Janes Pa, Snow White, The Blue Bird, and The Piper, under the management of Winthrop Ames at the New Theatre, New York City, and the Little Theatre in the same city. Other plays from the same era in which they were seen included Alias Jimmy Valentine, Mother, Salomy Jane, and Mrs. Wiggs of the Cabbage Patch. In late March 1912 they were on tour in The Prince Chap at the Wieting Theatre in Syracuse.
On the Screen: The following biography, while centered upon Madeline, discusses both twins, for in publicity they were rarely mentioned separately, and a news item concerning one usually pertained to the other as well. The Fairbanks twins entered films with Biograph, circa 1910, but were not publicized there, for it was Biograph policy at the time not to mention the names of their players.
Reel Life, May 9, 1914, noted: "Before going into pictures, Marion and Madeline were at the New Theatre in New York, and with the Winthrop Ames Company in the Little Theatre. Favorite roles in the legitimate were 'Claudia in The Prince Chap, 'Mary Jane in Mary Janes Pa, and 'Roselis in Snow White. They have been in so many photoplays at the Thanhouser that they have lost count of the number. Sometimes the Thanhouser Twins write poetry. They collaborate, one composing every other stanza. Of course, no one but twins could write a poem in this way. But these two little girls have never been apart; their experiences have been identical; and they have never known an unhappy or jarring moment together in their lives."
Later, Madeline Fairbanks and her sister Marion joined the Thanhouser Film Corporation, where they were billed as The Thanhouser Twins, beginning with their first film, The Twins, released on June 18, 1912. In the spring and summer of 1913 they were back on the stage, including playing in stock in Syracuse, New York. They soon reappeared in Thanhouser publicity in connection with the release of Lifes Pathway (September 30, 1913).
The Fairbanks twins lived in New York City in 1912 and 1913 and commuted to New Rochelle each day on the train. To pass the time profitably, they studied French enroute. At home they also studied piano and, as time permitted, took ballet lessons, according to an interview with Jean Darnell, published in the October 1913 issue of The Photoplay Magazine. Muriel Ostriche, who played with Thanhouser 1913-1915, recalled that even their fellow players could not tell the Thanhouser Twins apart, except that one twin had a birthmark on her arm.
The Thanhouser Twins were the subject of a notice in the May 9, 1914 issue of Reel Life: "Marion and Madeline Fairbanks are scarcely known by their real names, so long have they been called 'The Thanhouser Twins. Now that they are 13 years old, however, they are modestly desirous of having their names appear, though not for purposes of differentiation, having long ago given up hope of people ever being able to tell them apart. They are almost identical. Each weighs 74 pounds. Each is just four feet ten inches tall. They have light brown curly hair, dark hazel eyes, and fair complexions."
Two years later, The New Rochelle Pioneer, June 3, 1916, printed a plea with virtually the same wording: "Now that they have reached their 15th year, the Fairbanks Twins, Marion and Madeline, have modestly requested that in forthcoming releases they are desirous of having their names appear in the casts, although not for the purpose of differentiation, having long ago given up the hope of ever having people tell them apart. 'We have been known so long as the 'twins in screen productions, said Marion, speaking for her sister as well as herself to the pioneers studio reporter, 'that now we have reached our 15th birthday we think it best that we be known as Marion and Madeline. It looks much more important, we think, to be listed by our individual names than it does merely as the 'Fairbanks Twins."
The September 12, 1914 issue of Reel Life noted: "Even admiring photoplay fans are not able to tell them apart. Marion and Madeline are dark, with long glossy brown curls and big bewitching eyes. They have been brought up by a mother of unusual refinement and have had every advantage of private teaching at home. Both are very fond of reading, and sometimes they write poetry, collaborating in a kind of antiphonal verse." The same article stated that their pet collie, Carlo, was usually seen in the studio with them.
The Morning Telegraph, January 17, 1915, printed this item: "Sorry to hear that the little Thanhouser Twins, Marion and Madeline Fairbanks, are 'always made up by 9 oclock every morning. I should think their mother would begin to worry about the evil influences of the motion pictures if her daughters acquire the make-up habit this early in life."
A Thanhouser publicity release, circa February 1915, noted: "Director John Harvey, who directed the Thanhouser Twins, Marion and Madeline Fairbanks, in $1,000 Reward, says that the two young leading ladies always are on the job. At 9 oclock promptly they are in readiness with their make-up on, and they are more obedient and quicker witted than most grown-up players. This may be due to their training on the stage and in the studio from time they were very small. Also they have had a very careful bringing-up by their mother and are extremely well-bred young people. Marion and Madeline study with a governess in their leisure time. They enjoy French and German, also history and literature. Mathematics may be necessary, they say, but it seems sometimes as though it was a subject invented for the torture of little girls."
For Thanhouser, Madeline and Marion Fairbanks appeared in many films. Typically, both twins were featured in a given film. However, a few films were made with just one of the girls. In England they were sometimes billed as "The Fairburn Twins." The October 1916 Motion Picture News Studio Directory noted that each twin was 5 tall, weighed 75 pounds, and had chestnut-brown hair and hazel eyes. They worked at Thanhouser but lived in New York City at the Hotel Oxford. The 1918 edition of the same directory listed their weight as 85 pounds each (obviously old information; see the November 7, 1914 article reprinted below, which stated that in 1914 they weighed 85 pounds each) and their home address as 245 West 51st Street, New York City.
A 1914 Portrait: The New Rochelle Pioneer, November 7, 1914, printed this sketch by John William Kellette: "The Fairbanks twins are known the world over as 'the Thanhouser Twins, but to the studio folks they answer to Marion and Madeline. To tell which from the other is an accomplishment possessed by but few, and it is said that the spirit of fun runs so rampant in them that they sometimes allow themselves to change places with each other in pictures, and the director never knows the difference. This is possible, because it appears that each possesses the same degree of comedy and dramatic art and their mannerisms are the same. but whatever the condition, one thing is certain - they are two of the finest little girls that ever grew up.
"No one has ever seen them angered. Even tempered, they go about their daily life at the studio radiant with good humor, and they are reserved only with strangers. They come in for a great deal of petting and loving in coming in contact with the great Thanhouser family, from Dr. A.E. Jones, general manager, to 'Lights, who turns on the 'juice when cameramen think more light is needed on the subject.
"Before going into pictures Marion and Madeline had made names for themselves at the New Theatre, New York City, and the Winthrop Ames Company at the Little Theatre.... They were born in New York City on November 15, 1900, have light hair and hazel eyes; each weighs about 85 pounds and confess to having gained an even dozen since coming to Thanhouserville. Their height is 4 feet, 10 inches, and there is no difference in their disposition. A confession as to hobbies brought out the fact that they like dancing, boating, riding, and the best hobby of all is contentment in a New Rochelle residence. They have appeared in a good many since that time, and are now cast for Shadows and Sunshine, where one is a denizen of the underworld, and the other a Good Samaritan to the low and needy."
The Twins Leave New Rochelle: The New Rochelle Evening Standard, June 19, 1916, printed this item: "After having nearly three years of their society New Rochelle has lost the Fairbanks twins, Madeline and Marion. These girls, not quite 15 years old, are said to be among the prettiest twins that ever grew to girlhood. For nearly three years these girls have been among the Thanhouser favorites and have been seen on the screen in all parts of the world in photoplays written for them by Lloyd and Phil Lonergan. They are the daughters of Mrs. Jane Fairbanks and were born in New York City November 15, 1901 [sic]. They are real daughters of the American Revolution for they are descended from Jonathan Fairbanks, who fought in the Revolutionary War. Their mother always wanted to be an actress but her stern puritan-like parents opposed the idea, and she made up her mind that if she had children they would enjoy stage careers if they desired it.
"When the twins were eight years old, true to her resolve, Mrs. Fairbanks allowed them to appear in The Jolly Bachelors with Nora Bayes. After that they appeared in other dramatic productions including The Piper, The Bluebird and Snow White with Winthrop Ames at the Little Theatre in New York City. After this they went into summer stock at Syracuse and acted in motion pictures written especially for them. Their next change brought them to Thanhouser, where they were kept fairly busy in feature pictures. Among the productions are The Flying Twins, The Heart of a Doll, The Answer, The Childrens Hour, a dramatization of Longfellows poem of that name, The Burglars Picnic, An Innocent Traitor and The Twins of G.L. Ranch. They also appeared in two episodes of The Million Dollar Mystery. They lived with their mother in Beacon Hall during this time and have now gone to New York City to prepare for a summer in the Catskills after which they intend to go on the stage again.
"'We love the stage, they both said together and then looked at each other and laughed. 'We have the same thoughts and say them at the same time so you musnt mind us, laughed Madeline, who was the older by five minutes. 'You see we are getting older puts in Marion 'and we have ambitions and so we must work now if we are to realize them. 'That is so said Madeline. 'We are sorry to leave New Rochelle they said together, then Marion allowed Madeline to go on: 'We like New York for we have always lived there except the three years in New Rochelle. At first it seemed rather lonesome here, but we have grown to love it and the people, chimed in the two girls together. 'Everyone has been so nice to us, especially Mr. Thanhouser.
"While working with Thanhouser the girls led the life of little ladies. They worked only when there was a picture for them and the rest of the time they were with a governess and tutor. The latter was Roy Critchlow of the high school, and though they are not 15 they have finished grammar school work and are proficient in several high school subjects. They have been studying French with a French governess. In the fall they may enter some private school in which they can divide their time conveniently between their studies and the stage."
The Twins in Later Years: In spring 1917 it was announced that the Fairbanks twins were to soon appear in Florenz Ziegfelds Follies. For the next several years they were seen in the Follies at the New Amsterdam Theatre in New York City. An announcement was made by Madeline in 1923 that she would devote her efforts to serious dramatic roles with a stock company in Newark, while Marion elected to remain in musical revues in New York City and on the road. Madeline was seen in Mercenary Mary, The Grab Bag, and The Ritz Revue. In 1924, Marion toured in the title role with the Little Nellie Kelly company. By this time, the girls had felt their separation too keenly, and they rejoined on stage in George Whites Scandals, followed in early 1927 by parts in Oh, Kay.
Most of their activity was before the footlights, rather than the motion picture camera, but the spring of 1921, when the twins were on stage at the George M. Cohan Theatre in Two Little Girls in Blue, it was announced that they had been signed by Cosmopolitan Productions for parts in a forthcoming film to be released by Paramount, The Beauty Shop. The duo appeared on stage in The Midnight Frolic (a revue), Up the Ladder and in the 1929 Warner Bros. musical film, On With the Show. Madeline married Leonard Sherman in 1937, a union which ended in divorce in 1947. The couple had a daughter, Kate, whose later married name was Kate Cenedella. Mrs. Cenedella had one child, a son, David.
Madeline Fairbanks lived until early 1989, as this notice in Variety, April 5, 1989, indicates: "NEW YORK: Madeleine Fairbanks Sherman, 82 [sic], one of the Fairbanks Twins who headlined for the Ziegfeld Follies in the 20s, died here January 26 of respiratory failure. With her sister Marion, Sherman also appeared in George Whites Scandals, Two Little Girls in Blue, and other Broadway productions. Survived by her daughter and a grandson."
Notes: As "Madeline" is the spelling used in Thanhouser advertising and publicity, it is likewise used in the present volume. However, the Fairbanks family spelled her first name as Madeleine, and this style was used in a few publicity notices and on nearly all of her personal correspondence. In 1913 the Vitagraph Company featured "The Vitagraph Twins," teenage girls named Alice and Edna Nash. However, they achieved only modest success and were never as well known as the Thanhouser Twins.
Thanhouser Filmography:
1912: The Twins (6-18-1912), Cousins (7-28-1912), As Others See Us (8-18-1912), The Little Girl Next Door (11-1-1912)
1913: An Unfair Exchange (9-23-1913), Lifes Pathway (9-30-1913), The Twins and the Other Girl 10-3-1913), The Childrens Hour (11-14-1913), Their Great Big Beautiful Doll (11-23-1913), Uncles Namesakes (12-12-1913), Lawyer, Dog and Baby (12-14-1913), Jack and the Beanstalk (12-19-1913)
1914: Twins and a Stepmother (2-3-1914), Guilty or Not Guilty (3-8-1914), The Eugenic Boy 3-15-1914), The Tin Soldier and the Dolls (4-5-1914), Beating Back (Direct-From-Broadway Features 6-9-1914), The Widows Mite (6-28-1914), The Pendulum of Fate (7-21-1914), In Perils Path (8-14-1914), In Dangers Hour (9-11-1914), The Benevolence of Conductor 786 (10-9-1914), Left in the Train (10-18-1914), Sheps Race With Death (11-1-1914), Pawns of Fate (11-17-1914), Shadows and Sunshine (Princess 12-18-1914)
1914-1915 Serial: The Million Dollar Mystery
1915: When Fate Rebelled (Princess 1-1-1915), $1,000 Reward (2-16-1915), The Life Worth While (4-4-1915), Their One Love (5-2-1915), Fairy Fern Seed (5-25-1915), The Baby Benefactor (6-1-1915; this may have been Marion alone), Which Shall It Be? (6-22-1915), The Stolen Anthurium (Falstaff 6-25-1915), The Flying Twins (7-1-1915), The Mother of Her Dreams (9-10-1915), The Twins of the G.L. Ranch (9-19-1915), An Innocent Traitor (12-14-1915), His Majesty, the King (12-18-1915)
1916: The Bubbles in the Glass (1-4-1916), The Burglars Picnic (1-26-1916), A Bird of Prey (3-16-1916), A Man of Honor (4-25-1916), The Answer (5-16-1916), The Heart of a Doll (9-15-1916)
# # #
Copyright © 1995 Q. David Bowers. All Rights Reserved.